The Truth Compiled In Pictures

Some More Yuks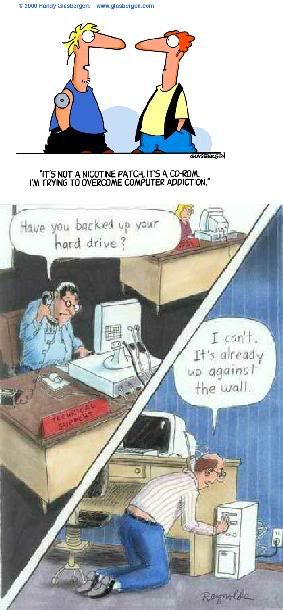 ~~~~~~~~~~
More pics of week HERE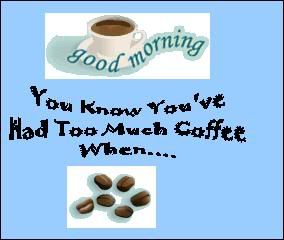 You have to watch videos in fast-forward.

You can take a picture of yourself from ten feet away without using the timer.

You've worn out your third pair of tennis shoes this week.

Your eyes stay open when you sneeze.

You chew on other people's fingernails.

The nurse needs a scientific calculator to take your pulse.

You're so jittery that people use your hands to blend their
margaritas.

You can type sixty words per minute with your feet.

You can jump-start your car without cables.

You don't sweat, you percolate.

You walk twenty miles on your treadmill before you realize
it's not plugged in.

You forget to unwrap candy bars before eating them.

You've built a miniature city out of little plastic stirrers.

People get dizzy just watching you.

Instant coffee takes too long.

You channel surf faster without a remote.

You have a picture of your coffee mug on your coffee mug.

You don't even wait for the water to boil anymore.

Your nervous twitch registers on the Richter scale.

You help your dog chase its tail.

You soak your dentures in coffee overnight.

Your first-aid kit contains two pints of coffee with an I.V. hookup.

You get a speeding ticket even when you're parked.

You answer the door before people knock.
~~~~~~~~~~
More Fish Giggles HERE

Kaitlyn's Potty Trained
It was a blustery March day at the beach when Mom-Mom (me) and my niece picked up Kaitlyn for a trip to Maryland's Assateague Island, world famous home of the wild ponies.
Kaitlyn is now two years and three months old. And she can talk.
Now children can talk at this age so this is no great surprise. Except Kaitlyn talks. And talks. And talks.
She speaks in complete sentences, waves her index finger when appropriate and adapts applicable facial expressions as required by the verbiage.
"Kaitlyn," Kaitlyn's paternal grandmother informed me with pride, "is potty trained." Indeed I was surprised as this seems young to have done the feat. Although bedtimes do require diapers I was told.
In order to keep Kaitlyn potty-trained I was told that regular requests to the child as to impending bathroom needs were required. We had to remind her from time-to-time is what I'm saying here.
Which niece and I did and on each query Kaitlyn assured us she did not have to go. We did have diapers with us but Kaitlyn was clothed only in little girl underpants so keeping her dry was important.
At one point, as Kaitlyn sat in a high chair provided by the restaurant, niece inquired if Kaitlyn had to go potty. Kaitlyn kind of scrunched down in the chair in embarrassment.
"I go potty in my pants," Kaitlyn finally confessed then paused. She then looked at niece and myself quite seriously, pointed her finger and scrunched her face into the oddest looking two-year-old lecture configuration. "But it was on acc-a-dent," Kaitlyn said.
Well goodness knows after this stern baby lecture we were taken aback. Of course, we cooed to the child, it was "on acc-a-dent". We understood this.
As it turned out Kaitlyn did NOT go potty in her pants but she did "toot" which is, ahem, Kaitlyn's term for the passing of gas. This is not the same as going potty in her pants but who knows what goes through Kaitlyn's mind. All this activity happens somewhere in her underpants and perhaps Kaitlyn doesn't think one should "toot" while wearing underwear.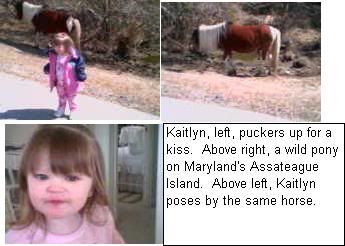 Kaitlyn is quite the talker I must say and, to my everlasting delight, she loves to laugh. "I like to laugh, Mom-Mom" and she would let loose with the most glorious baby giggle and I knew, yes I did, that this was a child who did love to laugh, as she asserts.
The child speaks in perfectly understandable complete sentences, including adjectives and proper verbs. Her words do have a childish pronunciation to them but her amazing grasp of the English language at such a tender age is, well, amazing.
On the way back home Kaitlyn fell asleep in her car seat. THIS time Kaitlyn did go potty in her pants as sleep took the child from bladder concerns.
But it was "on acc-a-dent".
More Kaitlyn posts HERE