The REAL Story of Kaitlyn's Birth
Kaitlyn is Born
Kaitlyn Learns to Walk
She's a baby human and she's struggling to conquer one of the major abilities that will forever separate humans from the animal kingdom. Okay, she's not completely upright, yet, but wait until you see the interesting method of locomotion that she's invented. With a picture!
Kaitlyn Walks
Kaitlyn's Crazy Walk
Kaitlyn's First Birthday
It's an indulgent Grandmotherly missive, this story of Kaitlyn's first birthday party.
But there are pictures and there's Kaitlyn's interesting "excitement volcanos". No, she wasn't pooping.
Finally, Kaitlyn gives Grandmother a birthday present of her own.
FIRST BIRTHDAY PARTY

Kaitlyn Learns to Talk
It's been a while since Grandmother made a Kaitlyn post but goodness, the child is talking and there's a few problems.
For Kaitlyn has learned the power of one single word, however she says it.
Now she must understand the meaning of nuance.
Kaitlyn Learns Nuance
Kaitlyn Meets the Easter Bunny
It's time to catch up on the American child in the Blog bearing her name.
For the baby was circumspect, as she always is, about strange and huge Easter Bunnies.
But wait until you read what she did on the amusement ride.
Kaitlyn's Easter 2005
Kaitlyn's Lazy Eye
Kaitlyn has a lazy eye and Grandmother knows exactly how she got it.
All around me parents and medical professionals ponder how to deal with Kaitlyn's left eye. Which tends to wander when she's tired.
Well nobody asked Grandmother. Duh. Because The Wise I figured it out toot de sweet.
With adorable pics of Kaitlyn as fetching fashion model.
Where did the Lazy Eye Come From?
Kaitlyn Thinks Outside the Box
Time for a Kaitlyn Mae Update.
Baby Girl learns to think outside the box.
But why is she wearing furniture on her head?
Kaitlyn Thinks Outside the Box
~~~~~~~~~~
Kaitlyn Likes Ice Cream
No prose. No lessons learned.
Just some pics of Kaitlyn Mae and her favorite food as she enjoys her vacation at Wildwood New Jersey.
HERE
~~~~~~~~~~
Kaitlyn Learns to Smile for No Reason
Time for a Kaitlyn Mae update.
For baby girl might smile and laugh readily at that she considers fun.
But such as a bright smile for no reason?
Kaitlyn figures it out.
HERE
~~~~~~~~~~
Kaitlyn Takes It Literally
It's time for a Kaitlyn post. For Baby Girl teaches Grandmother the Blogging Scribe some lessons about the English language.
HERE
~~~~~~~~~~
Some Smiles and Some Pics
Just some pics of Kaitlyn Mae.
Who "smiles" a bit painfully and sings in the rain.
Because this Blog is all about her. That they do NOT change history.
HERE
~~~~~~~~~~
Some Whistles, Some Songs and Some Smiles
Here's a Kaitlyn post that we document the growth of the child to whom the Blog is dedicated.
Seems Kaitlyn got some whistles. Seems she thinks they are the most wonderful and amazing things on earth.
HERE
~~~~~~~~~~
Kaitlyn Sings With Joy
So why did Kaitlyn call her Grandmother a monster?
And what did the two-year-old do to transform a crowded lunchroom into laughter and joy?
HERE
~~~~~~~~~~
Kaitlyn Loses Her Juice
Seems Kaitlyn's juice got wedged between her legs and her car seat as detailed in this Kaitlyn post.
So why did the baby not allow Grandmother to retrieve it for her?
A story of self-esteem and the glory of the human.
HERE
~~~~~~~~~~
Kaitlyn Meets Santa Claus
It's the Holiday season and a 2 year old named Kaitlyn ponders the concept of Santa Claus.
In this Kaitlyn missive, Grandmother describes the little learning machines that are human babies and how Kaitlyn uses the "schlippers" to extend her bedtime.
HERE
~~~~~~~~~~
"On Accident"
Kaitlyn Mae is potty trained and speaks in complete sentences.
She also gives stern lectures and regrets "tooting" in her underwear.
It's a Kaitlyn post and hey, two-year-olds are the sweet innocents of our world.
HERE
~~~~~~~~~~
First Time Overnight Visit With Mom-Mom
Precious Kaitlyn Mae spent three days with Grandmother for the first time.
So why is this post mostly about McDonalds?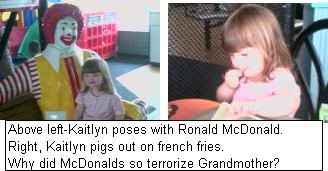 HERE
~~~~~~~~~~
Kaitlyn Mae and Mom-Mom Speaks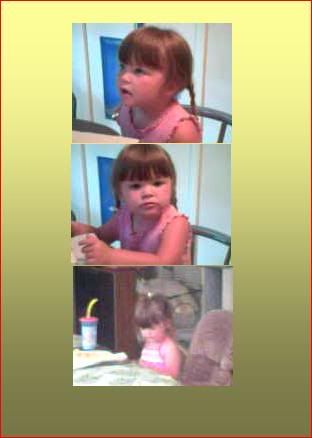 Plus a Kaitlyn post and how she, amazingly, loves for Mom-Mom to talk to her. This I can do.
HERE
~~~~~~~~~~
Kaitlyn Takes on the Ocean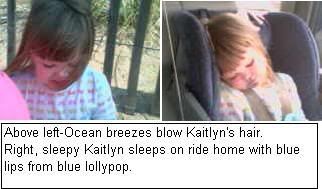 Also, Kaitlyn Mae goes to the ocean and issues that body of water a challenge it couldn't resist.
HERE
~~~~~~~~~~
The Many Faces of Kaitlyn Mae-Halloween 2006; Who is Christine O'Donnell and Why Should We Vote for Her?
Kaitlyn Mae spent Halloween with her Mom-Mom and she was a kitty kat.
Kaitlyn now has many faces, click in to see a few, including the kitty kat.
Also, why is Kaitlyn Mae full of bullcrap?
Also, a Delaware update on an independent running for Senator. The odds are against her but she's got a slew of supporters here in the swamps of Delaware.
Pic of candidate, Mom-Mom and Kaitlyn included.
HERE
~~~~~~~~~~
Kaitlyn Decides on a Possible Career
Kaitlyn pays Mom-Mom a three day visit and hey, Mom-Mom is very tired.
But we baked cookies, took an amazing boat ride, and attended a Christmas celebration in Delaware's city of Seaford.
And goodness, you'll never guess what the child wants to be when she grows up!
HERE
~~~~~~~~~~
KAITLYN-Kaitlyn Brings Magic Back to Christmas
Three females in my surround suffered serious man trouble over the holidays. It was three-year-old Kaitlyn who temporarily stopped the heartbreak and taught us all the joy of Christmas through a child's eyes.
HERE
~~~~~~~~~~
Kaitlyn-Is She a Pinball Wizard Like Mom-Mom? Movie Review-"Brokeback Mountain"
Kaitlyn came to visit in early January of this year and Mom-Mom discovers something intriguing and enchanting about the child.
She's 3 years old but already a Pinball Wizard, just like me! Is it heredity, environment, what? Because she'd never before laid her little eyeballs on a pinball machine.
HERE
~~~~~~~~~~
The Saga of the Pointy Chins

HERE
~~~~~~~~~~
Kaitlyn-NOT Playing by the Rules
Kaitlyn knows that soon enough she must commit to playing by the rules. After that, it's a lifelong thing.
So she pretends the gameboard is foreign to her and that her game piece cannot possibly land on a bad spot.
How long can she avoid the reality of life as told through a board game?
HERE
~~~~~~~~~~
TV-Apprentice LA-Marketing a Lexis; Kaitlyn Goes to Church
Also, Kaitlyn Mae goes to church. She meets Jesus and the choir. I was worried but Kaitlyn loved every minute of it.
HERE
~~~~~~~~~~
Kaitlyn's Easter Fashion 2007
Kaitlyn spent a few days with Mom-Mom for her Easter 2007 visit.
The child attended church TWICE on Palm Sunday weekend but hey, she got all of 19 eggs during the Easter egg hunt. Pics of Kaitlyn in her smashing Easter outfit and stunning curls.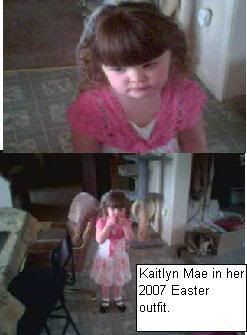 HERE