True Crime Book Review: "Open Secrets" by Carlton Stowers; a Tribute to Smudge
Pic of the Day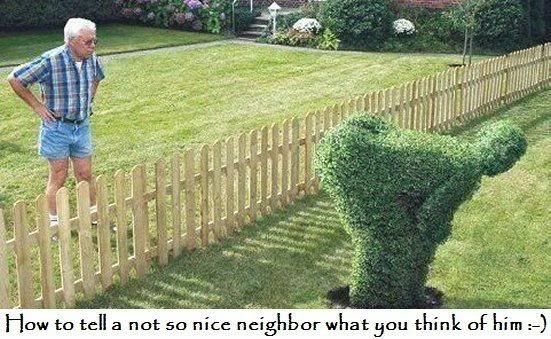 ---
| | |
| --- | --- |
| | Quote of the Day |
Web Site Worth the Visit
Visit this web site to view the many human virus' that could contribute to cervical cancer.
Make the Connection.org


Never doubt the Word of God!!!

Make a personal reflection about this.
Very interesting, read until the end...
It is written in the Bible (Gentians 6:7):

" Be not deceived; God is not mocked: for whatsoever a man soweth, that shall he also reap.

Here are some men and women who mocked God:

JOHN LENNON:
Some years before during his interview with an American Magazine, he said:
"Christianity will end, it will disappear. I do not have to argue about that. I am certain. Jesus was ok, but his subjects were too simple, Today we are more famous than Him" (1966)".
Lennon, after saying that the Beatles were more famous than Jesus Christ, was shot six times.

TANCREDO NEVES:
During the Presidential campaign, he said if he got 500 votes from his party, not even God would remove him from Presidency. Sure he got the votes, but he got sick a day before being made President, then he died.

CAZUZA:
During a show in Caneco ( Rio de Janeiro ), whilst smoking his cigarette, he puffed out some smoke into the air and said: God, that's for you. I can't even explain how he died.

THE MAN WHO BUILT TITANIC:
After the construction of Titanic, a reporter asked him how safe the Titanic would be. With an ironic tone he said: "Not even God can sink it" The result: I think you all know what happened to the Titanic.

MARILYN MONROE:
She was visited by Billy Graham during a presentation of a show. He is a preacher and Evangelist and the Spirit of God had sent him to preach to her.

After hearing what the Preacher had to say, she said:
"I don't need your Jesus"
A week later, she was found dead in her apartment.

BON SCOTT:
The ex-vocalist of the AC/DC. On one of his 1979 songs he sang:
"Don't stop me, I'm going down all the way, wow the highway to hell".
On the 19th of February 1980, Bon Scott was found dead, he had been choked by his vomit.

CAMPINAS/SP IN 2005
In Campinas, a group of friends, drunk, went to pick up a friend. The mother accompanied her to the car and was so worried about the drunkenness of her friends and she said to the daughter - holding her hand, who was already seated in the car: "MY DAUGHTER, GO WITH GOD AND MAY HE PROTECT YOU",

She responded: ONLY IF HE (GOD) TRAVELS IN THE BOOT, COZ INSIDE HERE IT'S ALREADY FULL"

Hours later, news came by that they had been involved in a fatal accident, everyone had died, the car could not be recognized what type of car it had been, but surprisingly, the boot was intact.

The police said there was no way the boot could have remained intact. To their surprise, inside the boot was a crate of eggs, none was broken.

Many more important people have forgotten that there is no other name that was given so much authority as the name of Jesus. Many have died, but only Jesus died and rose again, and he is still alive. JESUS!!!


Review: "Open Secrets" by Carlton Stowers
The biggest surprise of this book came at the very end and it had nothing to do with either the author or the publisher.
I began the reading of this book, hyped on the cover as "A True Story of Love, Jealousy and Murder". I was undecided after reading a couple of chapters if I wanted to continue on with the read as this is not a "normal" True Crime type of book. The story was more about the pursuit of a criminal than the background and trial as I normally expect from the genre.
It didn't take long for me to get absolutely absorbed in the story and the relentless pursuit of Joy Aylor of Richardson, Texas.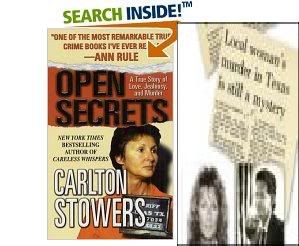 Once again, as with so many intriguing true crimes, the murderer is a person of considerable wealth and prestige. Said wealth and prestige providing no insulation from the normal greed, revenge and anger suffered by individuals of more modest means. Even with everything in the world going for them, the wealthy almost seem MORE prone to thoughtless murders as if privilege and prestige give them inalienable right to kill those in the surround who dare to annoy them or serve no additional purpose.
Joy Aylor was married to Larry Aylor. Larry was building a house for a Dr. Peter Gailiunas, Jr. and his wife, Rozanne Gailiunas. Rozanne Gailiunas was found near dead, shot twice in the head, in her home. She was separated from her husband, Dr. Gailiunas, and living in the home they had shared. Rozanne Gailiunas' young son was in the house when his mother was murdered. Rozanne later died from her wounds.
Of course the first suspect was the estranged husband. In due course, Dr. Gailiunas was cleared.
Then begins the most amazing story of Joy Aylor, wife of the contractor building the Gailiunas' home. For Joy Aylor not only contracted for the murder of Rozanne Gailiunas, who was having an affair with Joy's husband, Larry, she also contracted for the murder or her husband, Larry Aylor himself.
The story is a series of twists, turns, surprises and stunning events, all as dedicated Texas detectives devote over ten years trying to track down Joy Aylor. Detective Morris McGowan spent many of those years peeling apart the many-layered web Joy Aylor designed, not to mention the many characters involved in the contract to murder Rozanne Gailiunas and Larry Aylor.
At times it's difficult to believe that this story is even true, so complicated and utterly amazing are the shenanigans of Joy Aylor to avoid capture.
The surprise at the end of the book was a newspaper clipping revealing that Joy Aylor finally, after a ten year chase, was sentenced to life in prison for her participation in the contracted murders. This book didn't get as far as the trial and sentence of Joy Aylor, detailing mainly the chase of Joy and police attempts to bring this woman to justice. Somebody at the library taped that newspaper clipping to the back of the book I'd checked out. And I was mighty glad for it as this was the only detail of the story not covered in the book.
I will never cease to be amazed at the lengths people go to rid their world of people who vex them. These are not crimes of sudden passion. These are carefully crafted crimes of the privileged, those who think wealth and status give them this right.
Joy Aylor didn't want to go to jail so badly that she traveled across the country, enlisted many to join her in the escape, even attempted a serious suicide to avoid life in prison.
She could have, thinking out loud here, simply stayed within the bounds of normal behavior and not cavalierly contracted for the murders of those who annoyed her.
Joy Aylor is now spending life in the prison she so abhorred.
Good.
Amazon link for this book
More Book Reviews HERE
~~~~~~~~~~
In Memory of Smudge
Guest writer Michelle's beloved cat Smudge now has a seat at Rainbow Bridge. Sympathies, Michelle.
Two things. Smudge now romps with my own beloved cats, healthy and full of vigor. Best of all, Smudge will be there waiting for you to when you join him at Rainbow Bridge.
Smudge was a young cat, victim of a diseased heart she had no way of knowing existed.
Smudge died today. I was filling the food and he fell over. He made digging motions, lying there on his side, and when I touched him he cried out. Then he couldn't breathe. I made a disorganized scramble to the vet, but Smudge was gone before I got there.