True Crime Update: Prosthetic Legs as weapons, A Maryland publisher commits "suicide", and a Pittsburgh Steeler arrested for domestic violence. Much more.
Pic of the Day
Quote of the Day
The wisdom of Anonymous:


The nicest thing about the future is that it always starts tomorrow.

Money will buy a fine dog, but only kindness will make him wag his tail.

If you don't have a sense of humor, you probably don't have any sense at all.

Seat belts are not as confining as wheelchairs.

A good time to keep your mouth shut is when you're in deep water.

How come it takes so little time for a child who is afraid of the dark to become a teenager who wants to stay out all night?




TIDBITS
Morris and his wife, Esther went to the state fair every year.

Every year, Morris would say, "Esther, I'd like to ride in that helicopter."

Esther always replied," I know Morris, but that helicopter ride is 50 dollars and 50 dollars is 50 dollars." A few years later, Esther and Morris went to the fair. Morris said, "Esther, I'm 85 years old. If I don't ride that helicopter now, I might never get another chance." Esther replied, "Morris, that helicopter is 50 dollars and 50 dollars is 50 dollars."

The pilot overheard the couple. he said, "Folks, I'll make you a deal. I'll take the both of you for a ride. If you can stay quiet for the entire ride and not say a word, I won't charge you! But if you say one word, it's 50 dollars."

Morris and Esther agreed --- and up they went. The pilot did all kinds of fancy maneuvers, but not a word was heard. He did his daredevil tricks over and over again, but still not a word. When they landed, the pilot turned to Morris, he said, "By golly, I did everything I could to get you to yell out, but you didn't. I'm impressed!" Morris replied, "Well, I was going to say something when Esther fell out, but 50 dollars is 50 dollars."


A New Kind of Weapon
So far as I am concerned, prosthetic legs should be banned. They are objects of danger as the story below indicates. Somebody should tell NY's Mayor Bloomberg about this. Bloomberg wants to take guns away from law-abiding citizens. I say, take away the prosthetic legs. They are a danger.
From the Seattle Times:
Was man armed with prosthetic legs?

A Southern Oregon man was arrested during a traffic stop after hurling his prosthetic legs at a state trooper, authorities said.

The 53-year-old Chemult man was a passenger in a vehicle that a trooper stopped Saturday for driving the wrong direction on Highway 97.

According to an Oregon State Police report, Trooper Don Newcomb asked the driver to leave the vehicle after smelling alcohol on his breath.

The 26-year-old driver refused, but the passenger got out and told Newcomb he would rip his head off, the report said.

The driver then left the vehicle and approached Newcomb from behind. Newcomb handcuffed him, but the passenger got out of the vehicle and shouted at the trooper.

Newcomb took the driver to the patrol car, then chased the passenger, eventually kicking him from behind. After falling to the ground, the passenger threw both of his legs at Newcomb, the report says. One hit the trooper in the chest.

The passenger was booked in the Klamath County Jail on suspicion of menacing, assaulting an officer, interference with an officer, criminal conspiracy and resisting arrest.

The driver, whose blood-alcohol level was 0.10 percent four hours after the incident, according to the report, also was booked at the jail.
Does It Get Any More Heinous Than This?
Goodness knows how some people's minds work. Here we have a woman who decides that infecting untold partners with her HIV virus was the perfect antidote for the disease given to her by a former thoughtless and callous boyfriend.
As if carrying the HIV virus is not taxing enough on the body, spirit and psyche, this lady embarks upon a mindless campaign of revenge by infecting other partners with the virus. For sure there's a solution to the problem.
Now the lady's in jail for 32 months. There's a nationwide campaign afoot to find this nice woman's other unsuspecting lovers.
So intelligent. So sweet. So utterly useless.
From Dailymail.com:
A receptionist at an upmarket hair salon deliberately infected her boyfriend with HIV in a revenge attack on black men who she blamed for giving her the disease.

Sarah Jane Porter, 43, who works at the Knightsbridge branch of Vidal Sassoon, set out to infect a string of men after contracting the Aids virus from a black lover.

Over a five-year period, she is thought to have had unprotected sex with with dozens of people who were unaware she was HIV positive.

A nationwide appeal to trace Porter's former lovers was issued last night as she was jailed for 32 months for deliberately infecting her ex-partner.
This is Weird. And Scary.
Abdullah Jimzawi is 20 years old. He is a high school dropout and lives in Jericho, Palestine. Katherine Lester is a 16 year old American lass. On June 9 of 2006, Lester was removed from the airplane in Amman, Jordan where she was en route to live with Jimzawi. The apparently naïve American girl was returned to America and to her parents.
Jimzawi supposedly loves Katherine and she was going to convert to Islam and marry him.
Who knows what went down save that Katherine's parents had to scramble to get their daughter out of the air and back in her home. Jimzawi claims he is not interested in America or western culture but the story in the link below shows an entirely different story. According to
Yahoo.com,
Jamzawi was obsessed with western culture and regularly stalked such youth cyberspace gathering spots as "My Space".
A 20 year old Palestinian high school dropout recruits an underaged American girl and makes arrangements for her to leave her home and travel to his.
Be afraid for your children, yon ladies and gems. Watch them and watch what they do on the computer. There's weirdness everywhere, just weirdness galore.
JERICHO, West Bank - The Palestinian man who had an Internet romance with a 16-year-old Michigan girl is a music-loving computer buff who says he loves the teen and is heartbroken she was sent home.

Abdullah Jimzawi, a 20-year-old high school dropout who lives with his parents in Jericho, said he and Katherine Lester had planned to marry and she intended to convert to Islam.
In an interesting aside to this story, here's some speculation on what that so-called wealthy Palestinian was REALLY up to.
From Belch.com:
Here is what doesn't add up. First, it costs between 2 and 5 Thousand dollars to fly from New York City to Amman, Jordan. Secondly, the palestinian territory of the West Bank is a refugee camp. No one there, except for settled Jews, has any money of consequence. The town of Jericho has barely any hotels, no real restaurants, and is essentially a dusty, poverty-stricken hovel. This family delivers groceries for a living. To minimarts. In a refugee camp. This is not a huge money-making enterprise. But according to the story, they ponied up the dough to fly Katherine Lester to the Middle East.

The Palestinian mother says that the girl intended to sign a marriage contract, which is customary in Islam. But according to Sharia law, any marriage where the bride's parents do not give permission is an invalid marriage. Also, it is very common for the woman's family to provide a sizeable dowry to the man's family for marriage.

Finally, the Palestinian mother notes that several other West Bank men were able to immigrate out of the hellish West Bank and into America by marrying American girls who were brought over from Internet dating sites.

I have said it several times on Trench's site here and here that I believe that this was a failed kidnapping attempt. I think the palestinian family intended to shake down the Lesters for a dowry and for passage for their son out of the West Bank.
Suicide of Maryland Publisher?
The first time I read the strange story of Philip Merrill my antenna went up. For Merrill was founder of Maryland's Annapolis' Capital-Gazette newspapers, newspapers I'd read for many years when I was a resident of Maryland. Merrill was also a man of broad history, the last serving as a chairman for the Import-Export Banks.
WJLA news
first broke the story.
Annapolis, Md. (AP) - The body of prominent publisher and former diplomat Philip Merrill has been found.

The 72-year-old went missing during a solo sailing trip June tenth in the Chesapeake Bay.

State Natural Resources police Superintendent Colonel Mark Chaney says a boater spotted Merrill's body in the water near Poplar Island around 12:30 p.m. Monday.

Merrill's boat was still running when it was found empty.
According to Delaware Online,
Merrill committed suicide.
BALTIMORE - Prominent publisher and former diplomat Philip Merrill, whose body was recovered from the Chesapeake Bay on Monday after he disappeared while sailing alone, apparently committed suicide, his family said tonight.

Merrill, 72, an experienced sailor, went missing earlier this month when his sailboat was discovered empty in the Chesapeake Bay with the engine still running.
Philip Merrill was a very wealthy man. Phil recently had heart problems. Merrill was evidently so despondent he took his boat out onto the Chesapeake Bay, shot himself, and threw himself into the Bay to drown.
I'm not saying it's not possible. It's just that this whole scenario is so suspicious, indeed it is the stuff of great mystery novels. Surely Merrill knew this. Wouldn't he have left a definitive note? Wouldn't his legal documents somehow prevent the eyeball of suspicion on his family and love ones.
A wealthy man dies alone from suicide. His body is in the water, no insurance it would ever be found.
I just don't think a successful take-charge man would do it this way is all.
For sure a once vibrant and healthy man might take his own life should health fortunes lead him to despair. But like this? No note? Alone? The boat running, body in the sea?
It'll be interesting to see how this develops.
Mayor Didn't Know Cocaine Dealer "Personally"
Connecticut seems like such a fine American state. Hardly the sort of state that would have a Mayor of one of its larger cities who appears to be knee-deep in cocaine purchases. Which is not to say he knew his fine cocaine dealer "personally".
Add to the intrigue, Bridgeport Connecticut's Mayor Fabrizi's cocaine dealer was a member of the Democratic Town Committee. Fabrizi is also a Democrat.
There was a big sting operation, folks. Cocaine Dealer and fine member of Bridgeport's Town Council was caught up in the sting. Bridgeport Mayor Fabrizi had called Fardy (the dealer) several times but hey, he didn't know the guy "personally". Heh. I always phone up people I don't know personally. Especially cocaine dealers. No one ever really knows their cocaine dealer "personally".
Heh.
Com Connecticut Post.com:
BRIDGEPORT -- Though Mayor John M. Fabrizi said last month that he didn't know Shawn Fardy "personally," his cell phone records show he called the accused cocaine dealer at least 13 times between October and December 2004. It's also the same time that Fardy is caught on a FBI wiretap placing a cocaine order "in code" to his accused drug connection, Juan Marrero, saying it's urgent that he get back to him because Fardy has a lot of anxious customers. Marrero, who was arrested on Feb. 19, 2005, for narcotics trafficking, "regularly provided cocaine to Fardy who would in turn distribute cocaine to his own customers," Juan Gonzalez Jr., a member of the FBI Safe Streets Task Force, states in Fardy's arrest affidavit.

Fabrizi also failed to mention that as a justice of the peace he performed Fardy's marriage to Lori Lasorso in July 6, 2001, according to city records.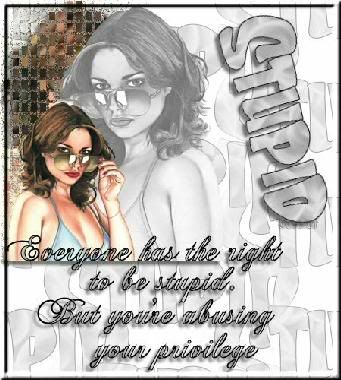 Stupid Criminal One
Let me get this straight. The fellow was stopped for drinking. He was ticketed and his mother came to get him. After, the drunk's mother drives him BACK to the car, which was left on the side of the road, perhaps that's North Carolina's way? The drunk gets back into the car and drives off only to be RE-ARRESTED by the same officer, who returned to ascertain the status of the car.
That fellow's mother needs to spend a few nights in jail as well.
From WRAL.com:
SILER CITY, N.C. -- A Chatham County man was charged with DWI twice in a span of about 20 minutes early Sunday morning, authorities said.

The incident started when a man was stopped in Siler City for speeding and driving left of center.

A Chatham County deputy found evidence that suggested the driver was intoxicated and the man was arrested.

The man's car, a 1991 Honda Civic, was left at the scene. The 18-year-old driver was released into the custody of his mother.

About 20 minutes later, the deputy went back to check on the Honda and to conduct a follow-up investigation.

When he arrived he saw the same man driving away in the car.

The deputy stopped the man and arrested him and impounded his car.
Stupid Criminal Two
The man's wife below is, indeed, a lucky woman.
No, it's not lucky to have been married to a fellow for whom a restraining order was required to keep him away once the romance went sour. It's a torment to be in a situation like that.
Hey, if the idiot severs an artery after punching through a window of said estranged wife with the restraining order, this would be a bit of luck.
The wife is now eligible to any death benefits and/or life insurance from her nutty husband. She can also collect on his Social Security assuming the finances are in line. Better, she is forever rid of this idiot, his silence coming from his own silly actions that had him dead by Darwin's law.
You can't make it up.
From Channel3000:
Police: Man Accidentally Dies Breaking Into Home
Death Remains Under Investigation

MILWAUKEE -- Milwaukee police said a man apparently killed himself by accident as he tried to break into the home of his estranged wife early Saturday morning.

Police say the 46-year-old man punched through the woman's bedroom window and severed an artery in his upper arm. They said he collapsed in the street and bled to death about a half block away.

He was pronounced dead at the scene.

Capt. Edward Liebrecht said the man appeared to have been violating a restraining order the woman had filed against him.

The death remains under investigation. Police declined to release the man's identity pending notification of family.
Lisa Montgomery Book Now For Sale
Titled "Murder in the Heartland",
Amazon code HERE,
M. William Phelps has completed his story about Lisa Montgomery. A synopsis of the bizarre story of Montgomery and her murdering mission to steal a woman's baby from her womb, is below.
More important, as this crime was ongoing many of the details were posted on this blog. Indeed I worked with Phelps a bit in providing background and tidbits on the crime. I also worked with the Boman family to keep people updated on the ongoing events that eventually led to the arrest of Lisa Montgomery for the murder of Bobbi Jo Stinnett. Click on the True Crime button on the sidebar or the link at the bottom of this post.
I don't like the title of this book at all. Sorry, Phelps, but I would think "Cut From the Womb" or some title more telling of the crime committed would have been more compelling. That "Murder in the Heartland" is too generic and bland.

June 7, 2006 - In December 2004, Lisa Montgomery arrived at the Missouri
home of dog breeder Bobbie Jo Stinnett under the pretense of buying a dog.

Instead, Montgomery allegedly came to carry out a horrific plan - to strangle the eight months' pregnant Stinnett and steal the baby from her womb.

Montgomery now is awaiting trial, accused of murder and kidnapping. The baby she is accused of cutting out of Stinnett's womb was found alive and is living with her father while Montgomery faces the possibility of life in prison or the death penalty.

The horrific tale is now the subject of M. William Phelps' new true crime book, "Murder in the Heartland." He conducted interviews with Montgomery's ex-husband, children and mother, law enforcement officials, friends, relatives, and neighbors.
At any rate, I will read the book and provide a review.
When LISA is willing to write her story then I shall be there ready to transcribe.
"No Knock" Searches
From the very beginning of the article below by the Associated Press, there's a load of editorializing from the very start.
For now, let us consider the issue of "no knock" searches. Because while the constitution does stipulate that searches of our homes or persons must be accompanied by a properly obtained warrant, the constitution is silent on such niceties as knocking or politely ringing the doorbell.
Putting manners aside for a moment, the bigger question is whether the evidence obtained during such a "rude" no-knock search should be discounted.
If three tons of cocaine are found upon a kitchen table in a house where authorities entered with a proper warrant but with no "knock" or doorbell warning, should that three tons of cocaine be then useless as evidence?
From the AP:

The Supreme Court ruled Thursday that police armed with a warrant can barge into homes and seize evidence even if they don't knock, a huge government victory that was decided by President Bush's new justices.

The 5-4 ruling signals the court's conservative shift following the departure of moderate Sandra Day O'Connor.

The case tested previous court rulings that police armed with warrants generally must knock and announce themselves or they run afoul of the Constitution's Fourth Amendment ban on unreasonable searches.
The buzzwords above, such as "barge" and "conservative shift" are totally unnecessary in a news story. Perhaps in an editorial but when did Lamestream journalists get any silly notions about reporting just the facts?
But consider the constitution and what it says. It says NOTHING about knocking first. Which is not to say that knocking before entering is a nice thing and under most circumstances it would seem the right thing to do. However, knocking is a sort of warning, as it were. And with warnings, go with me here, criminals tend to hide evidence of their crime.
The bigger question is should any evidence collected during a no-knock search be EXCLUDED at a trial? Because that is exactly what happened in the case on which the Supreme Court ruling was based.
It's far better, as I see it, to have the niceties of warranted searches handled by the local police. The constitution is silent on the matter. The constitution does guarantee you and I that the government will not search our private domiciles without a court-ordered warrant justifying same. The constitution does not require a polite knock.
If the police executing a warrant go overboard, let the local populace deal with it.
Excluding evidence collected during a raid begun with a legal warrant because there was no knock warning is just plain stupid.
Cynthia McKinney NOT Indicted
Way I figure, what with this being America and everything, that I too can now hit a cop with a cell phone and get off.
Heh.
From CNN.com:

Grand jury declines to indict Rep. McKinney
More Problems for the Steelers
Their quarterback decided to take a motorcycle jaunt without benefit of a helmet. But did you know that yet another vaunted Pittsburgh Steeler was in trouble?
Indeed wide receiver Santonio Holmes has been charged with domestic violence.
From Macon.com:
COLUMBUS, Ohio - Pittsburgh Steelers wide receiver Santonio Holmes was charged with domestic violence early Monday in his second arrest since being selected in the first round of the NFL draft.

Holmes was arrested at an apartment just after midnight and taken to Franklin County Jail, Sgt. Loucious Hollis said. Holmes' first court appearance was scheduled for Tuesday morning, a jail officer said.

Hollis confirmed the domestic violence charge against Holmes but said he couldn't reveal who made the complaint or provide details of the allegation.

More True Crime Updates HERE