There's Six Left and Things Are Getting Interesting on Fox's 2006-"So You Think You Can Dance?"
Pic of the Day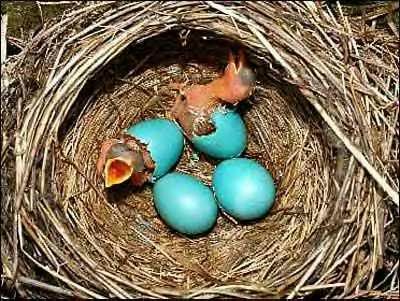 ---
| | |
| --- | --- |
| | Quote of the Day |
Web Site Worth the Visit
S Teddy Bear Game Younger Kids Will Love

Teddy Bear Game


TIDBITS

STROKE IDENTIFICATION:

During a BBQ, a friend stumbled and took a little fall - she assured everyone that she was fine (they offered to call paramedics) and just tripped over a brick because of her new shoes. They got her cleaned up and got her a new plate of food - while she appeared a bit shaken up, Ingrid went about enjoying herself the rest of the afternoon. Ingrid's husband called later saying that his wife had been taken to the hospital and passed away. She had suffered a stroke at the BBQ. Had they known how to identify the signs of a stroke, perhaps Ingrid would be with us today. Some stroke victims don't die, they end up in a helpless, hopeless condition instead.

It only takes a minute to read this...

A neurologist says that if he can get to a stroke victim within three hours he can totally reverse the effects of a stroke . . . totally. He said the trick was having a stroke recognized, diagnosed and then getting the patient medically cared for within three hours, which is tough.

RECOGNIZING A STROKE:
Sometimes symptoms of a stroke are difficult to identify. Unfortunately, the lack of awareness spells disaster. The stroke victim may suffer severe brain damage when people nearby fail to recognize the symptoms of a stroke.

Now doctors say a bystander can recognize a stroke by asking three simple questions:

S *Ask the individual to SMILE.
T *Ask the person to TALK, to SPEAK A SIMPLE SENTENCE. (Coherently) (i.e. . . It is sunny out today)
R *Ask him or her to RAISE BOTH ARMS.

NOTE: Another 'sign' of a stroke is this: Ask the person to 'stick' out their tongue . if the tongue is 'crooked', if it goes to one side or the other, that is also an indication of a stroke.

If he or she has trouble with any one of these tasks, call 911 immediately and describe the symptoms to the dispatcher.

=======================
"So You Think You Can Dance?" 2006-Six Left
There were eight left. Females: Donyelle, Travis, Heidi, and Alison. Males: Benji, Ryan, Travis, Ivan.
At the start of the show on Wednesday 7/26/06 it was expected that one female and one male would be eliminated.
First up, Donyelle and Travis danced the Hip-Hop. They would also do a Quick Step later in the show.
It was a perfectly terrible rap song as Donyelle and Travis danced wearing hoods with a face on the back. One judge deemed it a "pretty hot routine".
What's interesting about Donyelle is that she has some meat on her bones. Which is a good thing, don't get me wrong. And she's been hanging in there handily with audience votes. This means not much I don't suppose but Donyelle can move, she's got some heft and America likes her. I wouldn't rule out Donyelle as the winner of this thing.
Ivan and Alison were next and they danced, I'm not making this up, the "Argentine Tango". So okay, I know a Tango although if you held a gun to my head I would not know how to do it. I'm not at all sure why an Argentine type of Tango would be different.
Alison wore a most weird outfit although it was a sexy one. I thought Alison displayed very good leg movement but America would not be so kind to Alison.
Ryan and Natalie danced a Disco dance. Ryan did carry Natalie for some of the moves but he looked very awkward. One judge commented that Ryan was not "strong enough". America would not be kind to Ryan either.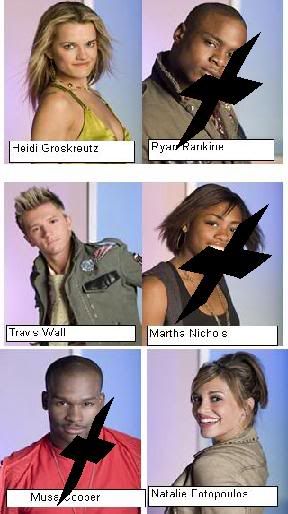 Next, Benji and Heidi. The crowd loves Benji and he's definitely a contender. This team danced to "Broadway" music and gave an enjoyable performance. Heidi is, by me, the sexiest female dancer of the finalists.
One judge pronounced "hallelujah" and "amen". Which could be because the song to which they danced was some sort of revival religious song.
Donyelle and Travis then danced the Quickstep. I still like Donyelle and thought it was a good routine. One judge, alas, described it as "dancing by the numbers".
Alison and Ivan then did my least favorite dance, the Hip-Hop. They used umbrellas for props and Alison looked awful in baggy pants. The routine was pretty good for the dreaded Hip-Hop.
The following night, Natalie and Alison were pronounced the bottom two in terms of audience votes. Alison was sent home.
The bottom two guys were Ryan and Travis. Ryan was sent home and he deserved it.
First Post on the Fox Series
Second post on this Fox Series