The Kid Who Has Cancer and a Strange Nevada Crime Involving One Player in Two Untimely Deaths
Pic of the Day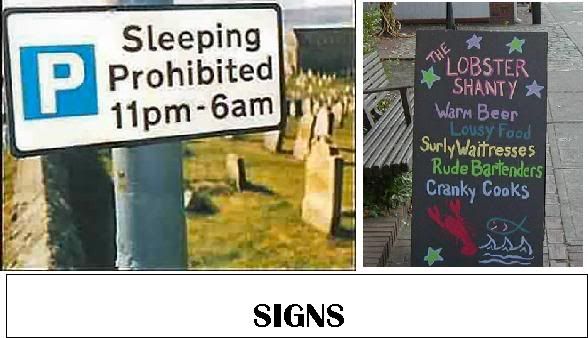 ---
Quote of the Day


Live in such a way that you would not be ashamed to sell your parrot to the town gossip - Will Rogers



Web Site Worth the Visit
Japanese Wacky Video

Who would have thought the Japanese would be so funny?

For Dr. Smith's special "manjuice" cures cancer. His efforts to "deliver" his medicine and cure his patients are hilarious.

Smith Happens


TIDBITS


Bush Virus - Causes your computer to keep looking for viruses of mass destruction.


The John Kerry Virus - Stores data on both sides of the disk and causes little "purple hearts" to appear on screen.


The Clinton Virus - Gives you a permanent Hard Drive; with NO memory


The Al Gore Virus - Causes your computer to keep counting and re-counting


The Bob Dole Virus - Makes a new hard drive out of an old floppy


The Lewinsky Virus - Sucks all the memory out of your computer, then e-mails everyone about what it did


The Arnold Schwarzenegger Virus - Terminates some files, leaves others, but will be back


The Mike Tyson Virus - Quits after two bytes


The Oprah Winfrey Virus - Your 200 GB hard drive shrinks to 100 GB, then slowly expands to re-stabilize around 350 GB


The Ellen Degeneres Virus - Disks can no longer be inserted


The Prozac Virus - Totally screws up your RAM, but your processor doesn't care


The Lorena Bobbitt Virus - Reformats your hard drive into a 3.5 inch floppy ... then discards it through Windows...

Boy Forced Into Chemotherapy
Let me state right now that this entire verdict has, of this writing, been put on a "stay" by the appropriate appeals court. In other words, the kid again has the right to pursue his own treatment and the order for him to report to a hospital for chemotherapy has been temporarily rescinded.
Abraham Cherrix is 16 years old and has cancer. In fact, he had cancer once before which was cured through an intensive chemotherapy treatment. Within two months the cancer returned. Which makes me question the previous "cure" but let's not go there.
Cherrix' parents are still his legal guardians and are the ones who our legal system has determined should make his medical decisions for him until he is of Virginia's legal age, which is 18.
There's several major things going on with this case. Although I'm supposing the Virginia court system decided to handle it this way and they decided this strategy very shrewdly. It appears that the lower court judge ruled strictly according to Virginia law while the higher court stayed the lower court's decision and allowed the adolescent to pursue the treatment course of his choice.
Now I don't know that this was the Virginia courts strategy in that the fine judges all sat around the lunch table and plotted this plan. But it sure seems that way.
First, Cherrix' parents are the ones hauled into court. The Social Services departments involved in this determined that Abraham's choice of treatment was not satisfactory and in letting him continue on with his unorthodox treatment plan the parents were essentially negligent. Abraham, please understand, has chosen a treatment plan that is, many would argue, useless and is considered a scam by many. He has chosen to eschew the chemotherapy for this cancer occurrence as it strongly feels he would not survive the treatment, much less the cancer. Thus a new-age, holistic sort of cancer treatment is his cancer protocol of choice.
It seems to me that the decision to go with a cancer treatment protocol involving fruits and nuts to be a bit over the top, not to mention unproven and unwise. But it's not about which medical protocol we choose to treat our illnesses. It's about our own personal choice.
This case, all the rage down here in the Delmarva coastal area where I live, (Delmarva should be a separate state, perhaps I should start a petition?) is also about hypocrisy.
For if a 12 year old female wants an abortion she is allowed one, boom, with NO input from her parents. Yes. That's the rub.
Here we have a 16 year old, two years away from his age of majority, yet HE has no choice whatsoever. His parents must decide his medical treatment and their choice was to allow their son HIS choice of medical treatment. The state doesn't see it that way and intervened allegedly on behalf of the boy.
Now it might not be Virginia that has that abortion parental notification rule, or not. States across the fruited plains are wrestling with this matter; some have chosen to require parental notification for underage abortions, some states have specifically forbidden demands for parental notification, and the supreme court seems to lean towards no requirements for parental notification for abortions performed on their underage daughters.
This Cherrix case loomed on the horizon as a challenge to the hypocrisy of allowing young girls the ability to get an abortion on demand with no parental notification while disallowing this young man to pursue his cancer treatment of choice.
I don't know, it still might become a supreme court case even with the Virginia judicial system's cute method of working around the dilemma.
It's important, damn it. You let a 12-year-old-female get an abortion and boom, no need to tell your parents honey. But a 16 year old boy would rather die than go through chemotherapy again and you know yon ladies and gems, we all really do have that choice. The government does not totally own our bodies. YET!
There seems to be a need for some consistency here, you think?
Once again the slippery slope of abortion slides closer to an abyss. All because some Supreme Court judges implemented law without benefit of our elected legislators. Suddenly the social poohbahs decided that it would be wrong, WRONG I TELL YOU, to force those girls to notify their parents of such a major medical decision.
So why wouldn't they allow Abraham Cherrix his choice?
Make up my mind.
WHOSE LIFE IS IT ANYWAY?


"A 16-year-old Virginia boy who suffers from Hodgkin's disease has been told by a state judge he must report to a hospital this week and accept treatment deemed necessary by his doctors. . . . A judge ruled Friday, July 21, 2006, that Starchild Cherrix, fighting to use alternative treatment for his cancer, must report to a hospital by Tuesday for testing, evaluation and treatment as doctors deem necessary, the family's attorney said.

"...Cherrix says three months of chemotherapy left him nauseas and weak and he prefers not to repeat that type of treatment. . . . In an age when we continue to debate 'a woman's right to choose' when it comes to a girl aborting her baby and we are told that it is the girl's body and no one else should make decisions affecting it, a boy has no such rights."
- Columnist Cal Thomas
From AOL.com:
NORFOLK, Virginia (July 22) - A judge ruled Friday that a 16-year-old boy fighting to use alternative treatment for his cancer must report to a hospital by Tuesday and accept treatment that doctors deem necessary, the family's attorney said.
An Intriguing True Crime
The great nephew of Germany's famed flying ace the "Red Baron" was bludgeoned to death with his wife as he lay sleeping.
That's the first intriguing fact about this little story I found on a Google newsgroup. The second intriguing fact is that in Brazil, no one can serve more than thirty years in jail no matter the original sentence. A rule that makes no sense, at least to me.
Anyway, it's an old story. The von Richtofen's daughter recruited some murdering friends and tried to avoid that bit about making her own way and decided to do in her parents early so she could inherit their estate.
What a sad end to a great legacy.
From Timesonline:
A WOMAN, her estranged lover and his brother have each been found guilty of murder and sentenced to nearly 40 years in prison after they accused each other of a plot that killed her parents.

The case mesmerised Brazilians with its tale of love across class lines. More than 200 spectators packed the courtroom on Saturday as a jury convicted Suzane von Richtofen, 22, Daniel Cravinhos, 25, and his brother Christian, 30, of the killing of Manfred and Marisa von Richtofen as they slept at home in a wealthy district of São Paulo in 2002. Judge Alberto Anderson Filho sentenced von Richtofen and Daniel Cravinhos to 39 years and six months each in prison. Christian Cravinhos was sentenced to 38 years and six months because the judge considered that he played a slightly smaller role in the killing, according to Roberto Tardelli, the chief prosecutor. Defence lawyers were expected to appeal.
Women Shot in Same Location as Her Brother Four Years Prior
...and shot while she tended the shrine at the locale dedicated to her brother!
Sometimes you just don't believe in coincidences. This case boggles the mind.
Anna Perry was shot in the face as she lit the extinguished candles at her brother's memorial. Four years ago her brother, Robert Perry-age 26 at the time- was shot several times as he rode his bicycle at the same spot.
A Mercedes dropped Robert off at the hospital but Robert died in the emergency room. A suspect in Robert's murder has since died although the article does not say how.
And now Robert Perry's sister was shot at her brother Robert's makeshift memorial.
Folks, this sounds like some kind of gang or organized crime thing going on here.
From the Boston Herald:
A young mother died early yesterday after she was gunned down while kneeling to light a candle in her slain brother's memory, her life's blood spilling on the very spot where her beloved brother was killed exactly four years ago - almost to the hour.

Analicia "Anna" Perry, 20, the mother of 4-year-old Nyarie Bacchus, was shot in the face at 11:26 p.m. Saturday when she arrived to tend to a makeshift shrine for her brother, Robert Perry. The bullet traveled into her brain, and she died three hours later at Brigham and Women's Hospital. Police still don't know who shot her or why.
Naked Man Beats Car With Pigeon
Just read the article in its entirety pasted below.
From Arcamax.com:
SUFFOLK, Va. (UPI) -- Two Whaleyville, Va., residents were stunned when a naked man accosted their car in their driveway and began hitting it with their pet pigeon.

The couple had just pulled into their driveway Friday night when Juan Lopez, 30, of Virginia Beach, appeared naked and began striking their car with the bird, the Virginian Pilot reported Tuesday.

They fled to a neighbor's house and called police who found the suspect in nearby woods.

A Suffolk, Va., police spokeswoman told the newspaper Lopez was "obviously having some sort of issues that night."

He had allegedly gotten into the homeowners' bird cages that held 15 chickens and four pigeons. Four of the birds were killed.

Lopez was charged with burglary, destruction of property and larceny of poultry.

Without a Speck of Class
And she defies the prosecutors by ignoring her plea deal.
Yes, she's a Democrat. She promised the award of a promising parcel of land to a developer, IF he provided her with a half a million dollar house in a "gated community". They got it all on tape with a little help from the developer.
Gordon did return the first installment on the bribe, originally delivered to her mother from the developer, when she learned the district attorney was cracking down on former Democrat head honcho, Clarence Norman.
So the agreement, since a crime technically was not committed, was for Gordon to resign from office and not seek the office again. With a flip of the bird and with "several supporters" cheering her on, Diane Gordon filed for re-election.
Heh. And she'll probably win too.
From NY DailyNews:
Assemblywoman Diane Gordon appears in surveillance video released yesterday by Brooklyn District Attorney Charles Hynes allegedly showing the Brooklyn Democrat soliciting a bribe from a developer.

Brooklyn Assemblywoman Diane Gordon was arrested yesterday for allegedly shaking down a developer - her barefaced demands caught on videotape.

The arrest came five months after Gordon was quietly indicted in February. Brooklyn prosecutors were willing to cut Gordon a deal, as long as she kept her promise to resign, never seek office again and cooperate in a corruption probe.

But all bets were off when she announced her intention to seek reelection last week.
Dead in Chimney Since 1985
Found this interesting tidbit on a
Google newsgroup.
The text attributes the story but there is no link provided.
Here's a poor little boy dead in a chimney for so many years until his body was discovered. More telling is the sad life of Robert Thompson, disappeared since he was 14, and the story of his mother, Clelia Thompson, now 78, and a ghetto life where children die, are stuffed in chimneys, and not discovered for over twenty five years.
From the Los Angeles Times
New Details On The Boy In The Chimney

The examiner believed the youth got trapped. The detective suspected murder. An answer to part of the mystery left both in disbelief.

Inside the chill of the county coroner's office, the detective and the forensic anthropologist stood over soot-covered bones arrayed on a metal table.

Over two hours, Elizabeth Miller provided a running dialogue for each bone. She picked up one rib after another, studying them for knife scrapes.

The bones were those of a boy, perhaps 12 to 15 years old, found in the chimney of an abandoned building in South Los Angeles. The boy wore faded and stained tan jeans and a white shirt, but no shoes. "I'm sure if we had a photograph, we'd be able to recognize him," Miller said.
California Hiker Murder Update
In
my most recent post
on this double murder, news of a mother and daughter killed as they hiked was just coming out.
Now their identities have been released and it still remains a strange story.
The women were seen at 10:00 am by another hiker. Their bodies were found by a hiker at 2:30 pm that same afternoon. It is evident that the police are keeping some things about the crime mum. Initial reports had that the women were shot. Now there are reports that the faces of the women were "unrecognizable".
Were they shot in the face? Police also denied that the women were shot but a witness at the scene swears he heard a gunshot. If they were not shot in the face, with only four hours between being seen alive and found dead, surely decomposition didn't cause the facial damage. Were these women attacked by some sort of crazed axe murderer?
This is such a strange story. For the likes of wanton murderers or serial killers would not likely prey high up on a mountain far from civilization and, indeed, far from a large pool of those to prey upon.
From KOMOTV:
Hikers Killed On Trail Identified As Seattle Women
July 13, 2006
By KOMO Staff & News Services

SEATTLE - Two women found slain on a popular Mount Pilchuck-area trail in
Snohomish County were a Seattle school librarian and one of her adult daughters, a relative said.

In a statement issued Thursday, David Stodden of Seattle said the victims were his wife, Mary Cooper, and their daughter, Susanna Stodden.
Hearing from the Guilty?
I am sure this is not the only Blog with True Crime features that gets attention from participants and/or relatives in true crimes featured or even from the perp his or herself.
Happens all the time on this Blog. In fact, if I were an investigator for a crime I'd seek out Blogs with True Crime stories because there's something about people that they can't resist their day in the sun. Even if the sun is shining on them for some heinous crime they committed.
HERE
is a recent Blog post made on the story, quoted below, of a woman who very kindly helped her 32 year old son molest young children.
The bitch is going to jail.
Arapahoe County - A 32-year-old man accused of masquerading as a teenager so he could sexually assault children had help with his alleged sham thanks to the deceit of his mother, authorities say.

Prosecutors say Soldad McGhee, 54, introduced her son, Zuri-Kye McGhee, to other parents and led them to believe he was as young as 13.

In August, The Denver Post contacted Soldad McGhee, who said she believed he was innocent of the charges against him in New Mexico. And she wanted to believe he was innocent of the new charges.

"I still would like to believe the good in my son," she said.
But it gets better.
I don't know who left this comment on my Blog regarding the above post. The comment alleges the commenter to be someone who knows the lovely Soldad McGhee. The commenter naively pretends that Soldad McGhee was just a loving mother who had no idea what her son was up to.
This woman HAS been arrested, folks. If this Humble Blogger is speculating on her guilt or innocence, know now that the Colorado investigators feel they have enough goods on this woman to arrest and charge her.
I don't know who put this comment on my Blog but I suspect it might be either Soldad herself or someone Soldad put up to adding the comment.
Sadly, I really think Soldad is a victim of massive self-deception. She didn't just pick up and drop off her son at these youngsters' homes. She actually brought fake homework to her son in order to keep up the masquerade that her big galoot child-molesting son was some sort of school student.
your thoughts on the Colorado case involving the mother who supposedly helped her son molest more than 18 children is just that your thoughts, though no doubt entitled, you don't know this woman. I thought it was innocent until proven guilty not vice versa, am I wrong? I know this woman, and it's not within her character to do nothing more than take care of her family, and for this she is being made an example of. true she may have rented him a place paid his bills, even gave him rides, no different then my mom's done for me when I moved out, no different then others parents have done for them. can't say I can honestly recall my mom asking what I was gonna do @ the places she dropped me off to, no different then soldad may have been doing for her son, merely thinking she's dropping off her kid, not eventually being charged with being an accomplice, simply loving her son, and for this now she's being made an example of
--
Posted by to The Kaitlyn Mae Book Blog at 7/21/2006 09:52:36 PM
Nevada State Controller's Mystery Death
Charles Augustine was married to Kathy Augustine before he died from complications from a stroke. Chaz Higgs married Kathy Augustine three months after her husband Charles' death. Chaz Higgs was Charles Augustine's critical care nurse who cared for him after his stroke.
Now Kathy Augustine, a beleaguered Republican Controller in the state of Nevada, was found dead of a sudden heart attack at age 50. Chaz, her beloved husband, tried to slash his wrists three days later but recovered and was able to attend his wife's funeral.
Come on folks. 63 year old Charles Augustine dies from stroke complications while Chaz Higgs was his critical care nurse. This is believable.
Kathy Augustine dies at age 50 of a heart attack while married to this same Chaz Higgs. This becomes less believable.
Chaz Higgs then, in a melodrama play for sympathy as I surmise it, tries to slash his wrists in his grief but hey, he recovered.
Kathy Augustine was impeached and censured for using state equipment to run her campaign in 2002. She was very disliked by her colleagues and subordinates. God knows how deep her corruption ran.
Who's the villain here? If there is a villain is what I'm saying here.
Is Chaz Higgs a sneaky, murdering opportunist who caused the death of Charles Augustine to get at the man's wife? Then when his wife seemed about to lose the bounty of her elected office, did Chaz Higgs rid himself of the wife who would not be so useful to him?
Or did Kathy AND Chaz conspire to eliminate poor Charles Augustine from their lives then run off to wedded bliss within three weeks? Did Kathy die from a heart attack at age 50 with a little help from Chaz?
Scuttlebutt has it that this case is causing tongues to wag in Nevada. Nevada. Heh. The shining beacon of corruption and misdeeds.
Look for more to come out about this case.
From AOL.com:
The case of the seemingly healthy state controller who died suddenly and the attempted suicide of her husband has generated a lot of chatter - and caught the attention of law enforcement.
More True Crime Updates HERE