Katrina For Kaitlyn-Things Still Not Going Well in New Orleans; Review Fox's "So You Think You Can Dance"
Pic of the Day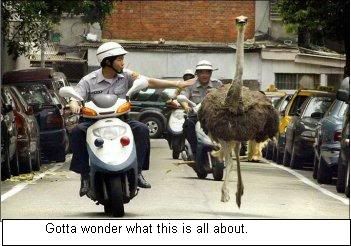 ---
Quote of the Day


By all means, marry. If you get a good wife, you'll become happy; if you get a bad one, you'll become a philosopher.


-- Socrates
Web Site Worth the Visit
Elvis lovers...check out this site that features Elvis singing "Are You Lonesome Tonight". Only catch is, the song has been slightly changed for the elder amongst us.

SOUND ON

"Are You Lonesome Tonight" for the elder

IMPORTANT TIPS FOR CHILDPROOFING YOUR KITCHEN:

* Store matches, lighters, sharp utensils and household cleaners in a cabinet accessible only to adults.

* Put child-safety latches on all lower-level cabinets.

* Unplug appliances when not in use and keep cords out of reach of children.

* Never pour hot liquid near a child and never leave hot drinks within reach.

* Use the back burners of the stove and turn pot handles toward the back.

* Watch out for tablecloths - since small children enjoy pulling on the cloth, glasses and plates can fall off.

* Keep stools and chairs away from counters and stoves.

* Be sure to keep alcohol locked away from children.

* Many kitchen accidents occur within seconds. It's best to keep small children out of the kitchen completely.

* Use a child-safety gate, if possible, in the doorway to keep children out of the kitchen completely when you are in another room.
Almost a Year Later, Things Still Bad in New Orleans
Beloved Kaitlyn Mae,
Time for a catch-up from Grandmother on the Katrina aftermath.
Below, we have an update on how things are going, now eight months after the storm. Kaitlyn, things are not going too well.
From CBSNEWS.com:
The piles of plaster, plumbing and broken appliances top 6 feet in some places, filling the gutters and spilling onto the sidewalks.

Despite the heat _ it's already in the high 80s _ the piles are moist from the still-waterlogged material ripped from flooded homes. Something in each of them attracts hordes of flies that buzz up at every disturbance.

Eight months after Hurricane Katrina pounded New Orleans, this is the first sign of an attempt to revive the "Gert Town" neighborhood, a poor, mostly black part of the city.

Quintocha Johnson, 30, looks at the debris along her block of Broadway Street with a combination of hope and despair.

The houses now being worked could bring back longed-for neighbors, but she worries about her two young sons getting hurt playing around the debris, which attracts flies, rats and snakes.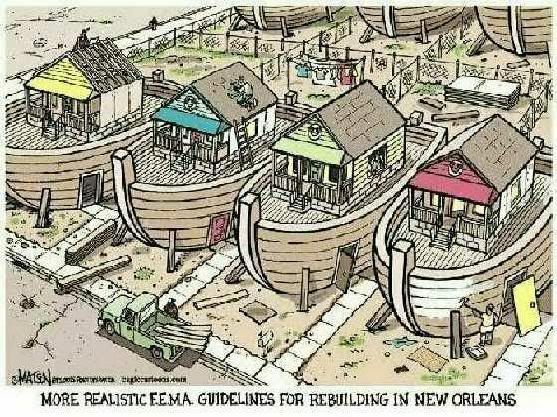 And below we have even more problems.
Because, Kaitlyn, the natives are returning home. Now New Orleans must call in the National Guard and Mayor Naginhead needs more cops.
Notice please, Kaitlyn, that NOW fine leader Kathleen Blanco calls up the National Guard. When she hesitated during Hurricane Katrina.
From Yahoo.com:
NEW ORLEANS - Acting at the mayor's request, Gov. Kathleen Blanco said Monday she would send National Guard troops and state police to patrol the streets of New Orleans after a bloody weekend in which six people were killed.
"The senseless slaying of five teenagers this weekend is shocking," Blanco said in a statement. "Things like this should never happen, and I am going to do all I can to stop it." The governor did not specify how many troops and officers she planned to deploy. Earlier Monday, Mayor Ray Nagin asked for as many as 300 National Guardsmen and 60 state police officers.
It's all not good, Kaitlyn. I suppose that someday when you read this there still may be a "Big Easy". I don't think it will ever return again like it was during Grandmother's era.
===================
more Katrina Posts HERE.
~~~~~~~~~~
"So You Think You Can Dance?" 2006
From Fox.dance.com:
. If you think the AMERICAN IDOL competition is tough, you haven't seen anything yet! Some contestants will collapse under the pressure, others will reveal their two left feet; but only one will dance his or her way into America's heart. The series, produced by 19 Entertainment Ltd. and Dick Clark Productions, will have its second season premiere Thursday, May 25 (8:00-10:00 PM ET/PT) on FOX.
Above is the hype about this, the second series of this competition. I did chance to watch a few of the premiere series and didn't much care for it. For as much as I enjoyed ABC's "Dancing With the Stars", this Fox reality series didn't have near the glamour and beauty of the dance as the ABC contest.
This year, 2006, I tuned in again to the earlier episodes in the competition. Again, I didn't much care for people sitting on their backside while spinning in wild circles and calling this "dance". So sue me.
On Wednesday, 7/12/06, the competition was down to six couples so I checked in again. I must say I was pleasantly surprised.
The final competitors are all linked together as "couples". This is as it should be as a dancing soloist is fine to watch for one or two clips. Beyond that it becomes gymnastics. This is a public voting contest but for now, I am not sure of the particulars.
I made some notes and gathered a few pics of the competitors and do intend to watch this reality series on until a final winner.
First let me say that the show's hostess, Cat Deely, on the night I watched, was wearing just the prettiest dress I've ever seen. She also has a charming English accent so gotta love this.
The first couple to take the floor was Musa and Natalie. They were assigned a "hip-hop" dance routine. Well I thought it was awful.
Go with me here, I don't like rap music and this performance was accompanied by some rap song that ruined all else as I saw it. A Judge declared that "Musa was worth waiting for" and that "Natalie was an actress".
The song lyrics involved some story about a guy going after a girl, duh, and the dance performance of Musa and Natalie required not only dance steps but a sort of dance melodrama. I personally did not like it and found the dance routine distracting to watch.
Next we have a Cha-Cha performed by Ryan and Heidi.
Heidi was one beautiful lady. The cha-cha as performed by this duo was unlike any cha-cha I'd ever seen. Which is not to say it wasn't a lovely routine and it was interesting to watch. I thought I detected an awkward pickup by Ryan during the performance.
A judge warned Heidi to watch her facial expressions and this caught me by surprise. I didn't think facial expression to be all that important during a dance.
Next we have Ivan and Allison. Hey, the only way I would describe Ivan is as a "geek". Which is not necessarily an insult as the last person one would expect to be cutting up on the dance floor as a finalist in a national dance competition would be a geek.
The judges positively loved this duo and several remarked on Ivan's march to "maturity". Hey I liked Ivan and Allison's performance too although I'm not at all sure what the dance was. I must smile at all this demonstration of Ivan's maturity. I must wonder what he looked liked before he "matured".
Time for Dmitry and Ashlee and they danced something called "pop dancing". Heh. Someone tell me the difference between pop dancing and hip-hop dancing.
I thought the dance was awful and the song was equally awful. One judge quipped about Dmitry and Ashlee that one "can forget about that performance within 20 minutes."
Next we had Martha and Travis, who performed the Foxtrot. Now we're getting into more glamour that I, a lady of refined taste, prefer. Travis, God love him, was a cutie pie. I loved Martha's outfit and I especially loved the song "Witchcraft" used for their performance. I thought they both had great steps and they were mesmerizing to watch.
The Judges told Travis that he stops his forward movement too abruptly and Martha needs to work on her shoulders. Egad. Now we gotta watch the shoulders and facial expressions. Dancing is tough work, folks.
Finally we had Donyelle and Benji. Donyelle had a little meat on her bones but I mean this in a good way. In fact she was very entertaining to watch. This couple was assigned "Broadway music" which, I don't know, if it was a dance or a dance to song in a Broadway musical. Although now that I think about it, aspiring dancers often look to the boards of old Broadway for employment so it seems an appropriate choice.
Donyelle and Benji performed to a song from the hit musical "Hairspray", a beloved musical of mine in that it takes place in my home town of Baltimore. The song was "You Can't Stop the Beat".
One judge remarked he will be surprised if this couple does not win.
I must emphasize that the winner, as I understand it, will NOT be a couple. Only one dancer will win the competition. Indeed, as the eliminations keep coming, only one part of a couple is eliminated via the total audience vote score.
Stay tuned for more as this competition continues.