Cooking: Meringue from Hell, a Chocolate Lovers Cake and Ziploc Omelettes?
Pic of the Day
---
Quote of the Day



"We have every mixture you can imagine. I have a black, I have a woman, two Jews and a cripple."
--James Watt, Secretary of the Interior, 1981-83, describing an Interior Department advisory group.

"Bill Clinton's foreign policy experience is pretty much limited to having had breakfast once at the International House of Pancakes."
--Pat Buchanan, 1996 Republican presidential candidate.

"Boy, they were big on crematoriums, weren't they?"
--George Bush, touring Auschwitz in 1987.



Web Site Worth the Visit
In Honor of Fox's "So You Think You Can Dance" Series

Youtube presents an older dancer. Those youngsters better watch out.

Watch an Oldster Dance


TIDBITS
PASTA COOKING TIPS

1. When cooking fresh pasta, watch it very closely and test often for doneness because it cooks quickly.

2. To prevent the pasta from sticking together, be sure to use plenty of water and stir the pasta when first adding it to the boiling water.

3. To prevent soft, mushy pasta, do not allow the pasta to be in the water any longer than necessary by adding it only when the water is at a full boil and by keeping it at a steady boil throughout the cooking time.

4. Adding salt to the water when cooking pasta will help firm the pasta and bring out its flavor.

5. Add a tablespoon of oil to the water when cooking lasagne. Because lasagne noodles are long, wide and thick, they have a tendency to stick together when they cool. The oil in the cooking water will help to prevent them from sticking together.

6. Pasta should be cooked as close to serving time as possible because it cools down quite rapidly. Serve the pasta on a heated plate or in a heated bowl to help keep it warm.

7. To bring pasta water to a boil more quickly, cover the pot with a lid while you are heating the water. Do not cover the pot while cooking the pasta.

8. Don't worry about cooking too much pasta, the leftover pasta can be refrigerated and used later in other dishes, such as salads, casseroles or soups. It can also be reheated and eaten plain or with a sauce.


Beginning With a Meringue Pie from Hell
Husband sent me this pic and I must marvel. Who on earth would want this much meringue on their pie? But for those who like meringue, this is a winner.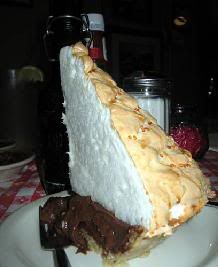 Convenient Ziploc Omelets
Came across this on an email list and was intrigued. Haven't tried it but it seems as convenient as all get out.
===================
This works great !!! Good when you're alone or when all your family is together. Best feature is that no one has to wait for their special omelet !!! Have guests write their name on a quart-size Ziploc freezer bag with permanent marker.
- Crack 2 eggs (large or extra-large) into the quart size Ziploc bag (not more than 2) shake
to combine them.
- Put out a variety of ingredients such as: cheeses, ham, onion, green
pepper, tomato, hash browns, salsa, etc.
- Each guest adds prepared ingredients of choice to their bag and shake.
Make sure to get the air out of the bag and zip it up.
- Place the bags into rolling, boiling water for exactly 13 minutes.
You can usually cook 6-8 omelets in a large pot.
For more, make another pot of boiling water.
- Open the bags and the omelet will roll out easily. Be prepared for everyone to be amazed.
====================
Simple, Easy and Quite Good
In fact I did make the cake from the recipe below and in fact it was convenient and tasty. I did not put any frosting on the cake but a dusting of powdered sugar or ready-made frosting would be great.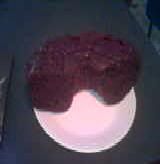 My picture of the result does not look like much but go with me here, it was very good.
Chocolate Lovers' Favorite Cake

1 (18.25 ounce) box devil's food cake mix
1 (4 serving size) box instant chocolate pudding mix
2 cups sour cream
1 cup melted butter
5 eggs
1 teaspoon almond extract
2 cups semisweet chocolate chips

Preheat oven to 350° F.
Grease one 9 or 10" bundt pan

With electric mixer, med speed, mix together cake mix, instant.
pudding, sour cream, melted butter, eggs and extract.

Add chocolate chips, continue to mix until well combined.
Pour batter into prepared pan.

Bake for 50 to 55 minutes.

Cool cake completely before serving.
MORE COOKING/HOME ARTS HERE