A dead baby in an abortion clinic, a book-writing convict gets death penalty, that so-called Journalistic who went nuts on an airplane AND EVERYTHING you need to know about the Jonbenet Ramsey case.
Pic of the Day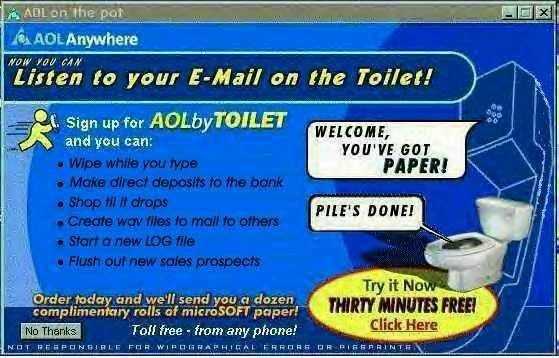 ---
Quote of the Day


TAKING CARE OF CRITICAL BUSINESS

"Forget everything you've read about this 'do-nothing' Congress. Bills and resolutions are indeed getting passed: 'Resolved, That the Senate recognizes...the most famous and successful cereals and characters, including: (1) Tony the Tiger; and (2) Snap, Crackle and Pop.'"

- Columnist John McCaslin
Web Site Worth the Visit
Complaint Department

Here is a link to a website where you can post a complaint about a business or read other people's complaints before you do business with a company. You can also read the response from a business to the complaints. Please pass this on to family and friends, you may be able to save them some problems.

Complain HERE


TIDBITS

Academic Phrases and Meanings

The following list of phrases and their definitions might help you understand the mysterious language of science and medicine. These special phrases are also applicable to anyone working on a Ph.D. dissertation or academic paper anywhere!
"It has long been known"... I didn't look up the original reference.

"Three of the samples were chosen for detailed study"... The other results didn't make any sense.

"Typical results are shown"... This is the prettiest graph.

"In my experience"... once.

"In case after case"... twice.

"In a series of cases"... thrice.

"It is believed that"... I think.

"It is generally believed that"... A couple of others think so, too.

"Correct within an order of magnitude"... Wrong.

"According to statistical analysis"... Rumor has it.

"A statistically oriented projection of the significance of these findings"... A wild guess.

"It is clear that much additional work will be required before a complete understanding of this phenomenon occurs"... I don't understand it.

"After additional study by my colleagues"... They don't understand it either.

"Thanks are due to Joe Blotz for assistance with the experiment and to Cindy Adams for valuable discussions"... Mr. Blotz did the work and Ms. Adams explained to me what it meant.

"It is hoped that this study will stimulate further investigation in this field"... I quit.

Former Basketball Star Arrested for Sexually Assaulting 8-Year-Old
From reading the story, Eddie Johnson, a ten year basketball star for various teams, was a friend of the woman whose daughter he assaulted.
EIGHT YEARS OLD!
I don't suppose the lovely Mr. Johnson is a basketball player anymore but God knows how many children might have been his victims during his sports hay day.
It's important to note, for all parents, that children need to be protected about sports idols the same as that oddball uncle. For the only defense against those who would harm our children is to keep our parental eyeballs on them every minute of the day. An almost impossible feat at times, I understand, but in the end it's not the government that's going to protect the children, witness this child molester Boulder Colorada is importing BACK into the USA. More on this later.
For sure it's not the college poohbahs that will overlook their out-of-control athletes. Don't count on the major league executives to do the job either.
From Sports Illustrated.com:
OCALA, Fla. (AP) -- Former NBA All-Star Eddie Johnson was denied bail Wednesday, a day after being arrested and charged with sexually assaulting an 8-year-old girl.

Though Johnson told Marion County Judge John Futch that he wanted to represent himself, a public defender was assigned to his defense.

Johnson, 51, was charged Tuesday with sexual battery on a child under the age of 12 and residential burglary for entering the apartment where the girl was staying while her mother was out, said Sgt. Russ Kern of the Ocala police department.
Strange Dead Baby at Abortion Clinic
22 weeks pregnant and this lady shows up for an abortion. Let's see, that's what, almost 6 months along?
According to the story below, she had a "procedure" the day before she showed up the next day, at which time she allegedly "gave birth" to a baby. The stories are conflicting as to whether the baby was born dead or alive.
Also allegedly, a worker at the abortion mill gathered up the baby, which was 12 inches long and weighed almost three pounds, and put it in a biohazard bag.
The link below alludes to "conflicting reports" as to how this all came about.
This clinic has been closed during the investigation and it is asserted that this same abortion mill was closed at another location for a similar incident.
What in the hell is going on here?
From CBS4.com:
(CBS4 News) HIALEAH Hialeah Police Homicide Detectives are investigating the gruesome discovery of a dead baby's body inside of an abortion clinic but conflicting stories may prove there's more to the discovery than meets the eye.

The body was found at "A Gynecologists Diagnostic Center," 3671 West 16th Avenue in Hialeah.

Witnesses tell police that a young woman, whose identity has not been released, arrived at the clinic last Thursday at roughly 22 weeks pregnant for an abortion procedure.

Police say the woman arrived the next day after the procedure complaining of severe pain. Workers at the clinic explained to her that the doctor was not available and she'd have to wait.

The woman was taken into a recovery room and according to witnessess, gave birth in the clinic.

''Employees cut the umbilical cord, put the baby in a bag and walked away with it," Hialeah Lt. Ralph Gracia said.
Even a $55 Book Won't Save You From the Death Penalty
Stephen Stanko raped a 15 year old girl and strangled his girlfriend. He also wrote a book on America's prison system. Poor fellow had "issues" with South Carolina's prison system and he wrote a book all about it.
Seems anymore that all a convict has to do is write a stupid book and suddenly he's Jesus Christ and font of all wisdom. While his victims are still dead.
It all didn't matter because America's jury system worked. Juries are populated by ordinary people with the common sense the political elites do not possess. Not to mention the NY Times, which really did a shameful puff piece on this guy.
That jury in South Carolina sentenced Stanko to death.
Good. Put a copy of his book in the casket with him.
The victim, who was 15 at the time of the attack, said Stanko raped her and strangled his live-in girlfriend, Laura Ling, who also lived in the home.
From the NY Times.com:
GEORGETOWN, S.C. (AP) -- An ex-con who co-wrote a book about life in prison was sentenced to death Friday for killing his live-in girlfriend and raping a 15-year-old girl.
HIS BOOK
"This book by two criminologists and a currently incarcerated inmate surveys the history of the correctional system in the US and provides an overview of contemporary prisons, criminal justice policies, women in prison, prisoner rights, and the evolution of current penological practices. As such, it would stand as an effective text for college-level criminology classes. The strength of the work, however, is the powerful personalization of the prison experience provided by Stanko, who is currently incarcerated in South Carolina. He discusses, among other topics, his pretrial detention, the psychology of imprisonment, coping strategies, health care in prison, food, relations with corrections officials, and the intense depression of being cut off from freedom that afflicts most inmates....Recommended. Upper-division undergraduates and above."-Choice
Try Hard Enough and You Can Always Find a Nut Homegrown Terrorist
Recently a plane had to be diverted to Boston's Logan Airport due to a "disturbance" caused by one Catherine Mayo.
Mayo is not a Muslim but read on. Catherine Mayo is a "journalist" and allegedly has a boyfriend in Pakistan. Original reports had the woman carrying a screwdriver, lighter, matches and strange liquids. Then these original reports were denied. At last report the FBI verified that the woman did, indeed, have these items either on her person or on her carry-on luggage.
Which begs the question as to how she managed to get these items on board as this incident happened right in the middle of that huge bust in London and the subsequent furor over carrying liquids on board airplanes.
I believe the initial attempts to deny this former peacenik (see quote below) had those damning items on the airplane were absolutely an attempt to protect the airport employees and/or airport who let this lady past check in.
Beyond that, take a peak at one article from this nut's journalistic past.
From Dailytimes.com:
Daily Times - Site Edition Tuesday, March 18, 2003
AN AMERICAN IN PAKISTAN: Value of dissent

Catherine Mayo

The folksongs of the 1960s will never be written again because of President George Bush. He has hampered the liberties of my country in the name of September 11. Songs now can only talk of patriotism they cannot mention peace

My friend in England sent me three CDs. One she had designed herself, including the album cover inside the case. She is a brilliant and thoughtful woman. One of the CDs that she sent was Cat Stevens, and I listened to it over and over. The first time I listened to the album without having looked at the list of songs, I knew what the last song on the album would be. Peace Train. The last song in every collection by Cat Stevens is always Peace Train.

I am an American child of the 1960s. We defied the standards of our parents and declared that a war was unjust. And we were heard. We changed the way humans think. We dared to say that the human race does not have to fight wars. Ever. All conflicts can be settled by peaceful means.

The folksongs of the 1960s are still sung, by my children and their children, but they will never be written again. No one will ever again wail as Cat Stevens did, to compel his country to ride on the peace train.
I too was a child of the 60's and we made love and not war. But I got over that nuttiness. Make no mistake, there are nuts in this country and now we can draw even more nuts from the pool of former 60's hippies.
That's the problem with terrorism. Give the Islamofacists enough time and they'll find a few kooks or two out of America's population of almost 300 million people. Hey, they're out there.
From CBS4boston.com:
CBS4) BOSTON Criminal charges could be filed Thursday against a Vermont woman who caused a disturbance aboard a London-to-Virginia jet that was diverted to Logan Airport.

59-year-old Catherine Mayo is being held by federal authorities in Boston.

Investigators say she was a claustrophobic passenger who became upset and interfered with the flight crew on United Airlines flight 923 Wednesday morning. The pilot declared an in-flight emergency and landed the plane at Logan. The Boeing 767 was escorted by two F-15 jets based out of Otis Air National Guard Base on Cape Cod.

Passengers say Mayo paced the aisles and peppered her incoherent mutterings with the word "Pakistan." They said two plainclothes men on board and flight attendants tackled the woman. She was handcuffed while the flight was diverted.

Graffitti on Innocent Animals? Have They No Class?
A so-called "world-famous" graffiti artist allegedly got it into his head to do some "art" on a few pigs and even a lamb.
The poor pig was scheduled to appear in a movie so who knows the motives of graffiti artist "Banksy"?
Some people have entirely too much time on their hands.
From Arbroath.com:

A shocked farmer found his pigs, which are to appear in a film by a Glastonbury-based film company, had been used as a canvas by a world-famous graffiti artist.

Farmer Andrew Wear woke on the morning of Sunday last week to find that five of his pigs and one lamb had been "graffitied". The "tag" or signature on the pigs is that of Banksy, a Bristol-born artist, whose graffiti work fetches thousands of pounds.
Jonbenet Ramsey
As of this writing, pervert John Karr is on his way home from Thailand. As every cable news network across the fruited plains has been reporting, including Karr's seat on the plane and what he ate during the flight.
Let's review the Jonbenet Ramsey case, shall we? Review it with an open mind and the good common sense God gave us, the people who carry this country on our backs. The sort of people who serve on juries, delivering verdicts of guilty or not guilty based on evidence and facts, not on lies perpetuated by the criminals.
I state right now, firmly and with no attempt to deceive, the following is my opinion and my opinion only. Feel free to disagree. If I don't make the case, than continue on with whatever you believe about this crime.
First, John and Patsy Ramsey NEVER had to answer questions in a court of law in front of a jury of their peers. NEVER. They did testify before a grand jury but they were so lawyered and public-relationed up that it was almost a waste of time.
Now, let's look at the evidence, or lack of same, in this case.
Most damning is the pineapple. For the Ramseys had went to a Christmas buffet at the home of their friends, the Whites. There was NO pineapple served in any form at this buffet. There was, however, a bowl of pineapple found on the Ramsey kitchen table the morning Jonbenet was reported as kidnapped. The bowl had Patsy's fingerprints all over it.
However, the Ramsey parents told police that they put the children to bed just as soon as they got home from the Whites' house. Jonbenet had undigested pineapple in her stomach; undigested pineapple that according to the autopsy, had likely been consumed within three hours of her death. John and Patsy have no explanation for the pineapple.
Now it's possible that Patsy had to give the children something to eat before bedtime as such as Christmas festivities do tend to make children excited and cause them to forget to eat until bedtime. It's also possible that John and Patsy Ramsey simply forgot that they had given the children pineapple before bedtime the night before they reported Jonbenet was missing.
How on earth could someone forget such an important fact that had just occurred the night before? Forget this fact to the point of erroneously omitting this fact to the police? Would you, yon reader, have forgotten this?
Which doesn't mean that Jonbenet's parents were responsible for her death but believe this, had John and Patsy ever had to stand trial the prosecutor would have asked them the same question over and over. "Why did you say you put the kids right to bed when evidently, based on the undigested pineapple in Jonbenet's stomach and the bowl with Patsy's fingerprints all over it, SOMEBODY gave the children pineapple". Never…never did John and Patsy Ramsey ever have to answer this question.
So why would they have lied about this fact? Well, the coroner did come up with a time span within which Jonbenet died. Also, to believe the intruder theory, one would have to assume that all children and parents would have to have been sound asleep when that intruder came in and ran willy-nilly through that house, pulling Jonbenet from her sleep, carrying her up and down spiral and straight staircases, strangling her in the basement and writing a tome of a ransom note. Surely Jonbenet would have protested this stranger pulling her from her bed. So the parents would have to have been sleeping soundly, right, not to hear their daughter crying out?
Who knows how long that late-night pineapple feeding took? The timeframe was so tight that the Ramseys immediate response to police questioning was that they had put the kids right to bed. All the bases were covered this way.
How about the total lack of footprints in the snow anywhere around the Ramsey house? The Ramseys themselves entered the front door via a shoveled sidewalk but by the intruder theory the intruder would have entered via a window-well in the basement. A window-well which still held undisturbed cobwebs by the way, never mind that intruder being able to walk through snow while leaving no footprints.
Let us not forget that anyone who ever spoke a word to the Ramseys were accused very pointedly by this couple, including their friend with whom they'd shared a Christmas evening dinner, the Whites. They accused "Santa Claus", an old guy who'd just had open-heart surgery and go on, no way could that man have done that marathon murderer. Fleet White became so angry at his former friend John Ramsey that he openly condemned the man and who could blame him? I'd sure be mad if my friend accused me of murdering their daughter when they themselves did it! There were also all manner of people accused by the Ramseys, including school teachers or anyone who might even remotely fit a profile. Remembering please that the Ramseys immediately hired a top-notch PR firm and lawyered up with the most prestigious of attorneys. Attorneys quite knowledgeable that casting suspicion on others is the best way to go after "reasonable doubt" should it ever have come to that.
A handwriting analysis was done on Patsy Ramsey's handwriting to compare to that ridiculous ransom note. All reports came back "inconclusive". For John Ramsey I believe, but am not sure with my ageing memory, it was reported that the ransom note was declared not written by him. Note that the handwriting results did not report that Patsy did NOT write the note, just "inconclusive".
Also, both Ramseys did take a lie detector test. Heh. A lie detector test administered by a polygrapher that the Ramseys bought and paid for. Why didn't they take a lie detector test administered by the state police? Wouldn't yon reader have readily done such a thing should one's child be found murdered in its own home? Don't give me that crap about lawyers advising against. Mark Klass took a lie detector test and so did John Walsh when their children disappeared. No one threw those parents in jail for the murder of their children because, indeed, they did NOT kill their children.
The morning that Patsy Ramsey phoned the police to report Jonbenet missing, a child's voice, Burke Ramsey's, was heard in the background. Yet when the police arrived at the Ramsey's they said that Burke had just woke up. There exists an enhanced soundbyte of that phone call and Burke's voice can be heard in the background. So why would the Ramseys lie about this fact? Perhaps because they didn't want Burke questioned before he was properly coached by expensive Ramsey attorneys?
Also, the first officer to arrive on the scene found a heavy flashlight in the kitchen. There were NO fingerprints on that flashlight. Not even a fingerprint of any Ramsey family member. Isn't that odd? Wouldn't a flashlight in yon reader's home, especially one evidently used frequently enough to gain a place of honor in the kitchen have someone's fingerprints on it?
Why did John and Patsy refuse to ever be interviewed separately. Why? Again, these were parents who'd allegedly just suffered the horror of having their child murdered in her own home.
In my opinion only, these are the actions of guilty people. Sure they argue that with them being under the so-called "umbrella of suspicion" that they simply followed the advice of their high-priced attorneys. And I suppose they did. If I was not guilty, first I wouldn't be able to afford an expert PR firm of all things but second, I'd be doing anything to find the killer of my child.

Finally, just why was John Ramsey overheard calling for a plane for a trip to, not Michigan as originally planned, but to Atlanta, Georgia? The Boulder police had to stop this thing in its tracks as it appeared that John Ramsey really intended to fly away to Atlanta on the day his daughter was supposedly kidnapped right out of her bed. Investigators were horrified by what they heard and had to tell John Ramsey in no uncertain terms that he was going nowhere. Of course this changed everything in terms of how the Ramseys intended to handle this thing. Would yon reader be making plans to fly across the continent on the morning your child was found missing from her bed with a huge ransom note left behind?
Why were Jonbenet's normal bedding still in the washing machine on that floor as testified by the Ramsey housekeeper? Surely this woman knew the bedding usually on Jonbenet's bed and yet her bed was found perfectly made up the morning of the ransom note with her normal bedding in the dryer. Very odd.
Why was Patsy Ramsey still dressed in the clothes she wore to the Whites' Christmas party the night before? A former beauty queen, we are to believe that Patsy Ramsey took off those same clothes then donned them the next morning to go to a vacation home in Michigan. I know it's possible but hey, it's possible Patsy Ramsey had a busy night and never had a chance to change her clothes at all.
Way back in 1996 when this crime occurred, lest yon reader think I cooked up
my proposed scenario on the murder of Jonbenet just recently,
I wrote a missive on just how I think this crime occurred. The text of this missive copied in its entirety below. If for no other reason, visit the link above and read some of the crazy comments on this Blog post regarding Jonbenet. I think the thing may have been written by John Karr himself or else that nutso Colorado professor aiding and abetting him. If not, well read the comments and get a feel for the crazy theories out there regarding the murder of Jonbenet.
---
Even the most studied of all of the investigators agree that if an intruder killed Jonbenet, it was a "familiar" intruder, as opposed to a "foreign" intruder. In other words, it's remotely possibly someone known to the Ramseys might have gotten into their large and awkward house, perhaps slipping through a basement window while breaking no spider webs but forgive the editorial intrusion. Or maybe hiding out after an earlier visit then sneaking around after family bedtime doing the dirty deed. But know that no one, even Smit, thinks it's possible that someone came in that house out of the blue, found the notepad, jotted the ransom novel, navigated spiral and straight staircases with oddly placed light switches, fed the child pineapple before kidnapping her, then bashed in her skull, finished her off with a home-made garrote(made from Patsy Ramsey's paintbrush, coincidentally) wrapped her in the thermal blanket from her bed, found her favorite pink Barbie nightgown to lay tenderly by her corpse, then laid her to rest in that convenient wine cellar three flights down.
Problem with the familiar intruder theory, the only remotely plausible one and even then it's a stretch from here to Sunday, is that all of the possible suspects have been cleared. Forget the weird Santa Claus. He couldn't even carry a laundry basket down the hall much less all the Jonbenet Olympic murder activity. The man had just had open heart surgery!
The Ramseys say they put Jonbenet to bed right after returning home from the party yet the coroner found undigested pineapple in her stomach estimated to have been eaten from ten to midnight on Christmas night. The Whites, friends of the Ramseys and who were their Christmas dinner hosts, did not serve any raw pineapple. A bowl of raw pineapple was found on the Ramsey table with Patsy Ramsey's fingerprints on the bowl. The Ramseys claim to know nothing about the pineapple. Which means that the intruder had to feed Jonbenet the pineapple, a scenario, forgive me, that I find totally unbelievable.
Also, the Ramseys say that Burke was asleep the morning that Patsy called 911 to report Jonbenet missing. Yet an enhanced tape of that call reveals Burke's voice in the background, asking what was going on. I say the Ramseys wanted to keep Burke away from the cops when they arrived so they sent him back to bed before they came. Perhaps they were afraid what Burke might blurt out before proper coaching.
I think that Patsy Ramsey bashed in Jonbenet's skull with a heavy flashlight. Said flashlight was found on the Ramsey counter but there were NO fingerprints on it...odd. My flashlights probably have my fingerprints all over it. I believe Patsy was about to turn in, still dressed in Christmas attire and finally having gotten the children to bed, weary at having to give Jonbenet pineapple so late at night when she didn't even eat her Christmas dinner. She was heading upstairs to her room and slipped into Jonbenet's room, flashlight on so as not to require flipping the switch, to check on her. She became furious when she found the child's bed was already wet. Patsy had told Jonbenet to be sure and go to the bathroom before going to bed, that they were going to Michigan in the morning and she would not have time to be washing sheets. She pulled Jonbenet out of the bed and hit her in the head with that heavy flashlight in her fury. Oddly, I read that the wound didn't bleed, that Jonbenet's skull was bashed inward. It was a fatal wound, but not an especially bloody one.
I believe that John Ramsey heard the commotion and came down from their upper level bedroom to check it out. Then both parents had to decide what to do. John could see that Jonbenet was dying. Nothing he could do would un-do what had happened to the child. In desperation, Patsy said she would handle everything, that no one would ever suspect her. Already she was mentally cooking up a ransom note and a scenario that would explain Jonbenet's disappearance. John decided he'd already lost his daughter. No sense in bringing more uproar into his life. He knew that Patsy had been under a lot of stress. He almost lost her to cancer. She dearly loved Jonbenet and would give her own life to un-do her grievous action in a moment of rage. Maybe she told John she meant to strike the bed post. Maybe she did. John Ramsey loved his wife.
I really believe that Patsy and John thought the police would show up, read the ransom note, write their reports, and over the next several weeks contact the parents periodically to see if they've heard from Jonbenet or her kidnapers. Only Jonbenet would be buried in some unknown plot in Atlanta, Georgia, taken there by her parents when the police finished their investigation and took the notes. The parents would be appropriately distraught when the police called, but no, they haven't heard another word from the kidnapers. Did the police hear anything?
John Ramsey was overheard the morning of the "kidnapping" calling his pilot and arranging for a plane to take the family to Atlanta. When Detective Arndt heard this, she told him no way could he just up and leave the state like that. Of course, this foiled the plans of John and Patsy Ramsey. If they had to hang around all day, then John would have to find a way to conveniently 'find' Jonbenet's body at some point. Their original plan had been thwarted.
Jonbenet was 'dressed' for burial. Interestingly, the child IS buried in Atlanta, in an official grave rather than the unknown one they were going to have to resort to at first. She was small enough to put in a large duffle bag, lump it onto a private airplane, the pilot none the wiser.
Finally, will Jonbenet's killer ever be brought to justice?
I say yes.
I believe Burke Ramsey knows something. He may have slept through all the trauma of the night, but he may know if Jonbenet ate pineapple that night. He knows if he woke up early that morning but is denying it for his parents. Then again, maybe Burke overheard his parents in the middle of the night, something that would eliminate the intruder theory.
When Burke is of age, I believe he will be called to testify. If he would refuse, he could possibly be charged with obstruction of justice.
Burke is the key. Will he remain loyal to his parents or finally tell the truth?
---
Please not in the above, written in 1997, while this case was ongoing, I speculate that in the end Burke Ramsey will be called to testify. I did not know then that Patsy would die when she did and given that eventuality, I now do not think that Burke will be called to testify.
Now let's talk about this hapless John Karr. There's been a few instances where the endless cable pundits have put forth as evidence that this man killed Jonbenet Ramsey.
He's obsessed with the Polly Klass case and, indeed, corresponded with the real killer of Polly Klass for a few years. Even more odd, John Karr actually had a copy of Polly Klass' death certificate. Then the Jonbenet case came along and he begins to obsess with this case. It's not like such a thing is unheard of.
First, we learn that he once signed a yearbook with the words "should be the conquerer". Those words begin with "SBTC", the same initials found at the end of the ransom note come novel. It turns out that these words are found in the bible somewhere so it's not like a unique and unusual thing. An odd coincidence, perhaps, but hardly the sort of thing that would convict anyone.
Second, a picture exists somewhere with John Karr near or holding a teddy bear dressed up like Santa Claus. A teddy bear like this was found on Jonbenet's bed and the Ramseys claim that Jonbenet never had such a toy.
Well hey, if the Ramseys claim this than it must be true. It's not like anyone else would know if Jonbenet ever had such a toy. It was Christmas time after all. Jonbenet could have gotten the teddy bear at some party of another and the parents didn't know it. Or the Ramseys did know Jonbenet had such a teddy bear but knew that it was so new that anyone else would not yet know about it. Leaving a space for reasonable doubt as I see it but I could be wrong. The fuzzy pictures I've seen of John Karr aren't all that definitive and hey, the guy was obsessed with Jonbenet! How hard would it be to obtain an identical teddy bear, just so he could hug it at night and be close to his beloved Jonbenet? I'd softly suggest that it's not all that likely, what with the perp who broke into the Ramsey house, climbed spiral staircases and went down to far away wine cellars, that a perp would have time to leave a stuffed toy on Jonbenet's bed.

Here is a link to
two book reviews
I did on books about the Ramsey case. This is provided for yon reader who might want to catch up on the details of this case and also as proof that I have read and researched this thing.
Finally, let us remember the following: Somewhere out there is an eager young attorney. This attorney is chomping at the bit to be appointed public counsel for John Karr. Sure it's more about fame and possible fortunes to come, but it's no matter. This attorney is ready and quite able to prove that John Karr did not commit this crime. Already I heard Karr's brother say, with my own lying ears, that John Karr was at his home the evening of December 25, 1996 and they've got pictures to prove it. John Karr lived in Georgia at the time and so did his brother. Karr's ex-wife has declared the same thing although I never heard her say it, just reported by the cable pundits. It's hard to kill somebody in Colorado when you're in Georgia.
Popular sentiment is that the DNA test will be the definitive proof in this case and I'll go along with that. If John Karr's DNA is found anywhere in the Ramsey home or on Jonbenet's body, than I'll believe the man did the deed.
Why is it that I don't believe this will happen for a minute? If those Colorado flackies for the Ramseys had proof-positive that Karr's DNA was on Jonbenet they'd have stated so proudly during that joke of a press conference they gave on 8/17/06. During said press conference, may I remind, that silly prosecutor did not announce, as one would expect, that they've captured a murder and pedophile. No. Instead she warns us all to be patient and let justice take its course. She even cited the wise words of John Ramsey to that effect, go to hell do they think we are all stupid out here in la-la land?
Finally, what's the damn deal with these out-of-control prosecutors? Witness the Duke case and now, frankly I state without reservation, this Colorado woman decides to spend taxpayer dollars to bring home this creep because hey, WE NEED MORE PEDOPHILES IN AMERICA!
Because that ambitious defense attorney is going to defend John Karr and no way will this guy take the rap for this crime he didn't commit.
Then what?
Well then they're going to have to let John Karr loose unless they can nail him for another crime.
At some point John Karr will be walking the streets of the U.S.A. and his history shows that this guy tends to wander a lot.
Whose kid will he molest next?
All to save the precious Ramseys.
More True Crime Updates HERE
================