Emmy 2006 fashion reviews; Review Fox's "Celebrity Duets" and Kaitlyn visits Grandmother.
Pic of the Day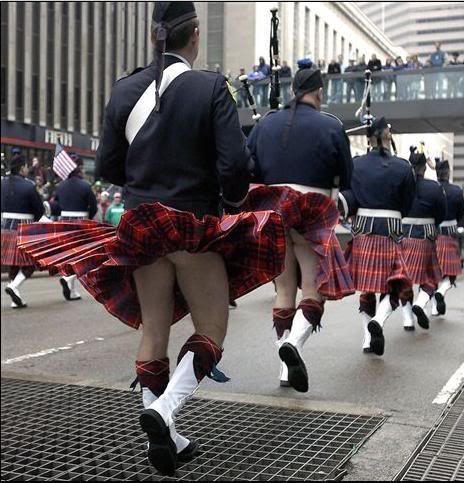 ---
Quote of the Day


Classic Quotes by Edna Ferber (1885-1968) US writer

A closed mind is a dying mind.
------------------------
A woman can look both moral and exciting... if she also looks as if it was quite a struggle.
------------------------
Being an old maid is like death by drowning, a really delightful sensation after you cease to struggle.
------------------------
Big doesn't necessarily mean better. Sunflowers aren't better than violets.
------------------------
Christmas isn't a season. It's a feeling.
------------------------
I am not belittling the brave pioneer men but the sunbonnet as well as the sombrero has helped to settle this glorious land of ours.
------------------------
Life can't defeat a writer who is in love with writing, for life itself is a writer's lover until death.



Web Site Worth the Visit
My Beautiful America

A little patriotism never killed anybody.

My Beautiful America


TIDBITS

Heh. This should also be called "How Not to Write"

Analogies

Every year, English teachers from across the country can submit their Collections of actual analogies and metaphors found in high school Essays. These excerpts are published each year to the amusement of Teachers across the country. Here are last year's winners.....


1. Her face was a perfect oval, like a circle that had its two sides Gently compressed by a Thigh Master.

2. His thoughts tumbled in his head, making and breaking alliances like Underpants in a dryer without Cling Free.

3. He spoke with the wisdom that can only come from experience, like a Guy who went blind because he looked at a solar eclipse without one of Those boxes with a pinhole in it and now goes around the country Speaking at high schools about the dangers of looking at a solar eclipse Without one of those boxes with a pinhole in it.

4. She grew on him like she was a colony of E. Coli, and he was Room-temperature Canadian beef.

5. She had a deep, throaty, genuine laugh, like that sound a dog makes Just before it throws up.

6. Her vocabulary was as bad as, like, whatever.

7. He was as tall as a six-foot, three-inch tree.

8. The revelation that his marriage of 30 years had disintegrated Because of his wife's infidelity came as a rude shock, like a surcharge At a formerly surcharge-free ATM machine.

9. The little boat gently drifted across the pond exactly the way a Bowling ball wouldn't.

10. McBride fell 12 stories, hitting the pavement like a Hefty bag Filled with vegetable soup.

11. From the attic came an unearthly howl. The whole scene had an eerie, Surreal quality, like when you're on vacation in another city and Jeopardy comes on at 7:00 p.m. Instead of 7:30.

12. Her hair glistened in the rain like a nose hair after a sneeze.

13. The hailstones leaped from the pavement, just like maggots when you Fry them in hot grease.

14. Long separated by cruel fate, the star-crossed lovers raced across The grassy field toward each other like two freight trains, one having Left Cleveland at 6:36 p.m. Traveling at 55 mph, the other from Topeka At 4:19 p.m. At a speed of 35 mph.

15. They lived in a typical suburban neighborhood with picket fences That resembled Nancy Kerrigan's teeth.

16. John and Mary had never met. They were like two hummingbirds who had Also never met.
17. He fell for her like his heart was a mob informant, And she was the East River.

18. Even in his last years, Granddad had a mind like a steel trap, only One that had been left out so long, it had rusted shut.

19. Shots rang out, as shots are wont to do.

20. The plan was simple, like my brother-in-law Phil. But unlike Phil, This plan just might work.

21. The young fighter had a hungry look, the kind you get from not Eating for a while.

22. He was as lame as a duck. Not the metaphorical lame duck, either, But a real duck that was actually lame, maybe from stepping on a land Mine or something.

23. The ballerina rose gracefully en Pointe and extended one slender leg Behind her, like a dog at a fire hydrant.

24. It was an American tradition, like fathers chasing kids around with Power tools.

25. He was deeply in love. When she spoke, he thought he heard bells, as If she were a garbage truck backing up.

Kaitlyn Loves to Hear Mom-Mom "Talk"
Precious Kaitlyn paid a visit to Mom-Mom's recently and a good time was had by all. She's two and a half now and I am convinced she has a nuclear reactor inside of her as she sometimes starts and doesn't finish.
What does she start? Well I'm not sure exactly. But she's in Kaitlyn's world and I must marvel at what a wondrous place it must be.
If it's not the bathtub than it's the playpen/crib she sleeps in when she visits Mom-Mom. If it's not the playpen/crib affair than it's Mom-Mom's living room floor. For Kaitlyn ascends to some world or another and at times I must sit and marvel at what the heck is going through her mind.
She'll dance. She'll sing. She'll speak some strange foreign language. And it goes on for hours. At times she swings her legs over the edge of her playpen/crib and just hangs by the back of her knees. This goes on sometimes for hours. Same with the bathtub. I'd bought her some bath toys and she played with them for a long time. A couple of times I had to go in and run hot water into the chilly bath water. Finally I took her very hydrated body out of the tub as go on, she going to die in there?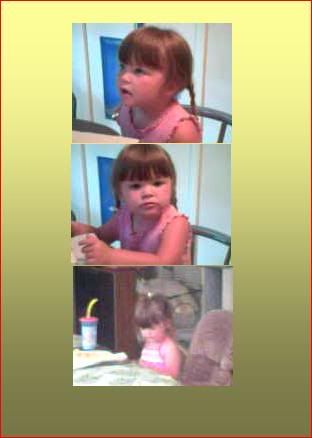 Once in exasperation I stood over her playpen/crib and gazed down upon her. She was laying on her pillow, a respite from the singing and dancing. I told her that she needed her sleep, that she was beautiful, the sort of things a grandmother tells a beautiful granddaughter.
Kaitlyn flashed me the widest smile. I asked her why the smile.
"I like when you talk to me," she said. I asked her why she liked me to talk to her.
"It makes me very happy," was her response.
Well go on. I can, if challenged, talk all day and all night. I began to talk to two and a half year old Kaitlyn about politics and she sat and listened, absorbed. I talked to her about what she wants to be when she grows up and while she wasn't yet sure, she listened to my suggestions with toddler concentration. At one point I told her a "story" which consisted of everything that we had done that morning.
"Once upon a time there was a little girl named Kaitlyn," I began my story. "She was visiting Mom-Mom and they got up in the morning. Mom-Mom fixed Kaitlyn some cantaloupe and pop tarts for breakfast than they went and got Mom-Mom's mail. They came back inside and Kaitlyn watched Sesame Street." On and on I go, just reiterating everything we'd done that day and Kaitlyn sat and listened as if I was reading her Harry Potter.
Well I just don't know what that's all about but I'm sure the day will come when Kaitlyn gets sick of Mom-Mom talking. For now, hey I can talk. Kaitlyn can listen. It works out.
~~~~~~~~~~
More Kaitlyn posts HERE
============================

The 1006 Emmy Awards
By me the annual Emmy award show beats the Oscar ceremony because, well because I actually watch television.
Conan O'Brian hosted this year's Emmy Awards and he did okay. Perhaps it's the fact that the Emmys are live but why do the comedians always seem so lame during these things? I read that Emmy viewership dropped 14% this year.
I was very heartened that my fave show, "24", finally got the televised recognition this drama show deserves. Another thing that struck me about this 2006 Emmy show was how many shows won awards that are no longer on the air. "Will and Grace" should have went off the air long ago and that Megan woman won best supporting actress in a series; a series that is no longer on the air. Heh.
Noticably missing during this year's Emmy festivities was political commentary. Heh. Methinks the ACTORS perhaps got a clue that they are ENTERTAINERS and now our political leaders. On penalty of the American public totally avoiding their silly shows, witness the Dixie Chicks.
Below my famous fashion picks of all kinds for the 2006 Emmy awards.
Good article on emmy fashions
-LIST OF ALL NOMINATIONS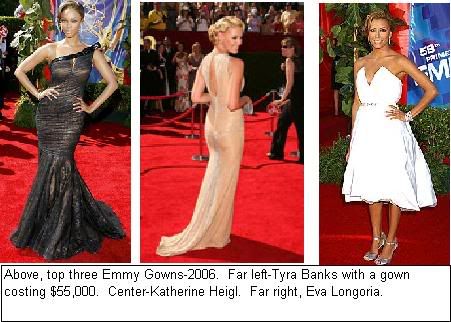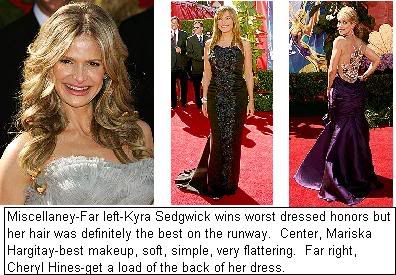 Fox's "Celebrity Duets"
We dance with celebrities, we skate with celebrities, well now we sing with celebrities.
Fox has this interesting concept and who knows, it might work. For sure the new Fox series has some fine "accompanying" singers to help the celebrities competing for money to be distributed to their favorite charities.
The celebrity "singers" in competition include:
Lucy Lawless.
Alfonso Rivero from "The Fresh Prince of Belair".
Carly Patterson.
Cheech Marin of "Cheech and Chong".
Lea Thompson of "Back to the Future" and the TV series "Caroline in the City".
Jay Rodriguez of "Queer Eye for the Straight Guy".
Chris Jericho-a professional wrestler.
The judges, including Marie Osmand and Little Richard, voted for the first celebrity singer eliminated, Chris Jericho, who should stick to wrestling. He's good looking though.
The evening began with a duet of Lucy Lawless and Mike Bolton. Little Richard said they needed more practice.
Alfonso Rivero sang with Michelle Williams of the group Destiny's Child. Carley Patterson sang the lovely song "Somewhere Out There" and she ruined it. Her professional singer accomplice was James Ingrahm. Cheech Marin sang with Peter Frampton and Lea Thompson sang with Randy Travis.
Jay Rodriguez joined forces with Gladys Knight while wrestler Chris Jericho sang with Lee Ann Womack. Hal Sparks and Smokey Robinson came together to serenade us.
All contenders sang another song and the professional singer accomplices were shuffled.
If any fact at all carries this series it will be the quality of the professional singers that have agreed to join in. I mean, Gladys Knight, Smokey Robinson, Randy Travis? These are all top notch entertainers.
I also like the way Fox managed to get a group of celebrity contenders that aren't very good singers but they're not awful. Most of them can carry a tune in a bucket but go with me here, not a one of them can equal even the tenth place competitor in Fox's own American Idol series.
Lea Thompson seems like an early leader so far but check back in as we will be following this new reality series to see where it goes.