Clinton friend Jeffrey Epstein likes young girls; Dr. Phil's son gets married; the latest in ear fashion.
Pic of the Day
---
Quote of the Day
By James Baldwin


Americans, unhappily, have the most remarkable ability to alchemize all bitter truths into an innocuous but piquant confection and to transform their moral contradictions, or public discussion of such contradictions, into a proud decoration, such as are given for heroism on the battle field.
------------------------
Any writer, I suppose, feels that the world into which he was born is nothing less than a conspiracy against the cultivation of his talent.
------------------------
Anyone who has struggled with poverty knows how extremely expensive it is to be poor.
------------------------
Children have never been very good at listening to their elders, but they have never failed to imitate them.
Web Site Worth the Visit
I Like You
Here's a bit of a corny web site with a little guy going about how much he likes you. This would be a great link for kids to share with other kids. Even a silly thing to send to a would-be amour.

I Like You

TIDBITS
Rule-1
The Boss is always right.

Rule-2
If the Boss is wrong, see rule 1.

Rule-3
Those who work get more work.
Others get pay, perks, and promotions.

Rule-4
Ph.D. stands for "Pull Him Down".
The more intelligent a person,
The more hardworking a person,
The more committed a person;
The more number of persons are engaged in pulling that person down.

Rule-5
If you are good, you will get all the work.
If you are really good, you will get out of it.

Rule-6
When the Bosses talk about improving productivity,
They are never talking about themselves.

Rule-7
It doesn't matter what you do,
It only matters what you say you've done and what you are going to do.

Rule-8
A pat on the back is only a few centimeters from a kick in the butt.

Rule-9
Don't be irreplaceable.
If you can't be replaced, you can't be promoted.

Rule-10
The more crap you put up with,
The more crap you are going to get.

Rule-11
If at first you don't succeed, try again. Then quit.
No use being a damn fool about it.

Rule-12
When you don't know what to do,
Walk fast and look worried.

Rule-13
Following the rules will not get the job done.

Rule-14
If it weren't for the last minute,
Nothing would get done.

Rule-15
Everything can be filed under "Miscellaneous".

Rule-16
No matter how much you do,
You never do enough.

Rule-17
You can do any amount of work provided it isn't the work you are supposed to be doing.

Rule-18
In order to get a promotion,
You need not necessarily know your job.

Rule-19
In order to get a promotion,
You only need to pretend that you know your job.

Rule-20
The last person that quit or was fired will be held responsible for everything that goes wrong.


Top Ten Creepiest Ad Icons
I recall an episode of The Apprentice where the would-be apprentices were charged with creating an icon for Dairy Queen. Some of the things that group came up with were creepy at least as I recall.
So this Blogger came up with a list of what he/she calls the Top Ten Creepiest Ad Icons and while yon reader may agree or disagree, it does give one pause.
That Burger King king, well he's sure creepy.
From Yesbutnobutyes.com:
And what's the deal with creepy commercials, anyway? Or more to the point, creepy advertising icons. For every cottonelle puppy that skips across the screen, there's a really twisted king on vacation from my last nightmare, or staring in a window offering someone a whopper with cheese...and the weird part is that he's the one kicking ass. So much so, that McDonalds tried to creep out the clown in defense. What? Do we like hearing sales pitches from mental facility escapees? Or is it just that it takes Freddy Kruger to "break through the clutter" (God, I hate that phrase). Anyway...seemed ripe territory for a list, so I put together ten of the creepiest icons in adland history, as a tribute to messed-up art directors everywhere...enjoy.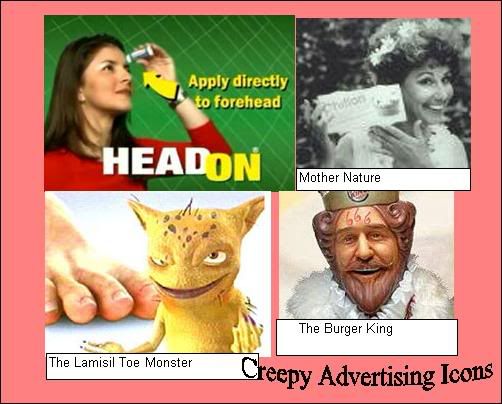 Steve Centanni Kidnapped
As of this writing Steve Centanni has been released from his captivity.
From Breitbart.com:
Palestinian gunmen ambushed a car carrying a Fox News crew in Gaza City on Monday and kidnapped two of the journalists inside, according to witnesses and Fox. "We can confirm that two of our people were taken against their will in Gaza," Fox News said in a statement.
A Fox employee in Gaza, who declined to give his name because he was not authorized to release information about the incident, said the two kidnapped people were reporter Steve Centanni, a U.S. citizen, and a cameraman from New Zealand.

The men, along with a bodyguard, were parked near the headquarters of the Palestinian security services when two trucks filled with gunmen pulled up and boxed them in, according to the employee. The gunmen took the two out of their sports utility vehicle, which was marked "TV," and drove away, he said.

Below, a short Bio on Centanni.
In July 2003, Centanni was the first television network reporter to provide on-site reports from the building where Uday and Qusay Hussein were killed after a gun battle with the 101st Airborne Division. During Operation Iraqi Freedom, Centanni served as an embedded journalist with the Navy SEAL's and provided numerous first reports for the network, including a report that the U.S. had captured two main offshore oil terminals located 22 miles off Iraq's southern coast, preventing them from being blown up by the Iraqis.
Previously, while covering the War on Terrorism in Afghanistan and Pakistan, Centanni was first to report the fall of the Taliban in their final stronghold of Kandahar. During Operation Enduring Freedom, he reported on U.S. military operations in Afghanistan, the new interim government in Kabul and hostilities between Pakistani and Indian troops along the frontlines in Kashmir. Currently, Centanni is covering the crisis in Iraq and is stationed in Doha, Qatar.
Below information on the cameraman kidnapped.
Update: Drudge names the freelance cameraman-- Olaf Wiig.

This appears to be Wiig's website. He looks to have been doing documentaries, kids' TV, and news footage since the '90s. Wiig, according to Wikipedia (and his own website's photo gallery), is dating BBC newscaster Anita McKnaught.
My biggest complaint is that there were far worthier journalists out there for kidnapping than Fox news reporters. First, how about Helen Thomas of the White House press corps? Heck, she's already a terrorist-sympathizer and she could generate her normal schlock to promote the cause.
Or how about Christine Armanpour? Damn, this woman is a walking public relations factory for terrorists and Islamofacists in general.
If they insist on kidnapping a Fox newsguy, how about Neil Gabler of Fox's "Media Watch" show. Here's a guy who so hates the Bush administration that he literally spits his hatred every Saturday night. And Gabler's already a media watch sort of fellow. Gabler would be the perfect pawn to send back doctored photos and staged news events during his capture.
Media Nuggets
On Today show, anchor Ann Curry was all over senator George Allen for his off-the-cuff remarks accusing him of "arrogant" & "insensitive" among other things. Well, her upper West Side neighbors are Suing Ann Curry and her husband, seeking $915,000 in damages for something much more.

NYTimes finally realizes that it 's printing fiction, not news. So, they decided to make some money out of it & hired an agency to sell stories published in the paper for film and television projects.
ESPN Harold Reynolds Fired for Sexual Harrassment.

"Skating With Celebrities" Couple Expecting Child

It seems Kristy Swanson, winner of 2006's "Skating With Celebrities", finale reviewed here, won't be skating anytime soon. She and her partner in last year's reality series are expecting a baby come this February.

From Yahoo.news:

LOS ANGELES - The winning couple from "Skating With Celebrities" are taking on a new challenge: parenthood.

Actress Kristy Swanson and Olympic skater Lloyd Eisler are expecting a baby on Valentine's Day, they announced Monday.

Swanson, 36, and Eisler, 43, met last summer on the Fox TV show. They won the competition and began dating in December, said their publicist, Cheryl Kagan.

Which Brings Up the Next Fox's "Dancing With the Stars"

When I heard the list of contestants due to compete on the next Fox's reality series "Dancing With the Stars" I almost fell out of my chair!

Tucker Carlson? Carlson is a pundit on various cable shows, cute little guy, always wears a bowtie. If ever there were a "celebrity" I would consider least likely to go dancing all over the ballroom, it would be Tucker.

Now Jerry Springer is another matter entirely. I can see debonair Jerry dancing off winner of this thing.

Other scheduled contenders include: Joey Laurence, Mario Lopez, Harry Hamelin-former contestant's Lisa Rinna's husband, Travis Parker and Emmet Smith.

Bill Clinton's Friend Has Penchant for Very Young Girls

Disgusting. Jeffrey Epstein is a very rich man. He has very rich and influential friends. Including lots of politicians of the Democrat variety. In September of 2002 he flew Bill Clinton, Kevin Spacey and Chris Tucker to Africa on his private jet.

Donald Trump has this to say about the lovely Epstein: "He's a lot of fun to be with," Donald Trump told New York magazine in 2002. "It is even said that he likes beautiful women as much as I do, and many of them are on the younger side. No doubt about it, Jeffrey enjoys his social life."

Only Jeffrey Epstein seems to be a participant in some nefarious activities involving very young girls. Jeffrey Epstein has a lot of money and can hire the best of attorneys. Thus the defense becomes to vilify the accusers.

Several young girls have testified before a grand jury that they were taken to Epstein's mansion to give him a "massage". Only the massage was way more than a massage and investigators honed in on this rich pervert.

From PalmBeachPost.com:

Epstein, one of the most mysterious of the country's mega-rich, was known as much for his secrecy as for his love of fine things: magnificent homes, private jets, beautiful women, friendships with the world's elite.

But at Palm Beach police headquarters, he was becoming known for something else: the regular arrival of teenage girls he hired to give him massages and, police say, perform sexual favors.
Epstein met Clinton as early as 1995, when he paid tens of thousands of dollars to join him at an intimate fund-raising dinner in Palm Beach. But from all appearances, they did not become close friends until after Clinton left the Oval Office and moved to New York.

Epstein has donated more than $100,000 to Democratic candidates' campaigns, including John Kerry's presidential bid, the reelection campaign of New Mexico Gov. Bill Richardson and the Senate bids of Joe Lieberman, Hillary Rodham Clinton, Christopher Dodd and Charles Schumer.

As of this writing, yet another impotent prosecutor has refused to file charges against the man. Epstein hired himself a bevy of investigators who found a bunch of damaging information on Epstein's accusers. Some of them, it is reported, even smoked marijuana. Imagine that. A 16-year-old girl once smoked marijuana. Definitely a made-for-the-rich victim.

Not that these young girls, who probably do have some questionable backgrounds given their circumstances, aren't human beings with their very last human need NOT being a desire to be a plaything for a rich pervert. But does society protect these young victims?

So far Epstein has gotten away with his perversion. After all, he's such a lovely guy and everything, contributor to political causes, beloved by sycophant Donald Trump. Allegedly, to the dismay of the police, Epstein has been offered a plea deal with hardly any punishment. Oh police have the goods on Epstein. It's just the victims, well how can anyone believe an adolescent who smoked marijuana for God's sake?

Next post on this weirdo will be on my True Crime Blog. This guy is going to go down.

As well he should. Rich or poor, a creep is a creep.

Dr. Phil's Son Marries Playboy Triplet

Nothing wrong with this. Just that Dr. Phil presents himself as a guru of all things relationship and go with me on this, I would not be especially keen on my son marrying a triplet who once posed nude for Playboy.

Click in to see some of the very weird comments and toasts made about this odd couple. Especially that by father of the groom, Dr. Phil himself.

From Bumpshack.com:

Jay McGraw, son of talk show therapist Dr. Phil McGraw, married Playboy Playmate Erica Dahm over the weekend. Erica is 1/3 of the Dahm triplets who are the first triplets ever to appear in Playboy magazine.

As for the wedding itself, TMZ has learned that the reception was held at the swanky Beverly Hills Hotel - right around the corner from Dr. Phil's estate, where the ceremony was performed. Of the 400 guests, the best-known celeb amongst them was talk-show legend Larry King.

Pics of Young Celebrities

For a smile.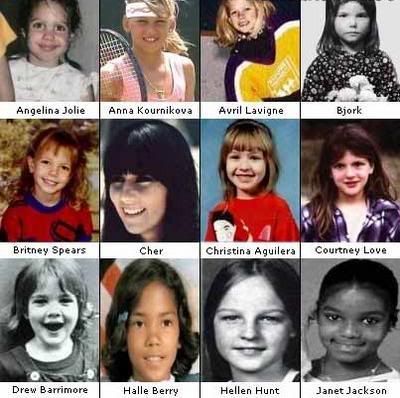 BLIND ITEM FUN


From: **NY Daily News BLIND ITEM 8/13** BEN WIDDICOMBE'S GATECRASHER
ASKED


Which marquee actor/comedian is known in the industry as a serial stealer of younger comics' material? His manager has to regularly send out checks to head off litigation.
GUESSED

This is interesting...Robin Williams comes to mind but I've watched him for years and never seen him use someone else's material that I could identify. I used to watch any and all comics for many years....it was a major hobby... and was familiar with a whole array of their stuff. I have seen Lewis Black do material that was basically the same as some of Bill Hick's stuff but I like Lewis and don't want him to be comedy thief.

I've never seen Lewis Black as an actor. Has he been in any movies? Does he count as a "marquee" person?

I'm thinking it has to be one of the Saturday Night Live guys - Jimmy Fallon maybe, or perhaps older guys like Adam Sandler?

From: **Janet Charlton BLIND ITEM 8/11**
ASKED


This oddball couple seemed like a mismatch from the get-go! Was it a rebound romance? Everyone waited for this unexpected pair to come to their senses. They have little in common - she's a beauty and he's no looker. Her last man was a sexy stud. But the offbeat pair is still together and we know why. They do have something in common: VICODIN! They're both hooked on the pills and love to get looped together. What's more, it seems to keep them both nice and thin.
GUESSED
Gotta be David Spade and Heather Locklear

No. It's gotta be Jennifer Aniston and Vince Vaughn

Jenny M. and Jim Carrey

Check Out the Awful Nose

Well the site doesn't let me copy pictures but it's worth a click through. Because Kathy Hilton and daughter Paris seemed to have acquired the same nose and it's not through heredity.

It's a hoot, folks. The sort of thing the wealthy get all absorbed with.

From Awfulplasticsurgery.com

Ending With a Smile

Latest ear fashion.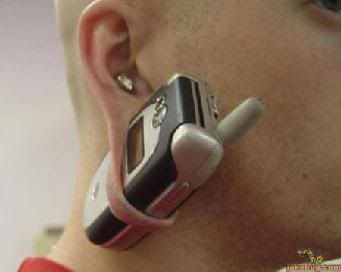 More Gossip/Speculation HERE

=============