Time for a dose of Pop Culture.

The biggest story of the week, Food Network Chef Rachel Ray's husband really into kinky sex.

Sir Paul McCartney has a bad face day. We've lots of blind items, an update on Katie Holmes' wedding lingerie-heh- and that joke of a Michael Jackson concert.

Finally, the Borat controversey. He lied and people feel cheated.
Pic of the Day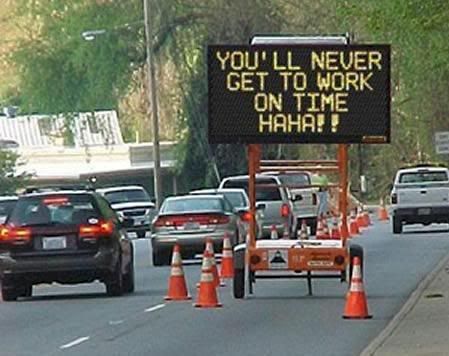 ---
Quote of the Day


Santa Claus has the right idea. Visit people only once a year.
-- Victor Borge



Web Site Worth the Visit
Identical Pictures

...Or Are They?

Check this out. See if you can get it. If you can, you're a genius like me.

There are two pictures almost identical to each other; you have to find three differences.

If you can find three differences, then you are part of an elite group of individuals.

This has been tested on 1000 people, and only 10% could find the three differences.

All three differences exist. Try it!!

(Hint: Look at the town !

CLICK HERE


TIDBITS

Motel Key Card

Ever wonder what is on your magnetic key card? Answer:

a. Customer's name b. Customer's partial home address c. Hotel room number d. Check-in date and out dates e. Customer's credit card number and expiration date!

When you turn them in to the front desk your personal information is there for any employee to access by simply scanning the card in the hotel scanner. An employee can take a hand full of cards home and using a scanning device, access the information onto a laptop computer and go shopping at your expense. Simply put, hotels do not erase the information on these cards until an employee re-issues the card to the next hotel guest. At that time, the new guest's information is electronically "overwritten" on the card and the previous guest's information is erased in the overwriting process. But until the card is rewritten for the next guest, it usually is kept in a drawer at the front desk with YOUR INFORMATION ON IT !

The bottom line is:
Keep the cards, take them home with you, or destroy them. NEVER leave them behind in the room or room wastebasket, and NEVER turn them in to the front desk when you check out of a room. They will not charge you for the card (it's illegal) and you'll be sure you are not leaving a lot of valuable personal information on it that could be easily lifted off with any simple scanning device card reader.

For the same reason, if you arrive at the airport and discover you still have the card key in your pocket, do not toss it in an airport trash basket. Take it home and destroy it by cutting it up, especially through the electronic information strip!

Information courtesy of: Pasadena Police Department


Borat Being Sued by ...Everybody!
My husband first mentioned a controversy concerning this Borat fellow, an overnight sensation who produced the movie "Borat: Cultural Learnings of America for Make Benefit Glorious Nation of Kazakhstan ". Husband informed me that in one scene involving the movie star learning to drive that the driving instructor was from my home state of Maryland and that he had not been informed that the entire driving lesson would become an actual part of the movie.
Since then, plenty of others are coming from out of the woodwork to complain about this Borat star and the deception of the movie's producers in obtaining permission and the payment for services.
Below another Borat participant comes forth to complain.
From YAHOO.com:
At a news conference Thursday in Los Angeles, etiquette teacher Cindy Streit announced that she has filed a complaint with the California Attorney General's Office requesting an investigation into the methods that were used to get her to participate in Borat: Cultural Learnings of America for Make Benefit Glorious Nation of Kazakhstan.
NOW we have an ENTIRE TOWN suing the movie's producers!
I don't know how this works but it seems to me that somebody was deliberately deceiving a whole bunch of people. As I understand it, all movie participants signed waivers and hey, I don't think you get to change your mind once the movie becomes a hit.
From Celebslam.com:
The producers of Borat: Cultural Learnings of America for Make Benefit Glorious Nation of Kazakhstan face yet another lawsuit, this one from the tiny Romanian village of Glod, which acted as a stand-in for a Kazakh village in the opening scenes of the hit movie. "We thought they came here to help us -- not mock us," one resident told the Associated Press.
That So-Called Michael Jackson Concert
So it was the World Music Awards and it seems there are still fools willing to pay to see pervert Michael Jackson perform.
Some of the ticket-buyers felt that they were misled, that Michael Jackson was supposed to sing his hit song "Thriller".
From BBC.com:
Angry Michael Jackson fans are seeking refunds on their tickets for the World Music Awards.
Entry to the award show cost as much as £100, and fans say they were misled by promises that Jackson would perform a version of his hit single, Thriller.

What's really odd is that Jackson did sing. He sang a small part of "We Are the World" then suddenly he stopped singing. Concert organizers said they had to stop the song due to a time limit on their license with London's Earls Court. Only officials at Earls Court said that a specific extension on the time limit was obtained by concert organizers.
Thus, it would seem, Michael Jackson decided to stop singing the song his own self and for God knows what reason.
If they don't refuse to patronize his alleged concerts due to this fellow's perversion, perhaps the small fandom Jackson still has will stop because of this little trick.
Kramer Evidently a Racist
If Michael Richards' sudden and strange racist rant in response to audience hecklers wasn't bad enough, his lamebrain apology on Dave Letterman was way worse.
From American Thinker.com:
Last week, comedian Michael Richards -- famous for his role as Kramer on the hit TV show Seinfeld -- went on a "racial epithet-laced tirade" after his stand up routine at the Laugh Factory in West Hollywood was interrupted by two black hecklers in the audience. The incident has been treated as a major news story by most of the nation's news outlets. At Jerry Seinfeld's urging, Richards appeared on the Late Show with David Letterman last night via satellite to issue an apology for his behavior. Despite this act of public contrition, Richards' behavior has been labeled a "career ruiner" by Hollywood insiders.
First, the video clip I saw of Richards' apology was really awful. This guy is supposed to be an actor and damn, I could have acted the part better than he did.
Worse, the airhead goes and manages, I'm not making this up, to blame Bush for his rude behavior. Something, something...KATRINA...something, something.
Obviously Richards was trying to demonstrate that no matter what he said on stage, we should all remember that Bush let black people die during Hurricane Katrina.
This guy should get some control already. Hecklers are a fact of life to comedians and his wild-eyed rant was way over the top.
I say to Michael Richards...apology NOT accepted.
Sir Paul Having a Bad Head Day
That's right. Not just a bad HAIR day. Paul McCartney's entire HEAD seems to be on wrong.
Divorce must be wearing down the man.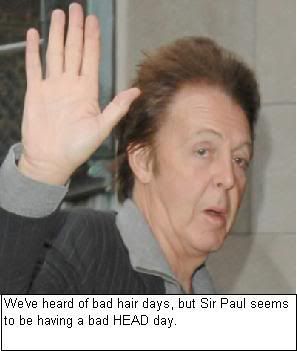 BLIND ITEM FUN
ASKED

Durwood Dope (no relation to the man-eating, avaricious Diandra Dope from Vices past) used to have it all: fab career, great looks, damn good talent, boys 'n' girls to bonk whenever he wanted. Those were the bisexual superstar days, huh?

But that was before this little thing called age set in. Trust me, I know how D2 feels: Ya look in the mirror, and ya wonder what the hell your father is doing looking backatcha! Gray hair. Wrinkles around your eyes, where there used to simply be sleepy goo stuff. Know what I mean, all my little geriatric jelly beans?

Durwood sure does. 'Cause he's increasingly turning to drugs for solace, men for validation in the form of casual sex and-worst of all-vitriolic little queens for companionship. Bad move there, Mr. D.

Now, I'm a bitchy-ass homo if ever there was one, but at least I'm true to my buds. If they've got a bad time goin' down, I'm cool about it. Not so half the fruits Durwood's been befriending, as of late. See, here's the deal:

Dope's (female) partner is currently and utterly eclipsing him in the celeb department, and this fame factoid, along with the unavoidable truth that Durwood's increasingly looking like a weatherproofed donut, is not helping D.'s depressed moods. And since D.D. has always hung with a hedonistic, eclectic bunch...well, let's just say he's leaning wholly toward those who supply him, screw him and then say so long to him-rather than to those who actually want to help him.

Shame. 'Cause Durwood sure needs somebody who cares enough to tell him to lay off this fruits-and-chemicals-only diet of his. Pronto.

and it AINT: Frankie Muniz, Nathan Lane, Luke Wilson
==============
GUESSED
Harrison Ford?

Michael Douglas? Wasn't his first wife's name Diandra? Technically, they are "no relation"... and CZJ career is eclipsing his somewhat. And his "father" "looking backatcha!" He isn't aging well, but then, that's life, not a personal fault.
=====================
From: **NY Post Page 6 BLIND ITEMS 11/14**
ASKED


WHICH ivory tickler, frequently caught drunken driving, is back on the sauce? The musician has stopped in a few of his local bars and had a few drinks, only to leave the bartenders no tip . . .
GUESSED
(Hint to Billy Joel: If you tip the bartenders they probably won't rat you out to the tabloids...)
=======================
From: **NY Post Page 6 BLIND ITEMS 11/13**
ASKED


WHICH young Hollywood starlet had secret gastric bypass surgery, but then lost too much weight? During a recent four-day stint at a health clinic, she was actually having an operation to remove the bypass.
GUESSED
go with Kate Bosworth or Hilary Duff, though.

Nicole Ritchie
=====================
From: **Janet Charlton BLIND ITEM 11/10**
ASKED


This smart, funny actor is a top boxoffice attraction. He's still on the young side but he's cranked out some major movies and proved himself a skillful actor. He's a father but he's single and a magnet for females. He's often seen at glamorous parties and Hollywood clubs with his entourage and assorted beautiful women, but he hasn't had a long term relationship. Except with his young male assistant! His female admirers would be SURPRISED to learn that this straight-seeming actor is sleeping with his assistant on the down-low!

GUESSED
Jim Carrey

Jason Stratham?

Colin Farrell?

How 'bout Mike Meyers? I know he just split with his wife...but I don't know about the "father" bit.

Tracking Santa Via NORAD

It's that time of year again. As Santa begins his travels across the world our military is on the job.

From Defenselink.mil:

PETERSON AIR FORCE BASE, Colo., Nov. 17, 2006 - In advance of the holiday season and its 51st season of tracking Santa Claus on his annual journey around the world, the North American Aerospace Defense Command today activated its "NORAD Tracks Santa" Web site for 2006.


Santa Tracking Site HERE

Tom Cruise Gets Married

Frankly I don't think most Americans are as interested in Tom Cruise's last gasping bid to be relevant by marrying Katie Holmes in a bogus wedding as the raging media is.

First, there was the wedding kiss that lasted for hours as the breathless and vapid celeb pundits reported. Didn't Michael Jackson kiss Lisa Presley real long and passionate too?

Then we hear that Tom and Katie didn't really get married in that big ceremony overseas but had a smaller service in America that was the legal one.

Now we have this amazing account of Katie Holmes' lingerie.

Where on earth would someone get this information but from the bride herself? And if it was the store which released this data well go with me here, if Holmes/Cruise really wanted this kept under wraps, well it's done all the time.

From US WEEKLY:

The real story isn't Katie Holmes' Armani-designed wedding dress, but what she'll be wearing on her wedding night.

According to MSNBC's The Scoop, Tom Cruise's fiancée recently hit La Bra Lingerie in West Hollywood and spent over $3,000 on lacy intimates, more than $1,000 of which was for a "bridal collection" set.

Holmes, 27, picked up the Chantilly lace bridal collection, which includes a bra that cost $440, a $340 thong, a garter belt for $220, and silk stockings that went for $95 -for a total of $1,190.

Additionally, the bride-to-be nabbed a silk nightgown and a matching robe trimmed with ostrich feathers that set her back $620, a lace bra decorated with Swarovski crystals for $380 and matching thong with crystals for $175, as well as two sets of silk pajamas and matching robes at $425 each.

"They weren't all white - and they certainly weren't virginal," a source told The Scoop. "But she's a mom, so I guess that's appropriate."

A long, passionate kiss? An in-your-face wedding ceremony? Lingerie purchases publicly revealed?

Methinks Tom is trying to pull some major wool over our eyes.

Heh.

Big Story of the Week...Rachel Ray

Rachel Ray is Food Networks cutie that busted out from behind the frying pan into the big time. The big scandal this week involving perky Rachel? Seems her husband hires prostitutes to...do what?

Spit in his face?

This post on this Blog received hundreds of hits this past week. Those Wacky TV Chefs:

From Google Groups, attributed to NY DAILY NEWS/RUSH AND MOLLOY...

Jeannine Walz claims in The National Enquirer that Ray's hubby, John Cusimano, paid Walz to commit degrading acts you won't be seeing on the Food Network. And, she claims, they used drugs together. Ray and Cusimano deny the allegations.

Walz alleges that the 39-year-old lawyer and musician shelled out cash for her to spit in his face, rub her bare feet on his face and other gamy rituals.




More Gossip/Speculation HERE

=============