Fox's "So You Think You Can Dance" is turning out to be quite an entertaining show for those who enjoy watching the art of the dance.

ABC's "America's Got Talent" has provided at the least a chuckle with the many acts presented, many of them in the nutso category.

We've got a review of both shows plus pics you'll find nowhere else on the Internet.

Snakes on the head, stains on the shirt...just a few oddities featured on this post.
Pic of the Day
---
Quote of the Day


"A perfect summer day is when the sun is shining,the breeze is blowing, the birds are singing,

...and the lawn mower is broken."

~James Dent~



Web Site Worth the Visit
Vintage TV Sets

I should be ashamed that I recognize some of the TV sets pictured on this intriguing site. Here's TV sets even before the days of remote control!
ABOVE SITE HERE


TIDBITS

+------------------- Bizarre 911 Calls --------------------+

Dispatcher: Nine-one-one
Caller: Hi, is this the police?
Dispatcher: This is 911. Do you need police assistance?
Caller: Well, I don't know who to call. Can you tell me how to cook a turkey? I've never cooked one before.

Dispatcher: Nine-one-one What is the nature of your emergency?
Caller: I'm trying to reach nine eleven but my phone doesn't have an eleven on it.
Dispatcher: This is nine eleven.
Caller: I thought you just said it was nine-one-one
Dispatcher: Yes, ma'am nine-one-one and nine-eleven are the same thing.
Caller: Honey, I may be old, but I'm not stupid.

Dispatcher: Nine-one-one What's the nature of your emergency?
Caller: My wife is pregnant and her contractions are only two minutes apart.
Dispatcher: Is this her first child?
Caller: No, you idiot! This is her husband.

Dispatcher: Nine-one-one
Caller: Yeah, I'm having trouble breathing. I'm all out of breath. Darn...I think I'm going to pass out.
Dispatcher: Sir, where are you calling from?
Caller: I'm at a pay phone. North and Foster. Damn....
Dispatcher: Sir, an ambulance is on the way. Are you an asthmatic?
Caller: No
Dispatcher: What where you doing before you started having trouble breathing?
Caller: Running from the police.


Correction to "Wite-Out" Tidbit
In a "Bizarre Tidbit" recently, one of the "facts" as presented was who invented that popular item for typewriters, Wite-Out. My bizarre tidbit was erroneous. A reader wrote challenging that assertion, that it was Mike Nesmith's Mom who invented "Wite-Out". Mike Nesmith is a member of the singing group the Monkees.
So I did some research and
per Wikipedia,
Wite-Out was invented by a Mother of a Monkee. Heh.
Which goes to show that a Blogger can never get away with the horrendous errors of the Lamestream journalists. Bloggers have smart readers who catch them immediately while the Lamestream liars can continue on with their lies with impunity.
I'm just saying.....
"So You Think You Can Dance?" Down to Eight Couples
The measure of a sucessful reality contest series can be judged by how long it is kept running on the air. For surely the producers cannot start a contest, no matter how absurd or bizarre, and not finish it on through to a winner? Hence "The Bachelor" eliminated contenders five at a time to reduce the amount of time that rather unpopular show ran, while "American Idol" begins in January and ends in May.
Fox's "So You Think You Can Dance" is now down to eight couples. The series does end up with one winner but since it is a dancing show, the concept of "couples" is all-important; much more important than, say, "American Idol". Still, this series has sixteen finalists left. The contenders are not being knocked off ten at a time so I think this must be a popular reality contest series.
On the evening of 6/20/07 nine couples competed. As is the show's methodology, the bottom three couples would be named the following night based on audience vote. Each member of the bottom three couples would then have to dance solo in what is termed the "dance for their life". The judges then choose a male and a female out of this bottom six to be eliminated.
Lauren and Neil danced a Hip-Hop routine. Neil performed a spectacular dive over his partner. On 6/21/07 this couple was deemed safe.
Jessi and Pasha performed a Jazz routine. This couple was one of the bottom three couples on the following night's elimination round.
Jamie and Hok performed a Samba, cuter than all get out in that this is the last couple in the world one would expect to do the Samba. The judges agreed, one declaring the performance at "not a high level". Jaimie and Hok were judged safe by the viewing audience.
Lacey and Kamaron performed a Broadway dance. The judges wanted to see a "sassier" routine but this couple too was declared safe during the elimination round.
Anya and Danny performed a Viennese Waltz which was beautiful and this couple too will be moving on.
Sabra and Dominic performed a Contemporary routine. The judges declared Dominic a "force to be reckoned with". This couple passed audience muster as well.
Sara and Jesus performed a Paso Doble. One judge declared that their "carriage and presence was fabulous". I didn't see it but okay, Sara and Jesus will also be moving up per the audience votes of that evening.
Shauna and Jimmy performed something called "stepping" but further clarification reveals this to be a Hip-Hop routine on steroids. The judges declared that this couple sure did "step it up" but the viewing audience disagreed. Shauna and Jimmy were declared part of the bottom three during the elimination round.
Faina and Cedric performed a Foxtrot which one judge declared was like a dance "Ginger Rogers and an insecure Michael Jackson".
On 6/21/07 the elimination round aired and three couples, Jessi and Pasha, Faina and Cedric, Shauna and Jimmy, were declared as being in the bottom three.
These six dancers then had to perform a short solo routine in a dance for their lives that would keep the judges from sending them home.
Jessi danced to "Hurts So Bad" and she showed her underpants. I wasn't impressed with her routine. Pasha danced to the tune "Ain't Nothing Wrong With That" and he made great sexy moves during his solo routine. Shauna performed to "Everything" and I thought she looked chunky and awkward. Jimmy danced to "Veins" and frankly, by himself and to my untrained eyes, Jimmy didn't look like a dance champion at all. More, he resembled a homosexual fellow who can maybe cut up a rug at a party but certainly not winning material.
Faina danced to "Do You Love Me?" and hey, this is a great dancing tune, no? I thought Faina looked great but I must remind that this Faina's second time in the bottom three and I pondered that she's not long for this contest. Cedric danced to "Hide & Seek". Cedric danced in his own double-jointed manner. Cedric also is dancing a second solo dance for his life and the judges had some stern words for their unique dancer.
After the solor performances the six contenders lined up for the judge's verdict or eviction. Shauna's solo danced was not liked by the judges but, evidently, Faina was even worse. Faina was sent home.
The judges deemed Pasha's solo not all that great but Jimmy's was worse. There was a great suspense when the field narrowed down to Cedric and Jimmy. The judges said they were torn in that Cedric was a unique dancer but he is also a fellow who can't seem to work well with a dance partner. Cedric's been on the chopping block twice and while the judges said they liked his unique style, he better not let his partner down again or he won't get any slack.
Jimmy was sent home.
So Cedric's still in the contest but he'll be gone soon. Cedric is a very unique dancer, sadly, and he's a bit fun to watch. It's almost as if his limbs and bones are made of rubber and his dancing is as fluid as such bones would allow. Alas he appears to be a dancer who can't dance with partners all that well as rubber bones are more of a solo act than a partnership asset.
Be on the lookout for Neil and Lauren to pull ahead in this series.
The top 16 of the 2007 series of "So You Think You Can Dance" are, as of this writing:
Shauna
Lauren
Neil
Cedric
Jessi
Pasha
Sara
Jesus
Jaimie
Hok
Anya
Danny
Kameron
Lacey
Sabra
Dominic
Links to prior reviews of So You Think Can Dance 2007:
The Top 20 for 2007
Down to Eight
"America's Got Talent" Goes to Chicago
A couple of notes on this reality contest series as there's really not much to review as the show is still on the road, still seeking outstanding and unusual talent.
First, Sharon Osbourne has been a most enjoyable judge in this series. She's a little too nice to some of the crazy ones and at times one must question her sense of talent but women are generally nicer judges. Sharon has a very advanced vocabulary and mastery of the English language and is very attractive for a woman around my age. I gotta wonder how this woman lived with drugged-up Ozzy all those years.
Second, in each evening's viewing there is always one contender that has a big emotional breakdown due to rejection. This is not unique, of course, to just "America's Got Talent". "American Inventor" goes crazy featuring would-be inventors sobbing their hearts out that their bird cage was rejected. But it gets old. I have no problem with the nut cases going to these auditions with hopes of a few moments in the sunshine of the camera. For surely some of the weird entrants have to KNOW that there's not a chance. "American Idol" had one fellow who was so bad but he went on to become a folk legeand. The producers spot a kook case and feature their "talent" in the early shows of the contest to perk up interest and perhaps bring a laugh.
So why are they crying? We once had a little girl with pink streaks in her hair. Her mother was with her. She couldn't sing. It was nice that she got some moments on TV but I'm betting she got those moments because a)they either asked her to cry for the camera or b)she cried and the producers thought it was the perfect icon for the heartbreak of show business of some such.
Anyway, Chicago had it's share of kooks, nuts and unique entertainers. We had a Hillary lookalike, guys with no shirts, a fellow with unknown stains on his shirt, a bee-bopper named Butterscotch, a mime/comedian as if a mim could ever be funny, and a routine featuring snakes.
Some of the ones that were accepted were weird as well. One fellow, a Pakistani fellow named Kashif, did some sort of dance that the judges loved. I watched this guy dance and he wasn't awful. But one Muslim guy moving around a little on stage, what's the great talent there?
There was one terrific magic act, a singer named Cas Haley who sang a Sting song better than Sting, according to one judge.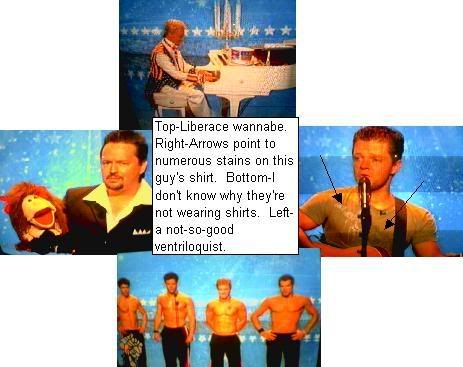 Also accepted was a group of guys who performed on stilts and a guy dressed as Shakira.
It will be fun to see where these crazy acts go.
Links to prior reviews of America's Got Talent 2007:
NBC's "America's Got Talent" Web Site
America's Got Talent Premiers 6/5/07
The 6/19/07 episode
More TV Reviews HERE
===============
Add POST to Technorati Favorites
=======================