We've got a wealth of reviews on reality shows in this TV post.

Definitely we'll have info on the ongoing search for a new Food Network Star plus Hell's Kitchen. They're sending would-be famous chefs home and we're on it.

Also, America's Got Talent.
Pic of the Day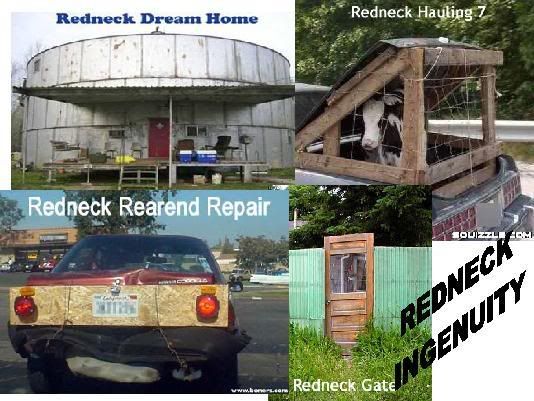 ---
Quote of the Day


THE BIG APPLE'S BIG NANNY

"People like me see in [New York Mayor Mike Bloomberg] a nosy, hectoring, busybody, anti-smoking, anti-trans fat, social engineering, lifestyle blue-nosing, freedom-crushing, nanny-state enthusiast. He thinks he knows what is best for all of us."
- Columnist Tony Blankley



Web Site Worth the Visit
Since Today is Flag Day

A site with the history, rules and regulations of the American Flag

ABOVE SITE HERE


TIDBITS

A fifth grade teacher in a Christian school asked her class to look at TV commercials and see if they could use them in some way to communicate ideas about God. Here are some of the results: scroll down.

God is like.
BAYER ASPIRIN
He works miracles.

God is like.
a FORD
He's got a better idea.

God is like.
COKE
He's the real thing.

God is like.
HALLMARK CARDS
He cares enough to send His very best.

God is like.
TIDE
He gets the stains out that others leave behind.

God is like.
GENERAL ELECTRIC
He brings good things to life.

God is like.
SEARS
He has everything.

God is like.
ALKA-SELTZER
Try Him, you'll like Him

God is like.
SCOTCH TAPE
You can't see Him, but you know He's there.

God is like.
DELTA
He's ready when you are.

God is like.
ALLSTATE
You're in good hands with Him.

God is like.
VO-5 Hair Spray
He holds through all kinds of weather.

God is like.
DIAL SOAP
Aren't you glad you have Him? Don't you wish everybody did?

God is like.
the U.S. POST OFFICE
Neither rain, nor snow, nor sleet nor ice will keep Him from His appointed destination.

God is like.
Chevrolet. . .the heart beat of America

God is like
Maxwell house. .
Good to the very last drop

God is like.
B o u nt y . . . .
He is the quicker picker upper. . can handle the tough jobs. . and He won't fall apart on you



Re the Booing of Miss U.S.A. During the Miss Universe Contest
I received the following comment re
my review
of the Miss Universe 2007 contest and the boorish booing of Miss USA.
allthatbeauty has left a new comment on your post "The Gardens of Midspring 2007; Miss Universe Revie...":

Hello Patricia.. I liked your observations about Miss Universe 2007 boos.. However I have a question.. Were you there in the audience? You said that Miss USA was booed during intros but the fact is the intros were shot a day before the final show. At that time there was limited audience and no booing. The first boos for Miss USA were in evening gown competition only dear.. The next boos were in top 5 announcement and then the interview and then the final vote.
Since I still had the tape of this I took the time to check it out once again. The commenter is correct in that there was no booing during the introduction of Miss America. If I stated this in my review then this was incorrect.
I DID state in my review that Miss USA WAS booed before the top five intro and my further research proved me correct. Miss USA was booed during the swimsuit presentation as well as during the gown presentation. Now the boos were slight. A viewer is more apt to notice the absence of lusty cheers when Miss USA is introduced than the few boos. But make no mistake there were some boos from that audience BEFORE the top 5 was announced which was AFTER Miss USA took that very unfortunate fall.
The Next Food Network Star 2007-The Cover of Bon Appetit
Allow me to take a moment to provide a link to a fine post on this Blog. It's called
Those WHACKY TV CHEFS
and is a review of all the Food Network Chefs, the things that bug me and the things I like. With plenty of pics.
The third hour of this year's "Next Food Network Star" premiered on 6/10/07. Before I go on, I must apologize to Food Network Star Bobby Flay. For in my first review of this reality series I grouched that Bobby Flay always managed to end up as a judge of some sort. I also went on about how much I dislike this man. Make no mistake I still don't like Bobby Flay as I think he has a nasty personality and it shows on the camera. But as I now understand it, the various Food Network chefs take turns as part of the selection committee and on the first night it was evidently Flay's turn.
On this third hour of the contest, it was beauty Giada deLaurentiis who was the Food Network Chef in charge of the various tasks assigned to the would-be next Food Network chefs. Giada is a beauty, you read this right. And this gorgeous lady dresses in the most low-cut tops possible when she cooks for the TV. I'm pretty sure that's the plan as no one who values skin without the burns caused by cooking food would ever expose cleavage like that while cooking. Giada is the granddaughter of the famous movie director Somebody deLaurentiis. She has to be one of the prettiest females on TV, not to mention a cooking show.
One of the interesting tasks assigned the wannabe Next Food Network Stars was what was called a "Cooking Demonstration Relay". This involved having all of the contenders take one full minute as their own part of demonstrating how to cook a dish in front of a camera. The dish presented was, of course, one featured on Giada's "Every Day Italian", her own Food Network Show.
So one contender would start the demo by perhaps assembling the ingredients and beginning the cooking. After one minute the bell would ding and the next contender would step into the screen to continue on.
Some interesting things that happened was Colombe setting the pan on fire during her minute, Paul forgetting his thought while on camera and Tommy spending many of his precious assigned seconds on camera totally OFF THE SCREEN!
This one minute task was very revealing in terms of how the candidates for Next Food Network chef handle the pressure of the TV camera, manage to convey their own personal style and wit while demonstrating how to prepare a particular dishes in an informative and proper manner.
The grand task for this episode in the contest was the competition to prepare a barbecue dish that would be featured on the cover of that beloved magazine of sophisticated foodies across the fruited plains: Bon Appetit.
Each contender prepared their own grilled item then packed up the things required to present their entree to the folks at Bon Appetit, which included the editor and photographer as well as Food Network's selection committee.
Each candidate presented their dish as prepared. The presentation included one plate with the food prepared and ready to eat, ostensibly a presentation that would allow the judges to see how the dish would look on the cover of the magazine. Individual plates of the prepared recipe were also given to all the judges for this task that they may taste the dish prepared.
The many entrees were interesting and this is a great time of year to feature a barbecue dish.
After this, all the remaining contenders for the Next Food Network Star 2007 were summoned before the selection committee for the naming of the dish that would be on the cover of Bon Appetit then on to the elimination of one contestant.
Some of the comments as regards the barbecue dishes as presented before the Bon Appetit folks were:
Tommy's barbecued rib-eye was ugly and would look awful on the cover of any magazine.

Michael's presentation of grilled chicken over summer vegetables was deemed nice. His concept of throwing some herbs directly on the barbecue fire was well-received by the various judges. Well hell, I do this all the time. For if one wants to smell a bit of heaven just toss some thyme onto a barbecue fire or over top of some hot coals. The thyme flavor not only infuses the cooking food, the entire surround smells lovely.

Amy's "barbecued" dish was not even barbecued. It wasn't. It was some sort of fruit thing but the theme WAS barbecue, folks.

Heh. The judges for the Bon Appetit cover declared that Adrien's entree looked as if it had already been chewed then spit out.

Colombe got the name of the meat used for her barbecued steak wrong. She used skirt steak but called it something else.

JAG's dish was deemed entirely too fancy for home chefs, especially those who would be barbecuing.

Rory's grilled cantaloupe and grilled ear of corn was a great side to her barbecued ribs.

Nikki's presentation of a Jerk chicken dish was described by the judges as being nothing like Jerk chicken at all. "Adding cajun seasoning does make something "jerk" " was how one judge explained.

Paul's presentation of grilled rack of lamb was not bad but his silly deep breaths and pauses during the demonstration distracted attention from the dish.

Rory and Michael's dishes were declared the best of those presented and both of these chefs were declared "safe" and eligible to move on to the next round.

Out of the contenders remaining, Nikki was sent home. It seems the selection committee considered Nikki a bit too phoney and they feared a home viewer would hone in on her fakery real quick. Well she did sprinkle some red stuff on raw chicken and tried to pawn it off as Jerk Chicken. She did dress well, however, and often wore tall spiked heels while she cooked.

The contenders remaining with hope of being the Next Food Network Star 2007 include:
Colombe Jacobsen
Michael Salmon
Tommy Grella
Amy Finley
Paul McCullough
Rory Schepisi
Joshua Garcia-JAG
Adrien Sharp

###
Links to prior reviews of the Next Food Network Star 2007:
Food Network Star's web site
6/3/07-The 2007 Search for the Next Food Network Star Begins
The Cover of Bon Appetit


Hell's Kitchen 6-11-07-Fileting the Fish

With a bit of a yawn I tuned into the 6/11/07 Fox's reality show "Hell's Kitchen 2007". This show is nowhere near the caliber of Food Network's contest "The Next Food Network Star". For almost every episode is a compilation of Gordon Ramsey yelling and cussing with intimidated contenders cowering and crying in response. Little of value in terms of cooking and/or food preparation is presented in any worth while manner. Still, since this show is running at the same time as the Next Food Network Star 2007, I'll keep tuning in if for nothing else but contrast.

Chef Ramsey gathered all the wannabe head chefs of their own restaurant together and charged them with the fileting of that most beloved of fish, the Dover sole. Contender Aaron cried, of course, as this fellow cries all the time. For all of his infamous short temper and mean-ness, Chef Ramsey is always patient and kind with crybaby Aaron.

Two teams, one with the females and one with the males, competed against each other. The winners would be the team that fileted the most Dover sole to Chef Ramsey's standards and would be rewarded. The losing team would be punished.

The female team won this task and their reward was a day trip on a fishing boat and a relaxing luncheon with none other than Chef Ramsey. The losing team, in this case the men, had to stay in the kitchen and filet all the remaining fish.





After this task, reward and punishment, the restaurant known as Hell's Kitchen once again re-opened and harried chefs in the form of contenders for the 2007 Hell's Kitchen contest cooked, cut and cussed. All accompanied by the screams and derision of Chef Ramsey.

As always happens, either the restaurant is completely shut down by the exasperated Ramsey or, on this night of 6/11/07, Ramsey sent all the males out of the kitchen and had the females finish up all the preparation of meals for the customers left.

All females were declared safe and would move on to the next week on Hell's Kitchen 2007. Of the guys, Ramsey declared Rock the least worst of the lot and asked him to nominate two of his male team mates for consideration to be sent home that evening.




Rock nominated little Eddie and Josh for Ramsey to consider for elimination. Eddie has some sort of physical problem that prevented his growth. In my very first review of this show, all links included below, I suggested this fellow might be a contender for the top spot. Goes to show what I know. For it turned out that Eddie couldn't even properly prepare a plate of spaghetti. Chef Ramsey sent Eddie home with no delay.

@@@
Links to prior reviews of Hell's Kitchen 2007:
Web site for Hell's Kitchen
Amidst Much Cussing, on 6/4/07 the 2007 Hell's Kitchen Competition Begins
The Girls Win Everything Including Fileting the Fish

As of this writing the contenders for the 2007 Hell's Kitchen include:
Rock
Jen
Josh
Beautiful Melissa
Joanna
Brad
Julia
Aaron
Bonnie
Vinnie

"America's Got Talent" 2007

America's Got Talent 2007 premiered on 6/5/07 and I finally got a chance to check in. This reality series is produced by Simon Cowell of American Idol fame. While there are many singers competing in this series, the idea behind this contest is that ANY talent can be featured and possibly win.

The host, interestingly enough, is Jerry Springer. The winner of this contest will be given a million bucks. The judges include Piers Morgan, Sharon Osbourne and David Hasselhoff. I don't know the qualifications of Osbourne or Hasselhoff but there you have it.

The first show of this series featured some of the try-outs in Dallas.

I enjoyed watching this show for the humor of it all more than anything. Like "American Idol" when it begins tryouts in various cities across the fruited plains, some real nut cases apply for consideration. Some people do anything to get time on TV for surely at 50-year old overweight Elvis impersonator who can't even sing doesn't think he has a chance to win this thing?

Some of the other "talent" featured on this premiere show featured the Yo-Yo people, snakes, funny dogs and hey, some entrants that might even win.

Below is a pic montage from this first show. I may, or may not, follow this series.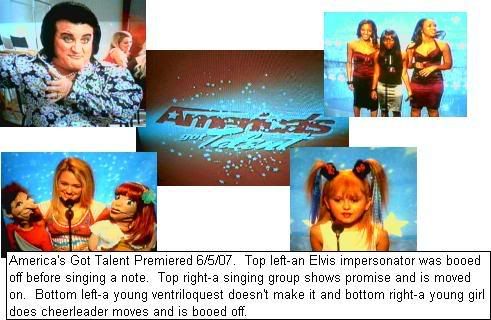 $$$
Links to prior reviews of America's Got Talent 2007:
NBC's "America's Got Talent" Web Site
America's Got Talent Premiers 6/5/07

More TV Reviews HERE
===============




Add POST to Technorati Favorites
=======================