It's a True Crime post and there's the ongoing OJ thing, heh. Plus this Madeleine McCann case continues to baffle.

A little angel found hung in her home, a victim of her mother's boyfriend. Also some white folks guilty of heinous torture but there will be no hate crime charges. Why?

We've got a cop killer and a runaway cop, castration by choice, and the amazing story of a woman who killed the killer hired to kill her with her bare hands.

TIDBITS

RANDOM TIDBITS ON APPLES

Two pounds of apples make one 9-inch pie.

Apple blossom is the state flower of Michigan.

7500 varieties of apples are grown throughout the world.





The top apple producing states are Washington, New York, Michigan, California, Pennsylvania and Virginia, which produced over 83 percent of the nation's 2001-crop apple supply.

Most apples can be grown farther north than most other fruits because they blossom late in spring, minimizing frost damage.

Apples have five seed pockets or carpels. Each pocket contains seeds. The number of seeds per carpel is determined by the vigor and health of the plant. Different varieties of apples will have different number of seeds.


Was Madeleine McCann's Body Thrown Into the Sea?
This case is shaping up to becoming the Jonbenet Ramsey story, foreign edition.
Setup-two physicians are on holiday at a posh resort in Portugal. They leave their children unattended in their hotel suite to go to dinner nearby. Throughout the evening the parents leave the table to check on their children. Madeleine was 3 years old at the time and her twin siblings were toddlers.
At some point the parents report that Madeleine was missing.
The details on that evening are very unclear. It is widely known that the McCanns have been on a public relations blitz to help find their missing daughter, at one point even meeting with the pope for prayers of Madeleine's safe return.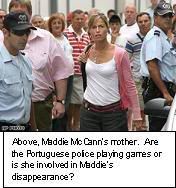 From Timesonline.com:
The McCanns 'refused to answer 40 key questions' during a police interview after being made official suspects, it was reported yesterday. Here our correspondent looks at some of the crucial riddles of the past four months David Brown in Praia da Luz What happened in the four hours before Madeleine was reported missing?
I'm not at all sure why the McCanns didn't answer those "key questions" as reported above. That seems odd.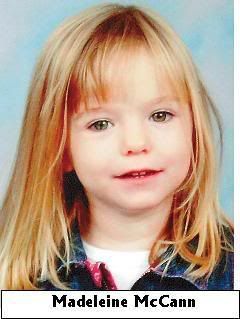 From Express.com:
Police fear that the body of Madeleine McCann will never be found and only a confession by her parents can convict them of killing her.

The startling revelations came as officers told of their worries that her body was dumped far out to sea in a bag weighted down with stones. Detectives are convinced she is dead and believe her remains are now gone for ever, a vital piece of missing evidence which seriously weakens their case against Kate and Gerry McCann.
The above bit alluding to Madeleine's body being tossed at sea is jarring. That notion had never crossed my mind. I'd been right along thinking of the McCanns as poor innocents who lost a precious daughter.
Even when it was first leaked by investigators that the parents were under serious suspicion for Maddie's disappearance I didn't believe it.
As time goes by, however, neither the Portuguese police or the English investigators are backing down on their charge. In fact Mr. and Mrs. McCann have been charged as suspects by the Portuguese police.
I almost always believe prosecutors when they go after a suspect. Prosecutors, Mike Nifong notwithstanding, generally want strong evidence before filing a case. While initially the Portuguese investigators were considered incompetent and inept, it now seems that they have been closely following the McCanns and they eagerly sought assistance from British investigators.
Way I figure, ALL of these police people can't be wrong!
Democratic Fundraiser Norman Hsu Update
From KJCT8.com:
Disgraced Democratic fundraiser Norman Hsu waives extradition and sits in the mesa county jail tonight on a $5 million cash only bond.
Seems that after his Amtrak saga Hsu is now in jail and this time he's got a five million dollar bond.
I have a theory on where Hsu comes from and who he works for on
THIS Blog post.
Now let's see if they can keep this fellow locked up. Because there's a whole slew of folks who do not want him to talk. And Hsu himself is very suicidal.
Precious 6 Year Old Hung by Mom's Fine Live-In Boyfriend
Hey, Dana Mack. Here's what I have to say to you. That fine man you brought home from that late night at the bar raped and hung God's most precious gift to you. Pretty Hanna deserved to live. But Hanna's Mom needed a boyfriend.
From Foxnews.com:
CORSICANA, Texas - Authorities named the live-in boyfriend of the mother of a 6-year-old girl found hanged and sexually assaulted as the primary suspect on Thursday.

Kevin Wayne Anders was arrested late Wednesday on charges of unlawful possession of child pornography after an analysis of computer files revealed pornography, said Chief Deputy Mike Cox of the Navarro County Sheriff's Office. Anders is being held on a $100,000 bond.
Yes I suppose that Dana Mack didn't know that the fine man she lived with and who had a computer full of child porn, well it's possible this Mom didn't know the pervert she allowed around her daughter was, well a murdering pervert comes to mind.
It's just that so often, entirely too often, the creeps that kill these innocents are brought into the homes by the children's mothers! I find it very difficult to believe that Dana Mack had no clue that her boyfriend was such a creep. He had a computer full of child pornography!
Further, Dana Mack discovered her daughter's body and her first reaction was a pronouncement that she wanted to get even with whoever did this to her daughter. And that creep she'd been living with never entered her mind?
Something weird about this, ladies and gems.
Cop Killer Has Plenty of Helpers
Speaking of women without a clue, get a load of this babe. Her beloved, Shawn LaBeet, killed a cop and shot three others and this bimbo lies to investigators to send them off track.
From CBS4.com:
D'Angelo is charged with being an accessory after the fact because she gave a false name for Shawn LaBeet while police were searching for him, which caused delays in the investigation. She told police his name was "Kevin Wehner", which was an alias he was using.

Also over the weekend, a judge set bail at $250,000 for each of three other people charged with being accessories to the shooting of Somohano; 24-year old Alain Gonzalez, his mother 47-year old Alba Bello and her boy friend 35-year old Lazaro Guardiola. All three are being held at the Turner Guilford Knight Correctional Center.
Seems that LaBeet, a fine man, was also beloved by his mother and several others in his family. Now they're all in trouble. Goodness, all for Shawn LaBeet, such a wonderful man.
Sheesh.
Rogue Cop
Here's a story of a cop that we all love to hate. All caught on tape.
From The Newspaper.com:
A motorist who refused to discuss his personal business with a St. George, Missouri police officer was threatened with arrest last Friday. Brett Darrow, 20, no stranger to unconventional encounters with police, caught a St. George Police Sergeant James Kuehnlein stating that he had the power to invent charges that would put Darrow behind bars. Update: Sergeant Kuehnlein was placed on unpaid leave Monday pending an investigation.
Castration for Child Sex Offenders?
I came across this article and I was surprised.
From WMBB.com:
The agreed-upon sentence will be 25 years prison, as a dangerous felony sex offender and, by law, Allen will serve 100 per cent of that sentence. The prison term will be followed by 10 years probation. Allen will be designated a sexual predator, with all registration and treatment requirements, as well as electronic monitoring pursuant to the state's Jessica Lunsford Act.

Additionally, Allen agreed to submit to surgical castration. The court's order required that the surgery be conducted within eight days. A board certified urologist has agreed to perform the procedure.
Now I'd never espouse castration or any bodily mutilation by our government WITHOUT consent of the recipient. Still I note this case above and I ponder if perhaps we, as a society, shouldn't consider surgical castration as a CHOICE for repeat child molesters.
If a convicted child molester agrees to such castration then perhaps their prison sentence could be reduced or some other "reward" given for agreeing to the procedure. If they don't agree then the perp gets the full weight of the law thrown at him as punishment.
For child molesters never get "well" as I understand it. Castration could make them well real quick.
This Woman Is My Heroine!
Married to a fine, brave and courageous man, Susan Kuhnhausen found herself struggling for her life against a drug addict hired to kill her by that same fine, brave and courageous husband.
From Wave3.com:
PORTLAND, Ore. (NEWSCHANNEL) -- An Oregon man was sentenced to 10 years in prison Friday after hiring another man to kill his wife.

Susan Kuhnhausen fought off the hit man and actually strangled the attacker with her bare hands killing him.
I love Kuhnhausen's comment, quoted in the pic below. Susan, congratulations for inspiring women everywhere.
Another Victory for Law Enforcement
He was 36 years old a the time. He raped and killed a 72 year old woman, such a fine, brave man.
From the LATIMES:
A man initially suspected of raping and killing an elderly Pasadena woman 20 years ago has been rearrested in connection with the case based on new DNA evidence, police said Monday.

Roger Tillman, 56, was arrested Thursday in the slaying of Mary Drew, 72, who was found dead in her room at a board-and-care facility on North Los Robles Avenue on May 6, 1987, said Pasadena Police Lt. John Dewar.
72 year old Mary Drew is finally getting her justice as a cold case unit was able to make a DNA match connecting Tillman to the crime.
Justice, even delayed justice, is sweet.
Maybe She'll Get Mary Winkler's Jury?
I mean come on, wouldn't a simple divorce just be easier? What's with these women who, tada, shoot their husbands if the going gets tough?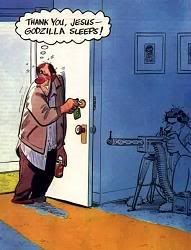 From Columbian.com:
Martin called 911 at approximately 1:30 a.m. Saturday from her rural Ridgefield home after allegedly shooting her husband of 30 years.

According to court documents, Martin shot Eddie E. Martin four times with a double-barreled shotgun, taking a break to reload, after stewing over her belief he was having an affair and wanted a divorce.
Another Hate Crime Joke
It's unclear how 20 year old Megan Williams ended up in Bobby Brewster's house along with a fine collection of West Virginia hillbillies. Scuttlebutt has it that Williams met Bobby Brewster "socially" and went to meet him willingly.
From WRAL.com:
BIG CREEK, W.Va. — Authorities decided Wednesday not to pursue hate crime charges in the kidnapping and weeklong torture of a black woman, instead going after the suspects, who are white, on state charges that carry stiffer penalties.
Brewster and his friends and/or family proceeded to torture Megan for a week with tortures and humiliation sickening to read.
The bigger issue here is that West Virginia authorities decided not to pursue the state's hate crimes law because the kidnapping and sexual assault statutes would punish the perps more.
Which is the whole problem with silly hate crimes laws. It makes no sense to try to ascertain if a crime was done out of hate. A crime is a crime and it matters not what the perp was feeling when committed.
Further, I have covered the Christian/Newsom murders
HERE on this Blog.
This crime involved a white couple who were carjacked by a bunch of rampaging blacks. The female was raped and tortured for several days. She and her boyfriend were killed by this fine group of so-called humans. Prosecutors in this case are also not pursuing a hate crime conviction and this factoid angered many folks who don't think hate crime statutes should only apply to white people.
I will also softly mention that at least Megan Williams is alive. The female in the Christian/Newsom murders died a horrific death. Drain cleaner had been poured down her throat to eliminate DNA evidence. Her body was found stuffed into a trash can. She too had been victimized by a gang with a different skin color than hers.
FOCUS ON JONATHAN LUNA
=================

He had been stabbed 36 times, mostly shallow cuts. His body was found, face down, in the muddy waters of a small creek in Amish Pennsylvania. His death appears to have been from drowning, with the unstated supposition that had he not been in the creek he would have eventually bled out from his wounds.
There's many interesting facets of the Jonathan Luna case, including one factoid I found so very telling yet is buried beneath the verbiage and reporting on this case.
Start here on this initial post
with the detail of Luna's death and information on his life before his odd journey to Pennsylvania in the middle of the night.
Here's a post compiled almost six months after the initial post.
I re-visit my original post and theory concerning Jonathan Luna's death and found I am still correct as to how it came down.
A commenter challenges my theory about Jonathan Luna. In this post I break down that challenge with no mercy.
================
Add POST to Technorati Favorites
=======