Time to catch up on the Pop Culture and I keep an eye on it that yon folks can just enjoy.

We've got fashions from a 77 JC Penny catalogue with some yuk comments. Also, a montage of unusual cars plus a pic of the world's largest car.

We've pics of a new breed of pigs discovered, and literally, getting high on human waste.

Finally, get ready. The first American Idol promo 2008 hit my Ebox and I've got details.
Pic of the Day
---

From the 70's, Good For a Smile
Some of the pics below passed through my Ebox and caused me to smile so much that I had to create a handsome montage and share with yon readers.
All from a J.C. Penney catalogue of the era.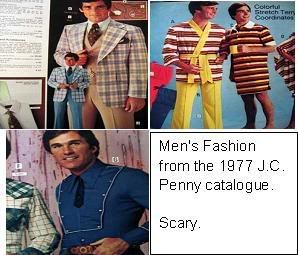 We're Not Making This Up
Getting high on a new drug made from urine and feces.
From The Smoking Gun.com:
NOVEMBER 5--We're not sure what they're inhaling down in Collier County, Florida, but here's the bizarre "information bulletin" prepared by the local sheriff's intelligence bureau about a purported "new drug" favored by the kids. It's an inhalant called "Jenkem," and causes hallucinations and a "euphoric high." Of course, as the bulletin notes, Jenkem users dislike its sewagey taste, which can last for days. That's because Jenkem's active ingredients are urine and fecal matter, hence its street names like "Butthash" and "Fruit from Crack Pipe." Click here to see a video report on Jenkem, via Breitbart.tv. We've tried to speak with the bulletin's author, Lieutenant Al Ganich, but he has not returned TSG calls. Perhaps he's realized that his "CONFIDENTIAL" September 26 report--which is authentic, according to a sheriff's official--may be itself full of shit.
The link above provides an illustration of the new "drug", how its "cultured", "ingested" and details of the high achieved.
From Fashion to Drugs to Cars
Some unusual ones and the World's Largest Car…below.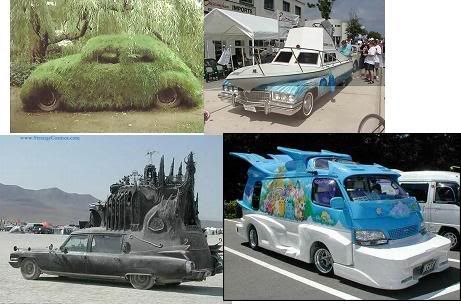 Media Notes
Thanks to Anita
on FreeRepublic.
Meeting The Press - Wash.Post concedes! -> George W. Bush is more accessible to the reporters than Hillary Clinton and Barack Obama.
Manufacturing the news -> ABC Style! ABC News is engaging in media stage management and Theater of Journalism to expose anti-homosexual bigotry in the South. R I G H T.
A Caracas Musharraf! As Pakistan's tightening dictatorship draws global opprobrium, a curious double standard is emerging in Venezuela as democracy gasps its last and celebrities continue to file in. Where's the decency?
Murdoch Influence? -> WSJ.com gain 1 million paid subscribers.
Associated with terrrorists Press' -> 'Grim Milestone' Watch. Associated Press has figured out how to put an anti-war spin on the declining casualty rate in Iraq, as they celebrate yet another grim milestone.
New Breed of Pig Discovered
We never stop marveling at the continuous discovery of new animal breeds. Now we have a new breed of pig.
From Livescience.com:
new species of pig-like mammal called a peccary has been discovered in the southeastern Amazon region of Brazil, a scientist announced today. It is the largest peccary in the world, about the size of a large dog.





The newly named beast (Pecari maximus) was found in the basin of the Rio Aripuanã and confirmed to be a distinct species via a genetic analysis conducted by the Leiden Centre for Environmental Sciences in the Netherlands.
Fleeing Robber Eaten by Alligator
It's not funny and do not even giggle.
The lesson here is that it is not wise to go jumping in strange ponds in Florida.
From News4Jax:
MIAMI -- A Florida man police said was breaking into cars at Miccosukee Resort and Gaming was attacked and killed by a 9-foot alligator while trying to run from police.

Investigators said officers responded to reports of car break-ins at a Miccosukee Indian Reservation parking lot located at 500 S.W. 177th Ave. in Miami.

One of the men was quickly captured by officers during the incident last week but the other robbery suspect tried to elude officer by jumping into a large pond behind the facility, according to a WJXT-TV report.
You might want to avoid that bit about breaking into cars as well. Neither of these activities are good for one's health.
First Notice
Yesterday, a week and a half after Halloween, I listened to Christmas music and perused Christmas goods already set up and awaiting the endless buying frenzy Americans call the Christmas holidays.
So this notice, which passed through my Ebox as I tend to get this stuff as a professional Blogger, an oxymoronic phrase if ever there was one.
Still I was amused and below, for yon ladies and gems…the first announcement of the 2008 American Idol reality series!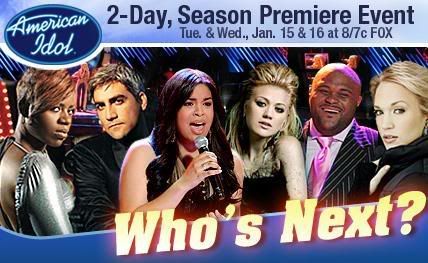 FOCUS ON POP CULTURE
==============================
To the snobs who consider Pop Culture too silly to watch or indicative of nothing, I argue that those things that intrigue the masses are as much of an indicator of where the society is going as much as ongoing political events.
Below, some very "popular" Pop Culture posts on this Blog.
Just for the hell of it, a post with a happening Oscar fashion critique.
Yes, it's Britney's crotch shot.
One of this Blog's most frequently hit posts. Heh.
Katrina gossip?
Yes, even in the aftermath of this country's most damaging hurricane, we have gossip.