So Gordon Ramsey is back and he's still cussing.

"Hell's Kitchen" 2008 premiered on 4/1/08 and fifteen would be chefs were introduced to the viewing audience and one hapless fellow, the ONLY one without an official cooking background, was sent packing.

We've got a review along with pics and video you'll find nowhere else on the Internet.

Also, Guest Writer Michelle almost kills herself but she only ended up making a big stink.
Pic of the Day
---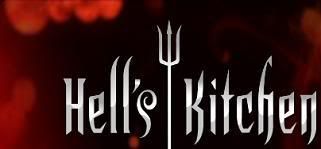 "Hell's Kitchen" Premiere
First, some food facts and fun.
RANDOM TIDBITS -Peppers
Red and yellow bell peppers are much sweeter than green. Although they started out as green peppers, they were left on the plant to ripen for a much longer period of time.
***
China, India, and Pakistan are now the world's three largest producers of chiles.
***
Pablano peppers get its name from the city of Pueblo, Mexico, where it is a chile of choice--and often used as a relleno shell.
***
Green bell peppers can be stored (unwashed) in a plastic bag in the refrigerator for up to 7 days.Red bell peppers should only be refrigerated for 3 to 4 days, due to the fact that they are more mature than their green brothers.
***
Rocoto (spicier than habanero): This capsicum pubescens is a fireball of unbelievable proportions. Generally not available outside of Latin America, since its fragile fruit is grown only in high altitude, cool climates, it
comes in green, yellow, and red globes, about 2 x 2 inches, and has a hairy stem.
***
Pepperoncini have a slightly sweet flavor that can range from medium to medium-hot. They are also known as Tuscan peppers. Most people are probably familiar with commercially pickled pepperoncini. The light green pickled version are used in salads, anti-pasto appetizers and are often served as a garnish with sandwiches.