Here's a review of ABC's "Dancing With the Stars" episode aired 3/31/08, who was good, who was bad, brickbats, sarcasm, compliments and gossip. Also who got sent home, who's likely next to go and other tidbits.

Also review of The Bachelor from England looking for an American wife.

All with pics and video you'll find nowhere else on the Internet.
Pic of the Day
---
Review Episode Aired 3/31/08-Guttenberg Sent Packing
Top 12 Contenders Pic Montages "Dancing With the Stars" 2008
how vote is calculated from the link at ABC
ABC LINK HERE
For example if couple A, B and C receive 38, 26 and 14 points from the judges, we calculate what share these points represent of the total awarded by the judges on the night. In this case the judges gave 78 points in total, and each couples' share of 78 points breaks down as follows: 38= 48.72% of 78, 26= 33.33% of 78, 14= 17.95% of 78. Let's suppose that when the public votes are tallied, each couple has the following shares: A= 20%, B=40%, C=40%. To determine who's eliminated we combine these two shares for the total:
Couple A: 20+48.72%= 68.72%
Couple B: 40+33.33%= 73.33%
Couple C: 40+17.95%= 57.95%
In this case, the bottom two couples would be A and C, and C would be eliminated.
The "Stars" of this series have now danced on live TV twice and the competition is shoring up; who is the dancer to beat comes clearer; the "duds" are ascertained and estimates on how long they last dance around in the TV audience's collective heads.
=============
It was Jive and Tango week on the "Dancing With the Stars" episode aired 3/31/08. Marlee Matlin began the competition with a Jive and received a score of 21 points from the Judges.
Marlee, who is deaf, continues to amaze with her fine dancing. Every week I find it difficult to imagine dancing without being able to hear the music.
Next up little Steve Guttenberg and give the guy credit, he has a sense of humor if not any noticeable talent for dancing. Steve and his partner danced a Tango which was nothing to write home about. After finishing the performance, Steve donned a metal pot on his head and thick goggles over his eyes in an humorous attempt to protect himself from the judges' criticism.
Which was interesting in that judges praised Steve for this performance but, alas, the viewing audience did not agree. Steve and his partner were awarded 21 points. Steve was sent home on 4/1/08, the elimination night following performance night 3/31/08.
Christian de la Fuentes and his partner performed a Jive. When this series first began, Chris' was immediately pegged as the handsome guy the ladies would surely love but each week Chris dances better and hey, he could be a contender to win this thing.
The judges complained about Chris' arm during the performance. I taped a snippet of Chris' dance (included in the Remix below) and his arm does hang at his side for a bit but only a judge would pay it much mind. Chris and his partner received 25 happening points from the judges for their performance.
Mario, who goes by his first name, performed a Tango with his partner. The choreographed footwork looked complicated but Mario look a bit stiff.
The judges weren't overly impressed with Mario and his partner's performance. Mario is the youngest dancer in this year's Dancing With the Stars competition. He's a singer and by all accounts, Mario should be running away with this thing. The reality is that Mario is mediocre at best. Mario and his partner received 21 points from the judges and Len called the performance "a mess".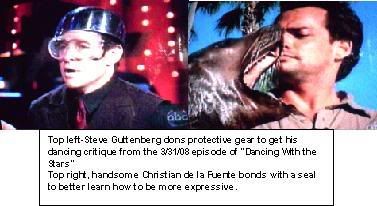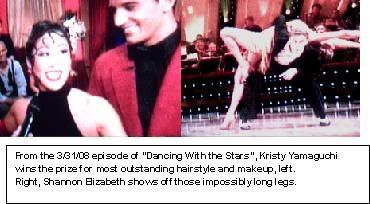 Shannon Elizabeth was up next and she and her partner performed a Jive. Shannon commented about her long legs and indeed she does have long legs and indeed those legs danced a very entertaining Jive.
Shannon and her partner received 24 points for their performance.
Adam Corolla, he of the toothy smile, performed a Tango with his partner. From my vantage point the choreography seemed very simple and the steps suited Adam's rather awkward self well.
Adam seems to talk about gays a lot when it's his turn to speak. I don't know why. I just noted this tidbit this past week and the week prior.
Carrie Ann called Adam "sexy", an adjective that I'd never give to the fellow although Adam seems nice enough. Adam and his partner received a total of 21 points.
Marissa Winokur came up next and performed a Jive with her partner. I anticipated a good performance as Marissa is the star of Broadway's "Hairspray" and that musical requires vigorous dancing. I thought Marissa looked good as she jived around that floor albeit with legs that looked a bit stiff.
The judges were hard on Marissa, however, and I was surprised. Carrie Ann called Marissa's performance "boring". Marissa and her partner received 19 points for their dance and I think that was unreasonably low.
In fact the following elimination night I was sure Marissa would be sent home with that low score but evidently somebody else in America agreed with me. A whole bunch of somebodys as Marissa was one of the first of the stars deemed as "safe" on elimination night.
Priscilla Presley performed a Tango with her partner and Priscilla has been the subject of many talk shows over her obviously botched plastic surgery. Priscilla does have a rather odd-shaped upper lip and her face appears quite puffy. Of course the Dancing With the Stars makeup people are top notch and the damage does seem minimal on the reality series.
Priscilla is the oldest dancer in this year's competition and she is doing very, very well. The judges loved her and her partner's Tango, an "actor's dance" by the way, and Priscilla was awarded 26 points, the second highest score of the night, exceeded only by the top female dancer this year.
Jason Taylor is still the male to beat this year and as always, Jason is handsome and comes across as very personable. Jason and his partner performed a Jive and I was a bit disappointed.
Jason and his partner received a score of 23 from the judges.
Kristi Yamaguchi has been the stellar competitor right from the start of this series and no doubt she's the one to beat. I loved Kristi's hair and makeup as an aside.
The judges declared that Kristi did not display enough anger, anger evidently being a component of her performance of the Tango, oddly. I should think dancing would be a happy thing but I'm no expert on Latin dances.
Kristi and her partner received a score of 27, a score Kristi has been awarded for all three of her dance performances.
Below is a video remix of various dancers on the performance night of 3/31/08. The remix features Steve Guttenberg and his losing dance, Christian de la Fuentes and his arm problem, the Jive from chubby Marissa that the judges disliked so much but which I thought was a pretty good performance and Shannon Elizabeth and her impossibly long legs.