A review of the files and I discover that I'd read TWO books about my new home state of Delaware's more notorious murderer-Thomas Capano. Thought I'd take advantage of Delaware's latest liberal judicial interpretation of "life" as being 45 years. As determined by some idiot Judge probably from NewCastle County.
Alas for Mr. Capano, he was given the death sentence thus is not considered a prisoner serving "life" if you get the nuance, ole Thomas won't be released by this new judicial screed. Legislated directly from the bench not that separation of powers means anything.
Local commentary had generated speculation as to whether Mr. Capano might be affected and the speculation caused my ruminating through the hard drive.
Thomas Capano brutually and with determined pre-meditation, planned and executed the murder of his lover, Anne Marie Fahey. Capano arranged a burial at sea for his girlfriend who, so Tom figured, if he couldn't have than nobody would. Except the cooler used to bury Fahey wouldn't sink. So Tom and his hapless brother had to shoot the cooler, this after having to break Fahey's legs to fit her inside the thing.
Like a really bad penny, the cooler came home to rest. The evidence, literally , bobbed in from the very sea from which it had been thrown.
The judge presiding over the Copano trial was none other than Bill Lee, who should be, were it not for the Wilmington dead who get to vote along with the living, Delaware's current Governor.
Forthwith:
Book Review-And Never Let Her Go-by Ann Rule.
There are times when one simply must read a book. Not email, not a web site, not a periodical. A book, that hefty thing we can hold in our hand and read in the Jacuzzi.
Such a time came upon me recently. I scoured the library for my favorite genre, true crime. And I just happened to find a book by my favorite true crime writer, Ann Rule.
"And Never Let Her Go" is the true crime story of Thomas Capano, scion of a wealthy Delaware family, lawyer and political insider. It wasn't that long ago that this case was splashed in all the newspapers in this area and I vowed that when someone wrote the book I would look into it immediately. I was delighted that Ann Rule wrote the book.
You want crazy? You want against all common sense? You want self-centered, egotistical, and immature. You want to read the story of Thomas Capano.
Who is facing a death penalty in the tiny state of Delaware as well he ought to be. For his brutal and pre-meditated murder of vivacious Anne Marie Fahey was beyond anything a normal human could possibly comprehend.
It became clear to me early on that Rule's main sources for the book were Debby MacIntyre, a woman involved with Capano and Fahey's death in a most bizarre manner; the Fahey family, and some prosecutors who worked the case.
This is how most true crime writers evolve their stories but there is lacking the other perspective, or course. While I enjoyed the narrative, I would have liked to have heard a few words from, say, Capano's mother. I understand the family of the felon doesn't usually give the in depth a true crime writer needs. Indeed to base a book on the perpetrator would be silly and leave the reader uninformed.
I admire the detail Ann Rule goes into with all of her works. Were these myriad of details left to me to outline and delineate I fear I'd be lost in the minutiae. Rule keeps the reader moving along while entertainingly providing details in a human and non-boring manner.
There might well be plenty of books on the infamous Capano case, either current or still to be written. Any true crime buff who wants the inside track with careful attention to detail should do his or herself a favor: catch the Ann Rule version first. Always.
~~~~~~~~~~~~~~~~~~~~~~~~~~~
The Summer Wind-George Anastasia
After this reading and what with the mini-series "Never Let Her Go" now showing, I'll have quite enough of the Thomas Capano affair to last me a lifetime. I'd read Ann Rule's version of the Capano affair and greedily grabbed the Anastasia book for another prospective into this interesting true crime.
Anastasia is a reporter for the Philadelphia Inquirer and attended the trial of Capano. His perspective on the reporting is distant and less personal than Rule?s account. If someone held a gun to my head and only had one choice to read about the nefarious Thomas Capano, I'd suggest they go with the Rule version. Maybe it's a woman thing, but Rule always brings that female insight often lacking in the prose of male true-crime writers. Nonetheless, Anastasia did a fine job and his skill as a writer is quite evident.
The Summer Wind is the name of Gerry Capano's boat and the activities that took place upon that boat are horrifying. Obtaining the Capano brothers cooperation was key to the prosecution. Anastasia approaches the tale from the investigative and prosecutorial perspective while Rule evidently had an inside track with McIntyre and the Fahey family.
Anastasia's pictures are from the trial while Rule's were from personal family albums. Both books bring a perspective that together tell the tale roundly.
I'd suggest that true crime aficionados give both books a read. If seeking a quicker accounting of the crime and background, Anastasia's narrative would be the way to go.

PetsMart Responds
Refer to this recent post with a rant about Petsmart
then check out the two comments below. One is from a more sane individual who has solved the problems with lack of carts. Below this is the response from Petsmart. It's only fair ladies and germs that I include their response. In which they've offered me a nice gift certificate for my trouble.
I'm still thinking about the gift certificate though. I may make a deal that they give this to that place in Colorado and promise me to ALWAYS have carts available. At any rate I haven't contacted them yet because, well I've been sick.
Mornin Pat
Altho I can empathise with your cart prob, I solved a similar problem several yrs ago, after bitching needlesly too many times.

At Home Depot, Lowes, my local groc store, etc, I found at 1 time or another, they all run out of carts inside the store.

After getting so tired of bitching, I suddenly realized I am in the parking lot, and carts are every where, since I'm not disabled, it would make a lotta sence to just simply push 1 in to the store, since that's where I'm headed.
Guess what? No more no carts when I walk in.

Sure, I have still seen no carts available, but I've got mine, and didn't hav to make a double trip.
Love your rants. LOL John
And below the pic we have Petsmart's response to my rant. The pic below is the same one that was in the original post, placed here as reminder.

Dear Patricia Fish,

I am writing in response to your complaint on Friday 1/28/05 about the store not having any carts in front of the store. I would like to send my most sincerest apology to you for your inconvenience. Fridays are one of our busiest days of the week and we seem to be a little more focused on customer service inside of the building than we are outside of the store. I know that we need to start focusing on every aspect of customer service, which includes the monitoring of our carts that are outside. Here at the store we have already started to implement a program for our manager on duty to ensure that we are assisting our customers to the best of our ability in every way. We appreciate your E-Mail that was sent to us, so that we can continue to improve our store to make it a better shopping experience for you and your pets. If you should have any other problems, please feel free to notify the manager and we will quickly remedy the situation. If you feel that you need to speak to a manager, please contact Jerry Davis ( Assistant Store Director ) at 410-766-7190. We would also like to give you a 25.00 giftcard for your inconvenience. Please contact the store so that we can make arrangements to personally apologize for the lack of customer service and to offer you the giftcard. Thanks again for the E-Mail. Jerry Davis ( Assistant Store Director)
~~~~~~~~~~~~~~~~~~~~~~~~~
I've seen the following comment a few times. Don't know who posted it, don't even know if it's true. I do know that if true, I am not surprised.
In my personal belief and opinion, Chris Matthews news commentator famed from, "Hardball" MSNBC. Attended Donald Trump's wedding on Jan. 22, 2005.
~~~~~~~~~~~~~~~~~~~~~~~~~
I'm thinking the comment below is meant to be some sort of mockery of the new Secretary of State. Which is a fine thing it being a free country and all that. The text after the goose step comment was also included as part of the comment. Said text which does, I think, pretty much sum up Condi's short and concise style sweetly enough for me.
Was that Condoleezza Rice, I saw on CNN doing the "Goose Step", shortly after being sworn in as Secretary of State? ...Not Yet, Condi, not yet...

PARIS -- In Europe, it's hard for some to think of Condoleezza Rice -- Colin Powell's expected replacement as U.S. secretary of state -- without recalling the low points in trans-Atlantic relations that grew out of the war in Iraq.
1. After all, it was Rice who raised eyebrows last year with her Machiavellian suggestions for how Washington should treat European opponents of the U.S.-led invasion.
"Punish France, ignore Germany and forgive Russia," Rice was widely quoted as telling associates in the spring of 2003.
~~~~~~~~~~~~~~~~~~~~~~~~~
Always like to pull a good recipe from the comment bin that it may receive proper stardom.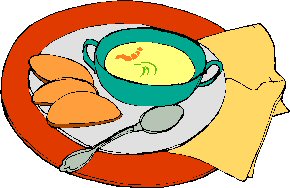 This pasta salad works for me. You can add a little sliced meat if desired. Sincerely Darlene Jones.
ITALIAN PASTA SALAD (deli style)
Large kettle, 2 medium bowls, plastic wrap. 2 cup, 1/4 & ½ cup measuring cups and spoons, spice grinder, colander.
2 cups farfalle pasta (bowtie) uncooked.
1/4 cup Parmesan
8 ounces mozzarella, cubed, use french fry cutter
2 cups Roma tomatoes, chopped
1/4 cup red onion, slice thin, then quartered
½ cup kidney beans
1 cup artichoke hearts, water packed, drained & halved
1/4 cup bell pepper, small dice
1 cup black olives, quartered or course chop
2 cups baby spinach leaves, whole
Vinaigrette
3 Tablespoon red wine vinegar
1 ½ teaspoons Dijon mustard
1 ½ teaspoon kosher salt
1/2 cup plus 1 Tablespoon extra virgin olive oil
Vinaigrette Spices
1/8 teaspoon rosemary, then grind
1/8 teaspoon fennel seed, then grind
1/4 teaspoon pepper corns, then grind
½ teaspoon parsley flakes
1/8 teaspoon ground oregano
Procedure
Cook farfalle 18 to 20 minutes, rinse, drain and set aside . Whisk vinaigrette to emulsify, then add spices. Put pasta back in cooking pot and add vinaigrette and the rest of the ingredients mix gently until all is coated with oil. Place in serving bowl and cover. Serve chilled, it's best the next day.
~~~~~~~~~~~~~~~~~~~~~~~~~
More Muslim Humor
Before this recent
Fish Giggles on Muslim humor
and the following comment, I'd have declared there is no such thing as Islamic humor.
Why Muslims Commit Suicide

Everyone seems to be wondering why Muslim terrorists are so quick to commit
suicide.

Let's see now........................

No Jesus, No Wal-Mart, No television,
No cheerleaders, No baseball, No football, No basketball,
No hockey, No golf, No tailgate parties, No Hooters,
No Home Depot, No pork BBQ, No hot dogs, No burgers, No lobster, No shellfish,
or even frozen fish sticks,

No beer.

No gumbo, No jambalaya.

Rags for clothes and towels for hats. Constant wailing from the guy next-door because he's sick and there are no doctors. Constant wailing from the guy in the tower.

No chocolate chip cookies. No Christmas.


More than one wife.

No beer.

More than one mother-in-law.

You can't shave. Your wives can't shave. You can't shower to wash off the smell of donkey cooked over burning camel dung.

The women have to wear baggy dresses and veils at all times. Your bride is picked by someone else. She smells just like your donkey. But your donkey has a better disposition.

Then they tell you that when you die it all gets better!

I mean, really, is there a mystery here?
~~~~~~~~~~~~~~~~~~~~~~~~~
Some True Crime Notes
An always growing comment list grows in the Stinnett/Montgomery threads. I am going to go through them and pull out the relevant, not covered or new.
To whoever contacted me recently regarding another true crime involving a pregnant woman please contact me again. I am unable to access the link you sent me.

Line of Ascension to the Presidency
Came across this list of the legal ascendents to the presidency and had to include it in the miscellany post. The list below would change a bit in that Colin Powell would be replaced by Condi and there might be a few other recent cabinet changes not reflected. As I peruse the list I am a bit amazed. Obviously the VP is first in the line of command. I can also understand the House Speaker as the House of Representatives does most reflect the current content of the American culture. That bit about President pro tempore, some guy named Ted Stevens, leaves me speechless. Who the hell is he and why is he only three heartbeats away from the Presidency?
Also, I had no idea the President's Cabinet was so close to the top post.
The Vice President Richard Cheney
Speaker of the House John Dennis Hastert
President pro tempore of the Senate Ted Stevens
Secretary of State Colin Powell
Secretary of the Treasury John Snow
Secretary of Defense Donald H. Rumsfeld
Attorney General John Ashcroft
Secretary of the Interior Gale A. Norton
Secretary of Agriculture Ann M. Veneman
Secretary of Commerce Donald Evans
Secretary of Labor Elaine Chao
Secretary of Health and Human Services Tommy G. Thompson
Secretary of Housing and Urban Development Alphonso Jackson
Secretary of Transportation Norman Yoshio Mineta
Secretary of Energy Spencer Abraham
Secretary of Education Roderick Paige
Secretary of Veterans Affairs Anthony J. Principi
Secretary of Homeland Security Tom Ridge
Illness Strikes
Despite the hard-wired smoke detectors, the deadbolts and bars for the sliding glass and secret codes for the garage key code, none of Serendipity Shore's manmade defenses against the outside world kept a strange bacteria at bay when we needed it most.
Here we were, two babes in the woods in the wilds of Delaware. Where, until this past month, husband and I had been relatively healthy for the entire year and a half we'd lived here.
In the space of one Friday and a busy Monday, all human members of the house were laying prone from the illness that invaded the chambers, passed through the walls, floated into warm wet lungs.
Both of us had full-blown pneumonia.
And neither of us with a known local physician between us.
Yes we have a health plan of some sort, witness the papers, cards and various and sundry brought home from employment, all filed in the cabinets or slid into wallet slots.
On Saturday or Sunday, neither of us could lift our heads much less sort through papers that made no sense. Come Monday, husband had to confront that little matter of a job and non- attendance duties requiring explanation.
It took him half a day to find a physician willing to a)take on new patients and b)would see him that day. Myself was still in that stage where heavenly angels were calling me home at the end of a dark tunnel.
A few days later I was able to lift my head, dial the phone and drive the few miles to a new physician.
We'd always chuckled, husband and I, about the prevalence of something called "Happy Harry's " drugstores. These big drug stores, complete with their colorful Happy Harry signs are everywhere in this section of Delaware.
The Fish family made Happy Harry one smiling guy this past week.

Somehow we ended up paying almost $200 this weekend for the drugs and froufou required to aid our recovery. Something about deductibles and non-generic. Fuzzy minds accepted the explanations in a most friendly fashion.
It was when husband got a bill from his physician for the $20 he paid out of pocket for care that he lost his cool. He even has a stamped receipt stating it was paid! Hell's bells they won't even look your way unless that $20 is paid, right up front. This is something called a "co-pay". The poor still-weak man has to use up the last of his wheezing breath to call the physician office and complain.
The angels have stopped calling me though for a few days I seriously considered that bright light to be kinda cool. I can walk more than six feet without having to rest and have begun to eat again after a five day fast during which all that was consumed was water and ice chips.
In not too long I figure my brain will start to work again. Then I'm gonna look real close at the damage Happy Harry did to my finances.