Kaitlyn Understands Language Perfectly
.....it's the grownups who don't get it.
============================
Baby Girl paid Mom Mom a visit this past week and I found the need to skirt around the English language more carefully than ever.
For Kaitlyn understands full well what is being said all around her and she does, as one might expect, interpret it perfectly, if a little too literally, her baby self.
It began when I commented to Kaitlyn's mother that the child was so tired that her lazy eye was all over the place.
Yes Granddaughter has a lazy eye which early on I diagnosed
HERE.
Like her father, when fatigue comes upon, her little eyeball tends to roam all over its socket.
This is a child that will not succumb to silly stuff such as sleep when so much is going on all about. And on this grandmotherly visit Kaitlyn was indeed a very busy baby, running all about Grandmother's gardens, identifying the resin creatures, helping her father build a ramp onto the deck, and accompanying both her mother and myself on a quiet walk.
No time for sleep what with all this going on. So the lazy eye signals to the world that Kaitlyn is very tired.
"She's so tired her little eyeball is all over the place," I commented to her mother. I understood the baby didn't want to sleep when there was so much to be done. In fact, the child was acutely involved with helping her father build a deck ramp, using a garden trowel that she called her "shovel" and aiding with the digging for the ramp footings.
Kaitlyn responded to my remark about her eyeball by furiously feeling all over her body with her little hands. It was if she suddenly had bugs running all over her person and she was in a desperate state of finding them all.
"She's looking for her eyeball," her mother explained.
My eyebrows remained furrowed.
"You said her eye was all over the place and she's trying to find it."
After a few more seconds dawn broke over my marble head.
Poor baby with the lazy eye and now her Grandmother has the thing coming right out of its socket to God knows where but Kaitlyn was determined to find it and put it back.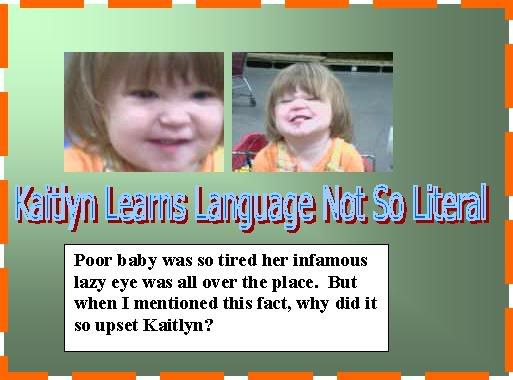 I wink and acknowledge right now that Kaitlyn understands English very well thank you. I, ahem, DID say her eyeball was all over the place, no?
So on to an afternoon walk and a lame attempt to lull Kaitlyn to sleep in her stroller.
For half the walk Kaitlyn did remain in her stroller but soon she became sleepy so she did the only thing a child could do in such a situation. She demanded to get out of her stroller. She then ran and skipped and collected asphalt "rocks" from alongside the road.
She was having a grand time and go on, how about those tennis shoes that light up red when Kaitlyn walks?
God Bless America.
Soon Kaitlyn was running too far ahead. Or she was encroaching upon a nearby lawn. Or she was doing whatever entered her baby head, including an episode where she would run, stop and suddenly fall down on her behind in reaction to her mother's warning that she should slow down, that her running would cause her to fall down.
Which Kaitlyn then went on to give us a visible demonstration of that phenomenon.
At one point when Kaitlyn was running all awry and in an attempt to set the child on the right course, Kaitlyn's Mom told Kaitlyn that we had to go down to the end of the road and turn around there.
Kaitlyn's Mom pointed down the road where we would indeed have to make a right turn to return to Mom-Mom's house.
Evidently Kaitlyn wanted to turn sooner.
For she suddenly stopped and stood still. Facing me, the child grinned then turned away from me, leaving her facing to the right.
"She's turning," her mother whispered in explanation.
Dawn, once again, broke over my head.
Kaitlyn knew we would have to turn and she was either practicing this maneuver or who knows, maybe she decided she wanted to turn now and not down the road as her mother indicated.
She literally turned her body around, indeed she turned her body around in several directions.
She is no fool, little Kaitlyn. Her mother said we would have to turn and so she did.
Kaitlyn's father managed to finish the deck ramp even without any additional help from Kaitlyn and her "shovel".
We all went out for some fine steamed crabs, a delicacy Kaitlyn loves as the Merryland child she is.
It was a big day for Kaitlyn, an all-day event that had her turning in the middle of the road and looking for errant eyeballs.
Grandmother, a self-described citizen scribe, learned a bit more about the nuance of the English language.
With a little help from Kaitlyn Mae.
Who understands English very well thank you.
More Kaitlyn posts HERE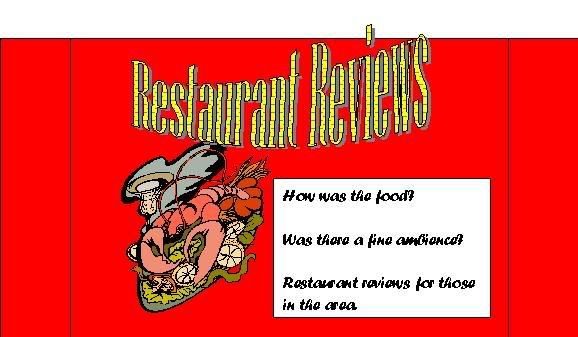 It's Not Fancy and It's Not Quiet
=====================================
This Rehoboth Delaware seafood restaurant is a little different than one might imagine for such an eatery so near to the Chesapeake Bay.
For one does not go to The Big Fish Grill for that native staple of steamed crabs.
There are lots of such steamed crab eateries in the eastern shore ocean resorts. Indeed, The Big Fish Grill does cover their dining tables with butcher block paper such as that used for steamed crabs.
The Big Fish Grill is a bit more seafood-gourmet than your average crab shack. Though they do serve crabmeat, but in a much more civilized fashion.
So non-Maryland-Delaware-New Jersey natives might say.
Indeed my mother-in-law was down for a visit from Massachusetts. She specifically requested we got to The Big Fish Grill as we went there during her last visit.
She loves their broiled crab cakes.
Heaven forgive me if she is reading this review, but I have seen much better crab cakes in my lifetime although those at The Big Fish Grill are just fine.
Goes to years of experience at eating crab meat.
To a lady such as mother-in-law, formerly from the midwest and for the last very many years from Massachusetts, I suppose the broiled crab cakes at The Big Fish Grill would be like something from heaven.
The Big Fish Grill is, I would argue, an eatery that would have more tourists than native diners, what with its locale right on Delaware's infamous Route 1 and close to the Rehoboth Beach ocean resort.
Those broiled crab cakes looked nicely prepared but to my wise and experienced eye, they were small. With a price tag of almost $25.00 a serving I'd expect bigger. For my mother-in-law, a smallish eater, they were plenty.
Husband had fried flounder and I had a special that night, a melange of shrimp, mussels, and clams served over noodles with a brisk seafood sauce.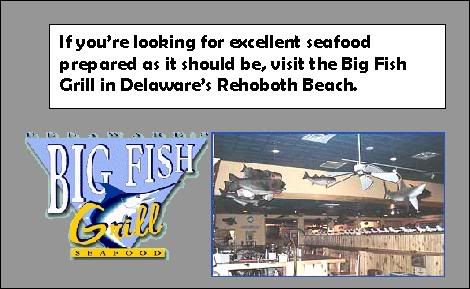 The flounder was fried nicely and the fish was tender.
Every Greek who ever opened a restaurant can fry a flounder, sarcasm intended.
As for my meal, this is where The Big Fish Grill's real expertise shone.
Every mussel was perfectly tender, each shrimp firm, large and meaty, all clams sweet and free of grit. The mussels and clams actually were served atop the noodles, still in their shells. The shrimp were already peeled and the seafood smorgasboard over linguini did include large chunks of fresh fish.
The Big Fish Grill knows its seafood and prepares it well.
The only problem I had with my meal is it was very large and one had better be ready for seafood served with seafood over seafood before dining at this establishment. The sauce spooned over the linguini was, well I'd rate it as satisfactory. Again, it was very fishy but I mean that in a good way. How much fishy tasting stuff can one eat before one's lips begin to purse from the salt?
I did take my leftovers home and scrounged two more meals out of it. Served in small proportions it was more keenly appreciated.
Also, I did have a bowl of the cream of crab soup. My expectations weren't high. Cream of crab is seldom "good" in that fine manner of cream, careful mixing on to an end of a tasteful soup. Too often crab meat is covered with milk and heated up, perhaps with a pinch of parsley.
The Big Fish Grill's cream of crab soup was very tasty. It wasn't chock full of crab meat but this is exactly how I think the soup should be prepared.
Side dishes are offered, of course, but they are unremarkable save for the specials. My mother- in-law had whipped sweet potatoes which I swiped. This is a different sort of dish to serve with seafood.
The cole slaw was bitter, not good at all. The bread served with my meal was grilled to perfection and perfect alongside of seafood. I also had a special side dish affair consisting of green beans and tomatoes. The dish tasted like summer and thought was put into its preparation.
Dinner for three including one drink was heading close to $100.00.
All in all, what with mother-in-law's unabashed enjoyment of those broiled crab cakes, I'd call the dining experience well worth it.
If you're looking for an intimate and quiet dinner out, don't go to the Big Fish Grill. Also, during busy hours there's almost always a long line. A 45 minute wait is normal.
But if you want fresh seafood tastefully prepared, this is the place.
BIG FISH GRILL.com
4117 Highway One,Rehoboth Beach, De 19971-302-227-FISH
~~~~~~~~~~

More Poking Fun at the Sons of Camels
~~~~~~~~~~