The Apprentice: Martha Stewart
I've mixed emotions about Ms. Martha Stewart, homemaker guru, amazing business manager, middle America success story. Oh, and ex-convict.
On the plus, I've always admired the woman's talent. Indeed there is something to be said for the ability to arrange one's life and organize one's domestic surround with class and taste. So okay this Grandmother Blogger isn't likely to spend hours folding napkins into exquisite cloth roses. I still enjoy watching Martha do it.
Not to mention the chickens, the country homestead, the entertaining, the fashion sense…all part of parcel of the amazing Martha. In the event one despises the woman, well even the jokes made at her expense are darn funny.
Another part of me laments that this woman, so blessed by this country that would allow such a rise to fame and fortune based on arguably questionable talent, had to go and lie like a dog to investigators. Then there's that bit about selling stock based on insider information, a really low-class thing to do. It is said that Martha has a mercurial temperament and does not suffer fools gladly. The woman is a keen manager and very organized.
Myself will always prefer the organized over the haplessly unorganized.
Which brings me to the new series,
The Apprentice: Martha Stewart
, which airs on Wednesday evenings, NBC, at 9 pm. I tuned in for the first time this past week, Wednesday, 10/12/05. It was the third episode in this series based, to my surprise, exactly on the format used by the vaunted Donald Trump.
Well yes, it was no secret that The Donald had recruited Martha to sponsor a parallel series to his own
The Apprentice
reality show. There were plenty of promo ads leading up to the premiere of
The Apprentice: Martha Stewart
, all with The Donald and Martha together, smiling and urging us to watch.
My husband has always had a crush on Martha Stewart. I don't know why. He's told me often how "cute" he thought she was. He often points out new products by Martha or offers me snippets of her wisdom.
"Are you going to watch Martha's new Apprentice series?" he asked.
I knew his question was fraught with trepidation in that I'd often ranted and raved over the woman's audacity over her suspect stock transactions. Martha lied, instructed others to lie, then acted as if she was being bothered by those who would question her lies. There was also that bit about husband being smitten by the woman coloring my rants.
I responded to husband's query with enthusiasm. Indeed I thought an Apprentice type series with Martha at the helm was a most wonderful idea. I am an exuberant fan of The Donald's Apprentice series. By me, having a Martha Stewart run her own version of this hit reality series seemed a smashing idea.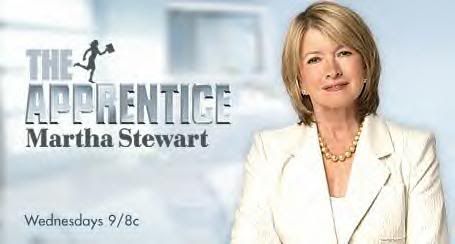 Martha's version of The Apprentice paralleled Donald's almost exactly. Martha has two sidekicks, an elderly man who always, for reasons unknown to me, has an unlit cigar in his hand. There is also her daughter who functions as her female advisor same as Trump has such a female advisor.
The contenders are also divided into teams and given specific tasks. Always there is advertising for some product or another permeating the theme.
This past week the teams, one called "Matchstick" and the other called "Primarius", were assigned to design a suite in a hotel. Said hotel being that week's recipient of an hour's worth of advertising. There was some shuffling of contenders as expected when a few have left and teams become lopsided. Lesley had been on the winning team-Primarius, but moved over voluntarily to what was evidently a hapless conglomeration of human beings called Matchstick. Which has, as of this writing, yet to win a challenge.
Matchstick had a most clever concept, the acronym applied being "FLOW". For "For Leisure or Work". The idea was that this fine suite is designed to bring a respite for weary travelers that can function as efficient space for work or as an escape to games and entertainment. Lesley, formerly of team Primarius, was the project leader.
Primarius went with a theme of tranquility and peace in their suite designed to bring weary executive travelers away from the harsh reality of the city into a space that would bring them peace and solace.
Matchstick would have won this challenge handily with their happening idea accented by game board pieces, dice and other gaming froufrou.
Only there was that matter of the missing furniture.
One Matchstick team member, Dawn, was in charge of the furniture. It never showed up.
Sure there were plenty of reasons for the failure of the furniture delivery. None of them matter. The furniture SHOULD have been delivered in time. The person in charge of this task should have made it happen. That person, Dawn, did not.
So Primarius won that week's challenge and Dawn was eliminated.
My favorite moment was Martha's calm and reasonable description of her own attempts to arrange for an upcoming scheduled garden tour, her efforts to bring it all together, the problems she encountered.
"Yet everything is done and ready to go," Martha told the hapless Matchstick team.
I'd have said the same thing. You got a job, you do the job. If the job don't happen then you didn't do the job. Period. No excuses.
I'm very impressed by how Martha handles her charges. My sense is that despite her reputation as a tough taskmaster, Martha Stewart would be a superb journeyman to pass on her knowledge to willing and eager protégés.
The best mentor is one who isn't afraid to get tough, talk straight and come down hard, as the occasion requires.
If you like Donald Trump's
The Apprentice
, you'll love
The Apprentice: Martha Stewart
.
Martha's Apprentice Series Home Page
Hometown: Boston, MA
Occupation: PR Consultant


Dawn, 33, currently heads up Red Wagon Communications, a marketing and PR agency, and is founder of The Secret Socialite, an organization that coordinates special events for philanthropic young professionals. She is an active freelance writer and a contributing editor for "Boston magazine." Dawn teaches writing and copyediting at Emerson College, where she completed graduate study in publishing and writing, earning an MFA degree and a nomination for Best Master's Thesis for her book-length collection of non-fiction vignettes. She earned her bachelor's degree in public relations from Syracuse's Newhouse School. Dawn is a Mensa member and a volunteer for the Make-A-Wish Foundation.
~~~~~~~~~~~~~~~~~~~~~~~~~~~~~~~~~
More TV Reviews HERE

Just Because She's Cute
Discovering rain, learning how to smile.
The joy of being a baby human and discovering it all.
~~~~~~~~~~
More Kaitlyn posts HERE