Today's Auxiliary Blog Post
...Because there's more to life than politics.


Daily Update:

Wilma!
~~~~~~~~~~~~~~~~~~~~

Auxiliary Blog Post
======================
It's an Ad We'd Like to See.

Click in and sign up for "Moonbat Boot Camp".

You think such as Cindy Sheehan come by it naturally? You think it's easy being nuts? You think the Moonbats that hate America become certified Moonbats without extensive training.
~~~~~~~~~~~~~~~~~~~~
Here's the dirty secret.

We LOVE Martha Stewart in her new Apprentice series.

So here's a TV Review of just why and using what logic.
~~~~~~~~~~~~~~~~~~~~
Just some pics of Kaitlyn Mae.

Who "smiles" a bit painfully and sings in the rain.

Because this Blog is all about her. That they do NOT change history.
~~~~~~~~~~~~~~~~~~~~
CLICK HERE FOR "TODAY'S AUXILIARY BLOG POST
~~~~~~~~~~
Wilma! Could New Orleans' Get Hit Again?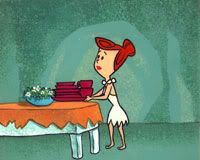 From Yahoo.com
| | |
| --- | --- |
| | Mayor Ray Nagin warned residents Monday to prepare for another evacuation if Tropical Storm Wilma strengthened and moved toward the hurricane-weary city. The storm's outer edge was near the Cayman Islands, but forecasts said it could pose a threat to the U.S. Gulf Coast this weekend. "The people that are moving back to New Orleans should be very mobile. That's why we have not encouraged the repopulation of children nor senior citizens that are not very active," he said. |
~~~~~~~~~~



Tomorrow's Blog Post


....Come back tomorrow when "tomorrow" becomes "today"
Auxiliary Blog Post
======================
Some Miscellany that contains lot of interesting miscellany.

Including that scary spider that's really a good guy.

Second montage of "YOU NAMED IT WHAT?"
~~~~~~~~~~~~~~~~~~~~
Okay, we love Martha's Apprentice series.

So too are we smitten with The Donald's version.

Here's a TV Review and heads up on this year 4 of "The Apprentice".
~~~~~~~~~~~~~~~~~~~~
Time for a Fishgiggle.

It's true stories of doctors/patients and the humor that can only come from such unique human interaction.
~~~~~~~~~~~~~~~~~~~~

~~~~~~~~~~
Links to this week's Daily Updates
Monday-10/17/05
Tuesday's Daily Update 10/18/05
~~~~~~~~~~



TV Events of Note


MLB Baseball (New)
FOX: Wednesday, October 19 8:00 PM
Sports event, Baseball, Playoff sports

Los Angeles Angels of Anaheim at Chicago White Sox
ALCS, game 7. From U.S. Cellular Field in Chicago. (If necessary; alternate prime-time lineup two episodes of ``That '70s Show,'' two episodes of ``Kitchen Confidential,'' and local programming.)
===========
NBC-9 pm-"The Apprentice-Martha Stewart"

~~~~~~~~~~