Kaitlyn and Mom-Mom's Day at the Beach
So okay, the only sand we stepped in was immediately adjacent to the Boardwalk. So okay, there was no water of any kind involved in the equation. So okay, we were at the beach but not ON the beach.
Which mattered not a whit to almost-two-year-old Kaitlyn Mae, who had a grand time with Grandmother as we walked the Boardwalk of Ocean City for an hour or so one sharp and sparkling Autumn day.
Grandmother doesn't much care to go on the beach during the summer and mingle with all the tourist hoi-polloi, insert wink here. Fall is a wonderful time of year to walk the boards of Ocean City Merryland's famous Boardwalk and one can bring dogs.
Even grandchildren.
After our short stay on the Boardwalk I was scheduled to drive Kaitlyn home to her waiting parents. Who had released Kaitlyn to the care of her paternal Grandmother for the weekend and since said paternal Grandparents live near THIS maternal Grandmother, arrangements were made for me to pick her up, spend some fun time with the grandchild, then I was to drive her home, a two and a half hour drive.
It was the first time that I got to spend time with Kaitlyn all by myself. Until now, heh, the child has been too young to go too many places without a proper appreciation. In due course this will happen. For now, Kaitlyn and I had almost eight hours together and frankly we had a great time.
Kaitlyn's eyes grew big at the sights and sounds of the game arcade we entered that day on the Boardwalk. I got some quarters and together Kaitlyn and I rode arcade motorcycles and cars, did some Boardwalk Bowling, manipulated toy cranes towards glassed-in toys to grasp us a winner, and smashed errant mice on a "whack a mouse" type of game. At Kaitlyn's young and naive age, she thought putting the quarters into the various coin slots to be THE game. A game she heartily enjoyed and indeed was anxious to put Grandmother's coins in every slot in the arcade.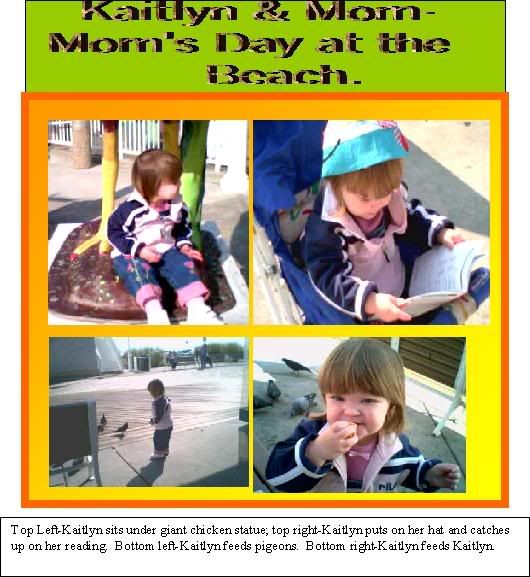 We proudly accumulated some prize coupons and Kaitlyn carried a cup full of them to the prize counter. FOUR, count 'em, FOUR whistles we won that day. By Kaitlyn it was a dream come true.
One whistle had a whirlygig type of thing that went round and round when you blew the whistle. Another was shaped like a flute, complete with holes that changed the sound just like, well just like a real flute. Two were normal whistle shaped affairs with cartoon pics painted on.
Finally we were in the Jeep and ready to make our long trek home. Kaitlyn is a notorious sleeper in her car seat so I anticipated a quiet ride with granddaughter sleeping happily in the back.
The child fought sleep for almost the entire trip. Which was fine because again, we had some great fun.
I'd glance into the rear view mirror as I traveled along to check on the baby. Her eyes were open but it was no great guess that sleep was coming upon. I smiled and continued the drive, sure that soon she'd be merrily off to dreamland.
"Sing me a song," I heard from the back seat.
Why Kaitlyn wanted me to sing her a song! A complete sentence she used for the request so I knew she had it in her. Earlier in the ride I had been singing a song to her, one I sing to the dogs. Who also love it.
It's Celine Dion's "Lady" song.
"Cause I'm your lady,
And you are my man,
Whenever you reach for me
I'll do all that I can"
Well those are the original lyrics. I change them to insert either dog/granddaughter's name, to the effect:
"Cause you are my Kaitlyn,
And you are my love,
You are my precious gift,
Sent from heaven above"
Like that.
Once the baby started to look sleepy I stopped singing my version of the song as I thought she'd like quiet.
Only here she was asking for me to SING HER A SONG!
The last time anyone asked me to sing a song for them was, well, NEVER!
Indeed I happily sang the song for Kaitlyn who wanted me to SING IT AGAIN.
By this time I'm sick of my own voice. So I played some CD's. Again, Kaitlyn enjoyed the music and every time I asked her if she wanted another song she point to the CD player and say "song".
I think this is a child who's going to enjoy music. Just a hunch.
Of course this allows Grandmother to engage the child with proper music that she will eschew rap and hip-hop music as creations of the devil.
We sang along with The Association and granddaughter enjoyed.
Neat, huh?
We finally arrived home. About a half hour before arriving home, Kaitlyn finally fell asleep. The child, my goodness, you'd think she enjoyed my company.
I spent about an hour with daughter and son-in-law then began preparations for my trip home. Kaitlyn helped me clean out the Jeep right outside of her house. At some point the neighbor lady popped her head out of a window and called Kaitlyn's name.
"Miss Carol!" Kaitlyn exclaimed, than took off running toward the window where the lady, evidently a Miss Carol, was smiling and calling Kaitlyn.
Kaitlyn had all of her beloved whistles stowed in the pockets of her little jeans and when she finally got under the window, Kaitlyn took out her whistles and began blowing on them with a passion.
My how she loved those whistles. And how she just couldn't wait to show Miss Carol her wonderful collection. Including the flute.
Miss Carol appropriately complimented Kaitlyn on both her whistle blowing ability and her fine collection of whistles.
At one point Miss Carol looked up at me, who was watching this whistle blowing demonstration by Kaitlyn with great amusement, and said "She's precious isn't she?"
"She's what it's all about," I said, regarding Kaitlyn, still blowing her whistles with the smile of a happy Grandmother beaming my face.
She IS what's is all about, eh?
For now, what a wonderful life that a few whistles and the ability to blow them with finesse should bring such unbridled joy.
She is precious.
More Kaitlyn posts HERE

Tried and True-Peach CAke
Made this fairly easy recipe one summer weekend when peaches were in season. But the recipe does allow for canned peaches during those winter months when a taste of summer is the desire.
Handy recipe to keep close by.
Finished product has a nice but not too sweet flavor.

Peach Cake

2 cups - Flour
1 t - Baking Soda
1 t - Salt
1 t - Cinnamon
3 - Eggs
1 3/4 cups - Sugar
1 cup - Vegetable Oil
2 cups - Fresh Peaches - sliced (canned will work if drained)
1/2 cup - chopped pecans (optional)

Reserve 1/2 cup flour to dredge peaches. Combine 1 1/2 cups flour, soda, salt, and cinnamon; mix well and set aside. Combine eggs, sugar, and oil, beat until smooth. Add flour mixture. Beat at low speed until blended-batter will be thick. Dredge peaches and nuts in 1/2 cup flour and gently fold into batter. Spoon batter into a greased and floured 13x9 inch pan.

Bake at 375 for 45-50 minutes until cake tester comes out clean. Cool completely. Drizzle with confectioner's sugar glaze or serve with a dollop of whipped cream

~~~~~~~~~~
On Corned Beef

WHY DO THEY CALL IT "CORNED BEEF" ANYWAY?

Corned beef refers to beef that has been preserved and flavoured in a brine solution that is usually prepared with salt, which acts as a preservative. Sugar is stirred into the brine solution, which prevents the meat from getting hard due to the presence of the salt. Also added to the solution is saltpetre, which helps to maintain the red colouring of the meat and various spices are added for flavouring. The reason it is called corned beef is because the old English word "corned" was used to describe beef that was cured and the word "corn" was the word describing a small kernel or particle such as the particles of salt that were used. Corned beef is available as a sliced deli meat for sandwiches or whole corned beef briskets are available that are often served with cooked cabbage.

~~~~~~~~~~
Tried and True Recipe-Berry Filled Donuts
Getting out the deep fryer is a big deal. On each occasion, the thing must be cleaned, the oil strained, then all must be re-assembled.
I try to plan a menu featuring fried items for the week following my Cooking Sundays.
Might be chicken wings, the most desired from the deep fryer. This past Cooking Sunday I breaded and fried up some fresh flounder.
Dessert type recipes from the deep fryer are few. I did prepare some of the doughnuts in the simple recipe below and hey, they were easy and quite good.
And you don't need a deep fryer to make them. Note the recipe calls for the donuts to be fried in an electric skillet.
Picture of my own finished product included.

Berry filled doughnuts

4 cups vegetable oil
1 tube (7.5 ounces) refrigerated buttermilk biscuits, separated into 10 biscuits
¾ cup seedless strawberry jam
1 cup confectioners' sugar

In an electric skillet or deep-fat fryer; heat oil to 375 deg. Fry biscuits, a few at a time, for 1-2 minutes on each side or until golden brown. Drain on paper towels.



Cut a small hole in the corner of a pastry or plastic bag; insert a very small tip. Fill bag with jam. Push the tip through the side of each doughnut to fill with jam. Dust with confectioners' sugar while warm.
~~~~~~~~~~
Coffee!
There is an art to preparing it properly.
Because one can't have too much coffee.

PERFECT COFFEE TIPS:

What goes better with morning sweets that the perfect cup of Java? Here are some helpful tips for better brewing:

Keep coffee in an air tight container and store in a cool,
dark place. Try the freezer! For best results buy the whole
beans and grind them yourself just before use.

If you notice any traces of chlorine, iron, or other minerals in your water, use a quality bottled or filtered water.
* Softened or distilled water will effect the flavour of the coffee and should not to be used.

It's said the best water-to-coffee ratio is 1 tablespoon of
ground coffee or 2 tablespoons of whole beans for each 6 ounces of water. You be the judge.

NOTE: Boiling or reheating coffee literally boils away flavour.
A thermal carafe will keep the coffee hot for up to 2 hours without losing any flavour.
~~~~~~~~~~
MORE COOKING/HOME ARTS HERE