Day-Tuesday Date-10/25/05



Today's Auxiliary Blog Post
...Because there's more to life than politics.


Daily Update:

Wilma hits Florida, now coming my way.

Greenspan replacement announced.

Click in and join in the joyous death watch.
~~~~~~~~~~~~~~~~~~~~

Auxiliary Blog Post
======================
Here's a True Crime Update for the week.

The Horowitz murder percolates strangely on. A Taylor Behl update, the stabbed groom, update on the caged children and the crazy lady who killed her children..

And who is the poor toddler found dead and buried with no identity?
~~~~~~~~~~~~~~~~~~~~
It's a Katrina for Kaitlyn update as we're still documenting it all that history not be changed.

More Naginhead nonsense and a happening pic of those school buses that won't leave him alone.

Also, prisoners left to drown in this most wonderful corrupt poor excuse of a city.
~~~~~~~~~~~~~~~~~~~~
Just some Comments from this past week.

Comments on New Orleans' cops, Hurricanes and ABC's "Commander in Chief"
~~~~~~~~~~~~~~~~~~~~

CLICK HERE FOR "TODAY'S AUXILIARY BLOG POST
~~~~~~~~~~
Wilma Hits Florida; Heading to Mid-Atlantic, New England
We watched Jeb Bush's press conference.
I paraphrase: "We had a solid local system response backed up by state response. We then looked to FEMA for additional help."
Smirk.
Naginhead, Landreau, Blanco, take your slap like a man.
It would seem that Wilma didn't do too much damage. That "alpha" thing is moving out to sea. Weather reports state that alpha and Wilma will combine to create some sort of "superstorm" that will have mine own Delaware, the Mid-Atlantic states, and eventually New England, suffering huge amounts of rain and wind.
Already the dachshund refuses to go outside to poop. The winds are whipping and the rains are pouring. Tomorrow is supposed to be worse.
From Stormedition.com:

Hurricane Wilma made landfall this morning in south Collier County as a Category 3 storm, knocking out power and ending a weeklong journey through the Caribbean and Gulf of Mexico.

The storm made landfall at about 6:30 a.m. near Cape Romano, which is 22 miles south of Naples.





~~~~~~~~~~
Greenspan Replacement Announced
Folks seem to either love or hate Alan Greenspan. Frankly I'm not exactly sure what Greenspan does except change federal interest rates. His replacement, a Ben Bernanke, certainly seems qualified what with that Harvard and Ph.D. stuff.
From Whitehouse.gov:


President Bush to nominate Ben Bernanke, his top economic

Ben S. Bernanke was sworn-in on June 21, 2005 as Chairman of the President's Council of Economic Advisers. Prior to his appointment to the Council, Dr. Bernanke served as a member of the Board of Governors of the Federal Reserve System.

Dr. Bernanke was born on December 13, 1953, in Augusta, Georgia. He received a B.A. in economics in 1975 from Harvard University (summa cum laude) and a Ph.D. in economics in 1979 from the Massachusetts Institute of Technology.

Before becoming a member of the Board, Dr. Bernanke was the Howard Harrison and Gabrielle Snyder Beck Professor of Economics and Public Affairs and Chair of the Economics Department at Princeton University (1996-2002). Dr. Bernanke had served as a Professor of Economics and Public Affairs at Princeton since 1985.

~~~~~~~~~~
Moonbats All Atwitter Over Death!
We are, sadly, coming up on the 2000th American death in Iraq.
The Moonbats are planning parties across the nation.
Imagine the sound bites! Imagine the sight bites!
Candles in the rain. Strains of "Kumbya" waft in the distance.
Across the Blogosphere, various plans of "celebration" when the 2000th death comes are being compiled and documented.
The Moonbats are insulted. As if joy and elation at the death of American soldiers is a good thing.
Below is a quote I found on Powerline. It pretty much sums up the anger of the Moonbats.
No wait! They're NOT mad because thugs and thieves are killing our soldiers. They're mad because the Bloggers are pointing out the bad taste of partying over such a thing.
Ghouls.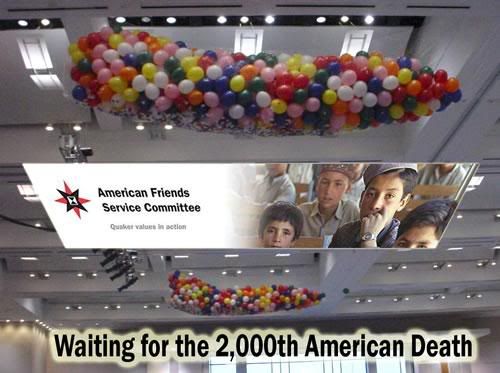 | | |
| --- | --- |
| | No really this blog sucks the big one. Liberals celebrate US war dead? You have no shame. If we didn't scream about it you cretins wouldnt even pay attention. You sent them there they are dying for your mistakes. They certainly arent dying defending the US. No war but class war, I would never fight and die to line the pockets of you disgusting subhumans. However I would fight and die in a war against you. To paraphrase your pathetic leader: bring it on. |
~~~~~~~~~~



Tomorrow's Blog Post


....Come back tomorrow when "tomorrow" becomes "today"
~~~~~~~~~~~~~~~~~~~~
Here's an Ad We'd Like to See.

It's "Sandy Bergler's School of Crib Notes".

Sign up early, room is limited.
~~~~~~~~~~~~~~~~~~~~
Here's a Kaitlyn post that we document the growth of the child to whom the Blog is dedicated.

Seems Kaitlyn got some whistles. Seems she thinks they are the most wonderful and amazing things on earth.
~~~~~~~~~~~~~~~~~~~~
Time for a Cooking post.

Some notes on coffee and corned beef.

Two tested recipes including an easy donut recipe sure to please.
~~~~~~~~~~~~~~~~~~~~

~~~~~~~~~~
Links to this week's Daily Updates
Friday's 10/21/05 Daily Update HERE
Monday-10/24/05 Daily Update HERE
~~~~~~~~~~



TV Events of Note


MLB Baseball (New)

FOX: Tuesday, October 25 8:00 PM
Sports event, Baseball, Playoff sports

World Series, Game 3: Chicago White Sox at Houston Astros
From Minute Maid Park in Houston.
---------------------
Commander in Chief (New)
ABC Tuesday, October 25 9:00 PM
Drama, Politics

First ... Do No Harm
The attorney general opposes the president's response to news of explosives smuggled across the Canadian border, and Templeton publicly ridicules it.

Cast: Geena Davis, Donald Sutherland, Harry J. Lennix, Kyle Secor, Ever Carradine, Caitlin Wachs, Matt Lanter, Jasmine Anthony Director(s): Daniel Minahan Executive Producer(s): Rod Lurie, Marc Frydman, Dee Johnson

Original Air Date: Oct 25, 2005

~~~~~~~~~~