Today
Daily Update:
A Spy Discovered in the White House?
More New Orleans' Mayor Bus Nonsense, with damning pictures.
~~~~~~~~~~~~~~~~~~~~
Here's a Blast from the Past. Back when we cared about a Runaway Bride and Club Gitmo.
Copied in its entirety.
~~~~~~~~~~~~~~~~~~~~
As a self-admited political junkee, how could I not tune in to "Commander in Chief"?
Who is Geena Davis playing the first woman President.
No, I don't think she's Hillary. She's too nice.
Here's a TV review of this new and intriguing series.
~~~~~~~~~~~~~~~~~~~~
Farts are more a juvenile subject of jokes than for more mature adults.
But this week's Fishgiggle is a fart joke told with, ahem, class and dignity.
It's the most hilarious of them all.
~~~~~~~~~~~~~~~~~~~~
Daily Update Below.
More Bus Damnation for Mayor Nagin of New Orleans
Complete credit, of course, to the Blogosphere. Specifically,
Wizbangblog.com.
The pic montage below is of New Orleans' buses that were NOT under water. They are school buses from the Algiers bus depot. A close up of the unflooded buses is below the top picture, left.
These pictures were alleged to have been taken by satellite AFTER the hurricane.
Which means, a)Nagin had school buses available NOT under water, as soon as the day after the hurricane! Buses that could easily have been driven to the convention center where so many were suffering.
The bottom picture, right, show those buses just THEN being moved. As the text indicates, Google took the pics the Wednesday after the hurricane.
For almost two full days Nagin had buses available to start moving people from the Convention Center!
Check out Wizbang, link above, for greater detail in the explanation.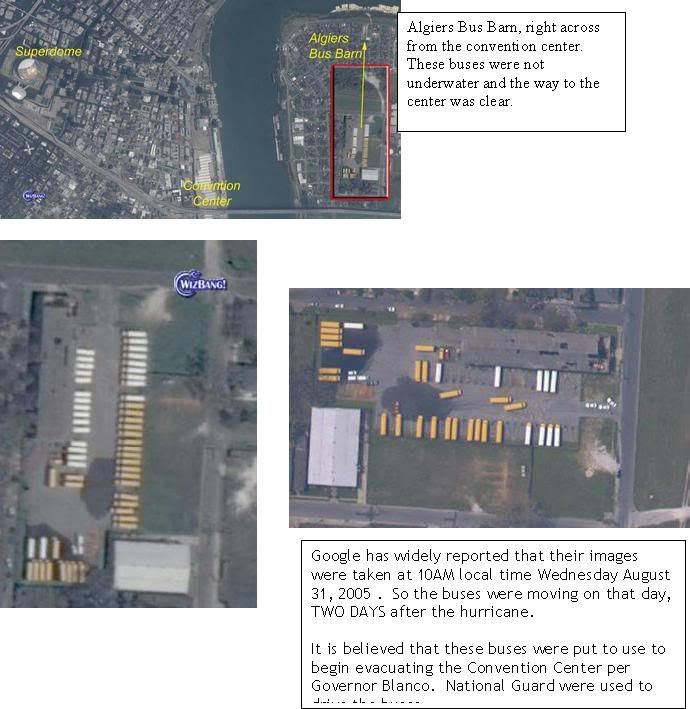 ~~~~~~~~~~
Spy in White House
A Philippino! Sending classified information to the Philippines in an attempt to overthrow the current government.
Leandro Aragoncillo

Occupation:
FBI Intelligence Analyst. Hired July 2004, suspended 12 Sept 2005

Retired US Marine with 21 years service, 1983-2004. Gunnery Sergeant. Stationed in Japan, Guantanamo Bay, Quantico, VA, Assignment to the White House between 1999 and 2002 as "administration chief" of the security detail assigned to Vice President Cheney.

Six Good Conduct Medals and a Humanitarian Service Medal

Age:
46 years old

Home:
Woodbury, NJ

Birthplace: Philippines, came to US in 1984

Citizenship: United States in 1991
Family: Wife, two children

Arrested: Saturday, 10 September 2005

Charges:

--Knowingly communicating classified information by a government employee to an agent or representative of a foreign country (i.e. receiving classified information).

--Acting as an agent of a foreign official without notification of the Attorney General in violation of Title 18 of the US Code, Section 951

--Unauthorized use of a government computer to obtain and transmit classified information

--Conspiracy to commit all of the above offenses in violation of Title 18 of the US Code Section 371.

Dates of Spying: January 2005 to August 2005

Possible Motivations: $500,000 in debts, mostly mortgages on rental properties
~~~~~~~~~~~





Tomorrow
~~~~~~~~~~~~~~~~~~~~
Time for some Gossip/Rumination and Speculation.

There's Giant Squid, Tom Cruise and his legal team, Oprah and Hermes.

And the best for last, Bill Clinton's legacy comes to pass in the field of birth control.
~~~~~~~~~~~~~~~~~~~~
It's a Delaware post and we discover True Crime in Delaware.

Why won't the Delaware authorities release the victim's autopsy results?

And who set fire to his car?
~~~~~~~~~~~~~~~~~~~~
Every man who ever had a girlfriend or wife will appreciate this Pic of the Week.

You know who you are and you hate it when she asks you to pick some up.
~~~~~~~~~~~~~~~~~~~~


~~~~~~
TV Events of Note
MLB Baseball (New)

FOX: Thursday, October 6 8:00 PM
Sports event, Baseball, Playoff sports

National League Division Series, Game 2: Teams TBA
~~~~~~~~~~~
The Apprentice (New)
NBC Thursday, October 6 9:00 PM
Reality

Something Old, Something New
The candidates create an exposition of cutting-edge technology geared toward seniors.

CLICK HERE FOR "TODAY"POST ABOVE

Monday's Daily Update-10/3/05

Tuesday's Daily Update-10/4/05

Wednesday's Update-10/5/05