All news stories as delineated and/or pictured below/above can be found at
this link.
Week of Thanksgiving
It was a fine time to take a brain break because not much happened across the planet. There were some travel snafus and the occasional overturned bus. Fortunately, America was able to celebrate this most American of holidays in a climate of peace and let's face it, prosperity.
Hey, we've got our soldiers dying to help bring prosperity to parts of the world governed or formerly governed by evil dictators, thugs and thieves. For as the President has said many times, the only way to a functioning society is with a light government framework that allows personal growth limited only by the individual. The thugs and thieves would rather keep all the country's natural resource revenue for themselves, of course.
There was a little news this past Thanksgiving week and it's documented in this Week Just Passed.
Plamegate Burns On
Scroll down to 11/21 to read the Moonbat Left's take on the Valerie Plame story. Yes, from San Francisco, once part of the United States.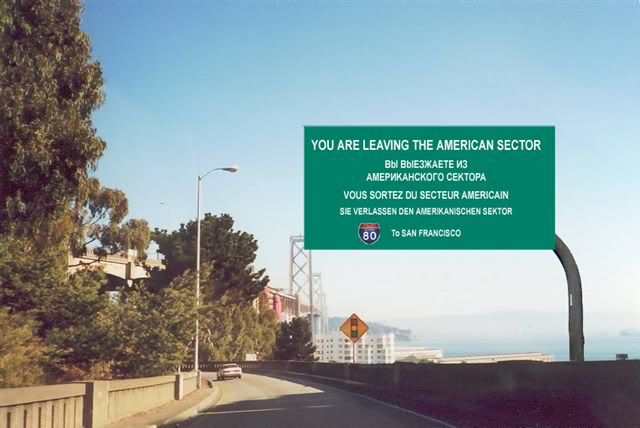 ~~~~~~~~~~
Cheney Hits HomeRun
The administration continues it's strike back against those who accuse them of lying and deceiving the country into war in Iraq. On 11/22/05 there's a synopsis of yet another excellent rebuttal by Dick Cheney to this dishonorable attack by the Moonbat wing of the Democrat party.
~~~~~~~~~~
Biden Hints at Democratic Plan
It would seem that after the Iraqi election on 12/16/05, the Pentagon is considering troop withdrawal from Iraq. Logic would dictate that the vicious "insurgency" will likely wind down as the democratization of Iraq gets off to a strong start.
Heh.
Only the Dems have to keep Bush from getting credit while claiming this success as their own doing. So they send out old dog Murtha to shout about pulling out of Iraq. Then when the soldiers begin deployment, they can say it was all their idea!
Clever as hell, huh?
~~~~~~~~~~
Dick Cheney with an "X"
CNN denies it but for some reason a big X kept appearing over Dick Cheney's face when he gave that rousing speech. There's still lots of speculation in the Blogosphere about the amusing, if mean, incident. There was no X's over Biden during his rebuttal. There were no X's during the commercials throughout.
Just an "X" over Cheney when he spoke.
Reminds me of USA Today's "Condi Eyes".
Story on 11/23/05 daily update entry.
~~~~~~~~~~
Political Cartoon of the Week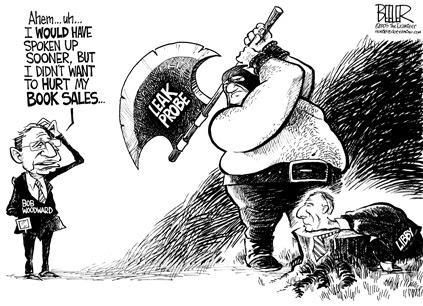 ~~~~~~~~~~
All news stories as delineated and/or pictured below/above can be found at
this link.
~~~~~~~~~~
Prior Weeks Just Passed HERE
===============

Congress Critters Hate Losing Their Pork
In the People's Republic of Washington State, Senator Patty Murray didn't want to give up her funds for a sculpture park. So she rants on about tax cuts. I must notice the tax cuts didn't stop the funds for that sculpture park. Heh.
| | |
| --- | --- |
| | Dr. Coburn also proposed cutting funds set aside for a "sculpture park" in Washington state, which caused Sen. Patty Murray to blow a gasket. "If the Senator from Oklahoma wants to look for a culprit for the fiscal situation in this country, he should look into the billions and billions of dollars in tax cuts that have been granted to multimillionaires in this country, and he should look at additional tax cuts his party wants to implement in future years if he wants to find incredible savings," Murray screeched from the floor. |
~~~~~~~~~~
Speaking of Pork …
The infamous Bridge to Nowhere in Alaska
does
get cut from the pork. Two things: a)Alaska still gets the money and b)how about that Alaskan congress critter's owning the land that would have been serviced by the Bridge to Nowhere?
Gotta watch the congress critters. They love to spend
our
money.
~~~~~~~~~~
Came upon
this editorial
by J.B. Williams, a Canadian, and was struck by his clear truth.
Because even the vote
before
House Resolution 571- the call to remove our troops from Iraq immediately- the Democrats tried to avoid the showdown by calling for a vote
not
to vote.

by J.B. Williams

"Democrats tried desperately to avoid going on the record (taking a stand) by voting against even having the vote. (They voted to silence themselves on the matter).
"
Heh.
~~~~~~~~~~
On Pulling Out of Iraq
The Wise I doesn't know how Democrats define success but let's allow Michael Barone to lay it out straight.

~~~~~~~~~~
They Already Blew It
The congress critters have already held hearings with oil company execs chastising them for daring to make a profit. I remember the gas lines of the 80's. Now the younger generation will get their chance at it. Because when people don't make a profit at their business, they
stop
making the product! Duh.
I wonder how much money Coca Cola made with their bottled water? I saw thousands of cases of water given out during the recent spate of hurricanes. Unless Coke is donating all that bottled water, I don't think so, then why aren't they being pulled in front of congress for making a profit?
Ah. We'll wait for the gas lines then we'll say I tole you so.

THOSE WHO FAIL TO REMEMBER HISTORY...

"Whenever prices rise, memories seem to fail. So it's no surprise that rising oil prices have revived calls for a new excise tax on the 'windfall profits' of American oil companies -- although the last time we tried this, in the 1980s, it discouraged domestic investment and production and increased dependence on foreign imports."

- Columnist and former Clinton administration official Robert Shapiro

~~~~~~~~~~
Worth Quoting Again
VP Dick Cheney's been quoted a thousand times from his excoriation speech to the spineless Democrats, including the spineless opportunist Murtha. We'll quote him again. For posterity.
~~~~~~~~~~
In Conclusion: Mark Twain

"We should be careful to get out of an experience only the wisdom that is in
it...and stop there; lest we be like the cat that sits down on a hot
stove-lid. She will never sit down on a hot stove- lid again, and that is
well; but also she will never sit down on a cold one anymore." - Mark Twain

~~~~~~~~~~
More Notable/Quotables HERE
=================

How To Shower Like a Woman
Take off clothing and place it in sectioned laundry hamper according to lights and darks. Walk to bathroom wearing long dressing gown. If you see husband Along the way, cover up any exposed areas.Look at your womanly physique in the mirror - make mental note to do more sit-ups/leg-lifts, etc. Get in the shower. Use face cloth, arm cloth, leg cloth, long loofah, wide loofah and pumice stone.
Wash your hair once with cucumber and sage shampoo with 43 added vitamins. Wash your hair again to make sure it's clean. Condition your hair with grapefruit mint conditioner enhanced. Wash your face with crushed apricot facial scrub for 10 minutes until red. Wash entire rest of body with ginger nut and jaffa cake body wash. Rinse conditioner off hair. Shave armpits and legs. Turn off shower. Squeegee off all wet surfaces in shower. Spray mold spots with Tilex. Get out of shower.
Dry with towel the size of a small country. Wrap hair in super absorbent towel. Return to bedroom wearing long dressing gown and towel on head. If you see husband along the way, cover up any exposed areas.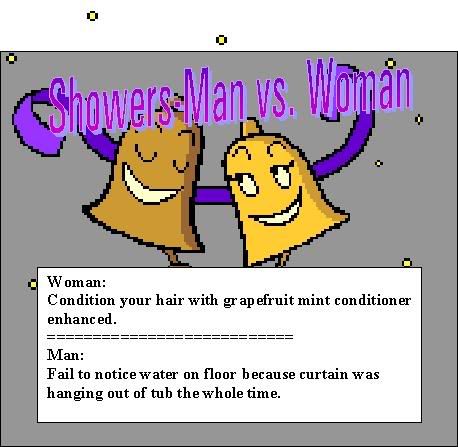 How To Shower Like a Man
Take off clothes while sitting on the edge of the bed and leave them in a pile. Walk naked to the bathroom. If you see wife along the way,shake wiener at her making the 'woo-woo' sound. Look at your manly physique in the mirror. Admire the size of your wiener and scratch your butt. Get in the shower. Wash your face. Wash your armpits. Blow your nose in your hands and let the water rinse them off. Fart andlaugh at how loud it sounds in the shower. Spend majority of time washing privates and surrounding area. Wash your butt, leaving those coarse butt hairs stuck on the soap. Wash your hair. Make a Shampoo Mohawk. Go #1. Rinse off and get out of shower. Partially dry off.
Fail to notice water on floor because curtain was hanging out of tub the whole time. Admire wiener size in mirror again. Leave shower curtain open, wet mat on floor, light and fan on. Return to bedroom with towel around waist. If you pass wife, pull off towel, shake wiener at her and make the 'woo-woo' sound again. Throw wet towel on bed.
~~~~~~~~~~
More Fish Giggles HERE
=======================