Death Penalty Sought for Lisa Montgomery
I'm a little shocked at
this announcement
that prosecutors will be seeking the death penalty on Lisa Montgomery.
The story of Lisa Montgomery, a Kansas women who murderered Bobbie Jo Stinnett and ripped her unborn baby out of her womb, was one of the first stories I wrote about when I started Blogging.
My site became, for a while,
the
site to check in for the latest information on this murder which did, as one might imagine, shock the nation.
There were so many commenters checking in on the Montgomery threads that I had to no work at all. All information on that case was posted regularly, and directly from all the players, right on my Blog. It was a heady time for this Blogger.
Montgomery "met" Bobbie Jo via an online terrier aficionado group. Montgomery contacted Stinnett under the guise of purchasing a dog from Stinnett. At some point all of the players in this real and tragic life drama actually came together at a rat terrier convention.
As this case continued on, I was eventually contacted by Lisa's ex-husband and also by two of her daughters. We discussed my writing a book on the matter. We were too distant what with this all being in Kansas and me in Delaware. Plus my True Crime writing credentials were non-existent. It didn't come to pass but I have a fond place in my heart for Lisa's family. This was one time when the True Crimes I write about came home to me on a personal level.
Thus I view this announcement with very mixed emotions, if yon reader would forgive this personal intrusion here. Lisa has four children by her first marriage. There are going to be some very broken, shaken and confused hearts over this should that death penalty come to pass and be carried through. What a burden it will be to live knowing that your mother got executed for her crimes. I simply cannot imagine.
Yet Lisa Montgomery committed one of the most heinous crimes imaginable. She cold-bloodedly murdered a young woman who had everything to live for. She ripped her unborn baby out of her mother's womb. Not only is Bobbie Jo Stinnett dead, her daughter will grow up never having known her mother; knowing always how her mother died. Not to mention Bobbie Jo's husband. Imagine the crater of pain this man carries around.
Lisa Montgomery is a candidate for the death penalty, I've no doubt about it. But having come to know her family as I have, my heart aches for their pain. Lisa's daughters are fine hard-working kids. They deserved better than this too.

Death penalty to be sought for Melvern woman
The Associated Press

KANSAS CITY, Mo. -- Prosecutors announced today that they will seek the death penalty for a Kansas woman accused of cutting a woman's baby from her womb and claiming the baby as her own.

The U.S. attorney's office filed a notice with the court saying it will seek the death penalty for Lisa M. Montgomery, 37, of Melvern, Kan. Montgomery is charged with kidnapping resulting in death for the Dec. 16 slaying of 23-year-old Bobbie Jo Stinnett of Skidmore, who was eight months pregnant with her first child.









~~~~~~~~~~
Stolen Light Poles in Baltimore?
On first glance one might call
this story
just plain weird.
Let's take a second glance at it.
I understand that homeless folks like to gather old scrap metal which they sell for scrap value. I am also from Baltimore.

By GARY GATELY
Published: November 25, 2005

BALTIMORE, Nov. 24 - Given that they stand some 30 feet tall, their disappearance is attracting a good deal of attention here - even as their final destination remains a mystery.

Thieves are sawing down aluminum light poles. Some 130 have vanished from Baltimore's streets in the last several weeks, the authorities say, presumably sold for scrap metal. But so far the case of the pilfered poles has stumped the police, and left many local residents wondering just how someone manages to make off with what would seem to be a conspicuous street fixture.

The poles, which weigh about 250 pounds apiece, have been snatched during the day and in the middle of the night, from two-lane blacktop roads and from parkways with three lanes on either side of grass median strips, in poor areas and in some of the city's most affluent neighborhoods. Left behind are half-foot stubs of metal, with wires that carry 120 volts neatly tied and wrapped in black electric tape.
Go with me on this. Homeless people in Baltimore do
not
drive around in vehicles big enough to carry 30' poles. Those ubiquitous collectors of spare and rusty pipes and metal bits usually walk the streets, pushing a grocery cart then usually full of the metal they plan to sell. No way would these people not be noticed prancing around the streets with a 30' pole sticking out of their cart. Most of them are so frail they couldn't possibly heft 250 pounds.
There's something or someone
big
behind this tale of thievery. Something's very organized about this. Suggestions I've read across the Internet is that the company selling new pole replacements might be behind the thievery. That's certainly a motive.
Whatever the case, it would seem this can't go on much longer. The scrap yards are on the watch for these guys. Driving around Baltimore with big poles sticking out the back is going to be a highly suspect activity. I am curious until an arrest is made.
~~~~~~~~~~
Robert Blake Pays Some Price
A jury found Blake at least 51% guilty of killing his wife
. Such being the percentage surety of guilt to convict in a civil suit. Thus I'll go with the percentage majority here and say I think Blake killed his rather pathetic wife, Bonnie Lee Bakley.
Bonnie might not have been the epitome of good taste but she was a human being and she deserved to live. Mr. Baretta guy isn't God and he had no right to decide Bonnie was but a bother.
$30,000 million should eat up a lot of Blake's pocket change. I'll settle for that Blake's gonna have to struggle for the rest of his life. He's probably got a big book in the works that will recoup that verdict easily.
Ah, such is justice in America.

BURBANK, California (AP) -- A civil jury Friday found actor Robert Blake liable for the slaying of his wife and ordered him to pay $30 million in damages.

The former "Baretta" star was acquitted of criminal charges eight months ago in the May 2001 death of his wife, Bonny Lee Bakley.

Jurors had begun deliberations on November 4; Friday was their eighth day.

Bakley's four children sued the 72-year-old actor in 2002, claiming he should be held responsible for their mother's death and forced to pay damages.



Eric Dubin, an attorney for the children, contended that Blake despised Bakley, believing she trapped him into marriage by getting pregnant and that he decided to get rid of her so he could raise the daughter he adored, Rosie, by himself.

Blake did not testify in the criminal trial but took the stand in the civil case and denied the allegations.
~~~~~~~~~~
$65.4 Million, Now They're Both Dead
Either this bizarre story is true, or these two people were murdered.
Because they were married, they split their jackpot winnings of over $30 million as they chose the immediate cash option. Still a heft sum, almost $20 million when taxes are said and done.
Yet the husband went his own way and he died. Allegedly from "alcohol related causes". Now his ex-wife, the recipient of half of those winnings, is also dead?
Mine eyebrow is raised so high as to form a perfect pyramid in the center of her forehead. We shall see about this.


NEWPORT, Ky. (AP) -- A woman who won a $65.4 million Powerball jackpot with her husband five years ago was found dead at her home overlooking the Ohio River. Police said she had been dead for days before anyone found her.

Virginia Metcalf Merida's son found her dead Wednesday. Campbell County Police are awaiting autopsy results and toxicology results before announcing a cause of death.

Investigators said there was no sign of forced entry at the 5,000-square-foot, custom-built geodesic dome house that Merida, 51, bought for $559,000 in 2000.

Her husband, Mack Wayne Metcalf, died in 2003 at age 45 while living in a replica of George Washington's Mount Vernon estate built in Corbin. His death followed multiple run-ins with the law in the days following the lottery win.

~~~~~~~~~~
More True Crime Updates HERE
================

November's Plants and Dreaming of Spring
My niece fancies herself a bit of a gardener. Indeed she does have the makings of one. She shows an interest in plantings beyond the ornamental and strives to create a well-balanced eco-system. She doesn't quite "get" perennials and a compost pile is foreign to her.
Still I see a gardener in her. If nothing else by the way she greets any visit by exclamations over the gardens and questions about what's within. This past year she ventured beyond petunias and planted a few perennials. "They come back every year," she exclaimed upon my visit. I was impressed. She is fashioning a completely new landscape in the new plot of land she recently purchased and it did look nice.
Together we perused the garden catalogues and I placed my order for the new plantings, many pictured below.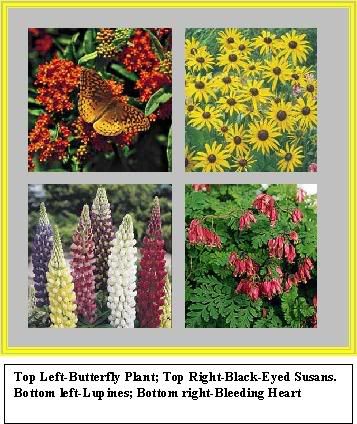 Some of the orders I refer to as my "winter of dreams" are not new to me. The old-fashioned Bleeding Heart was a mainstay of my former gardens in Maryland, a plot of land I called "Critter Cove". These bushes love the shade and indeed my former lot was nothing but suffocating shade. My new gardens, now in Delaware on a plot of land I call "Serendipity Shore", have large areas with a full day of sun available to them. Like a gardener after a floral famine, I delight in planting those flowers which require more sun than available in Critter Cove. Here in Delaware I smile that I must now find shade spots for the new Bleeding Hearts I planted this past weekend.
The Lupines are a new plant to me as are the black-eyed susans. The Susans are the state flower of Maryland, my birth state. Alas, Critter Cove did not allow them abundant growth due to the heavy oak canopy. The Butterfly Plant is also new to my gardening experience.
In addition to those pictured, I ordered forget-me-nots, perennial gladiolas and with the help of my granddaughter, some tulips and country hyacinths.
All winter I can dream of the new plantings to come the following spring.
"I planted all those perennials I ordered from the catalogue," I told my niece via telephone in that conversational manner of telephonic introduction.
"You did? Oh, you have to plant them this time of year," she said, meaning the Fall of the year.
She's got a lot to learn. Planting flowers in the fall had never occurred to her.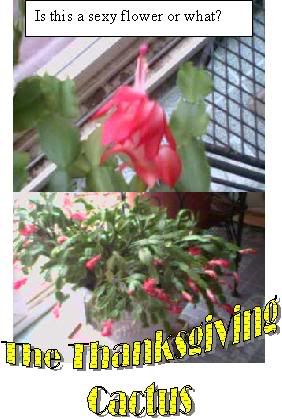 Above is a picture of my Thanksgiving Cactus and no that's not a misnomer. The thing always blooms on Thanksgiving so why call it a Christmas Cactus. At any rate, it blooms for its late fall show. Every other year it blooms again in late June.
~~~~~~~~~~
More Gardens and Bird posts HERE
=================

Review: Stories of Strength
By the writers of AbsoluteWrite.com
"AbsoluteWrite.com" is a web site and email group consisting of writers from all genres and with varying degrees of publishing accomplishment. The forum was founded by Jenna Glatzer, now a successful writer with many projects under her belt, including penning a biography of Celine Dion.
I myself am a member of "AbsoluteWrite" and have been for many years. I've enjoyed Jenna's stories through the years and watched her grow to a successful, busy and happening female writer. She's been an inspiration to me so when Blogcritics was approached for a review of this book I wasn't surprised that Jenna was the force behind pushing it through.
In fact, a call for submissions to this collection of stories by ordinary individuals describing how at certain points in their lives they had to find and utilize a strength they didn't know they possessed, passed through my own email box. The idea was for the members of AbsoluteWrite.com to submit a story of strength in their personal life and how they found and used it to overcome formidable obstacles. The collection would be dedicated to the victims of Hurricane Katrina with
all
proceeds going to the victims. Not one penny of either administration fees or royalties would be deducted from the proceeds. Even the Publisher
Lulu Press
, responded immediately to Jenna's plea and turned around the PDF file quickly with no profit.
All for the benefit of fellow Americans victimized by a storm; all to encourage them with their own experiences; all working together to compile an intellectual property from which the monetary proceeds- along with the inspiration and wisdom offered by the book- will help them get their lives back on track.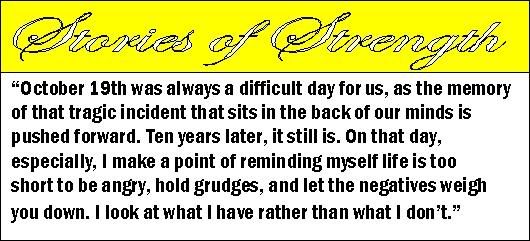 I thought about a submission then shrugged. There were no great heroics in my life. At least none I thought the world would care about.
Then I began to read the stories.
I found snippets of ordinary lives, stories of fear, hope, and healing. Many from the most mundane of events. A stern librarian strikes fear in a young heart. The overdue book must be returned. A lifelong love of reading is affirmed.
The stories include personal tragedies such as suicide, handicaps, premature births. Natural disasters bring their toll. Wars maim and kill.
Fear is a mindset, I have learned from reading this book. I remember well my young child's terror at the impending discovery that I carved my initials in my Catholic school desk. A terror to one is but mirth to another. Yet the fear, no matter how it is viewed by others, must be dealt with.
That's the point of this story collection. No matter how big the tragedy described, no matter how trivial it may seem, fear strikes and from somewhere inside of us we find the strength.
This book is sold only as a PDF file right now. I did print it out as it seemed the thing to do. However, to my joy, I discovered that the stories were concise enough to be read directly from the computer monitor. In fact, I open the file almost every time I sit down to compute. During lulls in the electronic action, it's a joy to switch over to the book and read an inspirational story or two. This collection is perfect for reading on a computer screen.
I strongly recommend this book. It's but a quick download to have the file ready for reading. Along with the short stories of strength, there's poems, even music scores!
To all the contributors to "Stories of Strength", this book's a winner. And every one of you are winners too.
To Order.
More Book Reviews HERE
~~~~~~~~~~