The Donald
Rebecca began her assigned task of running the Yahoo! All-Star Comedy Benefit with host Joe Piscopo to raise money for the Elizabeth Glaser Pediatric AIDS Foundation. Randal began his task of managing the Outback Steakhouse VIP Softball Challenge, a high-profile ballgame for celebrities, to raise money for Autism Speaks.
Each of The Donald's two finalists for The Apprentice 4's winner got to pick three of the fired candidates to create new teams. Randal got Josh, Mark and Marshawn. Rebecca got James, Chris and Toral.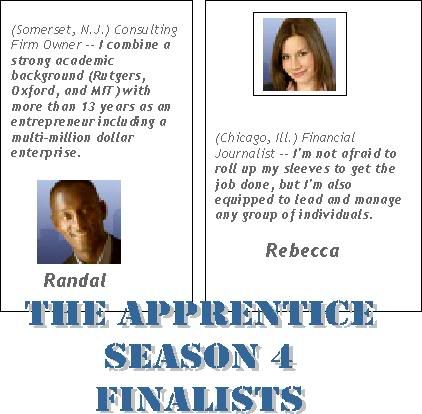 NBC hypes The Donald's finale as follows:

The Finale!

It's all leading up to "The Apprentice" live season finale, Thursday, December 15 from 9-11pm ET. The two-hour finale will be broadcast live at Lincoln Center and will feature the conclusion of the final two tasks, a cast reunion and ultimately the live boardroom hiring of Trump's newest employee who will receive a $250,000 'apprenticeship.'
The tasks assigned the two finalists began last week, Thursday, 12/8/05. There were problems and promises of dramas to come.
Who will win?
Popular scuttlebutt has it that both Rebecca and Randal are almost equal in terms of ability and management performance. I'd have to agree as both seem personable and capable.
I'm going with Randal as the winner because, frankly, it's time for a black man to become The Donald's new apprentice. Randal would be a fine choice. If Randal doesn't mess up his final task, look for him to win.
============
Martha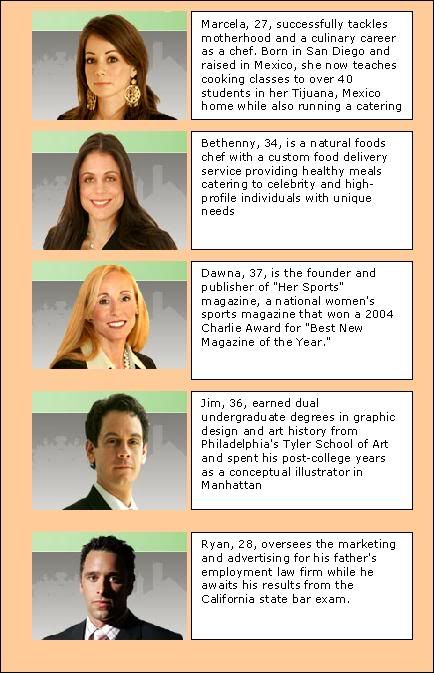 The finalists for Martha Stewart's apprentices are down to three, Dawna, Jim and Bethanny. Both Ryan and Marcella were eliminated in a recent episode. Martha's finale is scheduled for 12/21/05. This date will also mark the last Apprentice episode hosted by Martha Stewart.
UPDATE-Last night Jim was eliminated. The two finalists for Martha's Apprentice are now Dawna and Bethanny.
Two things caused Martha to fail at her apprentice task. One was Apprentice overkill. While The Donald's Apprentice has been amazingly successful, I surmise there was no more room for other Apprentice shows in the public psyche.
An even greater reason for the failure of Martha's Apprentice series- at least as The Wise I sees it and was also the reason I was disappointed in the show- was that Martha didn't assign her apprentice-wannabes "Martha" type of tasks.
I was expecting to see cooking, interior design, party planning, the sorts of things Martha is known for, as tasks for assignees. Instead the
Martha Stewart Apprentice
tasks were very similar to those given to The Donald's apprentices. Nothing new was offered. The American public was not ready for two Apprentice series running simultaneously.
As for a predicted winner, I'd have to rule out Jim. He's a bit too wacko for a high profile executive position. I think that Dawna's specialty of health foods is a bit too narrow.
This leaves me with Bethanny. I'm going with her.
~~~~~~~~~~~~~~~~~~~~~~~~~~~~~~~~~
More TV Reviews HERE
===============

PETA and Fishing
Stephanie's Blog HERE.
Got a kick out of
PETA's new campaign against fishing.
If anything, these nuts are creative!
Also had a flashblack to when my husband and I first entered college at Arizona State University. He was taking an ethics course taught by this total liberal wingnut. Every class, she'd bombard them with all these horrific pictures and stories of mistreated and mutilated animals used in research or killed and sold for products.
I must preface this by telling you we were only 18 years old; thus very naive...
My Brawny Man, being the sweetheart he is, was appalled by the tales he'd heard and decided, being the young & powerful college student he was, he would go forth and make a difference. (FYI: He's going to kill me for what I'm about to reveal) What did he do? He went and joined both Green Peace and PETA! (Kids do the craziest things, don't they?)
Because I had declined membership, I began to dread those Mondays, Wednesdays, & Fridays on which he had Ethics 101, for I knew my formerly meat eating man would try, with all his vegan heart, to turn me against my Big Mac. I also began to lock the bathroom door while I applied my cosmetics to avoid any speeches on the evil-doing, animal experimenting anti-Christs at Maybeline. I won't even go into my family's Memorial Day picnic featuring BBQ spare ribs.
These lectures went on for about two months. Are you feeling sorry for me yet?
Well don't. The literal sweet taste of revenge came after one particular Friday night of partying. Having cleared all beer brewers from any acts of cruelty to animals, he could imbibe in his favorite frosty beverage guilt free. Sometime after midnight, he and I got a serious case of the munchies and headed over to 7-11. Being a card carrying vegetarian, his choices were quite limited in this processed food convenience store from hell. I, however, was in heaven and loaded up with Reese Cups and Slim Jims.
Hey kids, believe you me, your elders mean it when they say alcohol impairs your judgment. Not buying it? Just ask my Brawny Man. Because it was on this fateful night, that my inebriated honey impulsively snatched a Slim Jim from my hand and devoured it in precisely three bites. I then erupted into uncontrollable laughter!
Because one doesn't instantly associate the unassuming, inoffensive and innocent enough looking Slim Jim with animal slaughter, especially after a 12-pack, my Brawny Man was dumbfounded by my reaction. When he inquired about the source of my hysterics, I simply pointed to the ingredient list on the Slim Jim wrapper.
Next thing I knew we were both heading over to "What-a-Burger" for some tasty red meat.
More Guest Writer HERE
============

Money for a "Him"
One Sunday a pastor told the congregation that the church needed some extra money and asked the people to prayerfully consider giving a little extra in the offering plate. He said that whoever gave the most would be able to pick out three hymns.

After the offering plates were passed, the pastor glanced down and noticed that someone had placed a $1,000 bill in offering. He was so excited that he immediately shared his joy with his congregation and said he'd like to personally thank the person who placed the money in the plate.

A very quiet, elderly and saintly lady all the way in the back shyly raised her hand. The pastor asked her to come to the front. Slowly she made her way to the pastor. He told her how wonderful it was that she gave so much and in thanksgiving asked her to pick out three hymns.

Her eyes brightened as she looked over the congregation, pointed to the three handsomest men in the building and said,





~~~~~~~~~~
More Fish Giggles HERE