Grammy Nominations

Pop siren Mariah Carey was nominated for eight Grammy awards, punctuating a remarkable comeback for a singer whose star had dimmed in recent years. Rapper Kanye West and soul crooner John Legend also received eight nominations each to lead the field of artists vying for awards at the 48th annual Grammys.

Rappers 50 Cent and Will.i.am, pop diva Beyonce Knowles, hip hop band the Black Eyed Peas and pop legend Stevie Wonder netted six nominations each.

Five nominations went to rapper Missy Elliott, soul singer Alicia Keys, rock legend Bruce Springsteen, rocker Gwen Stefani and Irish stars U2.

Common, Destiny's Child, Foo Fighters, Gorillaz, The Neptunes, Brad Paisley, Phil Tan and Gretchen Wilson gained four nominations.

Carey's eight nominations add to a comeback year for the 35-year-old artist, whose career was resurrected by her chart-topping album "The Emancipation of Mimi."

"This is incredible," she told CBS television after the Grammy announcements. "I feel blessed ... It's been a great year."

Her album, the first since 2002's tepidly received "Charmbracelet," features contributions from hip-hop heavies Nelly, Snoop Dogg and Kanye West.

"The Emancipation of Mimi" debuted at number one across the United States in April with 404,000 copies sold in the first week, besting Carey's previous first-week opening sales record of 323,000 copies for 1999's "Rainbow."

The Grammys will be awarded in Los Angeles on February 8.

~~~~~~~~~~
Be Nice! Jen Needs the Money!
A few weeks ago I posted
the amazing story
of Jennifer Aniston being named "Gentlemen's Quarterly's" "Man" of the year. As part of the story Aniston's nude pictures were included, allegedly "without her permission"
Heh.
Now how on earth did GQ get nude pictures and publish them without good ole Jen's permission?
Below we have
another interesting story about Jennifer Aniston
and her tendency to keep getting photographed while topless.
With one photographer she just, ladida walks out the front door topless. The next photographer paid almost half a million for photographing Jennifer as she sunbathed topless in her back yard. That photographer paid up (hint-it was probably part of Jennifer's "fee")
without
admitting fault.
Heh.
This is one lady that needs to keep her top on once in a while. Else all these photographers are going to "catch" her and, well, take pictures.
I'm a big believer in capitalism and if, indeed, topless pictures of myself would bring me half a million, which they would not, I'd probably do it too.
But I don't think I could bear to be such a lair about it. Hey, Jennifer, all these photographers catching you topless and even the vaunted Gentlemen's Quarterly giving you a "man of the year" award in exchange for showing topless photos of your fine self, girl you need to be careful.
You ought to notify the authorities about all these assaults on your privacy.

The photos "could have been taken only by means of trespass" and were shot
in a place where she had reasonable expectations of privacy, claims Aniston,
who starred on NBC's "Friends," in the lawsuit.

Brandt said he took the pictures three weeks ago while standing on a public
street in Los Angeles about 300 yards from her house. He said was trying to
photograph Aniston with Vince Vaughn, who was at the house at the time.
Aniston and the 35-year-old actor are reported to be dating.

"I wish she hadn't just walked out topless," said Brandt. "That's not what I
was looking for."

The actress previously sued a different photographer for allegedly scaling a
neighbor's 8-foot wall and photographing her sunbathing topless in her
backyard. The photos ran in several publications.

Francois Navarre, owner of Los Angeles paparazzi agency X-17 paid Aniston
$550,000 two years ago to settle an invasion-of-privacy lawsuit but didn't
admit to any wrongdoing.
~~~~~~~~~~
Jeb and Fidel Verbally Spar
The recent exchange between Jeb Bush, Governor of Florida, and Fidel Castro, Dictator of Cuba,
became public
and frankly is quite amusing. I must even smirk at Fidel calling Jeb President Bush's "fat little brother". And you have to enjoy Jeb's snarky reply. The funniest part of all is Castro's response that he was deadly serious and was only concerned about Jeb's health.
Heh.
Well they say politicians are like ugly actors. So why not a little juicy gossip and snarky exchanges?
Heh.

Gov. Jeb Bush said Tuesday that he was "honored" Cuban President Fidel Castro had referred to him as President Bush's "fat little brother in Florida."

During a Nov. 17 speech at the University of Havana, Castro made the comment while questioning whether the governor had helped a suspected anti-Cuba terrorist enter the United States. Students responded with laughter.

"I'm flattered and honored," Bush replied with a smile, but then turned serious.

"I will take any criticism from Fidel Castro, of all people, as an honor given the fact that, you know, 8 million people, I believe, live on the island, 8 million people are repressed and they've been that way for 40 or 50 years," Bush said.

"To be criticized by a man like that who has repressed people for such an extended period of time is a high honor," the governor added. "He can call me whatever he wants."

In his speech, Castro insisted his comment was intended as constructive criticism.

"Forgive me for using the term `fat little brother,'" the Cuban leader said, according to a transcript obtained by The Miami Herald. "It is not a criticism, rather a suggestion that he do some exercises and go on a diet, don't you think? I'm doing this for the gentleman's health."
~~~~~~~~~~
Poor Little Rich Girl Weds
I've always had a soft spot for little Athina Onassis although I'll allow that the fodder fed to us in the public is often nowhere near the truth.
Still the little girl lost her mother through suicide. Her grandfather, the vaunted Aristole Onassis was certainly a dashing figure but he lost both of his children. His only son died in an airplane crash as I recall. He married America's beloved widow, Jacqueline Kennedy but they later divorced. I don't know what that was all about but as I figure, somewhere in the middle of all this unbridled luxury and public lifestyle was a little girl who got lost in the mix.
So I note that young Athina has now gotten married and can't help but hope it is a happy life for her. In the following it's noted that her new husband did sign a pre-nuptial and that's re-assuring.
Below from the AP:

Heiress to Onassis Fortune Weds Olympian
Staff and agencies
03 December, 2005

By TALES AZZONI,
SAO PAULO, Brazil - The Greek billionaire Athina Roussel Onassis married a Brazilian Olympic equestrian Saturday night in a palm-tree lined estate, celebrating with more than 1,000 bottles of champagne.

The nuptials were shrouded in secrecy, with 400 private security guards warding off paparazzi from all over the world. Guests had to park outside the grounds and pass through metal detectors.

Mario de Oliveira, a worker at the estate, confirmed only that the couple got married.





Still, plenty of details emerged ahead of the wedding.

The ceremony was ecumenical because Onassis is Greek Orthodox and the groom is a divorced Roman Catholic. Brazil's Veja magazine reported that the couple signed a prenuptial agreement protecting all assets acquired before marriage.

Miranda, popularly known as Doda, was a member of the Brazilian showjumping team that won bronze medals in the 1996 and 2000 Olympics.
~~~~~~~~~~
Media Nuggets
FYI.
***** Dee-Dee Myers's husband, Todd Purdum FIRED from NYTimes. Vanity Fair hires him, where Russert's wife is lead editor.

***** Ted Koppel, Nightline got FIRED from ABC Nightline after ABC got severe backlash from viewers. Now he talking to al jazeera about a job there.

***** Alex Kerry, daugter of John Kerry is working with Jehane Noujaim, Al Jazeera film director (What 's this liberals' fascination with Al Jazeera?)

***** Wall Street Journal Editorial Report will be appearing on the Fox News Channel from January.

***** Ron Reagan's "Connected Coast to Coast" will be disconnected by MSNBC this weekend. Rick Kaplan - Chairman of MSNBC also will be shown the door VERY soon.

***** Recently on ABC, Barbara Walters presented "The Ten Most Fascinating People of 2005." (She was one among the 10 selected). Condi Rice REFUSED to appear. (Kanye West was also chosen as one.)
~~~~~~~~~~
Next Tonight Show Host?
Came across this picture somewhere or another and post it here because doesn't that monkey look just like Johnny Carson?
~~~~~~~~~~
Just Coincidence We Guess
I did a
recent piece
on the new Blogosphere phenomena called "Pajamas Media". I did send various and sundry a link to it but nobody paid it any mind.
And such genius analysis too.
However, I note during my web travels that "Pajamas Media" has another icon besides that silly robe thing. In my piece linked above, published on Blogcritics so it wasn't like it was only on my own Blog read by three or four people daily, I made a big deal about that robe logo thing. Heck I'd quote my own self but modesty prevents. My suggestion was, just so you know, that they get a pair of real pajamas for the logo. Just the pajamas, not a pair with a person inside.
Below, well what do you know. Seems "Pajamas Media" is getting a new icon.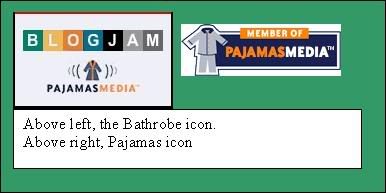 ~~~~~~~~~~
More Gossip/Speculation HERE
=============

I Don't Want a "Main Street" Republican Representing Me!
So my one and only representative in the House of Representatives, Mike Castle, is head of the so-called "Main Street Partnership"? Since when did the citizens of Delaware vote in a "main street" Republican? We voted for a REPUBLICAN!
Fine, Mr. Castle. To me, you are a Democrat. No problem. Democrats are fine people. Next election, heh, I shall VOTE for the Democrat. At least Delaware's Joe Biden will like it. Unless, of course, the Delaware GOP gets a clue and refuses to back this traitor.

The Main Street Partnership, the leading moderate Republican organization tilting the balance of power in the House, is expanding its staff and looking for larger quarters in Washington.





Sallie Mae analyst Jonathan Stevens has been hired by Main Street, and he plans to take on two additional staffers to work with him. The organization is also looking at expanded office space in the Firemen's Insurance Co. building in the high-rent downtown district just off Pennsylvania Ave.

Main Street, headed by Rep. Michael Castle of Delaware, has recently blocked passage of oil drilling in ANWR (Arctic National Wildlife Refuge) and extension of investment tax cuts.
See traitor Castle's own signature on a letter requesting ANWR drilling be removed from the House Budget Omnibus bill
HERE.
We hear that none other than George Soros his own fine self is backing the Main Street Republicans.
Stay tuned for details of my own planned protest against Mike Castle. Soon, ladies and gems, soon. For the vast majority of the American people favor drilling in ANWR and these traitors know it. I don't want my progeny to be forever dependent on sons-of-camels' oil and I don't believe for one single second that drilling in this frozen land will harm one hair on an animal's head.
Mike Castle, you represent exactly NOBODY except yourself.
~~~~~~~~~~
A Joe Biden Political Cartoon
Just because I enjoy poking fun at my good buddy.
Although, hey Joe, at least you're up front about where you stand instead of hiding behind the Republican elephant.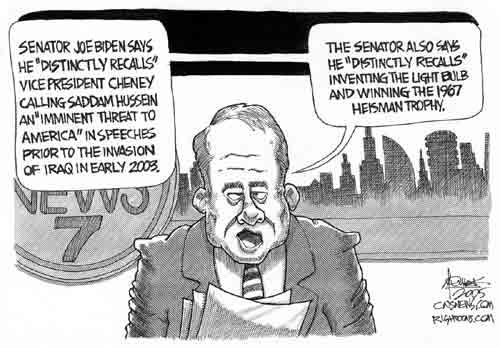 ~~~~~~~~~~
More Delaware posts HERE
=============================

A Pic and a Cartoon
Get a load of that cat!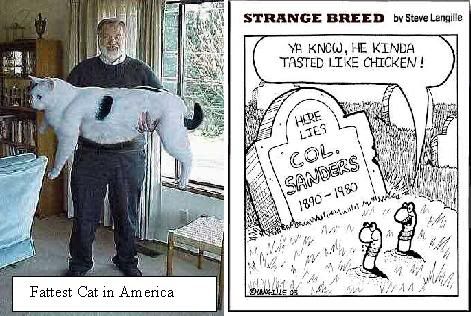 ~~~~~~~~~~
More pics of week HERE
=============