-Saddam's trial...will he show up?
...Thursday 12/15/05 Iraq votes for a permanent government.
-Tuesday, 12/13/05 at 12:01 am, Tookie Williams scheduled for execution.
-Thursday 12/15/05 The Donald's Apprentice Finale
~~~~~~~~~~
Daily Update: Day- Friday Date-12/16/05
-That Iraqi Election
...successful in the land of the purple fingers
-McCain's precious anti-torture bill
...what's behind his drive and what's the REAL issue here?



Today's Auxiliary Blog Post
...Because there's more to life than politics.


Auxiliary Blog Post
======================
Lots going on in this Gossip post. There's verbal sparring between Fidel and Jeb, a monkey's connection to Johnny Carson, more Jennifer Aniston topless photos and some Media Nuggets.
~~~~~~~~~~~~~~~~~~~~
Still ragging Delaware's RINO Mike Castle, we've some interesting information in this Delaware post about Castle and his connection to the Main Street Republicans.
~~~~~~~~~~~~~~~~~~~~
In this Pic of the Week we have the fattest cat in the world plus a cartoon.

Something about worms and Colonel Sanders of Kentucky fried fame.
~~~~~~~~~~~~~~~~~~~~
CLICK HERE FOR "TODAY'S AUXILIARY BLOG POST
~~~~~~~~~~
Day- Friday Date- 12/16/05
The Iraqi Elections
The Moonbats are mad. According to all reports, the election to begin the creation of a four year Iraqi government has gone very smoothly and has astounded with the turnout. It will take a bit to gather and properly count the ballots but the victory is here. I heard an Iraqi say today that every purple finger is a bullet into the heart of a terrorist.
From
Alertnet.org
a breakdown of the voting by Iraqi city.

15 Dec 2005 07:54:31 GMT

Source: Reuters

BAGHDAD, Dec 15 (Reuters) - Up to 15 million Iraqis vote on Thursday in a parliamentary election that will lead to formation of the first full-term government since Saddam Hussein's fall.

Following are snapshots from across the country, including quotes from Iraqi voters:

BAGHDAD - Hadi Mishaal, wounded in the back while serving in Saddam's army during the 1990 invasion of Kuwait, walked for more than 2 km (more than a mile) with a crutch to vote with his wife. "I am trying to get to the voting station. I just want leaders that will help me. I have no money. I have nothing," he said. "I am voting because I hope we can have a government that will help me and give me my rights."

Across town, voters in the Sunni Arab district of Aadhamiya, home to some of Baghdad's most committed insurgents, said they wanted to regain some influence lost after the fall of Saddam. "This time it will be different for the Sunnis," said former shoe salesman Ismail al-Dulaimi. "We are voting. We now have a government that only gives jobs to Shi'ites."

MOSUL - In Iraq's third-largest city, in the north, several explosions coincided with the opening of polls at 0400 GMT, but voting was not interrupted. In November 2004, the police force in Mosul collapsed and insurgents nearly took over. The police force has slowly been rebuilt but the city remains insecure.

Ahmed Jassim, 52, said he got up at 5 a.m. and walked several kilometres to cast his ballot. "I came to vote because I want the Americans to leave Iraq. Things will be much better after they leave," he said.

Khazal Mohammed Said, 47, a sheep trader, said he had voted for former Prime Minister Iyad Allawi, and also wanted the Americans to leave. "There is no Iraqi Muslim who wants a foreigner to occupy this country," he said.

Clad all in black, Kurdish woman Sharya Amar Ali, 60, waited patiently in line to vote after walking 5 km (3 miles) to the polling station. "It's important to elect a government because I want a job and jobs for my sons," she said.

KIRKUK - In the ethnically mixed city of Kirkuk, north of Baghdad, where Arabs, Kurds and Turkish-speaking Turkmen are all vying to show they have the biggest share of the vote, there were emotional scenes. Around 50 people in traditional Kurdish dress waited outside one voting station holding flowers. At another, Hussein Garmiyani, in Kurdish clothing, was the first to vote. He entered the booth, pricked his finger with a pin and stamped his ballot paper with blood. "I was a victim of the Anfal campaign. These past years were all years of blood and I signed for freedom with my blood," he said, referring to Saddam's campaign against the Kurds in the 1980s.

KERBALA - In the Shi'ite Muslim city of Kerbala, site of some of Shi'ite Islam's holiest shrines, there was a slow start to voting, in contrast to elections in January.

The most popular list in the region is the United Iraqi Alliance (UIA), a group of Islamist Shi'ite parties, but others have support. "We want peace so I'll vote for National Accordance Front," said Rana Ali, 39, a teacher, referring to a largely Sunni Arab bloc.

NAJAF - In Najaf, spiritual home of Iraq's Shi'ite majority, there were long queues outside voting centres. The UIA, list number 555, was the choice of most voters. "I feel proud to take part in the election and I'll vote for 555 as it ensures rights of the Iraqi people," said Abboud Mohsin.

BASRA - Iraq's second-largest city, in the far south, is also predominantly Shi'ite and a UIA stronghold. But many said they supported former Prime Minister Iyad Allawi, who earned a reputation for toughness when he was in office in 2004. "I'll vote for Iyad Allawi, I expect he'll ensure security and meet our ambitions," said Abdul Satar Gabar, 38, a businessman.





FALLUJA - Despite complaints by residents that polling centres were too far from their homes, voters still turned out in good numbers in this former Sunni Arab insurgent stronghold.

"There were some mistakes. We're going to bring some vehicles to take voters to the polling centres," said Wissam Ahmed, an Electoral Commission official in Falluja.

RAMADI - Ramadi remains one of the most volatile cities in Iraq, and there was an explosion and gunfire as polls opened, but that did not deter voters. However, the head of the Electoral Commission said only 162 of the 207 voting centres in Anbar province, which includes Ramadi, had opened.

Special units formed with the help of local tribes were maintaining security at those polling stations that did open.

"I feel very happy to vote for the first time because elections will lead to the exit of occupation forces," said Gamal Mahmoud, 21, a driver.

"This is a happy day for all Iraqis," said Hamed Abbas, 35, a government employee.
Visit this web site, catchingly titled the
Purple Finger for Freedom
for more pics of the Iraqi election.
~~~~~~~~~~
"The Al-Queda Bill of Rights"-There's Your Soundbyte
John McCain wants to be President of the United States. By 2008, this gentleman will be in his seventies and not likely to be able to wait another four years for his chance at the presidential pie.
To his presidential aspirations, McCain has steadily groomed and developed a media network of stars who adore the man. For John McCain, Senator from Arizona, is depicted by the media darlings as the "voice of reason", the "moderate tone of the right wing", master of his self-named "straight talk express". Goodness John throws wonderful parties in the heart of D.C. to better cultivate his media friends so it's small wonder that they see McCain as the Great Hope of Moderation (my own appellation).
McCain's main claim to fame are the five plus years he spent as a guest at the Hanoi Hilton. During this time he is alleged to have endured torture and humiliation at the hands of his captors. McCain cut his political teeth on his POW status and went on to glory as an anti-torture candidate with a very personal interest in the matter.
For a few weeks now there's been discussions over a rider on the budget that involves a further "finessing" of this country's policy on torture. Which is not allowed by our federal laws or by our signatory to the Geneva convention.
The U.S. does not torture its military captives, plain and simple.
So what does the U.S. do?
Well there's lots of things. We play music around the clock, we deny the captives sleep, we keep the lights on. At times we might toy with a cultural taboo, such as allowing females to interrogate prisoners. Things that are NOT a violation of the Geneva Convention and things that are questionable as even being considered as torture.
Let's deal with the REAL issue here. It's the practice of "waterboarding" and it's the interrogation technique that has everyone dancing the limbo around the concept of torture.
As I understand it, a captive who is waterboarded is placed on a see-saw type of device. Water is then poured onto the prisoner of war and in some fashion makes the victim think he/she is going to drown.
By me it is a most unique method of applying "stress", to put it politely, to get at the truth. Waterboarding does NOT kill the victim. It does scare the hell out of them and is evidently very effective.
For now we do not know the details of that agreement between McCain and the administration. We do know that the Senate Republican leaders were summoned to Cheney's office for an appeal not to legislate away this effective method of obtaining information from detainees while not harming a hair on their terrorist heads.
I suspect that McCain really has no problem with the practice of waterboarding, at least on the practical surface. McCain's interest, call me jaded, is the necessity for him to go on the record and breast beat in public that he cowed the administration into adopting interrogating techniques that further limit our ability to obtain information. McCain has to ride his POW and anti-torture stance through to 2008 as it is the basis for all of his fame.
This administration does not want to have the practice of waterboarding banned by legislation. Right now it's unclear if this "deal" between McCain and the administration specifically bans waterboarding. I suspect that the administration allowed a few restrictions in the torture bill that were of little matter, agreed that McCain could trumpet his accomplishment and victory over the administration, but that waterboarding was not specifically eliminated.
Most Americans would not get up in arms over waterboarding. In fact there's a bit of genius in the practice. Think, a physical action that is so effective that scuttlebutt is they all break within a few minutes. Yet the action causes no harm or death. To take away America's ability to use this most effective form of obtaining information would effectively take away a most useful tool.
However I'm not sure of the details of this alleged agreement and it could be that waterboarding was banned as an interrogating tool. I'm doubtful because even though McCain's presidential aspirations sometimes get in the way of his party loyalty, I don't believe the man wants us hamstrung over a very questionable form of interrogation that might cost American lives. Questionable in that such a thing might not even be considered torture. Torture involves pain. Waterboarding causes terror. On terrorists, imagine that.
Republicans are in a snit over McCain's attempt to insinuate himself into how to run the war. Especially since anybody with a brain knows this is all about HIM and not about the United States of America. McCain knows, I suspect, that Americans don't give a damn if we torture those terrorists much less the harmless waterboarding. Thus McCain clouds the issue with his toothy smile and assertion that he "beat down" the administration.
IF McCain got his way and managed to get waterboarding included in our federal law as a practice not to be used by the U.S. A, believe that he got his way in a large part because the Republicans are afraid to vote against his bill for fear they will be labeled proponents of torture. The limbo dance continues and the American people are treated like mushrooms, kept in the dark and fed bullshit.
Here's what the Republicans need to do. I heard this mentioned on Rush Limbaugh today. Rush attributed it to Mark Levin, affectionately known as "the Great One". I caution here that the Democrats would be out and about and shouting the great sound byte attributed to Mark Levin.
Get one prominent Republican to go on Meet the Press and refer to this McCain nonsense as "The Al-Queda Bill of Rights". Kudos to the great one. It's a fantastic sound byte and Americans will "get it". Have all Republicans refer to the "Al-Queda Bill of Rights" during any interviews. Hey, it's how the Democrats do. Say it enough, just like the Democrats, and Americans need hear no more. We do not tolerate the coddling of terrorists, the Abu-Ghrab anomaly was but the media's wet dream and by most Americans, a few bamboo shoots under some terrorist fingernails won't break their hearts. So long as we don't have to actually watch it.
Let the army run the war, in other words. Sure, keep the media around to insure we don't abuse. Indeed there are many media in Baghdad and some still are brave enough to be "embeds".
It sounds to me as if McCain got his chance to beat his chest and make some king-kong noises over this incident. But if that man, in his quest to achieve the presidency he feels, he KNOWS damn it, that he deserves, really did take away a most effective interrogation technique, use The Great One's sound byte and use it often.
It'll break McCain's heart.
From Foxnews: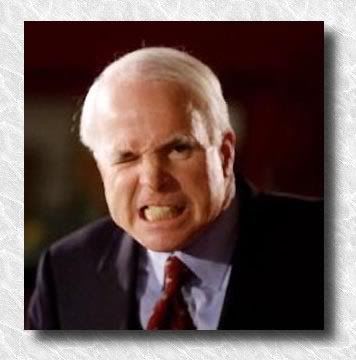 Outside the White House, McCain and Warner said they were confident the language agreed to by the president for the defense authorization bill is a done deal and that loose ends will be tied up in the next 24 hours.
"I'm absolutely confident, Senator, that this McCain legislation, which is landmark legislation very much needed for our nation, will become finalized by our president," Warner said.
The Senate included McCain's provisions in two defense bills, including a must-pass $453 billion spending bill that provides $50 billion for the Iraq war. But the House omitted them from their versions and the bills have stalled.
Still, the language proposed by McCain has received overwhelming support in Congress. Late Wednesday, the House voted 308-122 for a non-binding resolution in support of the Senate-passed ban.
For months the White House has stated concerns that the McCain language goes too far. Administration officials cited doomsday scenarios where a detainee may have information that is critical to the safety of the United States and interrogators may need greater latitude to get prisoners to speak.
~~~~~~~~~~
Links to this month's Daily Updates
W/E 11/27/05
W/E 12/04/05
W/E 12/11/05
~~~~~~~~~~
CLICK HERE FOR "TODAY'S AUXILIARY BLOG POST




TV Events of Note


A Charlie Brown Christmas
ABC: Friday, December 16 8:00 PM
Holiday-children special, Animated Christmas

Linus helps Charlie Brown with what Christmas is all about, then ``Charlie Brown Christmas Tales'' features a vignette of each ``Peanuts'' character.

Cast: Peter Robbins, Christopher Shea, Tracy Stratford, Chris Doran, Sally Dryer Director(s): Bill Melendez Producer(s): Bill Melendez Executive Producer(s): Lee Mendelson
===============
On the 2nd Day of Christmas (1997)
LIFE: Friday, December 16 9:00 PM
1997, NR, **, 01:36, Color, English, United States, Made for TV

A security guard's (Mark Ruffalo) life is transformed after nabbing a young woman (Mary Stuart Masterson) and her niece (Lauren Suzanne Pratt) for pickpocketing.

Cast: Mary Stuart Masterson, Mark Ruffalo, Lauren Suzanne Pratt, David Hewlett, James Purcell, Lawrence Dane, Howard Hesseman, John Boylan, Dom Fiore, Patrick Patterson, Victoria Snow, Alon Nashman, Lindsay Leese, Colm Magner, Sonya Cote, Nola Augustson, Bill Lake, Kim Roberts, Stephen Richard Director(s): James Frawley Producer(s): John Ryan Executive Producer(s): Jane Goldenring

~~~~~~~~~~
==================================
Daily Update: Day-Thursday Date-12/15/05
-The President's Speech 12/14/05
...Still pushing back at the loser defeatism crowd. Democrat summary included.
-How About the NY Times?
...that bogus story about the bogus ballots. Seriously, whose side are they on?
-Plus link to Iraqi election watch and...
...a pic of Cindy Sheehan at her most shameless. If that's even possible.



Today's Auxiliary Blog Post
...Because there's more to life than politics.


Auxiliary Blog Post
======================
Martha and The Donald's Apprentice series are both heading towards their finale.

In this TV post we make predictions and speculate on the failure of Martha's version of the series.
~~~~~~~~~~~~~~~~~~~~
A Guest Writer, Stephanie, checks in with this funny missive about PETA and their problem with the sport of fishing.
~~~~~~~~~~~~~~~~~~~~
Time for a Laugh with this Fishgiggles post.

Seems the lady donated to the church for the privelage of choosing the next hymn.

Except she gets a little confused.
~~~~~~~~~~~~~~~~~~~~
CLICK HERE FOR "TODAY'S AUXILIARY BLOG POST
~~~~~~~~~~
Day- Thursday Date- 12/15/05
President Bush's Speech 12/14/05
As we understand it, this is the last of a series of four speeches Bush had planned on the issue of Iraq. Speeches that would serve as an update to the American people as well as fight back against those critics who are evidently anti-American in this thing.
John Murtha, a wonderful man still out and about and saying nothing. We hear ole Murtha's up on charges much the same as Randy Cunningham in California. Seems that there's was a lot of graft going on during those Clinton years. Murtha's strategy to fight the potential charges was to make anti-administration remarks a la Joe Wilson. When whatever charges there may be finally come down, Murtha plans to claim he's an innocent victim of the "corrupt" administration. A la Joe Wilson.
The President's strategy is working. If nothing else, the base is happier that the President and administration are finally defending themselves. It's hard to sit and watch someone get beat up unmercifully and unfairly. Us idiots out here in la-la land knew that if Bush was waiting for the vicious Democrats to play fair that he'd be waiting for a long time.

From Whitehouse.gov:

President Discusses Iraqi Elections, Victory in the War on Terror
The Woodrow Wilson Center
Ronald Reagan Building and International Trade Center
Washington, D.C.

In Focus: National Security
In Focus: Renewal in Iraq

11:08 A.M. EST





One of the blessings of our free society is that we can debate these issues openly, even in a time of war. Most of the debate has been a credit to our democracy, but some have launched irresponsible charges. They say that we act because of oil, that we act in Iraq because of Israel, or because we misled the American people. Some of the most irresponsible comments about manipulating intelligence have come from politicians who saw the same intelligence we saw, and then voted to authorize the use of force against Saddam Hussein. These charges are pure politics. They hurt the morale of our troops. Whatever our differences in Washington, our men and women in uniform deserve to know that once our politicians vote to send them into harm's way, our support will be with them in good days and bad, and we will settle for nothing less than complete victory. (Applause.)
Below, Summary of the Democratic Rebuttal to the President's Speech
~~~~~~~~~~
Eeeny, Meeny, Minie Mo...The NY Times or Reuters?
Not that either one of them has much credibility.
This interesting story is still flying a bit under the radar although the Blogosphere's all over it.
For yesterday morning the NY Times blares that a tractor-trailer full of fake Iraqi ballots passed over the Iraq border. In addition, the Times continued, the driver of this truck reported that other tractor-trailers filled with fake ballots also got over the border.
Reuters comes out with a complete denial of the NY Times report.
Wow, they're getting desperate, aren't they?
"They" being the "enemy", whoever they are. Possibly including the NY Times.
Come on. The entire Iraq border has been shut down for the election. Are we to believe that not one, not two, but three or more, tractor-trailers full of fake ballots somehow made it across that closely guarded border? These are not a ragtag bunch of insurgents carrying backpacks full of corrupt ballots. These are big-ass TRUCKS, as alleged.
What a cheap way to win a war. I even admire the plan.
Figure...get a prominent newspaper on the take, which would be the NY Times. Feed them some false information a la CBS. That prominent newspaper reports the bogus information thereby casting aspersions on the Iraqi election tomorrow.
Boom. No casualties, no necessity of weapons, no need to lift a finger. Let the NY Times do the heavy lifting.
Somebody, somewhere, has the goods on how this propaganda war is being run. The NY Times story, sourced only as an "unidentified" source on condition of anonymity, was almost immediately deemed bogus.
So who tipped off the NY Times with such silly information? And why does the NY Times fall for it so quickly? Could it be a case of wishful thinking?
Another clank in the coffin of these anti-American media lying scumbags.
Look for this to start hitting the radar soon.

From the NY Times:

BAGHDAD, Iraq - Less than two days before nationwide elections, the Iraqi border police seized a tanker on Tuesday that had just crossed from Iran filled with thousands of forged ballots, an official at the Interior Ministry said. The tanker was seized in the evening by agents with the American-trained border protection force at the Iraqi town of Badra, after crossing at Munthirya on the Iraqi border...


From Reuters:

BAGHDAD - The head of Iraq's border guards denied police reports on Wednesday that a tanker truck stuffed with thousands of forged ballot papers had been seized crossing into Iraq from Iran before Thursday's elections. "This is all a lie," said Lieutenant General Ahmed al-Khafaji, the chief of the U.S.-trained force which has responsibility for all Iraq's borders. "I heard this yesterday and I checked all the border crossings right away. The borders are all closed anyway," he told Reuters.

~~~~~~~~~~
Eye on the Iraqi Election 12/15/05
A Blogging Iraqi will cover the election
live HERE.
~~~~~~~~~~
A New Low
Mama Moonbat reaches a new low. Here she poses for Vanity Fair on top of her son's grave.
Hey, the woman's got books to sell.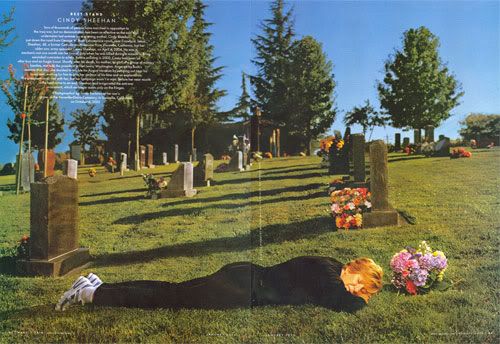 ~~~~~~~~~~
Links to this month's Daily Updates
W/E 11/27/05
W/E 12/04/05
W/E 12/11/05
~~~~~~~~~~
CLICK HERE FOR "TODAY'S AUXILIARY BLOG POST
~~~~~~~~~~
==================================
Daily Update: Day-Wednesday Date-12/14/05
-Tookie's dead
...now the lesson we must remember regarding the campaign to save him
-Rush Limbaugh's medical records private and personal
...the persecution of conservatives has GOT to stop
-Congress working on foreign crime investigation standards
...Aruba and cruise ships bring problem of protecting American tourists



Today's Auxiliary Blog Post
...Because there's more to life than politics.


Auxiliary Blog Post
======================
It's an Ad We'd Like to See.

For the Artic National Wildlife Refuge, unfettered by manmade oil derricks, is now open for tourism.
~~~~~~~~~~~~~~~~~~~~
In this Miscellany post we see that most insightful and moving prose/poem-"Desiderata". In BOTH words and pictures.

Also, tips for women to avoid abduction.
~~~~~~~~~~~~~~~~~~~~
As promised way back in January 2005, this Editorial post re-visits mine own fine predictions for the New Year.

The prognostication is not so good.

We'll do better for the 2006 predictions.
~~~~~~~~~~~~~~~~~~~~
CLICK HERE FOR "TODAY'S AUXILIARY BLOG POST
~~~~~~~~~~
Day-Wednesday Date- 12/14/05
Tookie Williams Almost Fooled Us
Stanley Tookie Williams was executed on December 13,2005 @12:36 am in this year of our Lord.
Within a week the world will have forgotten about Tookie. Before, let's take the time to document how he and a few Hollywood Moonbats almost got away with pulling the wool over our collective lying eyes out here in la-la land.
Tookie died exactly how he lived. He refused to the end to admit guilt, he had no remorse, he glared at his execution witnesses in defiance and he was annoyed at the time it took to find his vein. Had that public employee searching for that elusive vein been in a different place and a different time, he or she would likely have been shot soundly between the eyes as Tookie would laugh at the death gurgles of the object of his annoyance.
Tookie Williams was born a criminal and has nothing but disdain for laws. I feel certain even HE wouldn't deny this.
Somewhere along the line, the "co-author" of his children's books got a great idea and almost pulled it off.
The books were missives warning against the danger of involvement with street gangs. In total they didn't sell more than 300 books. I'VE sold more books than this! We'll go out on a limb here and suggest that Tookie had very little to do with the writing of the books. They were the work of his "co-author", one Barbara Becnel. Who was also the lady who shouted that the state of California has just executed an innocent man right after Tookie died, and who also gave a press conference after Tookie's death calling California Governor Arnold Schwarzenegger a murderer.
Rapper Snoop Dog and Jamie Foxx were two of the Hollywood celebrated that chose Tookie Williams as their standard to fight the death penalty.
Actor Mike Farrell, a has-been who needs a Moonbat cause to get any attention, also considered Tookie a cause worth redemption.
Rapper Snoop Dog and Jamie Foxx have an audience that would likely approve of their support of Tookie Williams. Mike Farrell supports anything wacky that would get him some of his old time glory.
Note that none of their motives, surmised by mine own wise self admittedly, is about redeeming a murderer or even the higher principle of the elimination of capital punishment.
For if these celebrities were sincere, what with their Hollywood PR machines and a keen knowledge of how to attract the public's attention, surely they would not have sprung knee-jerk to the supreme joke Tookie tried to pull over on them.
They gave it not one whit of serious thought, ladies and gems. If they had they surely could have found a far better death row candidate to make their case.
Tookie Williams and his "friend" Barbara Becnel knew just the thing that would cause the Liberal Moonbats to swoon with the beauty of the emotion. Just think, she probably told Tookie as they plotted and planned, children's books!
Let us learn the lesson of celebrities and their causes. It's never about you and me or ours. It's all about them and their carefully crafted sound and sight bytes designed to fool us.
The Tookie Williams who got strapped on that gurney was the Tookie who lived a life of crime and eschewed such as law and order. He didn't change. He never felt an ounce of remorse over his victims. They were the source of his homicidal derision and they meant nothing to him.
Yet Hollywood jumped at the chance for their own personal and thoughtless reasons.
They almost fooled us folks. Pay attention. Follow the money. And ask what's in it for them. Always assume the celebrity Moonbats are NOT thinking about you.
From CNN:

SAN QUENTIN, California (CNN) -- Convicted killer and Crips gang co-founder Stanley Tookie Williams was executed early Tuesday at the California state prison at San Quentin.

The execution went ahead as scheduled after the U.S. Supreme Court late Monday rejected a last-ditch appeal.

The high court's ruling followed California Gov. Arnold Schwarzenegger's decision to deny clemency for Williams, 51, who received a lethal injection at 12:01 a.m. Tuesday (3:01 a.m. ET).

~~~~~~~~~~
American Tourists, Crime, and Congress
It's unclear as of yet, but today, 12/13/05, there was a congressional conference of some sort about American tourists and cruise ships as I understand.
The scuttlebutt is that in the case of George Smith- an American tourist who is believed to have been murdered and thrown overboard during his honeymoon cruise in July of this year-there is evidence of an attempt to cover the crime by the cruise ship employees. Duh. They used bleach and scrubbed away the bloody mark of a human body on one of the ship's canopies. Fortunately the blood stain was captured by someone with a camera.
It would seem that the FBI is going to need a federal law to deal with this crime.
I covered this case
on this Blog
when it happened.
This is speculation only, but it would appear that two Russian ship employees were involved with Smith's murder. There is also another man involved but it's unknown to what extent.
The United States also needs to deal with that blatant attempt to cover up the crime by the cruise ship. These ships are often registered in weird places like Liberia. The international implications are fuzzy.
Add to this the case of Natalee Holloway and that Aruban fiasco and it certainly is time for the congress critters representing us to take a serious look at the issue.
A cruise or a happy trip to exotic island locales are something most Americans take at least once in their lifetimes. That's about 200 million people by my estimate, going on these sorts of jaunts that fall within this country's middle-class' financial range. I'll go out on a limb here and suggest that Americans probably spend freely and with abandon on such trips.
We have some power in our numbers in terms of people and dollars is what I'm saying here.
I don't think we should have to tolerate the shoddy investigation of other governments at the expense of justice for our decent citizens out for a good time. Okay, so maybe not all of the investigations are shoddy but forget about even bothering to rank. Pass a law requiring all criminal acts upon American citizens while out of the country are the total responsibility of American investigators.
Period.
Well I never said it was going to be easy. I fully understand that in the United States slimy Joran van der Sloot would have his smarmy butt STILL in a jail somewhere. I don't suppose it would politically popular for us to be punishing citizens of other countries.
Thus I'm supposing that this congressional investigation is the beginning of something that will deal with this.
We deserve it out here in la-la land and it's why we even elect congress critters.
~~~~~~~~~~
Congrats Rush
They build an entire clinic in her name when Betty Ford confessed her addiction to pain killers. It's a well-known Hollywood trick to use an addiction overcome as a chance to chat with Baba Wawa about it and garner sympathy and admiration.
When Rush Limbaugh, a man suffering from back pain and in the midst of losing his precious hearing, finds himself addicted, they want to plunder the man's medical records in search of a crime.
When is this persecution of prominent Conservatives going to stop? Has my country bottomed to the point that if we can't beat our opponents fairly we're going to put them in jail? Seems I heard China did this just last week.
Tom Delay's indictment is a joke. They went after Frist till it petered out. Don't even get me started on that Plame joke of a time and money waster. All to catch Libby and Rove in a lie that wasn't even what the investigation was about? Because Libby and Rove were trying to tell reporters the TRUTH to counter Joe Wilson's lies?
Alas Rush was not on air either yesterday or today. According to his web site, he's "under the weather". We certainly wish him well but are forced to speculate who might be the next Rush Limbaugh. The man's going to have to quit someday. He might even like to take it easy now and enjoy the fruits of his success.
I'll have to think about it.


MIAMI, Dec. 12 /PRNewswire/ -- Roy Black, Rush Limbaugh's attorney, issued
the following statement regarding Judge David F. Crow's decision today
prohibiting prosecutors from asking the talk show host's doctors about his
medical treatment and condition or information he shared with his doctors
during his care and treatment.

Judge Crow's ruling upholds our argument that the State cannot breach
doctor-patient confidentiality just because it has obtained some medical
records, and thus the state cannot ask the doctors its questions posed to
the court during the hearing.

Judge Crow's decision prohibits the State from questioning Mr. Limbaugh's
physicians about "the medical condition of the patient and any
information disclosed to the healthcare practitioner by the patient in
the course of the care and treatment of the patient."

~~~~~~~~~~
Links to this month's Daily Updates
W/E 11/27/05
W/E 12/04/05
W/E 12/11/05
~~~~~~~~~~
CLICK HERE FOR "TODAY'S AUXILIARY BLOG POST
~~~~~~~~~~
Daily Update: Day- Tuesday Date-12/13/05
-The President's Speech 12/12/05
...he said something I'd never heard him say before
...loser Murtha out and about and saying it can't be done
-Tookie won't be amongst the living by the time you read this
...now to see if the predicted riots take place
-How about that Wikipedia?
...a reference book written by the public. That's not going to work.



Today's Auxiliary Blog Post
...Because there's more to life than politics.


Auxiliary Blog Post
======================
Witnesses say he didn't mention a bomb as detailed in this True Crime post. Yet the sky marshalls shot him dead.

Also, Aruba update, Tookie's words, and an amazing cat that beat astonishing odds.
~~~~~~~~~~~~~~~~~~~~
Seems Kaitlyn's juice got wedged between her legs and her car seat as detailed in this Kaitlyn post.

So why did the baby not allow Grandmother to retrieve it for her?

A story of self-esteem and the glory of the human.
~~~~~~~~~~~~~~~~~~~~
In this week's Comments there's been a war between Liberals and Conservatives and the verbiage gets nasty.
CLICK HERE FOR "TODAY'S AUXILIARY BLOG POST
~~~~~~~~~~
Day- Tuesday Date-12/13/05
The President's Speech 12/12/05
In John Murtha's home state no less.

President Bush is using a visit to Philadelphia, Pennsylvania, birthplace of the U.S. Constitution, as a reminder before the Iraqi elections that the path to American democracy was not always easy either.

Pennsylvania also is the home state of a leading Iraq war critic, Democratic Rep. John Murtha, who planned to speak on Bush's heels and repeat his call to bring the troops home from a fight he says has become too violent and out of control.

Iraqis are preparing to vote under tight security to elect a 275-member parliament that will run the country for the next four years. The election will be the first under the new constitution ratified in an October 15 referendum and will complete the steps toward democratization following the ouster of Saddam Hussein's government.
=========
After the speech the President allowed a surprising question and answer period. Several things about this Q&A period are of note.
In response to the question of total casualties, the President said that the total Iraqi deaths is approximately 30,000. The President stated that the U.S. lost about 2,140 soldiers in the conflict.
The President also noted that out of 90 bases, 40 have been turned over to the Iraqis or have been closed. I didn't know this. The admin should be mentioning this factoid more in response to the Moonbat accusations about not having a plan.
The President also said something I found surprising. He said that even knowing what he knows now he still would have taken Saddam down.
That bit about the missing stockpiles of weapons of mass destruction has always been a straw man I know. The truth is that what with the danger we all realized after 911 we knew it was time to get this man, who financed Palestinian suicide bombers I must remind, out of business. We had already driven him out of Kuwait in 91 and after twelve years the man still was a danger and problem to the world.
The President's statement essentially dismisses the heated rhetoric about the weapons of mass destruction. Because if the President would still take out Saddam, "knowing what he knows now", then the whole invasion was not about the weapons.
Which it was not and the sane and sensible American public who voted Bush back in office in 2004 understood this. The Dem opponents were out and about and moaning about the missing weapons well before that election. Still the idiots in la-la land who carry this country on their backs voted Bush in for another term.
By the way, Bush's assertion that Saddam was just a danger to the entire planet was met with huge applause.
========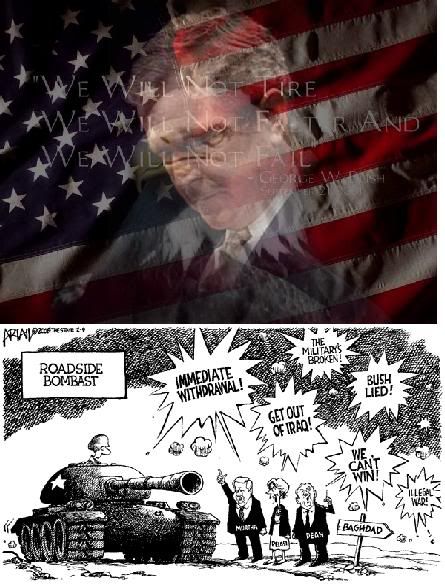 But of course Murtha, whose home state hosted the President's speech
had to make the same old defeatist rebuttal.
Folks, no one wants to be on the losing side. The Iraqi parliamentary elections are held this coming Thursday. There's been two successful elections before this. For this mantra about "losing" keeps up then someone, I assert, is peeing upon our feet and telling us it's raining.
No mind Murtha's alleged glorious combat record. He still insists we are losing. Marines do not run from the task and that's a fact.
| | |
| --- | --- |
| | President Bush is using rhetoric and falsely portraying Iraq as the center of terrorism, instead of offering a plan of substance, U.S. Rep. John Murtha said Monday. ''Iraq is not the center for terrorism. Iraq is the center for insurgency, and there is a big difference,'' said Murtha, D-Pa. [Snip] ''It's not going to get better with us over there,'' Murtha said Monday. |
~~~~~~~~~~
Wikipedia
The flap about Wikipedia has been rebounding about the Blogosphere and has now reached the vaunted pages of the NY Times.
Frankly I'm not familiar with that site except I do often see it quoted in various excerpts as a credible source.
To my surprise I discover that, before now, anybody could contribute information to Wikipedia.
On the surface it seemed like a good idea. The dry journals and references often do not include colorful and personal anecdotes that make the subject more human and personal.
And yet, heh, not that anyone ever thought of this, but folks could actually post outright fabrications as well as colorful anecdotes.
Which happened recently and the aggrieved party made a stink about it.
Might be time to re-think this concept.
~~~~~~~~~~
Tookie
As yon reader regards this verbiage, Stanley "Tookie" Williams will likely be dead. While such as holding death parties and holding joyous open forums on this event do not appeal to most, it is also not a moment of great sadness either.
Let us not forget Tookie's victims. One a former soldier shot in the back as he lay face down on the floor, father of two young children. Then he laughed about Albert Owens' dying sounds.
One more time, click the link to get a look at what this man, who died by a friendly, painless needle, did to his victims. No mind how many damn children's books he wrote.
Oh, and pay attention. There's been threats of rioting.
~~~~~~~~~~
~ IT IS DONE ~

Stanley Tookie Williams III (1953-2005)

In memory of his victims...
Albert Owens, Yen-I Yang, Tsai-Shai Chen Yang, and Yu-Chin Yang Lin
12:36am TOD
Click to view Tookie's victims.
~~~~~~~~~~
Links to this month's Daily Updates
W/E 11/27/05
W/E 12/04/05
W/E 12/11/05
~~~~~~~~~~
CLICK HERE FOR "TODAY'S AUXILIARY BLOG POST
==================================
Daily Update: Day-Monday Date-12/12/05
-Check out this new GOP Internet ad
...it's got the Democrats hopping mad
-Why did the plane slide off the runway this past Thursday?
...speculation is it was an engine problem
-Massive explosions in England
...small airplane alleged to be buzzing about before
-Click to email a soldier your Christmas wishes



Today's Auxiliary Blog Post
...Because there's more to life than politics.


Auxiliary Blog Post
======================

The 9-11 Omission-Commission handed out a "report card" in this Week Just Passed. Ten marines killed in Iraq, Democrats step in it what with Kerry accusing our soldiers of terrorism.

And Lieberman for Sec. Of Defense?

Plus the political cartoon of the week.
~~~~~~~~~~~~~~~~~~~~
It's all about enemies in this week's Quotable/Notables. We've also got Coulter and Howie Dean's lie about Iraqi women.

Oh...and more Wal-mart hatred.
~~~~~~~~~~~~~~~~~~~~
It's an addicting little game featured in this Web Site of the Week.

No sex, no violence. Just the ability to avoid colliding.
~~~~~~~~~~~~~~~~~~~~
CLICK HERE FOR "TODAY'S AUXILIARY BLOG POST
~~~~~~~~~~
Day-Monday Date-12/12/05
The GOP Strikes Back
Click on the link below to see the GOP ad that has the Democrats up in arms.
We see white flags crossing the screen and my oh my they are madder than wet hens. Yet they can continually call the President a liar who led us into war on a false premise and think this is okay?
SURRENDER, the motto of the Dem party.
~~~~~~~~~~
Six Year Old Killed
The Southwest Jet skidded off the runway directly into a nearby street by the Chicago Midway Airport. One car was pinned under the jet and a little boy was crushed.
Yesterday (12/11/05), CNN reported that a source told them the reverse thrusters might have malfunctioned. All three pilots on board applied manual brakes to try and stop the plane.

From Southwest:

Flight 1248 from Baltimore-Washington International to Chicago Midway skidded off the runway in heavy snow and fog. Flight 1248 was scheduled to continue to McCarren Airport in Las Vegas, NV.
==============
From the FAA:

"Due to ACFT ACCIDENT, the Chicago Midway Airport (MDW) was closed as of Dec 08 at 08:16 PM CST. The date/time when the airport is expected to reopen is not known." Airport officials hope to reopen in the morning.

The flight was supposed to land at 7:10PM CST. Ambulances were called and there were reports that the plane hit at least 2 cars when it slid through a sound barrier at the northwest corner of Midway Airport onto the intersection of S Central Ave and W 55th St. Flight 1248 was landing from the southeast with a crosswind from the east at 10-15 mph. Generally planes land with a headwind.





One car was pinned under a wing. Chicago Fire Commissioner Cortez Trotter says that at least nine people on the ground have been hurt, 5 in one car and 4 in another, and three on the plane. 5 serious injuries, 1 of these was critical. 4 other injuries were serious but stable and 3 minor injuries. The jaws of life were used on the scene. Fox News is reporting that nearby Holy Cross Hospital took in four patients into its emergency room. One fatality is being reported, a six year-old boy who was in one of the cars.

From CNN:
CNN reports that The Boeing 737 was carrying 98 people. It left Baltimore, MD about 5 p.m. ET and tried to land shortly after 8 p.m. ET. Passengers told WFLD television that the plane made a "hard landing."
~~~~~~~~~~
What Happened in London?
The smoke was horrific. The fire, as of this writing, was still raging. Many witnesses report a small plane was buzzing around before the explosion.
The exact number of casualties and damage will no doubt be more determinable today.

A series of massive explosions were reported north of London by witnesses ringing into British media early on Sunday.





One, identified only as Heather, said she heard a loud blast near the commuter town of Hemel Hempstead and could see sheets of flame soaring into the sky.

"There is a fuel depot nearby," she told BBC Television. "There are lots of houses damaged."

~~~~~~~~~~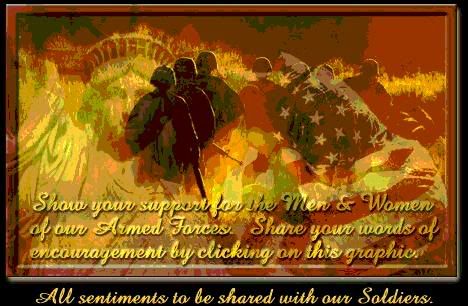 Links to this month's Daily Updates
W/E 11/27/05
W/E 12/04/05
W/E 12/11/05
~~~~~~~~~~
CLIC K HERE FOR "TODAY'S AUXILIARY BLOG POST
==================================