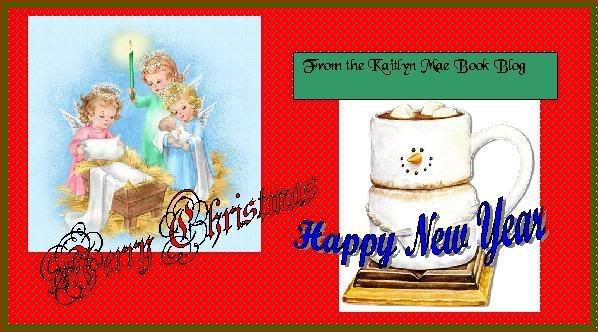 Those 12 Days of Christmas
A song I frankly find annoying.
Seems there IS meaning to the gifts as given in the song.
The partridge in the pear tree is a symbol for Jesus Christ.
Read on for the meaning of the strange gifts.

From 1558 until 1829, Roman Catholics in England were not permitted to practice their faith openly. Someone during that era wrote this carol as a catechism song for young Catholics.

It has two levels of meaning: The surface meaning plus a hidden meaning known only to members of their church.

Each element in the carol has a code word for religious reality which the children could remember.

The partridge in the pear tree was Jesus Christ.

Two turtle doves were the Old and the New testaments.

Three French hens stood for faith, hope and love.

The four calling birds were the four gospels of Matthew, Mark, Luke and John.

The five golden rings recalled the Torah or Law, the first five books of the Old Testament.

The six geese a-laying stood for the six days of creation.

Seven swans a-swimming represented the seven fold gifts of the Holy Spirit Prophesy, Serving, Teaching, Exhortation, Contribution, Leadership, and Mercy.

The eight maids a-milking were the eight beatitudes.

Nine ladies dancing were the nine fruits of the Holy Spirit: Love, Joy, Peace, Patience, Kindness, Goodness, Faithfulness, Gentleness, and Self Control.

The ten lords a-leaping were the ten commandments.

The eleven pipers piping stood for the eleven disciples.

The twelve drummers drumming symbolized the twelve points of belief in the Apostle's Creed.
~~~~~~~~~~
LAST MINUTE SHOPPING IDEA FOR CHRISTMAS GIFTS
Heh. Just when you think Christmas can get no stranger.
And made with thine own hands!


Here is a great idea for making gifts for everyone on your Christmas list.
How to make bedroom slippers out of maxi pads:
You need four Maxis to make a pair.
Two of them get laid out flat, for the foot part.
The other two wrap around the toe area to form the top.
Tape or glue each side of the top pieces to the bottom of the foot part.
Decorate the tops with whatever you desire, silk flowers, etc. These slippers are, soft and hygienic, non-slip grip strips on the soles, built in deodorant feature, keeps feet smelling fresh, no more bending over to mop up spills, disposable and biodegradable and environmentally safe.
Three convenient sizes: Regular, Light day, and Get out the Sand Bags.
See the slippers for yourself....













~~~~~~~~~~
Got a Complaint About Christmas?
Here's a link to a
handy form letter to let your annoyance be known.
~~~~~~~~~~
About the Names of Those Reindeers
Culled
here from the Internet:

The Story Of Donner and Blitzen ?

Two of Santa's reindeer were named 'Donner' and 'Blitzen.'are wrongly named!

If you can you recite the names of Santa's eight reindeer you probably do it by recalling the first few lines of the 1949 song "Rudolph the Red-Nosed Reindeer".

The Song lists the reindeer as follows"
You know Dasher and Dancer,
and Prancer and Vixen;
Comet and Cupid,
and Donner and Blitzen

Although most people don't realizes it, two of those names are wrong, at least when compared to the work that added eight individually named reindeer to the Santa Claus legend: "A Visit from Saint Nicholas," first published in 1823.

The most common version of this poem reads as follows:

And he whistled, and shouted, and called them by name.

"Now Dasher! now, Dancer! now, Prancer and Vixen! On, Comet! on, Cupid! on Donder and Blitzen! To the top of the porch! to the top of the wall! Now, dash away! dash away! dash away all!





Two of the reindeer's name are wrong even in The poem.

The Reindeer names were taken by Dutchman from a common Dutch exclamation of the time, "Dunder and Blixem!" (the Dutch words for "thunder" and "lightning,").

These are the names that appeared in the original 1823 publication of "A Visit from Saint Nicholas":
"Now! Dasher, now! Dancer, now!
Prancer, and Vixen,
On! Comet, on! Cupid, on!
Dunder and Blixem

In 1837, Charles Fenno Hoffman made several alterations to "A Visit from Saint Nicholas," including changing 'Blixem' to 'Blixen' (to make it rhyme with 'Vixen') and 'Dunder' to 'Donder' (for reasons unknown).

When Clement Clarke Moore prepared "A Visit from Saint Nicholas" for publication in his own 1844 book of verse, if he was not the true author these two names may have sounded odd to him (in part because he knew German but not Dutch). He therefore may have rechristened one of the reindeer 'Blitzen' (after the German word for 'lightning') and retained Hoffman's change of 'Dunder' to 'Donder.'

Moore's 1844 version of the poem is the one that became the standard and established 'Donder' and 'Blitzen' as the names of two of Santa' reindeer in the memories of generations of children!

~~~~~~~~~~
More Miscellany posts HERE
==================

Sweet Potatoes?
The picture in the catalogue showed a pretty vine tinkling merrily down the side of its container. I was smitten.
One was called a "sweet potato vine", the other was named a "blackie sweet potato vine". Goodness I didn't think they were REALLY sweet potato vines!
Indeed they did grow prettily in my whiskey barrel planters. They grew up and out and down the side of the barrels providing a handsome "collar" for the red sage, petunias and marigolds that shared the barrel. Indeed again, that plant called a "blackie" vine did grow, well not black but a very dark purple. I was intrigued.
Come the fall and time to clear out the whiskey barrel planters. I pulled out the vines and to my complete surprise…well below is my "harvest".
Heh. I have no idea what those things are below so I couldn't cook them. One, I must surmise, is some kind of sweet potato. The other thing might be a turnip. Whatever it is, it is the "fruit" of that blackie sweet potato vine."
Gardens are most fun when they yield such surprises.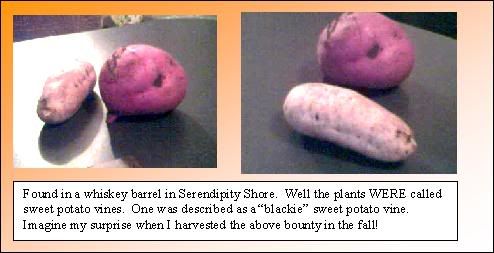 ~~~~~~~~~~
Bittersweet Visit to Former Gardens
For complicated reasons which we won't detail, I had to visit my old property. It was a sloped lot affair, on the Chesapeake Bay waterfront. Through 15 years of life at this lot I dubbed "Critter Cove" I'd fashioned, formed, tugged and created a bevy of gardens.
The actual house on Critter Cove was more of an Adams Family affair, large, unwieldy and in great need of repair. It was more than we could handle in our middle-aged years. The land was of great value due to its waterfront locale. While I adored the water birds that regularly visited Critter Cove, I had no great devotion to living on the waterfront. Then husband lost his job of thirty years and by golly it was time for us to move.

I did, as much as possible, transplant my many plantings from Critter Cove to my lot we dubbed Serendipity Shore.
I couldn't take them all.
So four years later I found myself standing in front of Critter Cove and amazed at the size and stature of those plantings I had to leave behind.
The people who bought Critter Cove planned on re-modeling the house, of course, and use it as a retirement home. Whatever their plans, after four years I was surprised that no one thing had been touched since the day I moved.
The Adams family house stood empty. The lawn was filled with neglected leaves. It was a bit sad looking but one could plainly see the potential. That lot sold fast for us and at a right nice price. Purchased by someone who saw what he saw and bought with no immediate plans for renovation.
Above I located some garden pics from Critter Cove, the few I had in digital form. My gardens were mature and the sweaty result of fifteen years of trial and error. Many of those plantings grow happily here with us in Serendipity Shore. Those I left behind gave me great smiles.
A rhododendron my husband gave me for one Mother's Day was HUGE! I remember the day I planted it out by the mailbox. It was about two feet tall and blooming bejesus in that manner of greenhouse plants. That day of my visit that rhododendron was at least eight feet tall! My visit was in late November so it wasn't in bloom. I dream of how pretty it must be in full spring bloom.
I couldn't go into the yard as, well, it wasn't my home anymore. Critter Cove's lawn was designed into "tiers" due to the extreme slope of the lot. The lawn tier closest to the house is barely visible from the front gate as it drops below the top lawn tier. I could, however, see many plants sticking up tall and proud. A viburnum I'd transplanted right before the move was now probably a good ten feet tall and filled with bright red berries. Since it was late fall, the tall limbs of the plants were dried and dead in anticipation of winter. I believe I could see dried achillea limbs.
I recall having created a huge garden out of half of that lower lawn tier as we'd just had a septic tank installed and thought the location directly in front of the house's front porch to be a fine place for a garden. I did dig out many of those plantings and re-planted here in Serendipity Shore. Evidently I left quite a few behind because from my perch at the front of the lot I could see lots of limbs of plants that had evidently grown and bloomed no mind four years of neglect.
The biggest surprise I could see quite plainly. It was almost ten years ago that I'd planted four little evergreen things that frankly I don't know what they were. They did grow nicely during the three or four years before we moved. I chose not to transplant these things to Serendipity Shore intentionally as I had no place for them. I gasped at what these once tiny evergreen things had become.
They rose, as a happy evergreen group, to over ten feet in height! They were positively majestic. In fact, they'd formed such a beautiful fence that lot privacy was afforded, my intent in planting them in the first place.
I guess they were little evergreen trees because they sure were too tall to be any kind of bush.
I left Critter Cove that day a happy guy. Even though there's no one administering the love and care that I lavished on those gardens, fooey on them all, my plantings grew and flourished and hey, my green fingerprints are on that lot forever.
~~~~~~~~~~
More Gardens and Bird posts HERE
=================

An email list to which I subscribe requested reader Christmas traditions. Around Serendipity Shore, we only have one tradition and it's a bit silly.
Every year I write a fantasy Christmas story involving our pets.
In our elder years with children grown with children of their own, we focus on our pets at this time of the year. Well they're the only ones around on Christmas morning so they serve as our quasi-children.
Below is this year's story.
Santa in Camouflage
"Darn it Mrs. Claus," Santa shouted to his wife. Santa referred to her as "Mrs. Claus" when he was especially angry. "I know American troops are in Iraq and they'd love a visit from Santa. But what the hell do you think with this bright red suit, my red sleigh, those reindeer with jingle bells…we'd be a prime target for terrorists flying around like that."
Santa sniffed and continued going through his mail. Mrs. Claus banged the teakettle in annoyance. She'd just read a letter from a little boy begging that Santa pay a visit to his father who is stationed in Iraq. Mrs. Claus rarely took the position that something couldn't be done if one had a mind to it.
"So when you fly over the dangerous areas you wear a camouflage suit. Just like the soldiers," Mrs. Claus told Santa as she set a hot cup of tea down on the table.
"And what about those reindeer, bright one?" Santa replied to his wife, still annoyed at her persistence that he visit the American soldiers in Iraq and frankly a bit annoyed at his own self that such a mission would be impossible. Santa would love to pay those brave troops a Christmas Eve visit.
"Cover them up with a camouflage blanket," Mrs. Claus said. "And we could get that spare sled out back and paint it with camouflage," Mrs. Claus continued, now more animated as the obstacles to a Santa visit to Iraq were, verbally at least, overcome.
Santa snorted and leafed through his letters again. "There has to be at least one lead reindeer, sweetheart. One of the animals has to see clearly to avoid airplanes and such. This is especially important in a military zone. I can help with guiding the animals with the reins but there has to be one lead animal with a clear view of all angles. If I had one reindeer that could see the sky clearly I could cover up the rest with a blanket. But you go out and find me a reindeer with camouflaged fur."
Santa snorted again and again got busy with his letters. Mrs. Claus began fingering the letters as well. She would have to scheme some more because she was determined that those American soldiers stationed in Iraq get a visit from Santa. Mrs. Claus desperately wanted to give that little boy who asked that Santa visit his father for Christmas his precious wish.
Santa and Mrs. Claus continued to open the letters piled on the table. It was only a week before Christmas and the letters were pouring in.
Suddenly, Mrs. Claus jumped from her chair in joy.
"Santa," she exclaimed, holding a picture in the air. "Look at this!"
Santa peered at the picture held by his wife and wondered why on earth she was so excited.
"So? It's a picture of a calico cat."
"Santa," Mrs. Claus said, still holding the picture and shaking it in her husband's face. "Look at the cat's color. She has camouflaged fur already!"
Santa peered closer at the picture. Indeed the calico cat in the picture did have the same coloring as desert camouflage, those beiges, browns and blacks all swirled and intermingled in that manner that would allow soldiers to blend into the colors of the dry desert. The calico cat in the picture even had a camouflaged face!
"Here's her letter," Mrs. Claus said and thrust a shredded paper into Santa's hands.

"Dear Santa,

I live with three other cats and two dogs and this is my first Christmas. My name is Lucy and I live in Delaware. One of my dog roommates wrote this letter to you for me. He's a little dachshund named Cleetus and he says if I sign the letter that you will grant my wish."

Santa sniffed. Through the years Santa had seen a lot of strange things but a dachshund writing a letter to Santa on behalf of a calico cat was a new one on him.

"Cleetus says that if I ask real nice that you would let me ride on your sleigh. Cleetus is a nice dog and he loves all of us animals in the household. The humans in our house say Cleetus is a nasty dog and loves to get the other animals in trouble. Maybe it's the Christmas spirit that has Cleetus wanting me to take a ride on your sled but I think it's a good idea. I'm very agile and can climb almost anything. For my Christmas wish can I please ride on your sled on Christmas eve?"

"Mrs. Claus," Santa said, putting the letter and picture of herself that Lucy included in the letter written by the dachshund on the table in front of him. "There is no way I can have a CAT lead my sleigh. Surely you understand this?"
Mrs. Claus sighed. As much as she loved her jolly husband, he did tend to give up too easily. "We'll have the elves make her a small camouflage helmet like the soldiers wear," Mrs. Claus began. "The reindeer will provide the propulsion for the sleigh from under their camouflage blanket. All Lucy has to do is guide the sleigh. She can sit on top of one of the reindeer! Santa, I really think you can do this."
Santa Claus leaned back and stroked his beard in thought. Suddenly he pulled the letter toward him and got the address of this Lucy the camouflage desert cat.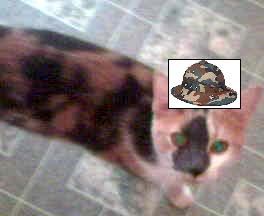 "You wouldn't be the dachshund who wrote me a letter for a cat named Lucy, would you?" Santa regularly talked with the many pets of the households he visited across the world. He was Santa Claus. He could do all sorts of magical things. Santa could also gain access to a house stealthily, even before Christmas, as he was doing now.
"Heh," the little dachshund snorted. "Yeah, I wrote it. Wrote it on the mistresses' computer but Lucy shredded it a bit. Why? You gonna take her up on her request to fly on your sled?"
Santa studied the dachshund and understood why the humans of the household considered the little dog a mischievous one. Santa could look in the dog's eyes and tell that this Cleetus was the sort of pet that gets all the other pets in trouble. Santa suspected the dachshund wanted the rambunctious Lucy to ride on his sled and not return. Santa had a hunch that this dog was not all that fond of cats.
Suddenly Lucy came bounding out from the other room. She was followed by three other curious cats and one big Belgian Shepherd.
"Santa, Santa Claus!" Lucy the desert camouflaged cat exclaimed in joy. "Oh Cleetus, you were right! Santa's going to take me on his sleigh. It'll be so much fun flying through the skies."
"Yeah, Lucy," Cleetus responded, a strange sort of smirk on his canine face.
"Do you guys have any problem with me borrowing Lucy for a bit to help me make a very important trip on Christmas eve?" Santa asked the other assembled animals of the household.
"Hey, wait a minute," Cleetus said. "You mean you ARE going to take Lucy on your sleigh?"
"Yes I am," Santa responded to the dachshund. "Lucy's going to help me deliver Christmas presents to the American soldiers in Iraq. She's just the right color to guide my sleigh."
"What do you mean she's just the right color?" the dachshund said a bit angrily. "She's not even any color. She's a dumb cat with all sorts of dumb colors. I wrote that letter thinking you'd never answer. But if you're looking for animals to guide your sleigh you might consider my own handsome self. Who is all one sane and ordinary color."
Santa regarded the dachshund and considered how to give this rather evil dog a bag of fine coal for Christmas.
"Sorry, Cleetus. You will simply not do. I need someone to lead my sleigh that is exactly the color of Lucy here."
"The soldiers were so happy," Lucy told the assemblage of cats and dogs the day after Christmas. "They petted me until I purred so loud I drowned out all the humans!"
Cleetus sulked over to the side and away from his pet house mates. The other animals were all oohing and aahing over Lucy's tales of adventure. They made Cleetus sick with their fawning.
"Goodness hon," Cleetus heard his beloved mistress say as the CNN newscaster broadcast the news. "Seems Santa Claus showed up in Iraq last night. With a calico cat leading the way! Can you imagine?"
"Amazing," the master said. "What do you think about that little man?" the master asked Cleetus while rubbing the dachshund's head in a friendly manner.
"Gosh," the mistress said. "Wouldn't it be nice if one of our cats had the chance to guide Santa's sled?"
Over in the corner the cats and Belgian shepherd all surrounded Lucy and listened to her story of adventure. The humans of the household were not privy to such pet conversations.
The mistress looked down at her dachshund who looked so sad and alone.
"Cleetus, I bet next year if you write Santa Claus a nice letter he might let YOU lead his sleigh," the mistress tried to comfort her dispirited dachshund.
Cleetus walked away from his mistress in disgust. If she only knew.
~~~~~~~~~~
More Smashing Fiction HERE
===========