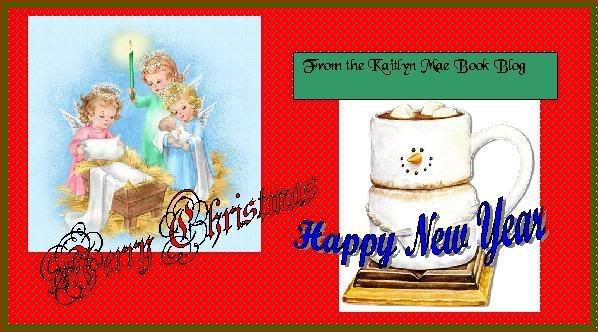 American Tourists, Crime, and Investigations
And so we hear about another
missing American Tourist,
this time from a cruise ship.
Let's see, there's Natalee Holloway, missing from Aruba, having disappeared the night before she was scheduled to fly home and after taking off with three boys from an Aruban nightclub.
I wrote about the case of
honeymooner George Smith IV
earlier this year. This fellow ended up missing but left behind a large bloody body print on a ship canopy. A bloody print later scrubbed clean by the cruise ship personnel.

By Alva James-Johnson
Sun-Sentinel
Posted December 12 2005

A 59-year-old Canadian woman traveling with her husband on a Royal Caribbean cruise ship was reported missing, heightening safety concerns in an industry already being scrutinized by U.S. legislators.

Jill Begora's husband reported her missing Saturday morning as the Royal Caribbean cruise line ship Jewel of the Seas pulled into Nassau, the Bahamas, according to Coast Guard spokesman Dana Warr. The ship's crew searched the vessel for Begora before filing a report with the Coast Guard on Saturday night.

"They did a full ship search, and there was no evidence that she had left the ship in Nassau," leading authorities to think she may have fallen overboard, Warr said.

Begora's disappearance occurred three days before the U.S. Congressional Subcommittee on National Security, Emerging Threats and International Relations and another subcommittee are scheduled to conduct hearings on cruise ship disappearances and crimes.

There have been about a dozen disappearances on cruise ships in recent years, according to The Associated Press.

Prior to Begora's disappearance, the most recent case involved George Allen Smith IV of Greenwich, Conn., who vanished July 5 while honeymooning on the Royal Caribbean ship Brilliance of the Seas in the Mediterranean Sea, between Greece and Turkey.

The FBI has been investigating the case, but no body has been recovered and no one has been charged. Smith's family was expected to attend the congressional hearings and has called for legislation to protect passengers and their families.
In the above case, who knows. Jill Begora's husband could have, boom, tossed her overboard his own self.
Which brings up the problem yet again of how to deal with crimes committed on, or by, American tourists while on cruise ships or in foreign countries.
Three sleazy Aruban boys were the last to see Natalee Holloway alive. Witnesses saw her take off in a car with them. Loud thumps and odd noises were heard from the cabin of George Smith IV and later three men were seen quickly running away from his cabin. Now we have an American lady, tada, just gone. Disappeared off of a cruise ship.
I've been minding these congressional hearings on the matter. Because if ever was a time for the congress critters to get involved in something more important than the use of steroids in baseball, it is the matter of investigating, and bringing criminals to justice for crimes against touring Americans on cruise ships or in foreign countries.
The answer is not an easy one. We must respect the laws of other countries and obey their methodology of achieving justice. But we must also face reality. George Smith IV disappeared on a cruise ship. The ship's employees very obviously cleaned up evidence and steamed off from the port of Turkey, which was only the port the ship happened to be in when Smith went missing. How on earth does this involve Turkish investigators?
In the case of Natalee Holloway, if those Arubans suspected of her disappearance aren't being protected by big money than I've got a bridge to sell, cheap. In the Begora case above, the lady's husband might have tossed her overboard yet how on earth can American investigators gain access to the ship to investigate?
It's simply not right for foreign citizens to murder our visiting citizens then go to great lengths to cover up or accept outright bribes to avoid justice. While the United States of America stands around with no jurisdiction at all, fingers up our collective butts. I'm betting American tourism is a big money maker for those fancy cruise ships and exotic islands.
The solution might require some sort of treaty with those countries where the cruise ships are registered. Like I've stated, it's not an easy thing to wrestle with but Americans have had quite enough.
It's why we even bother electing these congress critters and they should be dealing with it and there should be NO political posturing.
~~~~~~~~~~
Air Marshalls Likely Not To Be Charged in Shooting Passenger
Details of this story
on Blogcritics
. The dilemma of the tale is that the passenger said he had a bomb, would not turn over his backpack, then took off running. He was shot dead by air marshals in the plane's gate ramp. After the fact the man's wife revealed that he was a bipolar and did not have his medicine.
Well why not?
Clue: When flying on an airplane, take any needed medications along. Especially if you're liable to blurt out about a bomb and act nutty.
Some Moonbats, the same ones who defended Tookie Williams I suspect, came out to howl that the air marshals should be charged, for doing their job as I see it.

Lawyers Hired for Marshals Who Shot Plane Passenger
Julie Kay
Daily Business Review
12-15-2005

The U.S. Department of Justice has hired two Zuckerman Spaeder lawyers in Miami to represent the federal air marshals who last week shot and killed a mentally ill Orlando man who allegedly said he had a bomb aboard a plane at Miami International Airport.

But legal experts don't expect any criminal charges to be filed against the two air marshals.

"Law enforcement traditionally has been supported when they use deadly force based on their belief that someone has a weapon," said Brian L. Tannebaum, president of the South Florida chapter of the Florida Association of Criminal Defense Lawyers. "No charges will be filed -- you can put all your money on that."

Partner Michael Pasano and associate Paul Calli were hired to represent the marshals -- whose identities have not been publicly disclosed -- in the Miami-Dade police and Miami-Dade state attorney's office inquest. Pasano said they probably also would represent the marshals in any civil suit filed by the family of the dead man, which is considered likely.
~~~~~~~~~~
May They Have a Blast
By the time this is published Stanley Tookie Williams will likely already be buried. With a big hoopla of a farewell if one believes the
LA Times.
I too had an interesting tale about Tookie
on Blogcritics
that, if nothing else, drew a whole bunch of interesting comments. Including one from Tookie himself!
So Tookie gets a send-off equivalent to the memorials for Rosa Parks, famed civil rights leader and courageous lady.
Ah, let Barbara Becnel, Tookie's "co-author", have her fun. She should have no problem finding some Hollywood Moonbats to join the festivities.

The body of Stanley Tookie Williams will be cremated and his ashes spread in South Africa, following a large memorial service in Los Angeles, according to a close friend.

Williams was executed this morning despite international attention over a nationwide campaign to save his life. The reformed gang member was put to death for the murder of four people 25 years ago.

Barbara Becnel, Williams' close friend who led the campaign to save his life, said she was making the arrangements today.

She said she and others were planning a major, public funeral for an unspecified church in Los Angeles. Becnel said she anticipates the ceremony will be on the scale of the local memorials for Rosa Parks, the civil rights leader who died earlier this year.
~~~~~~~~~~
The Jeffrey MacDonald Conspiracy
Jeffrey MacDonald murdered his wife and two daughters long before I became a true crime scribe of sorts. I did, however, read much on the murder, including this post's feature book
Fatal Vision
, a book I highly recommend.
I was also a sweet young thing when this murder occurred, right around the time when Charles Manson and his crew of hippies did some murders of their own. The Manson murders were the major news story of the era and probably the source of MacDonald's own defense that a band of hippies murdered his family.
Since MacDonald finally got sent to jail, after a botched army investigation, there's lots of conspiracists who maintain the man is innocent.
Now we have a new and interesting angle on this story.


RICHMOND, Va. - Lawyers for a former Green Beret convicted in the 1970 slayings of his wife and daughters, a crime dramatized in the best seller and miniseries "Fatal Vision," say a new witness has come forward and the court should throw out his murder convictions.

A former deputy U.S. marshal now says he heard a defense witness tell a prosecutor she was inside Jeffrey MacDonald's home the night of the killings, according to a motion filed with the 4th U.S. Circuit Court of Appeals.

Jimmy B. Britt, who was part of the security detail for MacDonald's 1979 trial, says he heard prosecutor James Blackburn tell the witness he would indict her for murder if she told the same story in court.

The witness, Helena Stoeckley, later testified she couldn't remember where she was the night of the slayings. She had been an early suspect because she fit MacDonald's description of one of the intruders he says attacked his family.

Britt, now 67, said in an affidavit that he kept quiet for more than 25 years out of a sense of duty to people he worked with, but the secret eventually became too much to bear.

Blackburn denies the allegation.

"She never told us she was there," Blackburn told The Associated Press in a telephone interview. "I never threatened her with murder prosecution. She testified at the trial that she was not there. I don't know why this man is coming forward 25 years later. I don't know what his motivation is, but he's simply mistaken."
====
I don't believe a word of it. Evidently this Jimmy Britt character was some sort of guard during the MacDonald trial. Now he's out and about and accusing the prosecutor of threatening Helena Stoeckley with a murder charge if she were to testify she was in MacDonald's house the night of the murders.
James Blackburn denies that Stoeckley ever admitted to being in the MacDonald house. Which is probably true because Stoeckly, while fitting the profile of Jeffrey MacDonald's description of a hippie woman with a floppy hat who he claims was in his house the night of the murders, was a serious fruitcake.
Stoeckley's dead now but her life was a case study in drugs and craziness. At some point in her life she probably donned a floppy hat, perhaps a psychedelic flower or two, and walked the streets of MacDonald's army base. She did not, even with a gang of co-hippies, murder Jeffrey MacDonald's family.
Come on. A whole gang of hippies was traipsing all over ole Jeffie's house, tracking through blood and moving bodies hither and yon, to hear Jeffrey tell it. And they left not one fingerprint, not one strand of hair, not one iota of proof that anyone else was in that house besides Jeffrey MacDonald and his family. Who were all alive until Jeffrey got home and discovered his daughter had wet his side of the bed.
Then all hell broke loose.
~~~~~~~~~~
More True Crime Updates HERE
================
More on the Prisoners Caught in Katrina
Kaitlyn,
I've been covering the story of a prisoner via his emails to his parents. One of these entries
here.
A reader sent me another update. Seems Jimbo isn't the only one who basically lost his/her guaranteed constitutional freedoms by having the bad luck to have been arrested right before Katrina hit.


arrestees languish in New Orleans' beleaguered court system

06:18 AM CST on Wednesday, December 7, 2005
Doug Simpson / Associated Press

BATON ROUGE -- Some were arrested for public drunkenness. Others were caught with drug paraphernalia or small quantities of pot. They all had the same bad luck: being arrested in New Orleans just before Hurricane Katrina.

Hundreds of people arrested for minor crimes before Katrina washed away New Orleans' court system remain behind bars -- more than three months after Katrina and long after they should have been released. A team of volunteer defense lawyers has filed motions to have them set free, but 121 of them have never had a court appearance or been assigned a lawyer, said Rachel Jones, one of the volunteering …
~~~~~~~~~~
The Katrina Konspiracy Kooks
In every disaster event such as Hurricane Katrina, Kaitlyn Mae, there will always be Moonbats who find a conspiracy behind every corner.
Let it be documented that the Moonbats got to actually testify before a congressional commission. Some of the more colorful quotes below.
Heh. Seems being a congress critters isn't all roses sometimes.
From The American Thinker:

The chief architect behind Tuesday's study in illiteracy, paranoia and race-baiting was Georgia congresswoman Cynthia McKinney (D.) whose penchant for ridiculous anti-Semitic, anti-Bush, and anti-American statements knows no boundaries.
"Racism is something we don't like to talk about, but we have to acknowledge it,"
she blurted in a moment of profound insight.

The New Orleans Katrina so-called victims selected to testify came with wild-eyed stories of government neglect and depravity:

o On allegations that the levee was blown up: "I was on my front porch. I have witnesses that they bombed the walls of the levee, boom, boom [sic]!" Mama D said, holding her head. "Mister, I'll never forget it."

o On comparing Katrina victims' alleged neglect to the Holocaust: "Certainly appears to me to be an act of genocide and of ethnic cleansing," Leah Hodges, another New Orleans citizen, told the committee. When these spokespersons likened their plight to victims of genocide and the Holocaust, a few congressmen objected. "Not a single person was marched into a gas chamber and killed," Rep. Jeff Miller, R-Fla., told witnesses. "They died from abject neglect," retorted community activist Leah Hodges. "We left body bags behind. … I'm going to call it what it is …That is the only thing I could compare what we went through to [sic]. "

o On literacy and educational attainment on parade: "If it was not poor African-Americans who would be most affected by this [sic], there would have been a plan in place," said New Orleans resident Doreen Keeler. "No one is going to tell me it wasn't a race issue," complained New Orleans evacuee Patricia Thompson. "Yes, it was an issue of race. Because of one thing: when the city had pretty much been evacuated, the people that were left there mostly was black [sic]." And not to be outdone was "Mama D" who warned that racism would lead to planned "mercy killings" of the poor or what she called "euphamasia".

o On horrific conditions and the nefarious armed white soldiers: One "Nawr Orleans" witness stated she was "one sunrise from being consumed by maggots and flies." Another female witness claimed "military troops focused machine gun laser targets on her granddaughter's forehead." And of course, there were claims that police used racial epithets.

o On finding fault: "No branch of government was prepared for this disaster. They started with complete confusion and migrated to finger-pointing," said Doreen Keeler, one of the few that did not blame just the Bush Administration.

~~~~~~~~~~
Hurricane Spin Lesson
A flurry of emails has been released from Louisiana, Kaitlyn Mae, that is very revealing. At least in terms of priorities of the Louisiana folks.
Priorities that include the footwear of the Governor, how to blame the feds for everything that happened, how to outshine the presidential visit.
Such as the abandoned in the Superdome and on roof tops would seem to have been the last thing on their spin-doctoring minds.
Below, some examples of those wacky emails.
Right from the servers, so to speak. Do NOT allow your publicly educated teachers tell you any different Kaitlyn.
This mess in Louisiana is what happens when Democrats govern a state entirely too long.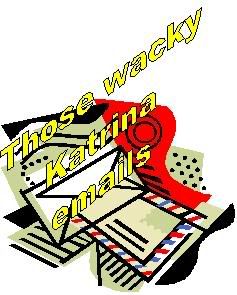 From NOLA.com:

"We need to keep working to get our national surrogates to explain the facts -- that the federal response was anemic and had been shortchanged by budget cuts and avoiding responsibilities like protecting Louisiana levees and wetlands," Chief of Staff Andy Kopplin wrote to senior staff on the morning of Sept. 4, six days after Katrina made landfall.

"Why are we leaving . . . when he's here?" Denise Bottcher, Blanco's press secretary, wrote Mann and Kopplin at 12:49 a.m. on Sept. 5. "Reinforces the notion that she's not in charge and LA needs to be federalized. She's got to be in New Orleans tomorrow morning -- meet with Nagin before he meets with President."

Minutes later, Mann wrote back. "Denise is right. White House will be thrilled that she left the state. They will eat us for lunch." Instead of going to Houston, Blanco's schedule was juggled so she could meet Bush at the airport that morning.

From WAFB.com:

The governor's memorable phrases were born in Bob Mann's notebook. Written in it was the phrase: "Troops coming in are 'locked and loaded' and know how to 'shoot to kill.' " The contemplated words "use deadly force" were scratched out.

"Tell communications to shove positive stories," was written in one of Mann's notebooks as the media pool grew in Baton Rouge.

As the public begins questioning why some of the e-mails speak of what kind of shoes the governor should wear to photo-ops, or how she should be seen hugging people at shelters, the governor's staff says they are not eager to see her personally speak in Baton Rouge to answer those questions before she goes to Washington.
~~~~~~~~~~
Marching on Washington
In fact, Kaitlyn, the march on Washington D.C. as planned
below,
DID happen.
Media coverage was underwhelming.
Mary Landrieu is the Democratic Senator from Louisiana. She springs from a long line of Louisiana politicians, most of them corrupt at worst, inbred at best.
The Louisiana politicos are demanding BILLIONS, Kaitlyn, off of the taxpayers dime.

NEW ORLEANS (AP) - U.S. Senator Mary Landrieu is supporting two mothers who are trying to organize a march on Washington to call attention to the plight of Hurricane Katrina evacuees.

The senator's staff Tuesday said that the rally is tentatively scheduled for December 14th, but organizers have not yet received a permit from the National Park Service to hold the demonstration.

Landrieu's deputy communications director, Sally Richardson, says U.S. Representative William Jefferson is also supporting the rally. She says the proposed rally is a good way of reminding people in Washington about those who remain displaced after Katrina and can't go home.

The protest is being organized by two women who have been living in Pittsburgh because New Orleans schools are still closed.
~~~~~~~~~~
Katrina Political Cartoon
Heh. A slam on the list of demands presented by Louisiana politicians to rebuild New Orleans. Which included, Kaitlyn Mae and I'm not making this up, money to fund an aquarium.
They have no shame, Kaitlyn, no sense of modesty or humility. They've alienated most of the country with their silliness.
Now if only their former constituents can see through them.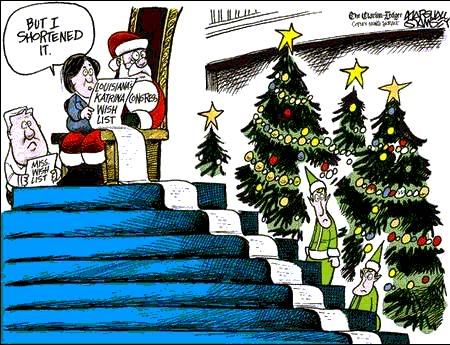 First Katrina/Kaitlyn post-the Beginning-9/6/05
9/7/05-H urricane Folklore/Wisdom and Nastiness
9/12/05-Hillary's "Katrina Kommission" and the Debacle of the Debit cards
9/14/05-FEMA Email; Dumb, blond Louisiana Senators
9/15/05-Ophelia and Grandmother
9/16/05-Katrina and the Helpless Pets
Stop Blaming FEMA-a pictorial explanation
What Will Become of New Orleans?
Katrina Gossip
Katrina Folklore
Nagin,the refinery bill,Character
Cops and Cadillacs
Those NO Prisoners
Documenting the Thieves
Blanco and the Dead
Samaritan Helps Evacuees-Murdered!

On Notable/Quotables
Regarding this Post.

I absolutely love the lack of context you provide. What was going on around August when Dean made those statements? Do you know? Obviously, it doesn't support your claims or you would have provided it. And did he not say that it could change?

You watched a program months after his statement in which he accounted for the fact that progress could be made, so how was his statement wrong? Maybe if you watched a program of Iraqi women that same day or week, your claims would reasonable, but once again you show a complete lack of reading comprehension and critical thinking skills.

Why should anyone ever believe a word you write? You damage this site's credibilty.
=============
I did provide a quote about the provisions of the new constitution in Iraq.

Go with me a minute. The new constitution does provide, specifically:
==========
Iraq's new constitution mandates that women hold one-quarter of the seats in Iraq's parliament and protects them against gender discrimination,
==========
Go with me again because I must defend against your silly accusation that I somehow damage this site's credibility. I do understand. Trying to defend Howard Dean is a difficult task.

But at the time Howie made that statement that provision between the railroad tracks above WAS in place. The program I refer to was PROOF that it was working.

If you can honestly say, without wrecking this site's credibility, that the new Iraqi constitution's provision that allowed for 1/4 of the seats and prevented gender discrimination, which Howard knew about when he made the statement, is WORSE than what Saddam had, well you'll have to explain to me how.

And yet, amazingly, Howard said what was quoted. I provided proof that AT THAT TIME, it was not true. Saddam did not have any such provisions anywhere much less in a constitution.

My documentation of the program I submit is proof that the words are not just idle with no meaning.

It's okay. It ain't easy defending Howie. Hardly anybody even tries.

~~~~~~~~~~~~~~~~~~~~~~~~~~~
On Tookie
Regarding this post
Tookie Almost Fooled Us.

My take, after reading what I could find, is that Tookie was a ruthless manipulator and killer, but most importantly, an accomplished conman. I don't see much to doubt in his conviction, most of the claims of his supporters are rebutted, and I think his 'redemption' is fake, a story created entirely by Williams and successfully employed to manipulate gullible people on The Outside.

Aside from that, I think his books are a joke. They were ghost written and are impractical. Also, very expensive: $84 for a 24 page book is a lot of money for precious little. The books seem to consist of nothing but exhortations against gangs and a glossary of gang terms. The glossary is of no use to anyone except police. Oh, and potential gang members! They say that Williams would be effective as a speaker against gangs, but I think exactly the opposite. And clemency at this time would have offered an escape to gang members. And would have demonstrated the efficacy of jailhouse lawyering and conning.

Remember, Williams had 26 years to fulltime develop his cons and excuses. The poor people who he manipulated were simply under-equipped to deal with such an onslaught of alibiing.

As for being an 'expert', I don't think so. Did Williams immerse himself in Psychology and Anthropology books and studies while in jail to find the roots of gangs? No. He spent his time rationalizing his own behaviour and manipulating others. Williams knew nothing about gangs except how to climb to the top and how to sieze power.
================
"...have tried to, at least the very least, make a difference/change. I believe Tookie did."

I don't think so. Look at what little he did: a 24 page book (ghost written) in 26 years! Never cracked a book on anything pertinent, like psychology, anthropology, penology, etc. And his comments are drivel.

No, he was just a conman. And not a very good one at that.
============
Scratching the phony tinsel to get to the real tinsel underneath, you can surely bet, too, that none of these celebrities could name even one of Tookie' murder victims. But no matter--it's showtime, folks!!:

Too-too-tookie don't cry,
Too-too-tookie just die...
===============
a great deal has been written about about tookies nobel prize

a lot has been said about tookies tookies nobel prize nomination
i pulled up the nobel nomination
process on the web.anyone
can be nominated!Some of the
literati nominate one another
because it looks good on a
resume!the nomination is
easy. pulling in the cash
is the hard part
===================
about the Nobel prize: it's ridicuously easy, and there doesn't seem to be any kind of screening process for the nomination--even Hitler, Stalin, and Mussolini were nominated for a Nobel Peace Prize. And--I'm just speculating here--but I'm thinkin' that none of them even wrote any childrens books.
===========
that's where you're wrong, GoHah - Hitler did write "Mein Kampf fur Kinder!"
=============
Perhaps Tookie did deserve to be executed. But I never once heard the "Moonbats", suggest that he get out of prison.

~~~~~~~~~~~~~~~~~~~~~~~~~~~