He stabbed his neighbor to death for allegedly molesting his two-year-old. But was it all a mistake?
Pic of the Day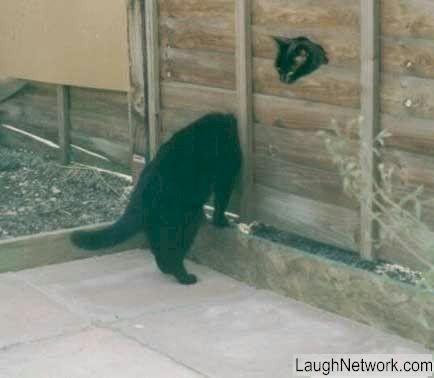 ---
Quote of the Day


"Tell me and I forget. Teach me and I remember. Involve me and I learn."
-Benjamin Franklin
Web Site Worth the Visit
Get Rid of all That Computer Crap

Sick of programs hijacking your computing and installing software you don't use? Below a list of links to help you get rid of the crap you don't want. Look for Part 2 of this helpful list soon.


How to Remove SurferBar
http://www.pchell.com/support/surferbar.shtml

Bargain Buddy Removal Instructions and Help
http://www.pchell.com/support/bargainbuddy.shtml

Bonzi Buddy Removal
http://www.pchell.com/support/bonzibuddy.shtml

Click2FindNow and I-Lookup Removal
http://www.pchell.com/support/click2findnow.shtml

Comet Cursor Removal
http://www.pchell.com/support/cometcursor.shtml

Date Manager Removal
http://www.pchell.com/support/datemanager.shtml

About:Blank Homepage Hijacker Removal Instructions and Help
http://www.pchell.com/support/aboutblank.shtml

Kazaa Removal Instructions and Help
http://www.pchell.com/support/kazaa.shtml

Res://random.dll Homepage Hijacker Removal Instructions and Help
http://www.pchell.com/support/onlythebest.shtml

IBIS Web Search (websearch.Com) Removal Instructions and Help
http://www.pchell.com/support/ibiswebsearch.shtml

UPDMGR.EXE Removal Instructions and Help

http://www.pchell.com/support/updmgr.shtml
Dubolom.Com Homepage Hijacker Removal Instructions and Help

http://www.pchell.com/support/dubolom.shtml
DSO Exploit Removal Instructions and Help

http://www.pchell.com/support/dsoexploit.shtml
FastSearch.cc Homepage Hijacker Removal Instructions and Help

http://www.pchell.com/support/fastsearch.shtml
My Web Search Removal Instructions and Help

http://www.pchell.com/support/mywebsearch.shtml
Cursor Mania Removal Instructions and Help

http://www.pchell.com/support/cursormania.shtml
Fun Buddy Icons Removal Instructions and Help

http://www.pchell.com/support/funbuddyicons.shtml
Smiley Central Removal Instructions and Help

http://www.pchell.com/support/smileycentral.shtml
My Mail Stamps Removal Instructions and Help

http://www.pchell.com/support/mymailstamp.shtml
My Mail Stationery Removal Instructions and Help

http://www.pchell.com/support/mymailstationery.shtml
My Mail Signatures Removal Instructions and Help

http://www.pchell.com/support/mymailsignature.shtml
Fun Web Products Popular Screensavers Removal Instructions and Help

http://www.pchell.com/support/popularscreensavers.shtml
Gator Software Removal

http://www.pchell.com/support/gator.shtml
Hugesearch.net Homepage Hijacker Removal Instructions and Help

http://www.pchell.com/support/hugesearch.shtml
Search-Space.Com and Start-Space.Com Homepage Hijacker Removal Instructions and Help

http://www.pchell.com/support/searchspace.shtml
How to Remove Global-Finder.Com Homepage Hijacker

http://www.pchell.com/support/globalfinder.shtml
Globaltoolbar Removal

http://www.pchell.com/support/globaltoolbar.shtml
GoHip Software Removal

http://www.pchell.com/support/gohip.shtml
HotBar Toolbar Removal

http://www.pchell.com/support/hotbar.shtml
Huntbar and Search Toolbar Info and Removal

http://www.pchell.com/support/huntbar.shtml
Look2Me Removal Instructions and Help

http://www.pchell.com/support/look2me.shtml

Lookfor.cc (res://mshp.dll/index.HTML) Homepage Hijacker Removal Instructions and Help

http://www.pchell.com/support/lookfor.shtml
MaximumSearch.net Homepage Hijacker Removal Instructions and Help

http://www.pchell.com/support/maximumsearch.shtml
Ncase Removal Instructions and Help


TIDBITS

Solve the Crime
Question 1 :

A man was found murdered on Sunday morning. His wife immediately called the police. The police questioned the wife and staff and got these alibis: The wife said she was sleeping. The cook was cooking breakfast. The gardener was picking vegetables. The maid was getting the mail. The butler was cleaning the closet.

The police instantly arrested the murderer. Who did it and how did they know?
**************************
Question 2 :

A man walks into a his bathroom and shoots himself right between the eyes using a real gun with real bullets. He walks out alive, with no blood anywhere. And no, he didn't miss and he wasn't Superman or any other caped crusader. How did he do this?
**************************
Question 3 :

Old Mr. Tidy was found dead in his study by Mr. Fiend. Mr. Fiend recounted his dismal discovery to the police. "I was walking by Mr. Tidy`s house when I thought I would just pop in for a visit. I noticed his study light was on and I decided to peek in from the outside to see if he was in there. There was frost on the window, so I had to wipe it away to see inside. That is when I saw his body. So I kicked in the front door to confirm my suspicions of foul play. I called the police immediately afterward." The officer immediately arrested Mr. Fiend for the murder of Mr. Tidy. How did he know Mr. Fiend was lying?
************************
Question 4 :

If you touch me, you will die, but you can only live without me. I am a big part of your life, and will eventually be the only thing left. You will learn to embrace me finally and rest. What am I?
***********************
Try to figure these questions before looking at the answers below.
ANSWERS:
1. It was the maid. She said she was getting the mail. There is no mail on Sunday!

2. He shot his reflection in the bathroom mirror.

3. Frost forms on the inside of the window, not the outside. So Mr. Fiend could not have wiped it off to discover Mr. Tidy`s body.

4. Death.

Man Kills Neighbor for Allegedly Molesting His Two Year Old
Here's a True Crime that happened recently and so far the entire matter is shrouded in mystery and unanswered questions.
The quick and dirty story so far is that Jonathon Edington, 29, a patent attorney, was informed by his wife that his neighbor, 59 year old Barry James, molested his two year old daughter. In an apparently savage, emotional reaction, Edington climbed into the window of James and stabbed the man to death.
Other details are murkier. Edington's wife was out of town at the time she informed her husband that their neighbor had molested their daughter. It's also not clear just how the two year old managed to tell her mother about the molestation as two year olds are still learning speech, tenses and the nuances of the language. Yet another murky fact is just how the neighbor managed to molest the two year old as this James' character already was an antagonist of Edington.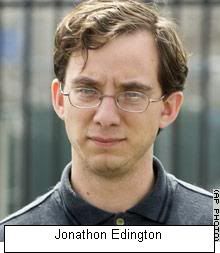 Reports are that Edington had notified the police on at least one occasion that his neighbor James was standing by his window unclothed and exposing himself. This happened BEFORE the stabbing and the Edingtons did notify police.
As these sorts of things tend to go, neighbors of James all have different stories about the 59-year-old recluse. Some say he was just a fine man while others tell tales about his unusual behavior. Edington's neighbors recount what a fine man he was and how devoted he was to his toddler daughter.
The story continues to unfold and now there's assertions that James did NOT molest Edington's two year old and the whole tragic incident is a big mistake.
Soon enough Edington will lawyer up and soon after, the defense attorney will grace our televisions with spin defense of his client. I do note in my readings that Edington has the services of Mickey Sherman, a blow-dried lawyer that is often a consultant on the TV crime reporting shows. I'm not sure yet if this is true.
From Fairfield News:
The Police Department is investigating a child molestation claim as the reason for the fatal stabbing of 59-year-old Barry James.

On Monday afternoon, police responded to two separate 9-1-1 calls stating that an altercation had occurred between two individuals at James' 101 Colony St. home and that one individual had been stabbed. Upon arrival, officers found James on the floor of his home bleeding from multiple stab wounds. James was transported to Bridgeport Hospital by AMR and was pronounced dead at 5:42 p.m.

First, why was his wife "out of town" when she phoned her husband and told him about the molestation? Odd. Although it's possible and there's a plausible scenario where this might have happened.
Second, how on earth did a two year old convey that alleged molestation incident? Now I have a two-year-old granddaughter and I can imagine how this could happen. But it would be a stretch and I'd have to be sure what the child was saying. Supposing I am changing Kaitlyn's diaper and she casually mentions that "Mr. Doe" also changed her diaper? This statement would cause me curiosity and I'd certainly question her further. Ah, there's the rub. While I consider Kaitlyn very intelligent and quite verbal for her age, I'm not at all sure that she could effectively convey an act of molestation so young. In fact, I consider that Kaitlyn would respond in a manner that she would think I'd WANT her to respond, thereby fogging up the truth of the matter. Then again, based on such an innocent statement by a toddler perhaps the mother had the child checked out by a doctor. Perhaps the doctor verified some sort of genital trauma that likely came from molestation. Perhaps the child's mother immediately phoned her husband upon hearing the news.
Finally, the Edingtons apparently had issues with this James' fellow before and no matter how many neighbors attest he was a really, really nice guy, a few assert that the man was a weirdo and involved in some questionable activities of late. Way I figure, when someone first dies the human inclination is to speak only well of the dead. A few snippets of discord and issues with neighbor James have come to the surface already. My sense is that this guy really was a creep.
Another question I have: how could this James fellow have gotten close enough to the toddler to actually molest her? Already Edington is reported to have reported James to the police for indecent exposure. Wouldn't he have done everything to keep the child away from that man? Or could the alleged molestation be yet another occasion that James exposed himself to the child? I imagine that living near a creep who insisted on constantly exposing himself to my child could get old real quick. Could it cause enough anger for one to stab the man? Assuming that the toddler's claim of molestation was more a narrative of a time when the fellow exposed himself that the parents did not know about?
From NJ.com:
FAIRFIELD, Conn. -- After charging a lawyer with murder and burglary, town police are now shifting some of their focus on determining whether his 2-year-old daughter was molested by the victim.

The attorney, Jonathon Edington, is accused of stabbing neighbor Barry James, 58, to death on Monday after a family member told him that James had inappropriate contact with the child.
Now questions arise as to whether this James fellow really did molest Edington's daughter. I can't help but think that something nefarious did happen as Jonathon Edington is, by all accounts, a rather geeky patent lawyer with no criminal past. He's not the sort of guy to go around stabbing people is what I'm saying here.
This could end up being a very interesting case. For there's not one parent in these United States who will sympathize with a child pervert who molested a two year old, dear Lord. On the other hand, if James is just an innocent neighbor stabbed by a paranoid neighbor who has a grudge against him, well, will Edington go to jail for the murder?
Keeping an eye out on this one ladies and gems.
Boulder Cops Speak Out on Ramsey Case
It's got to be tough to be a Boulder cop. If anyone has gotten a bad rap over the Jonbenet Ramsey case it is this police force but let us never forget, they did bungle their investigation to some extent.
I'm a little forgiving of the wrong actions taken by the Boulder police on the day Patsy Ramsey called them to report her daughter, Jonbenet, had been kidnapped. Detective Arndt of the Boulder police was the first investigator on the scene and she did some serious things that many consider, in hindsight mind you, very, very wrong. I try to remember that for many hours that morning the Boulder cops were of a mind that Jonbenet had been kidnapped. All they had to go by after all was that tome of a ransom note that Patsy wrote.
I am also unsure just what the protocol is as regards investigating kidnappings. Arndt was the detective that instructed John Ramsey and his friend to search the house for any other details that might have been overlooked. The consensus is that Arndt wanted to give the many people in the Ramsey house that day something to do as all that was currently being done was for folks to be sitting around and fretting with worry. Still, the child was kidnapped from her own home, or at least that was the thought at the time. Which means that someone had to come INTO the home and go with me here, it would have seemed prudent to clear out the place, to have forensics come in with fingerprint and DNA kits, that sort of thing. As it was the Ramseys had all manner of friends over and all this while the Boulder cops were there. Those cops should have cleared out the joint and began looking for clues.
After this initial screw-up, everything I've read about how the Boulder cops performed the investigation into Jonbenet's murder appears to have been done professionally and in accordance with proper investigative procedures.
Problem is, the Boulder cops were stopped at every turn in that investigation by Boulder D.A. Alex Hunter, a prosecutor known far and wide for letting criminals off easy. It was the Boulder D.A.'s office that screwed up the investigation into Jonbenet's murder and don't tell me not. Dear Lord, those prosecutors gave the Ramseys their questions in advance before interviewing them! Is this heard of anywhere across this great nation?
As further proof of the Boulder D.A.'s incredible stupidity, this recent Karr mess is a pristine example of how dumb that group is. Come on. What right did D.A. Lacy have importing this child molester BACK into the United States from Thailand, only to be released and prey on other innocent American children? Yeah, he's facing child porn charges in California but it is only a misdemeanor and you don't get much jail time for a misdemeanor. Karr will be walking soon enough and now he's got a whole country of American children to prey upon and we can thank this stupid Boulder D.A. for this turn of events.
Now the Boulder police are speaking out and I can't blame them.
From Boulder.co:
We assisted the Boulder Police Department in their investigation of the murder of JonBenet Ramsey. Throughout our involvement and to this day, we have never spoken to the media about this case because we feel that comments by anyone involved in the investigation could only compromise the ability to prosecute the perpetrator or perpetrators of this horrible crime. However, we are compelled to respond to the irresponsible statements of one of the deputy district attorneys who worked on the case, Trip DeMuth. Some ten years after the fact, DeMuth claims that he was somehow prevented by the Boulder Police Department from pursuing leads in the investigation. Based upon our knowledge of this matter, DeMuth's claim is ridiculous. Mr. DeMuth's assertion that the Boulder Police Department refused to pursue a variety of theories is also ludicrous. In our opinion, the Boulder Police Department, as well as Michael Kane, an experienced prosecutor, conducted an exhaustive and wide-ranging investigation of this matter. If Mr. DeMuth truly cares about seeing justice done, he should act responsibly and refrain from making inaccurate statements that could further jeopardize this investigation.
On interesting thing about this Jonbenet case is that every group involved with that case hired an outside group of consultants. This includes Alex Hunter and his D.A. office from la-la land, as well as the Boulder police. The consultants the Boulder police hired are now speaking out to defend their clients.
For the Ramseys, heh, accused the Boulder police of looking only to them as possible perps in their daughter's murder. I know for a fact that this is not true and it enrages me that do-do Boulder prosecutor Lacy actually cited John Ramsey and his complaints as the reason she used taxpayer dollars to import a child molester back into this country. Well of course the Ramseys are going to complain about a police department that constantly looks to them as being the perps. A) The Ramseys WERE the perps and yon reader can believe this or not. Never ask me to go with an intruder as I tend to be ruled more by common sense than Ramsey spin. The Boulder police, silly them, concentrated on the possible perps that all evidence pointed to and police departments across the country do this every day. And B)The Boulder police DID check every lead that came across their path and there's plenty of documentation to prove this.
Of course the Boulder police never actually arrested any of these leads as, go with me here, THE RAMSEYS KILLED JONBENET! I suppose the wonderful Boulder prosecutor's office think they are somehow more noble than the Boulder police as hey, they arrested John Karr didn't they? Sure they had to let him off as the guy was innocent but hey, cheers and hooplas, the D.A.'s office at least actually arrested someone didn't they?
Why am I totally unimpressed?
Just Another Day in the Urban Jungle
They tried to help a woman being attacked and were shot in cold blood for their efforts. The source indicates that this was just one of six shootings in the Philadelphia area that night. Such is life in the city of brotherly love.
From CNN.com:

Good Samaritans slain while interrupting attack, police say
PHILADELPHIA, Pennsylvania (AP) -- A couple found a man raping a young woman in their driveway and tried to flee with her but were shot to death by the attacker, police said.

The teenager was also shot and was expected to recover, police said. A suspect was arrested.

The couple came upon the attack when returning to their home in the Fern Rock neighborhood from a night out late Wednesday, police said.

The 18-year-old woman broke free and began screaming about the assault, and she and the couple then fled while the attacker fired at them with a semiautomatic handgun, according to police.

The three tried to hide nearby, but the assailant found them and fired more shots as they lay on the ground, Chief Inspector Joseph Fox said.
The Mad Afghan
On August 29, 2006, Omeed Aziz Popal, 29, went on a rampage with his SUV. Early in the day in Fremont, Popal hit and killed one pedestrian. Later he took his same SUV and went on a deadly rampage using his vehicle as a weapon. According to reports Popal went up and over sidewalks, across median strips, and over lawns, aiming his vehicle directly at pedestrians. 13 were injured in total, one killed and one seriously injured.
This fellow, heh, was a Muslim from Afghanistan and now speculation is that the man was frustrated at having to leave his new wife behind while she waited for her Visa. Popal had never met his wife before his wedding and his marriage was arranged.
That's how these people live their lives and I know, to each his own. Except Popal's new wife will soon have to wear a burqa at all times and who knows, receive nightly beatings that the burqa conveniently covers.
Yes I'm being facetious. But we keep hearing about these nuts and every time an Islamofacist gets it into his head to use an SUV to plow into and murder people, or break into a Jewish center and shoot people, we never hear about just who they are and other damning details that point to another nut job from the "religion of peace".
Below, the "Sweetness and Light" web site gets into a little more investigative reporting because goodness we would not expect Lamestream journalists to do their job or anything. This Popal is involved in terrorism and fundraising for terrorists big time.
From Sweetness and Light.com:

Relatives of a Fremont man connected to Tuesday's deadly driving rampage said he may have been distraught after returning recently from Afghanistan without his newlywed wife who is waiting for a visa.

Omeed Aziz Popal, 29, who sources said was being held by the San Francisco police, was normally a kind and gentle person, said Hamid Nekrawesh, 43, a first cousin in Fremont.
Justice Evolves to Deal With Terrorists
Seems two Islamofacists got involved with raising money for the terrorist group, Hamas. It's against the law to raise money for terrorist organizations here in America in case yon reader doesn't know.
These same two terrorists were caught red-handed in Israel distributing cold cash to Hamas. Now they are on trial in the U.S. and I find this intriguing situation, possibly first in the annals of the American justice system. For the Israeli agents who captured these fine fellows will be allowed to testify in disguise.
Is this unconstitutional? I don't know. My knee-jerk response is such a thing should not be allowed but we are fighting a strange disease across this planet, the disease of terrorism.
I am sure these Islamofacists will appeal this case. The result when all is said and done will be interesting.
From crisscross.com:
CHICAGO - Two Israeli security agents expected to testify at the trial of two men accused of fundraising for the Palestinian militant group Hamas may wear disguises and use aliases on the witness stand, a judge ruled Tuesday.

The courtroom will be cleared of everyone but the jury, attorneys, the defendants and their families while the Israeli agents testify, U.S. District Judge Amy St. Eve ruled.
Update on Duke Prosecution
Actually the only update here is that the NY Times, the "newspaper of record", continues to defend and prop up that flimsy case of the Duke Lacrosse rape.
With the passage of time it becomes increasingly evident that this was a trumped up case, my goodness the "victim" was allowed to choose her perps from ONLY photos of the Duke Lacrosse players.
Now I don't want to defend rapists of any sort but on the other hand, using my marvelous common sense that most the rest of us too possess, I do hate to see crimes totally invented as these types of heinous crimes really do occur. More on this later.
If we allow prosecutors to use their authority to manipulate elections and persecute the innocent than this country and all that it stands for ceases to be. Add to the problem, these prosecutors who get out of control have no media adversarial relationship. A journalist who really cared and wanted to do a noble deed as defined by the profession would be beating the drums on a daily basis about this case. A good journalist would be calling that Duke prosecutor every damn day for updates and a good journalist would be reporting what is going on with the case dutifully.
Instead the mighty NY Times chooses to close its eyes and follow whatever liberal agenda the Times deems it wants to pursue and the truth be damned.
From Slate.com:
Imagine you are the world's most powerful newspaper and you have invested your credibility in yet another story line that is falling apart, crumbling as inexorably as Jayson Blair's fabrications and the flawed reporting on Saddam Hussein's supposed WMD. What to do?

If you're the New York Times and the story is the alleged gang rape of a black woman by three white Duke lacrosse players-a claim shown by mounting evidence to be almost certainly fraudulent-you tone down your rhetoric while doing your utmost to prop up a case that's been almost wholly driven by prosecutorial and police misconduct.
Because There Are REAL Heinous Crimes Out There
In Milwaukee we discover an 11-year-old assaulted by 20 boys and a 40 year old man. 11 years old, folks. Please recall there is also being investigated yet another sexual assault on an 11-year-old in Fresno,
Blog post here.
We are harmed when a prosecutor uses his or her position for political gain or hey, some of them are serious idiots. Once upon a time we could count on the journalists to get at the truth. No more. Humble bloggers read by two or three people a day like me must do the deed.
From MYWAY.com:
MILWAUKEE (AP) - An 11-year-old girl was sexually assaulted by as many as 20 boys as a 16-year-old girl watched and told her what sex acts to perform, authorities say in the latest mob attack to rock Milwaukee and set off another round of civic soul-searching.

"It almost leaves me speechless. It is just senseless acts of violence. It is inhumane. It is embarrassing to the city of Milwaukee and its people. ... There should be outrage," Barbara Nuell-Moore, director of the neighborhood-improvement group Project Respect.

The 16-year-old girl and a 15-year-old boy have been charged in juvenile court in the attack, which took place on Monday in a house on the city's north side. A 40-year-old man who also had sex with the child may also be charged, authorities said.
Funny DUI Stop
Turn on your sound and click below for a DUI stop that amuses.
Ralph "Bucky" Phillips-Caught
Bucky Phillips, if I may be so crude, must be hung like a racehorse. For why on earth would a slew of his ex-girlfriends be helping him elude authorities and knowing, unless they are hermits, that the fellow shot THREE cops during his jail-free escapade? There is absolutely nothing in such daring-do in terms of romance and such and yet reports are that ex-girlfriends have been helping him hide. I can only assume that Bucky has assets the ladies find, er, charming.
44-year-old Phillips escaped from jail using, of all things, a can opener, this past April. Since his escape he is suspected in the non-fatal shooting of another cop and has been involved in all manner of mayhem, including auto theft and burglary to elude authorities.
From MSNBC.com:
Troopers held a candlelight vigil Sunday for Longobardo, 32, and Donald Baker Jr., 38, who was also shot in the woods of Chautauqua County. Baker, who was shot in the back, remained in critical condition in a medically induced coma, police said.

"We are not going to put up with it," police spokeswoman Rebecca Gibbons said after the vigil. "He's angered a family, and we're going to be out here until he is in custody."
But ole Bucky got caught and reports are that he surrendered with his hands in the air. Heh.
From CNN.com:
CARROLL, New York (CNN) -- Authorities took Ralph "Buck" Phillips, one of the FBI's Ten Most Wanted Fugitives, into custody Friday evening, a law enforcement source said. He has been on the lam since April.

Phillips is accused of shooting a New York state trooper in Chemung County on June 10 and two more troopers in Chautauqua County on August 31. One of the troopers shot in August died.
Suing for OJ Simpson's Notoriety
If OJ Simpson, a simpering nothing who is supposed to be out looking for Nicole's killer but he's busy making x-rated movies, sliced my daughter's throat in the prime of her life I'd be out banging the drums just like Fred Goldman.
That being said, I first heard of this lawsuit initiated by Goldman that would have the courts reward him with the likeness and publicity rights of Simpson on the Nancy Grace show on 9/5/06. Because Simpson, even though indebted to the Goldman family for an excess of nineteen million, has managed to find a loophole around that tiny detail. OJ sells his autographs and engages in all manner of activity that gives the man funds. Recall please that the civil court which found Simpson guilty for the murders of his wife Nicole and Ron Goldman did allow the man to keep his football pension without attachment from the suit. A handsome football pension I might add.
I'm not at all sure the courts can award another person someone else's very persona but there sure is an egregiousness here with OJ's blatant side business and I don't blame the Goldmans a whit for giving that murdering SOB a hard time. Even if the Goldmans don't win, and popular legal sentiment is that they don't have a chance although one legal analyst on the Nancy Grace show did mention that famed boxer Mohammed Ali sold his likeness for immediate funds, they can at least make lovely OJ's life miserable. Heh.
Whatever the case, if I were Fred Goldman I'd hound that jerk OJ for the rest of his living days. Ron Goldman has no more living days.
From Foxnews:
LOS ANGELES - The father of murder victim Ron Goldman asked a court Tuesday to give him the publicity rights to the name, image and likeness of O.J. Simpson, who has failed to pay a $33.5 million judgment in a 1997 wrongful death lawsuit.
More True Crime Updates HERE
================