Delaware Races; Beau and Ferris; Contact with Biden and Carper; Why Won't Carper Say How He Feels About That Kerry Statement? A DIFFERENT Choice-Christine O'Donnell
Pic of the Day
---
Quote of the Day


ON DRINKING.....

"Work is the curse of the drinking classes."
-- Oscar Wilde.

"A woman is an occasional pleasure, but a cigar is always a smoke."
-- Groucho Marx.

"Smoking kills. If you're killed, you've lost a very important part of your life."
-- Brooke Shields (during an interview to become spokesperson for a federal anti-smoking campaign).



Web Site Worth the Visit
For Davy Crockett Fans

All you ever remember.

Fess Parker.com


TIDBITS
Senior" personal ads

Some "Senior" personal ads seen in Florida newspapers:
(Who says seniors don't have a sense of humor?)

===============
FOXY LADY:
Sexy, fashion-conscious blue-haired beauty, 80's, slim, 5'4" (used to be 5'6"), searching for sharp-looking, sharp-dressing companion. Matching white shoes and belt a plus.
=======================

LONG-TERM COMMITMENT:
Recent widow who has just buried fourth husband, and am looking for someone to round out a six-unit plot. Dizziness, fainting, shortness of breath not a problem.
=========================

SERENITY NOW:
I am into solitude, long walks, sunrises, the ocean, yoga and meditation. If you are the silent type, let's get together, take our hearing aids out and enjoy quiet times.
====================

WINNING SMILE:
Active grandmother with original teeth seeking a dedicated flosser to share rare steaks, corn on the cob and caramel candy.
==========================

BEATLES OR STONES?
I still like to rock, still like to cruise in my Camaro on Saturday nights and still like to play the guitar.
If you were a groovy chick, or are now a groovy hen, let's get together and listen to my eight-track tapes.
=======================

MEMORIES:
I can usually remember Monday through Thursday. If you can remember Friday, Saturday and Sunday, let's put our two heads together.
=============================

MINT CONDITION:
Male, 1932, high mileage, good condition, some hair, many new parts including hip, knee, cornea, valves. Isn't in running condition, but walks well.


Kerry's Impact on the Delaware Races
In case you've been living in a cave, John F. Kerry, former Democratic nominee for President, reached out and smacked every Middle Class citizen in this country in the face.
And he did it in a most haughty manner to remind us that blue-blooded guys like himself deserve a higher station in life.
While at a fundraising event, the would-be JFK tried to tell a joke. Or so he says. His statement, now being quoted across the fruited plains, referred to our troops in Iraq as losers and failures at education.
"You know, education -- if you make the most of it, you study hard and you do your homework and you make an effort to be smart, you can do well. If you don't, you get stuck in Iraq."
So I called the DC offices of mine own Delaware Senators-that would be Joe Biden and Tom Carper. Senator Carper is running for re-election this year.
The first day I contacted both of the Senators' offices the staff was very polite and I ranted for over six minutes.
My second contact was a bit more serious. It was yesterday at the time of this writing, 11/1/06. This time I only called Carper's office as he is the Delaware Senator currently up for re-election. Again the Carper staffer was kind and patient but stated that it is very early on after Kerry's comment. I explained that I understand this but that the election is less than a week away and surely Senator Carper understands that the Delaware voters would like to know how he feels about Kerry's remarks before they cast their votes.
The Carper staffer assured me that he was not issuing a "no comment" on the matter and informed me that Senator Carper was himself a veteran. More the reason for Senator Carper to come out and take a stand as I see it.
So that's where it stands with candidate Carper. A veteran who currently chooses not to condemn John F. Kerry's remarks, at least for now. Might I point out that John Kerry was Carper's party's nominee for President of the U.S. and I consider it very relevant if Delaware's Senator agreed with his party's nominee?
Vote accordingly.
================
Beau Biden, Son of Joe
interesting comment on Beau Biden, son of Joe
More on Beau HERE
Interestingly, one of the more closely-watched races this election cycle is the run between Beau Biden, son of Delaware's Senator Joe Biden, and Ferris Wharton, famed prosecutor of Thomas Capano, Delaware's infamous murderer of Ann Marie Fahey for her audacity in breaking up with him.
State right now that I'd rather hang by my tongue than see Beau, son of Joe, win this thing. He's simply too young for the position of Delaware's Attorney General. Having said that, he's also, eh, the son of Joe. If Beau Biden gets a foothold in this state we will have nothing but Bidens for the rest of our miserable lives.
I received the following in an email re the Delaware Attorney General Race.
Beau Biden Bungled one of his only 3 Trials

Judge ruled against Biden. Negligence causes habitual criminal to receive lighter sentence and to be back on the street sooner

For months Beau Biden has received criticism for his minimal experience. After taking a closer look at the little prosecutorial experience Biden does have, it reveals not only was his record is without distinction, but of the few cases he actually tried, he bungled one allowing a criminal to receive six years less than the proper sentence.

Two-time drug dealer and felon John Galiczynski faced a mandatory minimum of 20-years in prison for his second offense. He possessed methamphetamine with the intent to distribute. Due to Beau Biden's failure to follow a simple rule of notifying the defense of the penalty sought, the judge rejected Biden's request for the proper sentence and removed nearly 6 years from the final sentence.

"The bottom line is Beau Biden's sloppy prosecuting directly affected the safety of citizens and will put a twice-convicted drug-dealer back on the street nearly 6 years sooner than he should have been," said David Crossan, Executive Director of the Delaware Republican Party. "This case demonstrates the Biden is not ready to be Attorney General."

As a federal prosecutor, Beau Biden handled a very small number of cases, only three of which went to trial .

"If Beau Biden can't get the job done when prosecuting drug dealers," continued Crossan. "How can we trust him to get the job done when he's responsible for murderers and child predators? These are the kind of careless mistakes we don't need in the Department of Justice."

"Biden likes to tout the fact that he was a federal prosecutor, but his record as a federal prosecutor was nothing to brag about. In one of his 3 trials, the judge ruled against Biden for failing to follow a simple rule, a repeat felony drug offender got a big break . The most attention his work as a prosecutor received was having an article written about his sloppiness and having 'faxed up' a case."

Biden's ambition is no substitute for his lack of experience. Currently, Deputies at the Attorney General's office handle up to 150-200 active cases at a time. While working in the U.S. Attorney's Office, Biden handled less than 50 cases in his entire career .

"Delaware deserves an Attorney General who can lead this office by example, not a politician like Beau Biden whose own actions and mistakes caused a criminal to receive a reduced sentence," said Crossan.

Beau Biden called the error "harmless," but the district court judge disagreed. And Biden's "harmless" mistake will mean that parents will have to worry about one more drug dealer on the streets 6 years sooner than they would have.

"If Beau can't follow simple rules such as this, voters need to ask if they trust him supervising those who handle larger, more complex cases as the Attorney General of the State of Delaware," said Crossan.
============
Ferris Wharton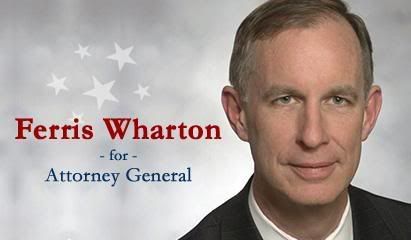 An interesting tactic between Wharton and Biden is each candidate's competition to set up new task forces, "plans", or just plain stupid bureaucracies to deal with specific Delaware criminal issues.
Delaware loves to set up special studies and groups to "study" problems. They never do anything with the results and frankly I could create an accurate synopsis for way less money than the political friends of Delaware politicos chosen to head these committees. I am reminded of the infamous study on the problems of Delaware prisons. That vaunted task force concluded that Delaware needed to hire more prison guards. Duh.
Below are two quotes from the Ferris Wharton campaign regarding two new special forces HE plans to create. The one below is definitely in response to Beau's proposal to create a separate police unit to investigate child abuse.
Folks, child abuse is always a popular campaign platform in that, go with me here, NO ONE advocates child abuse. Biden not only dreamt up some nifty new police bureaucracy to deal with child abuse, he managed to get "America's Most Wanted" host, John Walsh, to make a widely televised commercial for Beau that we should elect Boy Genius, Beau, son of Joe.
Ferris Wharton unveiled his new Protecting Delaware's Children plan. The plan lays out Wharton's vision on how to fight child predators on three fronts; education, quick response, and stronger prosecutions.

"Everyday sexual advances are made toward Delaware children on the Internet," said Wharton. "Under my plan we will educate children and parents, create a new reporting website, and prosecute every predator to the fullest extent of the law."

The Protecting Delaware's Children plan will begin an aggressive educational program targeting parents and children. Following the model used to teach children and parents how to avoid predators on the playground, Wharton's plan will begin when children are young in order to reinforce the way parents and children can protect themselves from predators on the Internet and playground.

"The growing threat of Internet sexual predators is preventable," said Wharton. "The first way to combat Internet predators is by educating parents and children on what to look out for, and how to defend their homes from these virtual invasions."

The second part of the plans lays out a new, tech- savvy website that will allow for easier reporting of sexual solicitation and a new child predators 'virtual' identity list so parents can cross reference the list with their child's 'buddy' list.

The third part of the Protecting Delaware's Children plan will strengthen Delaware law in order to hold repeat offenders accountable. Currently, Delaware law prevents the prosecution from laying out any prior convictions, including sexual offenses. Wharton's plan will create an exemption since sexual predators are more likely to repeat their horrendous crime.

"Delaware's children deserve an Attorney General who has a record on prosecuting these predators," continued Wharton. "Child predators beware, as Attorney General, my office will find you, we will reveal you, and we will prosecute you."

Ferris Wharton is recognized as one of Delaware's most distinguished and experienced crime-fighters. As a member of the Delaware bar for over 27 years, Ferris Wharton has served as a federal prosecutor and as a Deputy Attorney General, rising to Chief Deputy of Delaware's Department of Attorney General. Wharton has successfully convicted hundreds of murderers, rapists, and criminals like Tom Capano. As Attorney General, Wharton will put his experience to work and put Delaware first.
Evidently Wharton felt the heat of Beau, son of Joe's, plan to fight child predation and abuse and above is his campaign's creation. I note that Wharton does not advocate putting a new name plate on an existing police door calling it "Delaware's Child Sexual Predator Unit" or some such, as Beau, son of Joe, proposed. I also note that Wharton's "plan" as outlined above is relatively innocuous. Wharton would train parents to be aware of Internet predators, a web site to report such predators, and introduction of stronger laws to put the creeps away. Since the Attorney General isn't part of the Delaware legislature I'm not at all sure how this would be accomplished.
But we're not done yet!
Of course Wharton not only had to come out with his own plan to protect Delaware's children from sexual predators and abusers, he unveils a new plan to protect abuse by spouses. This gives Wharton one up on Beau, son of Joe, or at least as I surmise Wharton's campaign people figure.
Ferris Wharton unveiled his plan to fight domestic violence in front of Christiana Care's Wilmington Hospital. The plan will strengthen the laws on books while also extending the rights for those at risk.

"As a prosecutor in the Attorney Generals Office, I saw first hand the tragedy of domestic violence," said Wharton. "As Attorney General I will fight to toughen the laws on the books, I will push to have a Domestic Violence Statute that deals solely with prosecuting those who commit domestic violence."

"The current system has no teeth," continued Wharton. "I will make sure that those who violate the law are held accountable, and that their serious crime results with serious consequences."

In the current system, those who have a PFA (Protection From Abuse) ordered against them face little repercussion when violating the order. Furthermore, an abuser faces only 15 days in jail if they cause physical injury, threaten their victim with a weapon, or are convicted of violating their PFA a third time .

Under Ferris Wharton's Domestic Violence Statute, the laws will be stiffened so that the very first time a PFA is violated, the abuser will face a Class A misdemeanor with a mandatory minimum sentence of 15 days in jail and a maximum of 1 year. If the abuser causes physical harm, threatens a victim with a weapon or been previously convicted of violating the PFA, the abuser will face a Class G Felony charge with a mandatory minimum of 3 months to 2 years in prison.
-------
Wharton scored a home run with the following endorsement. It's from none other than the sister of Ann-Marie Fahey, victim of Thomas Capano and Wharton's claim to fame as prosecutor of that trial.
"My names Kathleen Fahey-Hosey.

The first time I Ferris was following the death of my sister, Ann-Marie Fahey. She was thrown over the side of a boat with an anchor wrapped around her.

Our entire family was in a conference room in the Attorney General's office. And Ferris walked in, very confident, very calm, very reassuring, looked each one of in the eye - shook our hands and said he's sorry we were going through this.

I believe it was the efforts of Ferris Wharton, the way he was able to get this conviction, and the way everyday that he would just come into the courtroom and shake our hand, and than calmly turn around and sit down at the prosecutors table and get to work.

I have been a registered Democrat all my life.

I am supporting Ferris Wharton, not only because of what he did, but also I believe at this point, it's, it's about the person, it's not about the party and Ferris Wharton who knows the law, who has prosecuted these cases is the only person that should be the next Attorney General for the State of Delaware.

His experience is extremely important."

Anne Marie Fahey was murdered in 1996 by wealthy and well connected attorney, Tom Capano. Wharton, along with federal prosecutor Colm Connolly, secured a guilty verdict against Capano despite not having a body, weapon, or witness. Capano, who hired former Attorney General Oberly to defend him, is now serving a life sentence without the benefit of probation or parole.
==================
Finally, Beau, son of Joe, responds to Wharton's plan to deal with domestic violence. Beau, son of Joe, was evidently backed into a corner with Wharton's domestic violence plan.
On Thursday, Beau Biden failed to stand up for the victims of domestic violence across Delaware. His response to Ferris Wharton's plan is evidence that Beau Biden is not tough enough to protect battered women across the state.

"Violence is violence, there's nothing 'domestic' about it, and as attorney general I will deal with it simply as violent crime."

-Beau Biden
October 5, 2006
in response to Ferris Wharton's Domestic Abuse Plan.
======================
Here's the scoop folks. We don't need to go creating any new police bureaucracies or special task forces to study either Internet child predation OR domestic violence. Beau, son of Joe, is absolutely correct above when he states that "violence is violence".
But while Beau, son of Joe, pooh-pooh's his opponents domestic violence plan, we must not forget that it was Beau, son of Joe, who came up with the plan for a huge police bureaucracy to deal with Internet child predation. Hey Beau, son of Joe, child predation is child predation. We don't need it to get more complicated than this. Arrest the swine and lock them up, that's a simple plan.
What does need to be done is to insure that Delaware laws place appropriate penalties for sexual predators of children and wife-beaters. All the rest is just campaign bravado. And making laws is NOT the job of a state's Attorney General, either Wharton's or Beau's, son of Joe.
Vote for Ferris Wharton. NOT for his proposed child predator program or his domestic abuse plan. As stated, this is all campaign rhetoric. Vote for Wharton because he's got waaaaay more experience than Beau, son of Joe, using common sense. I softly suggest not to vote for Beau because, well, hey, he's the son of Joe.
There IS Another Choice
I have been intrigued by the campaign of
Christine O'Donnell
for no less than Senator of the mighty state of Delaware.
First, from somewhere this woman has been getting big bucks because she's got lots of advertising going on all across the Delaware air waves.
O'Donnell is an independent, verbally fluid and cute as all get out. I chanced to hear her interviewed by WGMD's Randy Nelson. I was just so impressed. Impressed enough, yes, that I am seriously considering voting for her.
O'Donnell is running as a write-in candidate and write-in candidates generally go nowhere save a few votes from family and friends. Not so with O'Donnell, I suspect. The woman has huge billboards all along Route 113, there's plenty of lawn signs endorsing her, and goodness, she got an hour interview with Randy Nelson on Delmarva's premiere talk radio station, WGMD. Not your normal write-in candidate.
I will be attending a campaign rally for O'Donnell in Rehoboth today, 11/2/06. Tomorrow I will post my opinions and insights, for whatever that might be worth.
Jan Ting is running as the Republican challenger to incumbent Senator Carper. Yes, as charged, O'Donnell's candidacy is more likely to draw votes away from Ting than Carper and at first I dismissed O'Donnell for that reason.
But when I listened to her talk on WGMD I kept thinking "I like what she has to say". Over and over O'Donnell did not shy away from espousing Christian principles and she is a solid, REAL conservative. Republican Jan Ting took heat when he refused to take a stand on abortion. O'Donnell shies away from nothing although sure, she's a write-in and will not likely win.
Still, what on earth is wrong with voting for a candidate because you like what they have to say? What's wrong with not mindlessly following a party line, and I AM a Republican, especially when that party's chosen candidate is lackluster and obviously lacking any leadership qualities. Jan Ting is a fine man but yes he too was interviewed on WGMD. Nothing the man said inspired me. The Republican party here in the swamps of Delaware knows they can't beat Carper. Although I'd softly suggest that none other than John Kerry practically threw an opportunity into the Republican campaign coffers. The Republican party's nomination of Ting is a token and everyone knows it.
O'Donnell, on the other hand, went out and did her thing. This young woman is running for Senator, for God's sakes, and she's going to make an impact.
She might even get MY vote.
============
Delaware Voting Information
As a public service, received from Delaware's GOP email:
Election Day -- Tuesday, November 7!

We are now just 20 days away from Election Day!

Tuesday, November 7, will be an important day for all of us in the Republican Party and for everyone in Delaware! We have an opportunity to elect an incredible slate of candidates and creat a better future for the state of Delaware!

As you know, if you cannot make it to your polling place on the day of the Election (business trip, vacation, etc.), you can submit an absentee ballot -- BUT, you must request your absentee ballot ASAP!

Voting by Absentee Ballot is simple, but it does take a little bit of time.

First, you must complete an application and submit it to the Department of Elections.

Application forms are also available at Republican Headquarters if necessary.

Complete your absentee ballot application (get it notarized if necessary) and mail it immediately.

You will then receive your Absentee Ballot in the mail.

Your Absentee Ballot MUST be received by the Department of Elections by Tuesday, November 7 at 8:00 PM in order to be counted.

You can also come by Republican Headquarters where we have applications and notaries.
============
More Delaware posts HERE
=============================

Today I was peering into my 125 gallon reef tank, marveling over how it's grown. Like any other thing that changes gradually, the life within it has modified over time. It has crept up on me and I had trouble remembering those first days. Here is my view of the tank from when it started, back in 2004.
I have crabs.
And snails.
And baby coral.
Friday was Day 14 for the reef tank. It's been a fascinating adventure, watching that tank morph each day. The crystal-clear water was replaced with not-so-clear water; the pristine rocks grew covered with long brown hairlike algae; the shiny white sand became covered with fields of green fernlike algae.
For someone like me, who loved watching the life in stagnant ponds and put everything that would fit under a microscope, it's been a wonder. Like being the star of a PBS show, or the cameraman who sits all day under a tree for that *one* money shot of an elusive wild thing.
Each time I found something new alive in the aquarium, I drug my husband over to see it. "Look, look there! Did you see it move? No, not up there, down there. In that crack in the rock. See?" I don't think he shares my enthusiasm for the small growing things.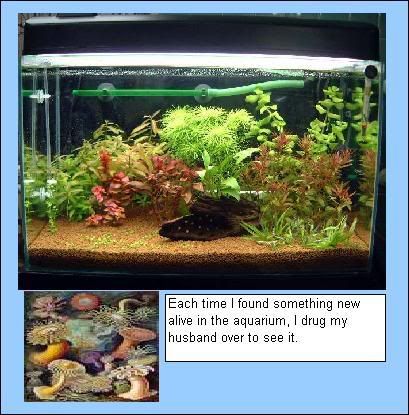 "Live rock" is indeed alive and what appeared at first to be just rocks, sand, and water on Day 1 became a veritable forest of algae with at least six decent-sized denizens by Day 13. I had three small anemones (glass anemones, says my tank expert) about an inch long, something I don't recognize but know it's alive of the same size, a small crab (I found his shed skin on Day 12) perhaps half an inch long, a spiky worm (bad thing, I've been told, and I'm to catch it if I can, although I'm not to touch it at all) which may be four inches long (it's hard to tell since it was moving out one hole and in another so I didn't see all of it at once) , and a few featherdusters (tube worms) of which the largest has a "feather" spread of about three-quarters of an inch.
At various times of the day you could find me just staring, trying to find some sign of any other life.
Yesterday, Day 14, the first of the imports arrived. Fifty snails, fifteen hermit crabs, one cleaner shrimp, three emerald crabs, and seven coral starters went into our tank. Much of the hair and fern algae was sucked up in a water change of twenty gallons.
This morning, I can see cleared trails where snails have traveled, like strips of mown forest for power lines carved by drunken employees. The trails wander from place to place in loops and spirals, each ending where a snail sits. Soon there will be no forest of algae on the back wall.
The shrimp may have died; when the lights come on I'll be able to tell. The three crabs are nowhere to be found, apparently they've each found a crevice to hide in for the daylight hours. The hermit crabs are scattered across every rock, as are the snails. The coral, of course, don't move, although they do "open" or "close" according to light and temperature values and their own reference.
Now the water testing ritual begins. Salinity, alkalinity (pH), calcium and phosphorus levels must be checked with regularity. Temperature must be watched.
And the coral must be fed once per week. The others are on their own; enough nutrition can be found in the tank itself without requiring outside assistance.
Today, I think I'll unbox my microscope.
Michelle
The Desk Drawer writer's exercise list
~~~~~~~~~~
More Guest Writer HERE