Time for some True Crime and there's some true crime percolating under the radar which we must visit.

First, what's behind that shooting of the NY Bridegroom? There's way more to this story than being reported. And some notes on the politicos getting involved in this sticky matter.

And how about that mall terrorist no one in the Lamestream media is talking about? Yes, in fact he IS a Muslim.

This week, we've got a STUPID VICTIM, yes we do.

How about those parents who kidnapped their own daughter to prevent her wedding?

A hero mayor, a criminal steals to impress her boyfriend, and hey, the Judge let him go and surprise, surprise...he killed again.

Good comment on that Las Vegas Controller murder.
Pic of the Day
---
Quote of the Day


Take a moment to stop and think about what you give to the people and life around you. Don't think about what you're not doing right. Look instead at all you do that is a blessing.

Many of us continually beat ourselves up for not doing or being enough. But imagine for a moment that you are great just as you are. Feel the relief this brings! Now open to the possibility that this is not a daydream. It's true! Believe it!

"People become really quite remarkable when they start thinking that they can do things. When they believe in themselves they have the first secret of success."

-- Norman Vincent Peale



Web Site Worth the Visit
Marilyn Monroe Sings "Santa Baby"

Well some of us might remember this slightly sexy plea from a sexy woman to Santa Claus. SOUND ON.

MONROE SINGS HERE


TIDBITS

Christmas Eating Tips

1. Avoid carrot sticks. Anyone who puts carrots on a holiday buffet table knows nothing of the Christmas spirit. In fact, if you see carrots, leave immediately. Go next door...where they're serving rum balls.

2. Drink as much eggnog as you can, and quickly. Like fine single-malt scotch, it's rare. In fact, it's even rarer than single-malt scotch. You can't find it any other time of year but now. So drink up! Who cares that it has 10,000 calories in every sip? It's not as if you're going to turn into an eggnog-aholic or something. It's a treat. Enjoy it. Have one for me. Have two. It's later than you think. It's Christmas!

3. If something comes with gravy, use it. That's the whole point of gravy. Gravy does not stand alone. Pour it on. Make a volcano out of your mashed potatoes. Fill it with gravy. Eat the volcano. Repeat.

4. As for mashed potatoes, always ask if they're made with skim milk or whole milk. If it's skim, pass. Why bother? It's like buying a sports car with an automatic transmission.

5. Do not have a snack before going to a party in an effort to control your eating. The whole point of going to a Christmas party is to eat other people's food for free, lots of it. Helloooo?

6. Under no circumstances should you exercise or diet between now and New Year's. You can do that in January when you have nothing else to do. This is the time for long naps, which you'll need after circling the buffet table while carrying a 10-pound plate of food and that vat of eggnog.

7. If you come across something really good at a buffet table, like frosted Christmas cookies in the shape and size of Santa, position your self near them and don't budge. Have as many as you can before becoming the center of attention. They're like a beautiful pair of shoes. If you leave them behind, you're never going to see them again.

8. Same for pies, Apple, Pumpkin or Mincemeat. Have a slice of each or, if you don't like mincemeat, have two apples and one pumpkin. Always have three.
When else do you get to have more than one dessert.

9. Did someone mention fruitcake? Granted, it's loaded with the mandatory celebratory calories, but avoid it at all cost. I mean, you gotta have some standards.

10. One final tip: If you don't feel terrible when you leave the party or get up from the table, you haven't been paying attention. Reread tips; start over, but hurry, January is just around the corner.

Remember this motto: "Life should NOT be a journey to the grave with the intention of arriving safely in an attractive and well preserved body, but rather to skid in sideways, chocolate in one hand, a coke in the other, body thoroughly shot and used up, totally worn out and screaming "WOOOOOOOO! what a ride!"

The Bridegroom, the Strip Club, the Police Shootout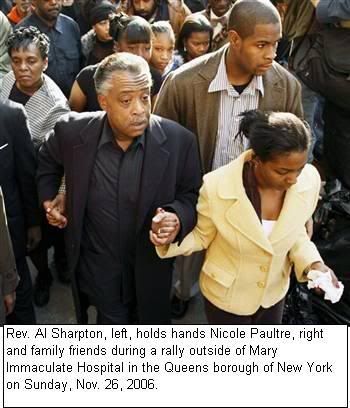 It's a sound byte and a set of circumstances bound to bring out sympathy, tears and wrath.
Sean Bell was 23 years old when a group of New York undercover agents fired fifty rounds at the car he was driving, killing him and seriously wounding his two co-passengers. A fourth would-be passenger ran off on foot.
We have some excellent opportunists of all political stripes involved in this thing, including Nanny Bloomberg, Mayor of New York.
From MSNBC.com:
NEW YORK - Mayor Michael Bloomberg weighed in on the uproar over a deadly police shooting Monday, saying bluntly that officers appeared to use excessive force when they fired 50 shots at an unarmed man in a confrontation outside a strip club hours before his wedding.
The big wig involved in this wonderful opportunity to re-assert the "black as victim" mantra is none other than Al Sharpton.
First, Bell and his friends were partying at a notorious NY strip club, the Kalua Cabaret. This club is so notorious that a group of undercover agents were inside at the time of Bell's "bachelor party", investigating the joint for connections to drugs and illegal guns. The shooting incident took place at 4 am, that's right, 4 o'clock in the wee hours or the morning. By this time our common sense tells us that a few of those cheery party-goers were more than a little filled with booze. If Bell was set to get married the following day, wow, that's out awfully late, don't you think?
When this fine group of fellows finally left the club, an undercover agent followed them closely. It's not clear why the undercover guy followed these guys but it's believed that the group of "bachelor party attendees" was heard discussing guns, exactly the sort of thing those undercover officers were investigating.
The partying group got into their car. When the undercover officer walked towards the front of their car, the driver suddenly lunged the car toward the undercover officer, hitting a police car AND the officer! This was done, not once, but TWICE! It's not like this was an accident is what I'm saying here.
The rest of the undercover agents came on the scene to backup the officer under attack by this grooms' party's car. The passengers in the car were all told to show their hands. The undercover agents had reason to believe that someone in this group had a gun as the initial interest in this group was stemmed by overheard discussions in this club by this bridal group about guns and possible purchase of same. Once this party-hardy group decided to run down this officer with their car, well they were told to stop it. Duh.
They didn't stop their auto assault and they didn't show their gun-empty hands as commanded by the rest of the undercover officers. Recall that one of their group had already run off on foot. The undercover officers took aim and emptied their magazines into the assaulting car.
Two big sound and sight bytes here: 1)the fellows inside the car possessed NO weapons and 2)Sean Bell was to be married the following day.
An event just made for Al Sharpton. Sharpton will invent total fiction-witness the Tawana Brawley incident- should such a wonderful made-for-TV criminal event not cross his path. Here we have a bridegroom shot the night before his wedding...an UNARMED bridegroom. Sharpton was right on the case.
Only the whole scene is not quite like it appears, eh?
Nanny Bloomberg comes right out, with no prior investigation into the incident, and slams his own city's police department. Well why the hell not? Al Sharpton's a political favorite in the Big Apple. This is a man who can get an ambitious politico elected via his contacts in the NY black community. He can round up thousands of voters with promises of a pack of cigarettes and a free ride to the polls. He can slip a few dollars here and a few dollars there, to just the right people, and boom, we have Mayor Bloomberg and Senator Hillary Clinton.
Al Sharpton knows the power of the sound and sight byte, for sure. An unarmed bridegroom shot the evening before his wedding, wow, this was made for ole Al.
For shame on Bloomberg, an opportunistic politico who never runs out of people to betray, including his own hard-working police force.
A police officer is being rammed by a car, rammed on purpose. He and his colleagues fight back and shoot the people in the car trying to kill this undercover agent. There isn't an American in this country who wouldn't think the action justified.
From City Journal.org:
The allegation that last weekend's shooting was racially motivated is preposterous. A group of undercover officers working in a gun- and drug-plagued strip joint in Queens had good reason to believe that a party leaving the club was armed and about to shoot an adversary. When one of the undercovers identified himself as an officer, the car holding the party twice tried to run him down. The officer started firing while yelling to the car's occupants: "Let me see your hands." His colleagues, believing they were under attack, fired as well, eventually shooting off 50 rounds and killing the driver, Sean Bell. No gun was found in the car, but witnesses and video footage confirm that a fourth man in the party fled the scene once the altercation began. Bell and the other men with him all had been arrested for illegal possession of guns in the past; one of Bell's companions that night, Joseph Guzman, had spent considerable time in prison, including for an armed robbery in which he shot at his victim.
None of the brouhaha regarding this case is about what REALLY happened. It's all about Al Sharpton's power with the NY political elites and a group of really bad guys who were doing God knows what in that strip club but for sure they were trying to run down a police officer with their automobile.
But we must focus on the fact that the guys were unarmed (but what about that fourth guy who ran off?) and the teary fact that one passenger was due to be married the following day.
This misstated and wrongly stated sequence of events is all about keeping mighty Al in his fine business of manipulating the vote and maintaining his position in the black community.
It's also about a bunch of politicos with their own ambition at the forefront.
To hell with the NY police department.
Update on Parents Who Kidnapped Their Own Bride-Daughter
Julianna Redd Myers, 21 is due to deliver her first child in May of 2007. She married her husband, Perry Myers, on 8/8/2006. Only that was not the day Julianna was SUPPOSED to get married.
As covered on this Blog HERE,
Julianna missed her original wedding because her parents KIDNAPPED her and kept her from her wedding!
From Foxnews.com:
PROVO, Utah - A woman whose parents are charged with kidnapping her to stop her wedding testified tearfully Wednesday that they grabbed her by the hair and told her she was breaking the commandment to honor them.
Evidently Julianna's parents had some problems with their daughter's coming nuptials. So they pretended they were taking their daughter to purchase some clothes and instead took her, against her will, far away from the wedding site. They kept her, again against her will, until well past the time and date of her scheduled wedding.
Julianna and Perry were married and the bride's parents, Lemuel and Julia Redd were arrested for second-degree kidnapping.
Well what those parents did was simply inexcusable. For sure I can understand concerns, yea even mighty objections, to our child's choice of a spouse, been there and done that.
But to kidnap that child against his or her will, preventing that cherished and planned-for great day?
It's sad that this daughter is going to go ahead with the charges but I suppose she must feel compelled. Not that I'm casting aspersions against the bride. There's nothing right about what her parents did to her, nothing right at all.
The Redds' defense attorneys hope to settle this case out of court and perhaps Julianna will drop the charges. The judge in this case has not yet set a trial date.
Soon they will have a new grandbaby. Those two parents should apologize and beg their daughter's forgiveness and get on with their lives. They should for sure stay the hell out of their CHILDRENS' lives, these overbearing and nasty despots of parental units.
He Killed Before and Now He's Killed Again
James Ealy, now 42 years old, has a very violent history. In 1982 he was arrested and convicted for the murder of a woman, her two daughters and a three year old boy. Ealy confessed to the crime and a piece of fabric used to strangle the victim was found in Ealy's home. An appeals court overturned his conviction.
Ealy was not immediately released once the appeals court overturned his conviction for the quadruple murder described above, until 1993. Seems he had already been convicted for a rape conviction, this fine fellow.
Then, get this, he went BACK to jail in 1996 and was paroled in 1999.
Now Ealy is accused of murdering a Burger King employee, strangling the manager with a tie from her own uniform. Seems Ealy was once an employee of this Burger King and seems Ealy needed some more cash. "To raise money for a lawyer" as Ealy explained it. Well this fellow certainly does need lawyers to keep getting him off.
Thanks to that Chicago appeals court which let this guy go even though the appeals court openly acknowledged Ealy was guilty as sin. Prosecutors had to drop the case what with the main evidence they had declared out of bounds.
Now another has died at the hands of this fine fellow.
From Yahoo.com:
Ealy, now 42, shuffled into a suburban Chicago courtroom this week, again accused of murder. Prosecutors say he strangled a Burger King employee last month with the bow tie from her uniform.

The circumstances were similar to those that led to his conviction in the 1982 murders. Ealy, then 17, was accused of using a piece of fabric to strangle 33-year-old Christine Parker, her two daughters, ages 12 and 15, and the older girl's 3-year-old son. The boy, whose body was found curled up in a ball on a bathroom floor, had been also been molested.
The "Mall Terrorist"-Flying Under the Radar
Imagine the following headline:
DOZENS KILLED IN MALL ATTACK AT HEIGHT OF CHRISTMAS SEASON
Well ladies and gems, it could have happened, although you'd almost never know it based on the reports from the Lamestream Media.
Talib Abu Salam Ibn Shareef, age 23, is one angry American Muslim. Although it's not clear this fellow's nation of birth or heritage, he does claim to be an American in some of his more inflammatory statements.
It's time for JIHAD, or so Shareef declares. So old Abu purchased a couple of grenades and some handguns for an attack on the Cherryvale shopping mall in Illinois. Fortunately he purchased this deadly ammo from an undercover agent and the fine Shareef was caught.
The Sweetness and Light
Blog site has obtained the complete FBI affidavit on this kind and gentle American who strove to murder innocent American citizens as they were out shopping to celebrate the Christmas holiday.
. Beginning in September 2006, SHAREEF became acquainted with an individual in Rockford, Illinois. During the course of their acquaintance, SHAREEF advised this individual that he (SHAREEF) wanted to commit acts of violent jihad against targets in the United States as well as commit other crimes in order to obtain funds to further his (SHAREEF's) goals of violent jihad. Unbeknownst to SHAREEF, his acquaintance ("CS") was cooperating with the FBI.1 During their acquaintance, SHAREEF advised the CS that he (SHAREEF) wanted to obtain weapons to commit violent jihad. The CS advised SHAREEF that he (the CS) had a friend who was able to obtain weapons and that he (the CS) would introduce SHAREEF to the friend. In fact, the CS's purported friend was an undercover law enforcement agent ("UCA").
Below are a few excerpts of Shareef from actual recordings made by a friend who was wired to help catch Shareef.
: "Any place that's crowded, like a mall is good, anything, any government facility is good." SHAREEF told the CS: "I swear by Allah man, I'm down for it too, I'm down for the cause, I'm down to live for the cause and die for the cause, man."
SHAREEF stated: "They definitely gonna know that this shit ain't over, and they not as safe as they thought."
SHAREEF states: "This may be my last will and testament, the last words that I have spoken to those who know me, to those who do not know me. My name is Talib Abu Salam Ibn Shareef. I am 22 years of age. I am from America, and this tape is to let you guys know, who disbelieve in Allah, to let the enemies of Islam know, and to let the Muslims alike know that the time for jihad is now. . . . Be strong, oh Mujahideen. Be strong oh brothers who want to fight for jihad. . . . This is a warning to those who disbelieve, that we are here for you, and I am ready to give my life. . . . May Allah protect me on this mission we conduct. . . . So do not cry, do not mourn for me. Do not believe what the kafir [infidel] will say about me when you read in the newspapers and when you see the television articles about me. Do not believe this. Understand that your son is a strong man. . . who believes and fears his Lord to the degree that he will give his life."
Dear Lord, the media gave way more coverage to Mark Foley than they did this nice fellow.
Be concerned, be very concerned.
For they're out there and they all, deep in their evil souls, want to kill us infidels all.
How About That Putin Poisoning?
I'm trying desperately to follow the poisoning of that former KGB agent who was investigating the death of a journalist. A journalist who, in turn, was investigating strange deaths of Russian foes.
So far, I understand that England is finding radioactive material just about everywhere and while I'm not all that concerned about poisoned enemies of Vladimir Putin, I for sure wonder how on earth Russia managed to make radioactive material in aerosol form and the unintended injuries and possible deaths caused by those crazies as they try to poison their political enemies.
That Nevada State Controller Murder
As covered on this Blog
HERE,
Chaz Higgs probably did not only murder his wife, a Controller in Nevada, he may well have murdered her former husband as he lay sick in a hospital bed.
I recently received an interesting email regarding this crime and am reproducing this comment here:
Actually, it is my personal opinion that Kathy Augustine was beginning to suspect Chaz Higgs was involved in Charles Augustine's death. It is also my personal opinion that Chaz Higgs was criminally motivated to implicate Kathy Augustine as an accomplice to Charles Augustine's death -- which would lend to Higg's stupidity in communicating to an RN peer how he would kill a spouse the night prior to the injection being injected. It is my further opinion that Chaz Higgs' statement was solely based upon the premise that if the injection of the paralyzing drug didn't murder Ms. Augustine, Chaz Higgs could then easily implicate Kathy Augustine with the death of Charles Augustine based partly upon the amount of insurance monies Charles Augustine left to Kathy Augustine as well as the ethics violations Ms. Augustine was involved in. Ms. Augustine was a sitting duck for any type of criminal indictments as a result of her previous conduct. Chaz Higgs is a sick, egocentric vulture who preyed upon another's wealth, power and status. I hope Chaz Higgs gets the death penalty upon his conviction and let him experience the mental anguish and fright that Chaz Higgs bestowed upon Kathy Augustine before she actually was altered and paralyzed by the drug injection.

Kathy Augustine's use of State equipment for her political campaign/ethics violations were rectified with retribution for her acts. That aside, Ms. Augustine had to have suffered a great deal of mental trauma directly before her murder through the use of a drug that disables anyone from defending themselves. Has anyone thought of Kathy Augustine as a person who was, most likely, murdered by a very calculating, criminally minded predator who used his register nursing license to kill without conscience?

I am a Nevadan who knows for a fact that the State Controller's Office under Kathy Augustine's reign as State Controller was a very, very productive, error free Department of the State Government. As far as Kathy Augustine being liked or disliked by her political peers is irrelant. Ms. Augustine was a pioneer in politics, made retribution for her unethical acts and still had the strength to continue on with her political career and did the job with excellence. I find that commending conduct of a politician, not shaming.
Steals to Impress Boyfriend
…and she was still married at the time!
From WilmingstonStar.com:
McMINNVILLE, Tenn. | A McMinnville married woman stole items worth tens of thousands of dollars in a string of burglaries to make her boyfriend think she had a high-paying job, authorities said.

Nickey Davidson, 25, is charged with three counts of aggravated burglary and theft in a series of house burglaries that seem to have been used to finance a double life.

"She told her boyfriend in Coffee County that she had a high-paying job, so all these crimes were committed in trying to keep up with the lie she told him," Warren County Sheriff's Department Capt. Tommy Myers said.

"When we told her boyfriend about what had happened, he was shocked. He was even more shocked to find out she is still married," he said.

Myers said the thefts involved things that would not immediately be detected as missing, such as checks from the back of a checkbook or guns from a large collection.
Gun Found in Murder of Clinton Neighbor
We've been following this case because a)True Crimes often involve husbands and wives, sadly, and b)THIS particular case involves a neighbor of former President Clinton and Hillary.
Which has nothing much to do with anything except ole Bill's been asked about his neighbor and ole Bill, because it's always all about HIM, has commented on the shooting.
Seems a man deeply in the throes of financial troubles suddenly ended up with a very dead wife and indeed, was himself shot. All by an alleged "Hispanic" shooter who hijacked their car for no known reason, and shot the wife dead but only, heh, injured the husband.
Seems that investigators have found the gun used to shoot the couple. Expect this down-and-out attorney to be in jail very soon. Then we'll ask ole Bill what he thinks about it and no doubt he'll have an opinion.
From Buffalo News.com:
NEW CASTLE (AP) - State police have discovered a gun that had been dumped in a lake near the scene of a roadside shooting that killed a neighbor of Bill and Hillary Clinton and wounded the woman's husband.
Hero Politician?
Indeed the mayor of Rochester assisted in the capture of a robber and managed to give the victims some solace. Hey, never let it be said that while we give the political elites a lot of grief on this Blog, credit where credit is due.
From WHAM.com:
Rochester, N.Y.) - A 49-year old man went into the Dollar Tree Store at South Clinton (knife in hand) to rob the store Friday.

The clerk couldn't open the register and a fight broke out between the clerk and the suspect.

Several customers tried to help and chased the suspect down Clinton towards Karges Street. The suspect emerged at South Clinton and Goodman.

Meantime, Rochester's mayor serendipitously pulled off 490 at Goodman, when Officer Bob Brady passed Mayor Duffy's car, gun drawn, chasing the suspect.

When Duffy saw the weapon, he broke out of his car and chased down the suspect.

The mayor assisted the officer, cuffed the would-be thief, helped find the weapon and then went back to talk to the victims of the holdup.
Stupid VICTIM Alert
Sometimes ladies and gems, victims are victims because they, well they're stupid.
Here's a 65 year old man who truly believed a priest was going to deliver a naked woman directly to his bathtub.
Of course the priest was not a priest and of course as the naked Austrian pensioner awaited in his bathtub for his naked female bath buddy, he was robbed of the little cash he had.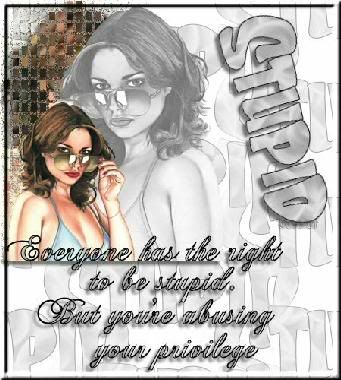 From YAHOO.com:
VIENNA, Dec 6 (Reuters Life!) - A bogus priest and his girlfriend tricked an Austrian pensioner out of $200 after promising him a naked bathtub session with the woman.

"The bogus priest and his girlfriend ran a bath for the pensioner, who undressed and got in straight away," a police spokeswoman in the northern Austrian town of Linz said on Wednesday.
It's not that we don't sympathize with the old guy but …
More True Crime Updates HERE
================