In this second True Crime post of the week we'll be keeping up with current true crimes, the oddball, the insane.

Did the maid kill Maddie McCann? How about the DC Sniper and his phone calls?

An animal shelter volunteer loves the dogs just a wee too much.

TIDBITS

DON'T STICK YOUR ELBOW
OUT SO FAR
IT MAY GO HOME
IN ANOTHER CAR.
Burma Shave

TRAINS DON'T WANDER
ALL OVER THE MAP
'CAUSE NOBODY SITS
IN THE ENGINEER'S LAP
Burma Shave

SHE KISSED THE HAIRBRUSH
BY MISTAKE
SHE THOUGHT IT WAS
HER HUSBAND JAKE
Burma Shave

DON'T LOSE YOUR HEAD
TO GAIN A MINUTE
YOU NEED YOUR HEAD
YOUR BRAINS ARE IN IT
Burma Shave

DROVE TOO LONG
DRIVER SNOOZING
WHAT HAPPENED NEXT
IS NOT AMUSING
Burma Shave

BROTHER SPEEDER
LET'S REHEARSE
ALL TOGETHER
GOOD MORNING, NURSE
Burma Shave

CAUTIOUS RIDER
TO HER RECKLESS DEAR
LET'S HAVE LESS BULL
AND A LITTLE MORE STEER
Burma Shave

SPEED WAS HIGH
WEATHER WAS NOT
TIRES WERE THIN
X MARKS THE SPOT
Burma Shave

THE MIDNIGHT RIDE
OF PAUL FOR BEER
LED TO A WARMER
HEMISPHERE
Burma Shave

AROUND THE CURVE
LICKETY-SPLIT
BEAUTIFUL CAR
WASN'T IT?
Burma Shave

NO MATTER THE PRICE
NO MATTER HOW NEW
THE BEST SAFETY DEVICE
IN THE CAR IS YOU
Burma Shave

A GUY WHO DRIVES
A CAR WIDE OPEN
IS NOT THINKIN'
HE'S JUST HOPIN'
Burma Shave

AT INTERSECTIONS
LOOK EACH WAY
A HARP SOUNDS NICE
BUT IT'S HARD TO PLAY
Burma Shave





BOTH HANDS ON THE WHEEL
EYES ON THE ROAD
THAT'S THE SKILLFUL
DRIVER'S CODE
Burma Shave

THE ONE WHO DRIVES
WHEN HE'S BEEN DRINKING
DEPENDS ON YOU
TO DO HIS THINKING
Burma Shave

CAR IN DITCH
DRIVER IN TREE
THE MOON WAS FULL
AND SO WAS HE.
Burma Shave

PASSING SCHOOL ZONE
TAKE IT SLOW
LET OUR LITTLE
SHAVERS GROW
Burma Shave



The Latest Maddie McCann Twist
I am beginning to be strongly suspicious of the McCanns as being involved in the death of their daughter.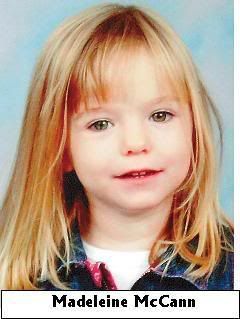 For make no mistake, Madeline McCann is dead whether she died at the hand of a stranger or her own parents.
From Foxnews.com:
Praia da Luz - A maid who is alleged to have abducted Madeleine McCann as revenge for being fired from the vacation resort where the missing girl was staying is being investigated by Portuguese police.
My first response to the reports of a missing Maddie McCann was that the Portuguese police would not, or could not, lead a decent investigation. My heart ached for the parents who perhaps erred in leaving their youngsters alone while going out to dinner but who nonetheless suffered a loss more painful than anything a parent might face.
Of course my reaction was based on the sad experience of Natalee Holloway, a young American woman likely killed by a bratty Aruban adolescent who walks free to this day. The Aruban cops are evidently so corrupt that they took payoff on this case or they're so inept they had no idea how to properly investigate a murder.
The Portuguese police, however, were a lot smarter than their Aruban counterparts. Right from the beginning, but unbeknownst to the American public, the Portuguese police enlisted the help of the British police including Scotland yard. It was the British police who first leaked the prevalent investigation belief that the McCanns had somehow accidentally killed their daughter and what followed after was all a show.
And a pretty good show it's been. The McCanns even made a big public show of beseeching the pope for help in finding their missing daughter.
Now we have a lead that some poor maid at that resort might have abducted and killed Maddie McCann. I don't believe this for a nano-second and further, going out on a limb here, I don't believe the investigators believe this either. Somehow, some way, I think the McCanns and their legal advisors are floating all this nonsense out into the public domain.
Sure a disgruntled former maid at the resort could have abducted little Madeline but this has got to be the most unlikely scenarios of them all.
While I think that the McCanns were involved in the death of their daughter, I don't think they will ever be charged. There's too little evidence and a whole lot of reasonable doubt. Of course I don't know how Portuguese law works but I'm betting the British police will make the determination on whether or not to bring the McCanns to trial, whether it's in Portugal or Great Britain.
All the McCanns have to do is hold strong throughout this Portuguese investigation process. There are some very different laws in that country than here in America. The McCanns are not allowed to talk about the case, for instance, until after the police are finished their investigation.
Given time the McCanns will fade from public scrutiny and little Madeline...may she rest in peace.
Adolescent Burglars Pose for Cameras
They not only drilled two holes through the roof of the liquor store they were trying to rob, both in the WRONG place, this daring duo, in an attempt to abandon their crime scene, jumped from the roof directly in front of the store's camera.
from Desmoines Register:
Burglars working to cut their way through a roof and into a tobacco and liquor store in Des Moines earlier this month misjudged their location and spent much of their time drilling a hole to the sidewalk outside the store.

"They forgot to take into account the overhang," said Rich Bartlett, owner of Southside Tobacco & Liquor, 2424 S.W. Ninth St.
Heh.
Deaths in Same Apartment Unit Four Days Apart
We reported about the deaths of
two sisters only a week apart.
Now we have two deaths in the same apartment unit four days apart.
From the WAPO.com:
D.C. police said today that they are investigating the deaths of two men whose bodies were found four days apart in the same apartment unit in Northwest Washington.

Authorities have found no outward signs of foul play in either case, said Police Inspector Rodney Parks. He said it remains unclear if the deaths are related, but added that investigators are aiming to find out. "It would make anyone's eyebrow go up," Parks said.
Investigators say there are no outward signs of foul play. One of the victims was active in the gay pornography scene. The other victim had "no known address". Both victims were young and not likely to have died from natural causes.
Woman Dies While Handcuffed and in Police Custody
This is just one weird case that leaves one puzzled as to what to make of it.
Carol Gotbaum weighed less than 110 pounds. She was a troubled woman, obviously. During a recent airplane trip to enter an alcoholic rehab program Gotbaum missed her connecting flight. Obviously this woman has a drinking problem so she could have been drunk.
Gotbaum raised such a ruckus over her missed flight that the police were summoned.
From the NYTimes.com:

. | The New York City public advocate, Betsy Gotbaum, called this afternoon for an official investigation into the death of her 45-year-old stepdaughter-in-law, who died in police custody at the airport in Phoenix on Friday while on her way to Tucson to enter an inpatient alcohol rehabilitation program.
So far it's the sort of thing that happens every day across the fruited plains.
Except 45 year old healthy women do not just die while sitting in a holding cell while handcuffed.
There is an autopsy scheduled today on this woman. Hopefully we'll learn more about how this unexplained train of events occurred.
OJ to Turn Over Rolex
I've said it before let me type it again: Orenthal James Simpson has a protected pension from the National Football League of approximately $45K a month. Read it again yon ladies and gems. That's $45K a MONTH!
He could have, after getting awarded two free brutal murders by some brain dead jurors in Los Angeles, retired out of the limelight to live out his remaining days, a free man with a right nice income that no lawsuit could confiscate.
Instead OJ Simpson pastes his simpering face across our collective cable TV's and continually acts like the heathen he is. OJ's recent brush with the law re his "sting" in a Las Vegas hotel room to recover what he alleges is his personal memorabilia did more than bring this creep's smirking visage to national attention. For OJ will now have to turn both the memorabilia AND the Rolex watch photographed on Simpson's wrist, over to Fred Goldman. Goldman won a multi-million dollar settlement in a civil lawsuit against Simpson.
He couldn't live comfortably on $45K a month? He couldn't retreat to a quiet low-key lifestyle that would leave us forgetting that one major mistake in our normally fine American system of justice?
The best thing OJ's attorneys this time did was to pull that result of a monkey mating OUT of the limelight. Attorneys normally love to parade their fine clients out in front of the cameras but these guys, rightfully so, know that Simpson has reached the tolerance limit of the American people.
From Yahoo.com:
SANTA MONICA, Calif. - O.J. Simpson must hand over a Rolex watch and other assets to satisfy a civil judgment that found him liable for the deaths of his ex-wife Nicole Brown Simpson and her friend Ron Goldman, a judge ruled Tuesday.

Any future royalties from a sports video game featuring Simpson also must be delivered to Goldman's father, Fred Goldman, Superior Court Judge Gerald Rosenberg ruled.

Simpson must also surrender any of the disputed memorabilia items recently seized by Las Vegas authorities that are found to be legally his.

The items would then be auctioned by the Los Angeles County Sheriff's Department and the money they bring in given to Goldman. His attorney David Cook estimated the watch's value between $5,000 and more than $20,000.
What's Going On With Those University Shootings?
This makes three shootings related to universities across the fruited plains. It's not only troubling, these incidents cause a major university-wide lockdown, missed classes and no doubt plenty of anguish in light of the recent Virginia Tech shootings.
There was recently a shooting of a University of Delaware student, an execution style murder of four students in New Jersey and now we have a shooting of a student at the University of Memphis.
From the Chicago Tribune:
MEMPHIS, Tenn. - Students at the University of Memphis returned to class Tuesday without knowing whether the fatal campus shooting of a football player was a targeted or random attack.





University officials had said they believed the Sunday night attack was specifically aimed at Taylor Bradford. But no suspects have been identified and police later said they could not yet determine the motive for the shooting outside a university housing complex that led officials to cancel classes Monday.
What are our children doing at college that's getting them shot?
DC Sniper Calls Victim's Daughter
Ah the memories.
I was working in Prince Georges County Merryland. I managed a shopping center and part of my duties required that I venture out to collect rent, handle tenant complaints, that sort of thing.
I learned to zig-zag while running across the parking lot. For it was a time of terror caused by two losers riding around in a Chevrolet Caprice while the fine DC police told the world to look out for a white van.
The younger of this team of nothings, Lee Malvo, seems to have gotten religion and is now calling relatives of his victims to apologize.
From Foxnews.com:
McLEAN, Va. — Cheryll Witz was in the Costco in Tucson, Ariz., shopping for a birthday cake when her cell phone rang. Waiting to speak to her was one of the nation's most notorious serial killers — the man who five years ago had killed her father.

"I need to apologize for what I've done to you and your family," Lee Boyd Malvo told her on Sept. 20.

Witz stood, stunned, in the shopping aisles.

"I was standing in the Costco bawling my eyes out," she said.
Jails are full of criminals who suddenly get religion.
Yes I'm suspicious. Malvo has been sentenced to life in prison with no hope of parole. But Malvo was underage when he got involved John Mohammad and who knows when Oprah might decide that Malvo needs some sympathy.
Best to have Malvo on the record as a religious convert with apologies spread to victims as much as possible.
I don't buy it for a minute. Malvo was almost an adult when him and his buddy decide to shoot innocent people pursuing their happiness as guaranteed by our constituion.
He was old enough to know that holding a gun and shooting someone was wrong. Let's hope this isn't the start of a movement to get this poor youngster released from confinement.
He "Loved" the Dogs a Little Too Much
How creepy does one have to be when one can only get a date with a dog from an animal shelter in which he volunteered to help the animals?
From CBS4dwenver:
(CBS4) DENVER A volunteer at Denver's Municipal Animal Shelter has been arrested after accusations he was caught engaging in sexual behavior with a dog from the shelter.

Castanon Gustavo, 33, was also suspended from volunteering at the animal shelter.





"We had an incident," Doug Kelley, director of the shelter, confirmed. "Police are investigating allegations of misconduct by a volunteer. A person has been suspended from being a volunteer."
The above link reports that Gustavo was at least "partially naked". I'm betting his pants were down.
Pathetic. Let the mockery of the world shine upon this creep.
FOCUS ON-Lisa Montgomery-Killed a Mother-to-Be and Stole Her Baby from Her Womb
=====================
She met her prey at a meeting for dog breed aficionados. Bobbie Jo Stinnet was 8 months pregnant. She was strangled and her baby was taken from her womb.
Because for sure this most unusual crime, replete with twists, turns, curves and bends involving dog shows, internet chat boards, strange cousins, dead dogs, and fake pregnancies, will be the true crime trial of the decade.
Because if Lisa Montgomery is not crazy then she certainly behaved as if she were.
This post begins
the story of Bobbie Jo Stinnet and Lisa Montgomery.
Right after this crime which shook the nation, this Blog became a focal point of discussion about this amazing case. At some point Bobbie Jo's AND Lisa Montgomery's husband actually posted to this blog. This link to a post with many intriguing
comments about this crime.
We continue on HERE following this case.
=======
Add POST to Technorati Favorites
=======