Here's a TV update on "Dancing with the Stars" Fall 2007 plus...."The Bachelor" 2007.

Who danced themselves out and what female did this year's Bachelor refuse to give a rose this week?
| | |
| --- | --- |
| | Quote of the Day |

"Dancing with the Stars" Fall 2007-The Top Ten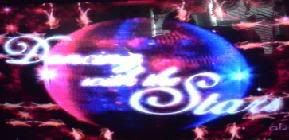 Prior Links to Posts for "Dancing With the Stars" Fall 2007
======================
Episode 9/23/07
Top Ten Fall 2007
=======
Mel B-Spice Girl
Mark Cuban-Internet Entrepreneur
Marie Osmond-Singer
Jane Seymour-Actress
Wayne Newton-Las Vegas Entertainer
Helio Castroneves-Race car driver
Jennie Garth-Actress
Cameron Mathison-Soap Star
Floyd Mayweather-Boxer
Sabrina Bryan-Cheetah Girls
In an unbelievable scenario that I could not make up, come the second night of elimination in "Dancing With the Stars" Fall 2007, my favorite cable provider...NOT...Comcast suddenly has no access to channels 6 through 10. Dancing with the Stars is on my channel 7.
I have a DVR box and that thing's broke before so I dutifully "rebooted" the thing as this is required from time to time. Nada. Nothing. Four channels out of the five million offered on Comcast were blank.
Well sure I was mad as this Comcast thing has been a mixed blessing at best.
Like so many other technological marvels, there are a zillion bugs in things and until they are ironed out, consumers such as myself are left to curse the gods.
Later in mid of night I got up and checked in. Sure enough, Channel 7 worked just fine. Which means that someone likely had to push a button or two but where the hell was that someone during primetime? Doesn't Comcast have someone whose job requires that they drive down to the office if need be to...well push the buttons?
I phoned up Comcast today with full intent to ask them when they are going to replace the hamster they have running that place. Dead air...folks. It's dead air. All those ABC advertisers lost an entire marketplace because whoever was responsible for making sure all channels are accessible at Comcast did not do their job. The Comcast phone lines were so busy that I got a message informing me that there have "been problems" and the lines were full. Then boom, the phone just goes dead.
You can't make this up folks...you can't make it up.
So I found out on the Internet that super-handsome male model Albert Reed was sent home on the elimination night of Tuesday, October 2, 2007.
Which is somewhat surprising in that Reed was one of many of the top eleven finalists in "Dancing with the Stars" Fall 2007 to have scored a mediocre 21 points out of 30 on the second night of dancing, Monday, October 1, 2007.
Reed isn't a well-known "star" in this season's competition and that likely didn't help him. Wayne Newton, he who looks nothing like he used to, is the worst male dancer in terms of talent and stamina. For sure Reed danced far better than Newton, who only received 15 points out of 30 on the same night Reed got those 21 points.
Newton will eventually get his walking papers but know that early in this dancing competition series the amount of a contender's celebrity is more important that his or her actual ability to dance.
The show on the night of 10/1/07 featured the Mambo and Quick Step. Spice girl Mel B began the performances with a Quick Step that had her moving around the floor gracefully, posture straight and proper, in a pink dress confection. She showed fine form and the judges awarded her 23 points.
Mark Cuban is a millionaire entrepreneur who really shouldn't be dancing. He's kind of like Uncle Harry at the family wedding who suddenly gets it into his head he can dance the bejeesus out of these young people. Uncle Harry takes the floor and stomps all around, smiling and slipping and just having a great time. Cuban does the same thing. Even the judges said his face danced as much as his body, heh. Cuban got 18 points for his performance. Cuban's partner gets a prize for the best display of boobs for the evening.
Marie Osmond is one of the more famous of the "stars" in this year's competition. She admits readily that she is one of, if not THE, oldest females in the Fall 2007 contest. Osmond is not, however, in it to pass the time by moving her feet a bit and allowing the audience to enjoy her celebrity. Marie and her partner performed a sexy Mambo and Marie got 24 points, not bad for an "old lady".
Albert Reed did a Quick Step and as indicated earlier, he got 21 points for his performance, not bad at all. Reed did try to influence the audience with an "Oprah" moment that had him boo-hooing over his grandparents who would be so proud of him. It didn't work as the viewing audience voted him outta there.
Jane Seymour is definitely the most famous of the female contenders and this lady is an elegant contender, not to be dismissed for her celebrity. Jane's pre-dance vignette had her getting all close and cozy with a big albino boa constrictor. I'm not sure what that was all about but it may have helped Jane's rather fastidious English rendition of the Mambo. The judges declared Seymour needed to be a bit more sexy for this type of dance but by me Jane gave a fine performance. She got 21 points for the effort.
I learned in my research due to Comcast's lackluster ability to, duh, deliver TV channels, that Jane was not in attendance for the elimination show because her mother had passed away. ABC says she will be back for the next performance round.
Goodness Wayne Newton doing the Quick Step was a sight to behold. Newton does NOT dance...he stomps. I'm thinking the floor was shaking in that studio while Wayne stomped a little bit but mostly twirled his professional partner round and round. Newton got 15 points from the judges. I think this is the lowest point tally this season.
Sexy Helio, Race car driver and contender to win this thing, did a sexy mambo that earned him 27 points out of 30, the highest judge-points given this season. Helio gets "difficulty" points for a very impressive flip of his partner from the front up and over his head to his back.
Jennie Garth and her partner Derek performed a rousing Quick Step. In an odd turn of events, Derek, the "professional" fell down during one complicated dance step! Even so Garth received 21 points from the judges.
Cameron Mathison and his partner danced a mambo. The choreography featured some sort of dramatic display of angst at the beginning and goodness knows what that costume Mathison's partner wore was all about. She looked like Pocahontas! The judges declared Mathison "off on his musicality", whatever that means. I'm thinking out of step with the music but this is just a guess. Mathison and his partner also got that 21 points out of 30 for their performance.
Floyd Mayweather didn't do so good in his first outing, a cha-cha. This week Floyd and his partner performed a Quick Step and go on, this dance almost perfectly mimics a boxer's practice movements. The pair danced to the tune "Signed, Sealed and Delivered" and the duo moved fluidly and light of foot across the dance floor. Mayweather and his partner too got a 21 point award for their performance.
This Sabrina Bryan, supposedly a member of something called "The Cheetah Girls" is the female contender to watch for in this Fall 2007 "Dancing With the Stars" competition. She's got that instinctive bounce and verve present in one with the gift of the dance. Plus she dances a lot as part of her Cheetah act as I understand it.
Sabrina and her partner performed a Quick Step and Sabrina's smile and enthusiasm were exceeded only by her fast-moving feet. Sabrina exudes confidence on that dance floor; the audience can feel it. Sabrina and her partner were awarded 26 points for their performance, the second highest score of the evening.
Below, 30 second videos of what I thought were the best performances on the night of 10/1/07-"Dancing With the Stars" Fall 2007: Marie Osmond first, then Helio the race car driver below.
"The Bachelor" Fall 2007-Down to a Dozen
Prior Links for posts for "The Bachelor" Fall 2007
=============
The First 25
Final dozen contenders-"The Bachelor" Fall 2007
========================
Deana-lost mother to cancer
McCarten-
Bettina
Estefania
Kristy
Lindsey
Mallory-send home 10/1/07
Erin-sent home 10/1/07
Jessica-
Jenni-
Sheena
Michelle-sent home 10/1/07
Sarah
Hillary
Kristy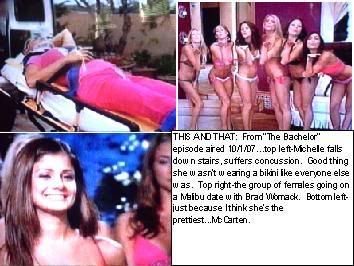 So we begin the series of "group dates" punctuated by "private time" then on to the cherished individual dates. All in the hopes of snagging the prize-an unmarried male, prime of age, well-monied and handsome. In this "The Bachelor" Fall 2007 series, the prize is one Brad Womack, Texas self-proclaimed millionaire and identical twin.
The first group date was held at the races and in attendance we had: Erin, McCarten, Kristie, Mallory, Hillary, Jade, and Deanna.
Meanwhile back at the mansion, eight other contenders were donning their sexiest bikinis and preparing for their own group date which featured a Malibu beach trip. This group date included Stephie, Solisa, Lindsey, Sheena, Sarah, Jessica, and Jenni.
Contender Michelle was supposed to be part of the swim trip but this lady took a long trip down a short flight of stairs. Fade away to rescue personnel, ambulances, stretchers and some drama. What's odd is that when Michelle was put on the stretcher to go for a ride in the ambulance she was fully clothed even though the other girls were dressed in their bikinis. Not that such a thing would be staged or anything.
At the race track the girls got a visit from Sean Phillips of the San Diego Chargers. Oddly all the contenders knew who he was. Women knew this football player? All of them?
Brad took Sean aside and asked him what he thought of the female contenders. In another oddity, this millionaire bachelor and this very masculine football player didn't mention such important female characteristics as boob size or goodness, even looks! Yeah, right.
Deanna got the cherished rose at the racetrack date.
Already there is one female that bachelor Brad seems to favor. At least as I see it. Jenni is a dancer for the Phoenix Suns. She was the recipient of the very first "First Impression" rose last week and this week she was the recipient of Brad's first romantic kiss.
Speaking of kisses, one of my personal fave ladies this Fall 2007 season of "The Bachelor" is McCarten. I like her name and I think she's the prettiest of them all. Anyway, McCarten got it into her head to plant what she had to hope would be a romantic kiss on Brad only he wasn't ready. Below a short video clip of that most awkward kiss ever.
The other contenders evidently know that Jenni's got Brad's eye and they all raided her personal effects. One of the other of the bitches told Brad that Jenni was in the contest only to improve her modeling career.
At any rate, sent home this week were Michelle of the long fall down a set of short stairs, Erin and Mallory. Mallory was the contender who donned a very skimpy bikini the first week and invited Brad to take off his pants.
Heh.
=============
Focus on TV Posts of Fame
Those Wacky TV Chefs.
Includes Rachel Ray and the sexiest chef of them all.
TV News Pundits
including Russert, spitting Matthews and the one I adore.
"Dancing with the Stars"
of 2007, reviews, pics and videos.
American Idol 2007 and The Bachelor.
One night's review with links to all the others.
===============
Add POST to Technorati Favorites
=======================