June 2009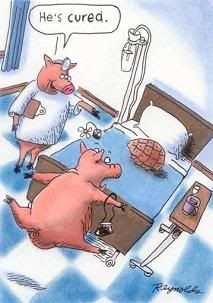 He claimed a black man carjacked him and his pregnant wife. The carjacker then shot his wife and almost killed him.

His name is Charles Stuart and while he might be unknown today, several years ago he had the entire country in the grip of his terrifying story.

Only it was all a lie.

Here's a book review of Stuart's story by Joe Sharkey..."Deadly Greed".
====
It's coming upon the TV doldrums of summer and America's Got Talent steps up to fill the void.

Can a guy whose claim to fame is his ability to put a drill of his nose really win this thing?

Also, the new BravoTV cooking contest doesn't quite meet the standards of its cousin "Top Chef". For the "Top Chef Masters" cook up stuff way too heady for the humble home cook.

All with pics and video you'll find nowhere else on the Internet.

It's a whimsical collection of oddities, pics and smiles in this week's Thoughts. To include pics of the Obamas doing tasteless things, a story of a big star trying to reach his dead pig and an X-rated Burger King ad you gotta see.

"Bachelorette" Jillian's down to 5 fellows vying for her hand. She will soon visit their home towns and meet their parents.

There's lots of scripted drama going on in this reality series including some live stripping and one fellow out for no one but himself.

All with pics and video you'll find nowhere else on the Internet.

While BravoTV's "Top Chef Masters" disappoints, Food Network's "The Next Food Network Star" churns on. We've got drama between the contenders, all sorts of believable food, the ones you'll hate, the ones you'll love, liars and charletons.

All with pics of food AND people you'll find nowhere else on the Internet.

============
HERE
W/E 6/21/09
Here's a well-written book by Edward Humes titled "Mean Justice".

The author tries to make a case that Pat Dunn was wrongfully convicted of killing his wife Sandy via a "mean justice" that includes lying witnesses, runaway prosecutors and a right-wing public with little patience to get at the truth.

Only there's gaping holes in the author's arguments and I take them on in this book review.
=============
Bachelorette Jillian keeps looking for a "connection" in The Bachelorette series now with 7 contenders left vying for her heart.

The Wise I tells Jillian what she really needs to look for in these contenders and first she needs to find out what the hell a "pizza entrepreneur" is.

With pics and video you'll find nowhere else on the Internet.

===========
Two would-be Food Network Stars have been sent packing and in this update based on the episode aired 6/14/09-we review the remaining contenders, who looks promising, who desperately needs to go and the foods they serve get a close eyeball.

Brussels Sprouts Hash?

All with pics and video you'll find nowhere else on the Internet.

============
Two fine, fine liberal ladies show us their stuff to the innocent who mistakenly call them…LIZ or MA'AM.

Nasty names them.

In this THOUGHTS post we have the whole story of Elizabeth who shall destroy those who call her Liz and Barbara Boxer must NOT be called Ma'am.

Plus a letter that sums up the tea parties and the feelings of us peons across the fruited plains.

Good Guys of the Week, Bad Buys of the Week, Quips of the Week and it all Ends With a Smile.

===========
The gardens of 2009 grow well here in Serendipity Shore.

A native plant helps to create a living fence and a flower that had always refused to grow adds stunning vertical interest to the gardens.

With pics, of course.
==========
Blog Posts of Note:
Deviled Eggs-the Definitive Way to Prepare These Gems
A Brain Infection? A Medical Odyssey of Sheer Terror.
Those Celebrity Chefs-Who Cooks With Her Boobs and Who Is Disliked by All.
The Harmony Document Database Translations
Rush Limbaugh-What He Does Wrong; What He Does Right
Those Radio Talk Show Hosts-The Good, The Bad, The Ugly
==============
W/E 6/14/09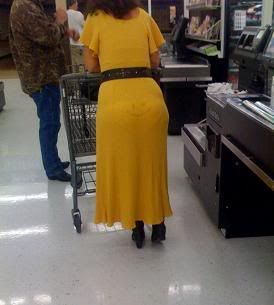 In this TV post we take a look at NBC's newest summer offering-"The Listener". The main character's cute and has ESP. But does this make a hit show?

Also, HGTV's $250,000 challenge where families win even if they lose. It's fun and on a subject ALL females are concerned about.

BravoTV's The Fashion Show reality contest continues on and it intrigues. But a "jock" look with fringes on stockings?

Finally, Dancing With Stars sexy Marini has new role and how did Kris Allen really win American Idol 2009?
=====================
"The Pursuit of Something Better" is a story of a small cellular service company that rockets from the bottom of the pile when a new and visionary CEO joins the team.

Read this story by David Esler and Myra Kruger about how paying attention to ALL employees and good leadership brings results in both employee morale and the bottom line.

Plus, how could my local Walmart benefit by a lesson from Rooney's "Dynamic Organization"?
==========
The protagonist of this story "Can of Peas" grew up believing that a humble can of peas saved her parents from certain death on the rocky immigrant boat of their passage from Italy to America.

But was it a can of peas or something that sounds like a can of peas that saved the lives on that vote and changed the fortunes of the believers soon to be born of the survivors?

======================
Food Network begins its annual foodie contest "The Next Food Network Star" and it began with a bang and intrigue.

Plus some boring dishes, some lying contenders, some awful desserts and questionable personalities introduced to an eager public looking for the next Guy Fieri.

===============
So okay Michelle Obama wears an outfit obviously created by a bedazzler and a handy glue gun. What the hell was she thinking? We've got pics, natch.

Also, Bad Guy of the Week, David Letterman, and his hilarious liberal talkinig points and Republican Good Guy of the Week, Sen. Grassley, who didn't let President Obama get away with protecting his child pervert California political patron.

We've got it all in Thoughts of the past week.

===============
It's the final episode in Guest Writer Michelle's sad story of Bounty's oddyssey.

It's bittersweet as Bounty awaits Michelle and her husband at the foot of Rainbow Bridge where pets wait to meet their former owners in a heaven with no pain or sorrow.
ABOVE POST HERE
W/E 6/8/09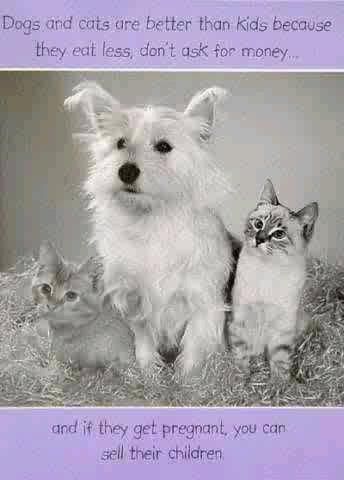 We've got some serious thoughts on the fine, fine
Watson fellow who killed his bride on their honeymoon, all in front of many witnesses! Guy got manslaughter, maybe he'll serve a year.

Plus the coming tax on health care benefits, selling books in beauty shops and Sonia Sotomayor, what she REALLY needs if she's going to get nominated. It will surprise you.

And speaking of getting away with crime, how about those Black Panthers being let loose for voter intimidation that would have any white person thrown in jail toot de sweet?
=============
A quick catch-up on Jillian of "Bachelorette" fame. As of this writing she's got 16 guys still vying for her, we all should be so lucky.

The show is building the drama in that there's one fellow all the contenders love to hate and throw in a weirdo or two.

Does Jillian appear to be honing in on any one of her handsome choices yet?
===========

Here's a movie that is a 2009 "must-see".

Pixar's "UP" has everything, charm, adventure, laughs, insight, truth and an appeal to all ages. Scratch that. "UP" does seem to be missing curse words and sex scenes and still it entertains.

Check out who this movie's protagonist is based on in terms of resemblance. Hint-he's a famous journalist and "UP's" elderly adventurer looks exactly like him.
20============
A guest post that brings new meaning to "engineering" as we know it.
=============
Kaitlyn paid a visit to Mom-Mom in late May 09 and she too loved the movie "UP".

She's learning pinball and enjoyed an evening on Delaware Rehoboth Beach's famed boardwalk.
============
ABOVE POST HERE