Day- Sunday Date- 1/8/06
-Tom Delay Will Not Re-Seek His Post in House of Reps
...Abramoff?
-Journalist Kidnapped in Iraq
...not clear if a "Western" Journalist or "American". No name released.
-WAPO attempts to keep NSA story alive
...like a tenacious bulldog, the Lamestream won't let the story go
Today's Daily Update
Tom Delay to Resign
How many times must I bitch about Delaware's own RINO Mike Castle before someone pays me mind?
For the lovely Mike, who voted against drilling through the ice in our own country that my granddaughter will someday wear a burqa for our dependence on the sons of camels, also led the brigade in ousting Delay.
The problem with Delay, while I'm pretty sure that Texas prosecution is bogus, his connection to Abramoff is unclear.
Cunningham from California got thrown out. If Delay's mucking with the riff-raff, he should go too.
The Democrats, as we all know, insert wink here, never do stuff like this.
One thing the Lamestream can't say, Bush is allowing the justice department to go on with these investigations, no matter where the chips fall.
The Democrats' turn is coming. They know it.

From Breitbart.com

Embattled Rep. Tom DeLay decided Saturday to give up his post as House majority leader, clearing the way for new leadership elections among House Republicans eager to shed the taint of scandal, two officials said.





These officials said DeLay, R-Texas, was preparing a letter informing fellow House Republicans of his decision. These officials spoke on condition of anonymity, saying they did not want to pre-empt the formal announcement.

DeLay is battling campaign finance charges in Texas and was forced to step aside temporarily as majority leader last fall after he was charged in his home state. He has consistently maintained his innocence and said he intended to resume his leadership post once cleared.

~~~~~~~~~~
"Western" Journalist Captured in Iraq
Info coming in from Reuters and Forbes. Still no name.
Something very strange here.

Reuters | January 7, 2006

Posted on 01/07/2006 4:38:41 AM EST by HAL9000

BAGHDAD, Jan 7 (Reuters) - A female Western journalist was kidnapped in Baghdad on Saturday and her translator killed, police said.

They said she was on her way to a meeting with a Sunni Arab leader when a car carrying an unknown number of gunmen blocked her vehicle in the Adel district near Malik bin Anas mosque in west Baghdad.

The gunmen shot dead her driver, an Iraqi journalist who also worked as her translator, abandoned their car and drove off in hers.

There has been a spate of kidnappings of Westerners in Iraq over the past few months after a lull during most of 2005. Four Christian peace activists -- a Briton, an American and two Canadians -- are still being held captive. A French engineer is also being held.


---



From Forbes.com:

Maj. Falah Mohamadawi said the translator told police before he died that the abduction took place when he and the journalist were heading to meet Adnan al-Dulaimi, head of the Sunni Arab Iraqi Accordance Front, in the Adel neighborhood of the city.
~~~~~~~~~~
WAPO Fuels the NSA Story
The Congressional Research Service, whatever the hell that is, released a 44 page report on the NSA warrantless wire tap story.
Like every pundit of the past week, like every legal scholar, like every word written since the NY Times released its blockbuster story in perfect timing with its reporters' book release, says basically nothing.
The one fact none of them get beyond, ladies and gems, is that court records historically have always upheld the power of the Commander in Chief to do what is required to protect the country.
For now, we think the WAPO should stick to it's world famous clothing critique.
From Powerline:
| | |
| --- | --- |
| | The CRS report, which you can access here, is 44 pages long. Yet the Post, apparently not wanting to confuse its readers by exposing them to the actual report, rather than Democratic politicians' interpretations of it, quotes only two sentence fragments: |
~~~~~~~~~~



Tomorrow's Blog Post


....Come back tomorrow when "tomorrow" becomes "today"

Notable/Quotables

Getting ready for the Alito nomination hearings

~~~~~~~~~~
Links to this month's Daily Updates
W/E 12/11/05
W/E 12/18/05
W/E 12/25/05
W/E 12/31/05
~~~~~~~~~~
CLICK HERE FOR "TODAY'S AUXILIARY BLOG POST




TV Events of Note


The West Wing (New)

NBC: Sunday, January 8 8:00 PM
Drama

Running Mates
As Leo struggles through debate practice, he makes Josh and Lou extremely nervous; Santos takes time off the campaign trail to see his family.

Cast: Martin Sheen, Stockard Channing, John Spencer, Bradley Whitford, Allison Janney, Richard Schiff, Dul² Hill, Janel Moloney, Joshua Malina, Mary McCormack Executive Producer(s): John Wells
=======
Cold Case (New)

CBS: Sunday, January 8 8:00 PM
Crime drama

8 Years
Lilly reopens a 1988 case involving four high-school friends who are brought in for questioning when another is found dead.

Cast: Kathryn Morris, Danny Pino, John Finn, Thom Barry, Jeremy Ratchford, Sarah Brown, Tracie Thoms Director(s): Mark Pellington Executive Producer(s): Jerry Bruckheimer, Jonathan Littman, Meredith Stiehm

~~~~~~~~~~
Daily Update: Day- Saturday Date- 1/7/06
-Pat Robertson-Is This Guy Insane?
...anyone can spout nonsense. Why is he quoted as if he's got brains?
-Fueling the NSA Leak Non-story
...now the NSA is listening in on Andrea Mitchell?
-Dems revving up for Alito fight
...they'll not go easy into the good night of his nomination



Today's Auxiliary Blog Post
...Because there's more to life than politics.


Auxiliary Blog Post


---


Time to update the Katrina for Kaitlyn series.

Because in this new year, the myths of Hurricane Katrina are steadily being shattered.

What color was the skin of most of the victims of Hurricane Katrina?

Hint-it's not black.


---



Join in for a smile in this Fishgiggles.

Two drunks take off in their car. As they speed down the road, why does the old man keep tapping on their window?


---
CLICK HERE FOR "TODAY'S AUXILIARY BLOG POST
---
Day- Saturday Date- 1/7/06
Today's Daily Update
Pat Robertson-Head Case
I suppose the Lamestream media loves to jump on the latest Pat Robertson nut phrase because the man somehow is considered representative of the religious right in this country.
I can almost promise that few church going people buy into Robertson's
recent assertion
that Ariel Sharon's stroke was somehow punishment from God.
It defies common sense.
Someone should ask Mr. Robertson what those dozen miners in Sago West Virginia to deserve the wrath of God.

Robertson says Sharon's stroke is God's punishment

The Reverend Pat Robertson says Prime Minister Ariel Sharon's massive stroke could be God's punishment for giving up Israeli territory.

The founder of the Christian Broadcasting Network told viewers of "The 700 Club" that Sharon was "dividing God's land," even though the Bible says doing so invites "God's enmity."





Robertson added, "I would say woe to any prime minister of Israel who takes a similar course."

He noted that former Prime Minister Yitzhak Rabin was assassinated.

Robertson said God's message is, "This land belongs to me. You'd better leave it alone."
---
Fueling the NSA Leak
Now that the NSA leak is fizzling out as a non-story, the anti-American Democrats are looking for fuel to flare it up again.
Rumored all across the Blogosphere is the possibility that Andrea Mitchell and possibly Christine Armanpour were victims of the NSA communication intercept program between terrorists and people in the United States. Throw in that bit below about the same NSA program possibly spying on congress critters and who knows, it might cause a stir or two.
In the end, like every other story they've ginned up, this story is going nowhere. Busy American who carry this country on their backs are just not going to get in a twit over a President monitoring phone calls between terrorists and citizens or other within the United States.
And if the NSA has time to monitor journalists, unless they're having long phone conversations with Al-Queda, or congress critters, than that agency has entirely too many employees.
Then again, the Democrats are used to Bill and Hillary. Who used the IRS on their enemies, confiscated 900 FBI files and sicced nasty investigators on former lovers of the lovely Bill.
I guess they think that's how a President uses his powers as Commander in Chief.
God Forgive them. They don't know any better.
We hear the MSNBC blog site had a post about Andrea Mitchell supposedly being monitored by the NSA intercept program. Then it was taken down.
Also note that known kook John Conyers, is behind the letter sent to congress as detailed below.


Also Thursday, 27 House Democrats sent a letter to President Bush asking for information about the National Security Agency eavesdropping program, including whether communications from or to members of Congress and journalists were intercepted. ...

The security agency's program, disclosed last month in The New York Times, involves eavesdropping without court warrants on the telephone calls and e-mail messages of people in the United States who officials say have been linked to terrorism suspects overseas. ... Representative John Conyers Jr. of Michigan, the ranking Democrat on the House Judiciary Committee, released the 27 Democrats' letter. It asks for copies of all legal opinions on the spying program; the numbers of Americans singled out; and the names of agencies getting the information the agency collected.
---
Alito Nominations Hearings
Heh.
Well far be this modest Grandma Blogger to try and explain the logic of Chuck Schumer, who speaks with forked tongue, better than the mighty
Captain at Captain's Quarters:




Alito's hearing before the Judiciary Committee, scheduled to begin Monday, will last a week if it tracks last year's confirmation process for Chief Justice John G. Roberts Jr. A Democratic member, Charles E. Schumer (N.Y.), said yesterday that senators will ask extensive questions and insist that Alito answer them fully -- even if it means pushing the hearing into the following week.
All judicial nominees are required to respond to senators' queries, Schumer said in a speech in Washington. "The obligation, however, is greater for some nominees," he said. "It is greater when a nominee has taken a clear position on a legal matter."



Well, wait a minute. Wasn't Schumer one of those who argued that John Roberts had a greater requirement because he hadn't generated a public track record?





---
CLICK HERE FOR "TODAY'S AUXILIARY BLOG POST
Daily Update: Day- Friday Date- 1/6/06
-Israel's Ariel Sharon in a medical coma
...Palestinians rejoice
-NSA nut case wants to testify about secrets
...From Drudge
-Interesting Moonbat plans for middle of March
...Cindy Sheehan right in the thick of it



Today's Auxiliary Blog Post
...Because there's more to life than politics.


Auxiliary Blog Post
======================
It's this week's Gossip post and there's plenty.

We've got Food Network darling Rachel Ray and some scandal, the horror of Kim Basinger's mother, and Elton's partnership agreement.

Please, click in to check out what's going on between a woman and a dolphin.

It was bound to happen.
~~~~~~~~~~~~~~~~~~~~
Courtesy of the Delaware GOP, we have 2005's Awards.

Biden wins the dumbest quote award, Minner is just plain dumb.

But the Delaware GOP forgot one important award.

It's to one of their own. Not to fear, The Wise I properly nominated the Traitor of the Year 2005.
~~~~~~~~~~~~~~~~~~~~
CLICK HERE FOR "TODAY'S AUXILIARY BLOG POST
~~~~~~~~~~
Day- Friday Date- 1/6/06
Today's Daily Update
Sharon Not Likely to Make It.
Haaretz.com
has been featuring live-blogging on the ongoing condition of Israel's Prime Minister, Ariel Sharon.
If the public reports are that Sharon is in serious condition it must really be bad.
Sharon will always be a hero of sorts to me. Though I know he is a polarizing figure even in his own country.
But I've always believed he is a true patriot and wanted Israel to survive more than his own political ambitions. His decision to pull out of the Gaza strip had to be an agonizing choice.
What's going here...Sharon is a great friend of the current American administration. I suspect he would never have made that Gaza decision in cahoots with the Clinton administration. The United States does have a tendency to abandon its military endeavors before the deed is accomplished.
Who knows the Israel tendency without Sharon? Israelis, indeed Jews in general, tend to be a bit Liberal in ideal logy.
Whatever happens in the diplomatic future with Israel, Sharon won't likely be part of it.
Prayers for a good man.
| | |
| --- | --- |
| | 06:55 Doctor: Sharon still under anesthesia, in very serious condition (Haaretz) 06:55 Hadassah doctor: You could say Sharon is in serious condition (Haaretz) 06:54 Doctor: We expect surgery to continue for a few more hours (Haaretz) 06:53 Sharon still in operating room (Haaretz) |
~~~~~~~~~~
Kook Wants to Testify About NSA Surveillance
Last name is Rice. Been fired from the NSA. Before that he changed oil in the motor pool.
Used to be an NSA agent of some sort.
It will be interest how far this goes.
DrudgeReport
~~~~~~~~~~
Moonbats Got Big Plans
Featuring the Moonbat who won't go away.
Shades of the 60's.
Let's see, we've got "Literature Laureate" Cindy Sheehan. Heh.
Seems a bunch of them are going to hold "sit-ins" across the planet.
Information below for yon readers who might want to participate.
From Varsity:


Contact: dm@aglobalcall.org Global Call to Action Voluntown, CT, USA

Our website: www.aglobalcall.org

FROM: Nobel Peace and Literature Laureates Cindy Sheehan and other peace and human-rights activists Religious leaders of various traditions Prisoners of Conscience Former government ministers Poets, authors, journalists

A Global Call for Nonviolent Civil Resistance at U.S. and British government installations around the world has been issued by Nobel Peace and Literature Laureates along with Cindy Sheehan and other peace and human-rights activists, religious leaders, and others. The signers, from 16 countries, "invite peace-makers throughout the world to participate in an international campaign of massive, nonviolent civil resistance to stop the U.S.-led occupation of Iraq. These actions could be organized to include both non-violent civil resistance and legal demonstrations."





The proponents of the Call include Harold Pinter, this year s winner of the Nobel Prize in Literature, and Nobel Peace Laureates Mairead Corrigan Maguire of Northern Ireland (1976) and Adolfo P rez Esquivel of Argentina (1980).

The first date of international actions is March 19-20, 2006, the third anniversary of the invasion of Iraq. (Subsequent action dates are presented in the Call, below.) The group envisions that "some would participate in legal demonstrations while others would stage sit-ins, die-ins, and other nonviolent methods of blocking 'business as usual' at government buildings or installations (including military bases and recruiting centers) or at corporate offices of war profiteers in the U.S., Great Britain, and other countries which are taking part in the deadly and unjust military occupation of Iraq."
~~~~~~~~~~
CLICK HERE FOR "TODAY'S AUXILIARY BLOG POST
Daily Update: Day- Thursday Date- 1/5/06
-Israel's Ariel Sharon suffers massive stroke
....what are the international implications?
-Why don't Journalists just tell the Abramoff story?
...is not about Republicans. It IS about unethical congress critters
-That tragic mine story
...some thoughts



Today's Auxiliary Blog Post
...Because there's more to life than politics.


Auxiliary Blog Post
======================
It's time for some Miscellany.

Clothes that monitor your health? Real Estate for sale on the moon?

And the mystery of the goose present is solved. It's not magical. It's downright sordid.

Hope the neighbors don't read.
~~~~~~~~~~~~~~~~~~~~
It's a big Comment post.

Apprentice fans will want to check in because there's lots of thought about recent winner Randal and if he did the right thing.

A snide commenter provides new details on the Jonathan Luna murder. But are they accurate?
~~~~~~~~~~~~~~~~~~~~
CLICK HERE FOR "TODAY'S AUXILIARY BLOG POST
~~~~~~~~~~
Day- Thursday Date- 1/5/06
Today's Daily Update
Ariel Sharon Suffers Stroke
Bleeding into his brain stem. It does not look good.
Transfer of power has been done.
Sharon has been a champion in cooperation for peace in the Mideast. The still questionable Gaza pullout might well not have happened had it not been for Sharon's perseverance.
It doesn't look good for Sharon. For now, the repercussions re Israel, Syria, Egypt and Palestine are unknown.

From Foxnews:


Sharon, 77, suffered a "significant" stroke and was brought to Jerusalem's Hadassah Hospital from his ranch in the Negev desert, an official said. Channel 2 TV said Sharon was suffering from paralysis in his lower body and was taken into the hospital on a stretcher.
~~~~~~~~~~
Why Don't Journalists Just Tell the Story of Abramoff?
The Jack Abramoff is a big story. An enterprising journalist would get behind this tale and push it for all that it's worth.
For Jack Abramoff bilked his clients who wanted to go after the big American dream. In his case, it's the American Indians who signed onto Abramoff's brand of chicanery and paid big bucks for his promises.
Various and sundry congress critters accepted donations into their campaign coffers from Abramoff's clients. Who knows how much Abramoff pocketed from his clients? For that matter, who knows how many bags of cash Abramoff might have delivered to his buddies on Capitol Hill?
The problem here is that there is nothing illegal about lobbyists contributing to a politician's political action committee so long as campaign finance laws are followed.
I'm betting that every politician who accepted a donation from Abramoff knew the guy was a sleaze bucket. Bilked Indian tribes had long ago filed lawsuits against this creep. While Abramoff just willy-nilly moved on to another Indian tribe with promises of money and power to come, just provide some money and the riches will be yours.
Native Americans can run casinos tax free on land stipulated as tribal lands. Defining tribal lands is a complicated process involving the Secretary of the Interior and home state congress critters. The very nature of the way it is set up, a bow to re-pay Native Americans for this country's early confiscation of their land, creates a breeding ground for questionable political practices.
Abramoff's story is about lobbyists and the oversight of lobbying practices in the nation's capitol.
Essentially, there is none.
THAT's the story.
Yet the Lamestream Bush haters INSIST on making this a story about Republicans.
There are just as many, if not more, Democrats involved in this as Republicans. Notice that many of the Republican recipients of Abramoff's contributions on behalf of his clients are giving the money back. And they're giving it back to CHARITY.
This is because, ladies and gems, they DON'T want to give it back to Abramoff. He already stole it once with promises that turned into dust and nothing. I suspect those pubbies who returned the money will find a way to get it back into the hands of those bilked Indian tribes.
So far no Democrats have made the same gesture. Of course, they don't have to. It's not illegal for them to have accepted the money although I'm sure they all knew that Abramoff stole that money.
An enterprising journalist would keep on this story to an end of forcing the congress to overhaul the laws concerning lobbyists. Jack Abramoff is the benchmark of how sleaze in lobbying taints this country's political process.
Instead the media wants to throw the word "Republican" and "Tom Delay" around that the average busy soccer mom hear only that and get no clue about the real story here.
In short, if the media wants to editorialize, then call it a freaking editorial.
They miss the chance to do what a fourth estate can accomplish. Which is to point the glare at the leaders who will figure out any way they can to get re-elected. Even if it means accepting what they had to know was stolen money via a very legal methodology that they themselves invented.
Maybe the Bloggers will take over this job.
~~~~~~~~~~
The Story of the Sago Miners
Double tragedy. Over time the loved ones of the trapped miners had the opportunity to slowly accept what was sure to become a huge personal loss. It was a good way, if such things can be considered good.
Then good news. Joy. Jubilation. The slow acceptance of a dread outcome was boom, sent out the window.
These survivors of the Sago mine had to suffer their loss two times.
And the record was not corrected for almost three hours.
Mine officials said that they knew the truth within 45 minutes of the original joyous announcement. Yet they wanted so bad for the miracle to be a reality they waited for another hour and a half before the truth was realized. The miracle prayed for did not happen.
Below, the loved of the Sago mine victims celebrate the initial erroneous announcement.
Within two hours the bottom would again drop out of their world.

From Yahoo.com:


At that point, chaos broke out in the church and a fight started.

Hatfield said the erroneous information spread rapidly when people overheard cell phone calls between rescuers and the rescue command center. In reality, rescuers had confirmed finding 12 miners and were checking their vital signs, he said.

"The initial report from the rescue team to the command center indicated multiple survivors," Hatfield said during a news conference. "That information spread like wildfire, because it had come from the command center. It quickly got out of control."
~~~~~~~~~~
CLICK HERE FOR "TODAY'S AUXILIARY BLOG POST
Daily Update: Day- Wednesday Date- 1/4/06
WRONG!
-12 Sago Miners Found Alive!
...Whatta story.
-Jack Abramoff Sleaze bucket and charlatan.
...it's NOT just a Republican scandal no matter what the Lamestream says
-Those "Whistle Blower" talking points
...NY Times Risen tells Katie Leakers were patriots. Heh.



Today's Auxiliary Blog Post
...Because there's more to life than politics.


Auxiliary Blog Post
======================
It's a True Crime post. Because true crime doesn't stop for the holidays.

The Body Builder murders... a body is found in their Jaguar in Nevada. So what are they doing in Boston?

Also, a Soprano Star and a dead cop. A soldier returns home from the Mideast to be murdered by his wife and her boyfriend.
~~~~~~~~~~~~~~~~~~~~
Okay, so maybe the older folks amongst us will appreciate this Web Site of the Week.

For it's chock full of old-fashioned advertising and bound to bring smiles and reminisce.

Pearls while doing housework?
~~~~~~~~~~~~~~~~~~~~
CLICK HERE FOR "TODAY'S AUXILIARY BLOG POST
~~~~~~~~~~
Day- Wednesday Date- 1/4/06
Today's Daily Update
Below the original entry. I stayed up three hours to watch it. I saw Geraldo cry. I watched Anderson Cooper interview the happy families. Rita Cosby spoke by cell phone to joyous family members. I posted the post, smug that I was one of the first Bloggers to report the happy news.
I'd like to delete the entry I made.
But it's part of the story.
I regret the error.
12 Miners Found Alive!
It was a most amazing thing. The cable networks covered the scene around the Sago mine disaster all evening. The pundits explained about carbon monoxide.
The rescuers found one miner dead. But amazingly, the manbus used to transport the miners into the mine was empty. The Governor of West Virginia seemed gleeful. A small hope was whispered. If the manbus was not destroyed by the explosion, if it was empty of everything, including the lunch boxes and personal effect of the miners, the questioned was asked: Could they somehow have escaped?
I didn't believe it for a minute. Beginning with that poor soul's body found dead 700 feet from the manbus. I figured it wouldn't be long until the other dozen were found dead as well.
Right around midnight, CNN began to percolate. Church bells were ringing.
It was a miracle in a West Virginia coal town.
~~~~~~~~~~
This Jack Abramoff Fellow
Yes he is a Republican. And several Republicans are more involved with this sleaze bucket than should be.
It is NOT, ladies and gems, a Republican only scandal. Over the next few days yon readers will likely hear Tom Delay's name thrown all about with the word "Republican" said as often as possible. For edification, below I have listed all of the Democrats who have received Abramoff's clients' contributions. Likely there's as many Republicans on the receiving end of Abramoff's largesse donated by his clients. The Lamestream media will keep everyone updated on this list. This humble Grandma Blogger will list the Democrats in the interest of fair and balanced.
It must be emphasized here that there is absolutely nothing illegal about contributions from Abramoff's clients' to the campaign coffers of various congress critters. So long as said contributions follow the campaign finance laws, lobbyists arrange contributions all the time on behalf of their clients.
First thing yon readers should know and not forget...Jack Abramoff is a sleaze bucket and charlatan. His crimes are many, up to and including possible involvement either in the commission or cover up of, an actual murder.
Abramoff also bilked many Indian tribes by promising goods he did not deliver. He not only didn't deliver what he promised, he actually set up bogus charities and tax exempt organizations as a vehicle for such shrewd thievery.
One such charity was in conjunction with a former staff member of Tom Delay. But this was done after the staffer quit Delay's office.
As for the promise of vast frog-marching of congress critters to the hoosegow, I'm skeptical.
For what?
For taking money contributed to valid political action committees from a lobbyist? Folks this goes on every day in Washington D.C. It's how the political system works.
It took a blatant crook like Abramoff to illustrate how the lack of transparency in this nation's lobbying system can get so out of hand.
I'm willing to bet that those congress critters who took money from Abramoff's scammed Indian clients knew that ole Jack was a charlatan. But hey, re-election loomed. Besides, again, it's not illegal for a congress critter to take contributions from a lobbyist and his clients. There's nothing in the law books stipulating that a contributing lobbyist has to be an honest and decent guy before a congress critter can accept his money.
Bribery, on the other hand, is definitely illegal. There's the rub.
Bribery has to be proved.
There's a plethora of data all around illustrating congress critters' letters sent to Secretary of Interior Gale Norton on behalf of this Indian tribe or another followed immediately by a large contribution to the campaign coffers of the letter writers' by Abramoff's Indian clients.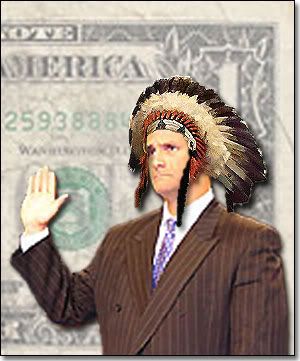 Casinos make a lot of money, ladies and gems. Indian tribes are allowed to run casinos on tribal land. Problem is, it's got to be a legitimate Indian tribe. For example, myself and husband cannot up and declare that we are Native Americans and Serendipity Shore is tribal land. It is on the Secretary of the Interior to determine Native American classification and delineate tribal lands.
Yet there have been large groups of Americans who declare themselves American Indians and seek to obtain casino approval. Many of these groups are very questionable as to their real status.
It was no mind to Jack Abramoff and those partners in crime he recruited in his travels around D.C. Indeed if husband and I declared ourselves American Indians and approached Abramoff for help in getting our house listed as tribal land, he'd probably tells us that of course we are American Indians, that Serendipity Shore deserves to be a casino, then ask us for money. Ole Jack might go to mine own Lord Biden and give Delaware's fine Lord maybe half the money we gave him. Lord Biden may write a letter to Gale Norton asking that Serendipity Shore be declared tribal land eligible for the building of a casino upon. Writing a letter on our behalf by our own fine representative in the House of Lords, folks. It's not a crime.
It's what Abramoff did and the dollars bilked measure in the millions. Abramoff pranced around Washington and hell yeah there were plenty of congress critters willing to take the money.
If there was a viable quid pro quo after the contributions were received, and if it can be proved, well we've now stepped over the line into bribery.
It's not that easy to prove. And I don't think the jails will soon be full of congress critters. They're not that stupid. Congress critters know how to take money and keep it on the up and up. Even if they knew Abramoff was bilking his clients of their hard-earned money they can easily say they didn't know.
On the PR front it gets a bit messy. In some cases there might be a direct connection to a favor paid for money received. There's one congress critter- Ney from Ohio- who might be knee deep in that murder Abramoff might be involved with.
But writing something for insertion into the congressional record in return for a PAC contribution isn't illegal. Putting in a good word for this tribe over that tribe, even if a nice contribution soon follows, isn't necessarily a quid pro quo.
The question here is, how much incriminating evidence does Abramoff have? Does he have an email from Harry Reid assuring Abramoff that Reid will vote for this bill just as soon as the contribution received? Because this is the sort of thing that will be needed to indict these unethical congress critters.
It could happen. More likely the whole thing will stink to high heaven, the public will roll its collective eyes and a bunch of incumbents are going to lose their jobs this midterm.
It will NOT be only Republicans.
They all participated in what they had to know was a sham.
Whoever was part of it should be ashamed.

From CNN.com:

Lobbyist Jack Abramoff, a close associate of former House Majority Leader Tom DeLay, to plead guilty to corruption, other charges, source tells CNN.

That is the teaser on CNN. CNN reported that Abramoff has agreed to a prison sentence of a maximum of 10 years, pending his full co-operation with the justice department.

National Democrat Party Affiliated Committees Received Over $1.2 Million From Indian Tribe Clients And Lobbying Associates Of Jack Abramoff. (Campaign Finance Analysis Project Website, www.campaignfinanceanalysisproject.com, Accessed December 7, 2005; Political Money Line Website, www.tray.com, Accessed December 7, 2005; Internal Revenue Service Website, www.irs.gov, Accessed April 21, 2005)

The Democrat Senatorial Campaign Committee (DSCC) Received Over - $430,000
The Democrat Congressional Campaign Committee (DCCC) Received Over - $629,000
The Democrat National Committee (DNC) Received Over - $177,000

Incumbent Senate Democrat-Affiliated Campaign And Leadership Committees Received Over $729,000 From Indian Tribe Clients And Lobbying Associates Of Jack Abramoff*. (Campaign Finance Analysis Project Website, www.campaignfinanceanalysisproject.com, Accessed December 7, 2005; Political Money Line Website, www.tray.com, Accessed December 7, 2005; Internal Revenue Service Website, www.irs.gov, Accessed April 21, 2005)

Senator Joseph Biden (D-DE) Received At Least $1,250
Senator Russ Feingold (D-WI) Received At Leas $1,250
Senator Jeff Bingaman (D-NM) Received At Leas $2,000
Senator Dianne Feinstein (D-CA) Received At L $2,000
Senator Jim Jeffords (I-VT) Received At Least $2,000
Senator Mark Pryor (D-AR) Received At Least - $2,300
Senator Ted Kennedy (D-MA) Received At Least $3,300
Senator Jack Reed (D-RI) Received At Least - $3,500
Senator Pat Leahy (D-VT) Received At Least - $4,000
Senator John Rockefeller (D-WV) Received At L $4,000
Senator Paul Sarbanes (D-MD) Received At Leas $4,300
Senator Ken Salazar (D-CO) Received At Least $4,500
Senator Ben Nelson (D-NE) Received At Least - $5,200
Senator Carl Levin (D-MI) Received At Least - $6,000
Senator Debbie Stabenow (D-MI) Received At Le $6,250
Senator Ron Wyden (D-OR) Received At Least - $6,250
Senator Evan Bayh (D-IN) Received At Least - $6,500
Senator Tom Carper (D-DE) Received At Least - $7,500
Senator Jon Corzine (D-NJ) Received At Least $7,500
Senator Barack Obama (D-IL) Received At Least $7,500
Senator Kent Conrad (D-ND) Received At Least $8,000
Senator Daniel Inouye (D-HI) Received At Leas $9,000
Senator Barbara Mikulski (D-MD) Received At L $10,550
Senator Hillary Clinton (D-NY) Received At Le $12,950
Senator Dick Durbin (D-IL) Received At Least $14,000
Senator Tim Johnson (D-SD) Received At Least $14,250
Senator Chris Dodd (D-CT) Received At Least - $14,792
Senator Blanche Lincoln (D-AR) Received At Le $14,891
Senator Bill Nelson (D-FL) Received At Least $20,168
Senator Barbara Boxer (D-CA) Received At Leas $20,250
Senator Maria Cantwell (D-WA) Received At Lea $21,765
Senator Max Baucus (D-MT) Received At Least - $22,500
Senator Mary Landrieu (D-LA) Received At Leas $28,000
Senator Chuck Schumer (D-NY) Received At Leas $29,550
Senator Joe Lieberman (D-CT) Received At Leas $29,830
Senator Tom Harkin (D-IA) Received At Least - $45,750
Senator Harry Reid (D-NV) Received At Least - $68,941
Senator Patty Murray (D-WA) Received At Least $78,991
Senator Byron Dorgan (D-ND) Received At Least $79,300
Senator John Kerry (D-MA) Received At Least - $98,550

~~~~~~~~~~
So Why Isn't Scooter Libby a Patriot?
NY Times reporter James Risen tells perky Katie this morning that those individuals who leaked the information about the NSA monitoring of calls into and out of the United States are "patriots".
Why the double standard here? Because if one leaker is a patriot aren't they all?
No wait. It is widely believed that a certain Lord in the House of Lords is hip deep in the leaks of the NSA scandal. Said Lord being a Democrat.
Scooter Libby is a Republican.
There's the difference.
Please note that I reported yesterday that the lovely Lord Schumer was on Fox News Sunday with the Dem talking points at the ready. "Whistle Blowers" Lord Schumer called them. Risen with the new book calls them "patriots".
Heh.


From ABCnews:
On NBC's "Today" show this morning, New York Times scribe Jim Risen told Katie Couric that he hopes he will not have to reveal his sources to a grand jury and declared his story to be the exact opposite of the Plame case. Risen claims his sources revealed information for the best possible reasons and he went on to declare those sources "patriots."
~~~~~~~~~~
CLICK HERE FOR "TODAY'S AUXILIARY BLOG POST
~~~~~~~~~~
Daily Update: Day-Tuesday Date-1/3/06
-Investigation into NSA Wire Tapping Leaks
....the Dems are scared. Could it have been on of them?
-Oklahoma's too dry; California's too wet
...as the country celebrated, Oklahoma burns and California floods
-Miners trapped in West Va.
...a mile inside a mountain



Today's Auxiliary Blog Post
...Because there's more to life than politics.


Auxiliary Blog Post
======================
It's the Week Just Passed. And while America celebrated the holidays, plenty went on across the planet.

Dick Cheney reveals some interesting tidbits, the Pope chastises the U.N., and Russian stores attacked with strange gas.

And why on earth are the Democrats protecting Iran of all places?
~~~~~~~~~~~~~~~~~~~~
In this Notable/Quotables we have beloved Ann Coulter on spying, quotes on the Mexican wall, some snide commentary on that NY Transit strike.

Oh, and a Notable Quotable directly from the White House.
~~~~~~~~~~~~~~~~~~~~
CLICK HERE FOR "TODAY'S AUXILIARY BLOG POST
~~~~~~~~~~
Day- Tuesday Date- 1/3/06
Today's Daily Update
Investigation Into the NSA Leak
Before the Christmas holidays national recess, the NY Times released, in timing with the release of their reporter's novel, the blockbuster news that the administration is eavesdropping on calls from known terrorists to American "citizens". While the country was on holiday, the National Security Agency requested that the Justice department investigate the source of the leak.
Because leaking classified information ladies and gems, is illegal and has been since this country began.
Tonight I watched the Chris Matthews show and how sad.
His guests were Andrea Mitchell, who has more craters on her face than the moon, and Evan Thomas, who recently penned an article on the administration's eavesdropping on phone calls made from terrorists to the United States.
The three of them sat around the table, totally oblivious to us Americans out here in la-la land who have no problem with the NSA checking into conversations between Al-Queda and Americans. Like President Bush says, "if someone from Al-Queda is calling you than we want to know why."
Duh.
Andrea Mitchell of the face-craters and Evan Thomas just can't stand it.
"So far," Evan Thomas of Newsweak says mournfully, "Americans have no problem with the program."
Andrea, Evan and Chrissie sat, in front of my disbelieving eyes, and discussed how stupid we are out here in la-la land and how we do not have the capacity to understand that Nixon did the same thing.
Oh go on will you, you three idiots. On 9/11/01 us dumb American citizens watched other American citizens drop to their horrific deaths for the sole crime of going to work that morning. Other Americans, just average guys and not crater-faced pundits married to Alan Greenspan, brought down a plane in Pennsylvania that was heading to the nation's capital to slam into the congress or White House.
We're part of this war you three nitwits and go to hell if an "American" is having long phone conversations with Osama's buddies we DO NOT CARE if someone at the NSA checks it out.
It simply is not the same thing as Nixon or even those two King and Queen of the World, Lady and Lord Clinton, absconding with FBI files.
We get it, you three. We get it. And no matter how many Newsweak articles or NY Times book promos scream at us, we are just not going to get our panties in a twit over it.
I also watched the lovely Chuck Schumer on Fox News Sunday and wow what a verbal dance this guy had to do.
First, the Democrats are world renown for their polls and focus groups. They know that polls are showing that American citizens, including many in their own constituency, are yawning over this Lamestream media flap. Chuckie says, heh, after going on about national security versus personal rights and how this is different: "Most Democrats feel this way too," Chuckie says. Heh. 65% of Americans, early polls reveal, are not in a twit over the NSA monitoring of friendly phone calls to Al-Queda. Chuckie had to get it out there that Democrats have no problem with President Bush protecting us from another attack. Had the polls and focus groups returned different results well then Chuckie would have been pushing for the impeachment of Bush. It all depends on the polls and focus groups, ladies and gems, and their re-gaining of their power. We can all jump out of burning buildings or crash airplanes we are in for all they care.
But there's more and it's amusing.
Who leaked this information to the NY Times that their reporters may sell books on the souls of those heroes of Skanksville, PA and those that jumped to their deaths to avoid the fires of the World Trade Center?
Scuttlebutt is that the leaker might well be a Democrat, possibly a Lord in the House of Lords. Lord Rockefeller is a real possibility.
So Schumer has to pave the way for his fellow Lord. "It could be a whistle blower with a noble purpose," I paraphrase sweet Chuckie's sound byte.
Well getting Democrats re-elected could be interpreted by some as a noble purpose. Thus Lord Rockefeller, he of the speed dial to the NY Times, really didn't leak national security info to endanger us idiots out here in la-la land. He had a "noble purpose".
There you have it, ladies and gems. The Dem talking points. He who leaked this sensitive information to the NY Times is a "whistle blower", not a traitor, who had the noble purpose of making Bush look bad that Democrats might be re-elected. If a few of us must jump out of more burning buildings or wreck airplanes in which we are passengers, get a grip. What's a few American citizens if Democrats manage to take over the House of Representatives, the House of Lords and impeach Bush in the process?
It's for a noble purpose.
Here's the LA Times "unbiased" pundit on the manner.
A lawyer for the ACLU.
Heh.


That prompted some critics Friday to call the probe an attempt to silence internal critics of the administration when they were most needed to bring controversial counter-terrorism programs and policies to light.

"President Bush broke the law and lied to the American people when he unilaterally authorized secret wiretaps of U.S. citizens," said Anthony D. Romero, executive director of the American Civil Liberties Union. "But rather than focus on this constitutional crisis, Atty. Gen. Gonzales is cracking down on critics of his friend and boss."
~~~~~~~~~~
Too Much Rain in California, Not Enough in Oklahoma
Well there's an irony there but it's not amusing. Rampant wildfires have burned all the way to Oklahoma City. It's one thing for fires to rage across acres of meadows. When those fires come into populated areas, such as propane tanks and oil tanks tend to go boom and the human domicile is history.
As for California, the Rose Parade went on per normal. But all over that big state citizens wrestled with loose mud and raging rivers.
Here's a prayer for our fellow citizens wrestling with nature's wrath. We're sending help.

From Yahoo.com:

RINGGOLD, Texas - Authorities went house to house in a search for victims in burned-out towns Monday as firefighters in Texas, New Mexico and Oklahoma battled grass fires across the drought-stricken region.

Since Tuesday, fires have charred thousands of acres of grassland and farmland and destroyed more than 250 structures in the three states. Four deaths were reported last week in Texas and Oklahoma.

One of the weekend blazes destroyed most of this ranch-and-cattle town of some 100 people near the Oklahoma line, burning about 50 homes and 40,000 acres as wind swept the fire 13 miles from Ringgold to Nocona.
======




From Foxnews.com:

GUERNEVILLE, Calif. - Homeowners shoveled away mud and other debris and authorities worked to repair damaged levees Monday after a pair of storms flooded Northern California's wine country.

The rain let up over the hard-hit region and moved into Central and Southern California, drenching the Rose Parade for the first time since 1955 and threatening mudslides on hills stripped bare by last summer's wildfires.

~~~~~~~~~~
Miners Trapped a Mile Deep in a West Virginia Mountain
How horrible a thought to be trapped inside of a mountain. Definitely not for the claustrophobic. An explosion in a coal mine, cause unknown, caused 13 miners to be trapped while 6 lucky ones managed to escape.
At last report rescuers attempted to go down the mine shaft but had to abandon due to high levels of carbon monoxide.
There's been no contact yet with the trapped miners.
Another prayer for these trapped miners.


From MSNBC.com:
TALLMANSVILLE, W.Va. - A coal mine explosion that may have been sparked by lightning trapped 13 miners underground Monday, setting off an urgent rescue operation, authorities said.

The condition of the miners was not immediately known. Four co-workers tried to rescue them but were stopped by a wall of debris, and the blast knocked out the mine's communication equipment, preventing authorities from contacting the workers.

It was not known how much air they had or how big a space they were trapped in. The miners had air-purifying equipment but no oxygen tanks, a co-worker said.

~~~~~~~~~~
CLICK HERE FOR "TODAY'S AUXILIARY BLOG POST
~~~~~~~~~~
Daily Update: Day- Monday Date-1/2/06



Today's Auxiliary Blog Post
...Because there's more to life than politics.


Today, the best short story ever written.

Now I can hear your sighs of disbelief.

Male or female, you will love this short story by a little girl who takes care of her cats more than the world ever cared for her.

Winner of many writing contests.

Just the story, folks.

It's that good.
~~~~~~~~~~~~~~~~~~~~
CLICK HERE FOR "TODAY'S AUXILIARY BLOG POST
~~~~~~~~~~
Day-Monday Date- 1/2/06
Blog returns to normal tomorrow with daily updates SEVEN days a week.
==================================