It's down to five on ABC's "Dancing With the Stars" 2006.

Finally Jerry Springer gets the boot.

Predictions and reviews.

Some Halloween fun at the intro.
Pic of the Day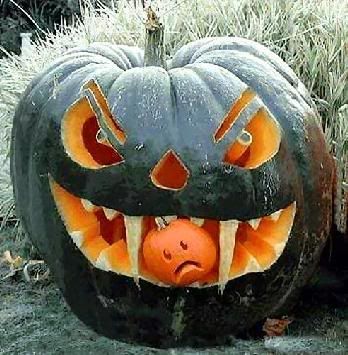 ---
Quote of the Day


Andy Rooney says,

"As I grow in age, I value older women most of all. Here are just a few reasons why."

An older woman will never wake you in the middle of the night to ask, "What are you thinking?" She doesn't care what you think.

An older woman knows herself well enough to be assured in who she is, what she is, what she wants and from whom. Few women past the age of 50 give a damn what you might think about her.

An older single woman usually has had her fill of "meaningful relationships and "commitment." The last thing she needs in her life is another dopey, clingy,
whiny, dependent lover!

Older women are dignified. They seldom have a screaming match with you at the opera, or in the middle of an expensive restaurant. Of course, if you deserve it, they won't hesitate to shoot you if they think they can get away with it.

An older woman has the self-assurance to introduce you to her women friends. A younger woman with a man will often ignore even her best friend because she doesn't trust the guy with other women. Older women couldn't care less.

Women get psychic as they age. You never have to confess your sins to an older woman. They always know.

An older woman looks good wearing bright red lipstick.

Once you get past a wrinkle or two, an older woman is far sexier than her younger counterpart. Her libido's stronger, her fear of pregnancy gone.

Her experience of lovemaking is honed and reciprocal and she's lived long enough to know how to please a man in ways her daughter could never dream of. (Young men, you have something to look forward to.)

Older women are forthright and honest. They'll tell you right off if you are a jerk or if you are acting like one.

Yes, we praise older women for a multitude of reasons. Unfortunately, it's not reciprocal. For every stunning, smart, well-coifed babe of 70 there is a bald, paunchy relic in yellow pants making a fool of himself with some 22 year old waitress. Ladies, I apologize for all of us.

That men are genetically inferior is no secret. Count your blessings that we die off at a far younger age, leaving you the best part of your lives to appreciate
the exquisite woman you've become, without the distraction of some demanding old man clinging and whining his way into your serenity."



Web Site Worth the Visit
Cat Bowling

This game is addictive and has a Halloween theme. Enjoy.
Hit the Cats


TIDBITS

Motorists:
Watch for children darting out from between parked cars.
Watch for children walking on roadways, medians and curbs.
Enter and exit driveways and alleys carefully.
At twilight and later in the evening, watch for children in dark clothing.


Parents:
Make sure that an adult or an older youth will be supervising children under 12.
Plan and discuss the route the kids intend to follow. Know the names of all group companions.
Instruct your children to travel only in familiar areas and along an established route.
Teach your children to stop only at houses or apartment buildings that are well lit and never to enter a stranger's home.
Establish a return time.
Tell youngsters not to eat any treats until returning home.
Review all appropriate trick-or-treat safety precautions, including pedestrian/traffic safety rules.
Pin a slip of paper with the child's name; address and phone number inside a pocket in case the youngster gets separated from the group.


Costume design:
Only fire-retardant materials should be used for costumes.
Costumes should be loose so warm clothes can be worn underneath.
Costumes should not be so long that they cause tripping. Remember, falls are the leading cause of unintentional injuries on Halloween.
If children are allowed out after dark, outfits should be made with light-colored materials. Strips or retro reflective tape should be used to make children visible.


Face design:
Masks can obstruct a child's vision. Use facial make-up instead.
If masks are worn, they should have nose and mouth openings and large eyeholes.


Accessories:
Knives, swords and other accessories should be made from cardboard or flexible materials. Do not allow children to carry around sharp objects.
Bags or sacks carried by youngsters should be light-colored or trimmed with retro-reflective tape if children are allowed out after dark.
Carrying flashlights will help children see better and be seen more clearly.


On the way:
Do not enter homes or apartments without adult supervision.
Walk; do not run, from house to house. Do not cross yards and lawns where unseen objects or the uneven terrain can present tripping hazards.
Walk on sidewalks, not in the street.
Walk on the left side of the road, facing traffic; if there are no sidewalks.


Treats:
Give children an early meal before going out.
Insist that treats be brought home for inspection before anything is eaten.
Wash fruit and slice into small pieces.
When in doubt, throw it out!

There Were Five; Now There Are Four
First
Second
Third
Fourth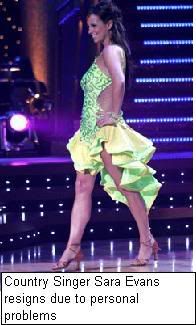 On the evening of 10/17/06 absolutely no one was eliminated on ABC's "Dancing With the Stars" 2006. The explanation given was that since Sara Evans quit there would be no eliminations and the judges' scores for that evening would be combined with the judges' scores for the following week. Since the following week, 10/24/06-reviewed below- had each contender performing TWO dances, the total possible score for the evening of 10/24/06 were 90.
Jerry Springer and, oddly, Joey Lawrence, did fall in the bottom two the night of no elimination.
On to the night of 10/24/06 and an impromptu, inexperienced review of the two dances, by me, for each contender.
There were five duos left to dance on this evening of 90 possible points. This particular week one couple WAS eliminated. We discuss his dances below.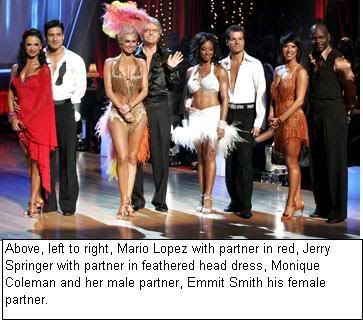 Jerry Springer
To the tune of Frank Sinatra's "My Way", Jerry and his partner danced the Foxtrot. Jerry sported tux and tails and looked devilishly handsome. I thought this couple looked a bit amateurish in the performance, complete with an awkward spot when they couldn't get their hands to mesh.
The couple did give a great spin at the end of the performance.
The judges declared that the couple "danced the correct way", a reference to Springer's prior performances when too often he clowned around rather than do some serious dancing.
For the second dance, Springer and his partner performed a Mambo. Jerry wore and all white suit with a dashing pink shirt. I thought he looked very cute and during the dance he gave lots of wiggle.
One judge stated: "I take my hat off to you", referring to Jerry's age, well beyond his younger, more agile competitors.
Jerry and his partner received a total of 64 points out of 90 for both of their dances.
The following night, Jerry Springer was eliminated. Frankly, the man was relieved.
Monique Coleman
It's not that Monique doesn't dance ably. Not to mention that the poor woman must dance in very high heels in which I wouldn't be able to walk. I fear that Monique isn't long for this show as she simply doesn't possess that special dynamic her opposing three competitors possess.
Monique and her partner performed a waltz to the tune "Luck Be a Lady". The couple moved all around the floor fluidly, despite the heels. I thought it was a great performance, lovely to watch.
One judge pronounced the performance "sheer elegance".
For their second dance, Monique and her partner danced a Paso Doble. Monique looked terrific in a sexy, red outfit and to my untrained eyes, they did a great job.
Total points for Monique and her partner were 77 out of a possible 90.
Emmitt Smith
He's no lightweight, Emmitt Smith, what with being a football player and everything. Like Jerry Rice in a prior season, Smith dances very well, causing me to muse that there just might be similarities in the fleet movement of foot involved in football as there is in the dance.
Smith and his partner performed a waltz and this is always a pretty dance to watch. I thought some of the steps seemed exaggerated but the overall effect of this dance routine was beautiful.
One judge asserted that Smith "nailed it".
For the next performance, Smith and his partner performed a Mambo.
Wow, Smith's shoulder movements were outstanding. That sexy, red silk shirt added to the effect.
Smith and his partner scored 82 points out of a possible 90.
Mario Lopez
Let me question Lopez' sexual preference right here and now and get that out of the way. No I don't think that just because he dances so well it must mean he's homosexual. It's just a hunch on my part.
Not that there's anything wrong with that.
For the first dance, Mario and his partner performed a Foxtrot to the tune "I Want to Be Loved by You".
I saw nice, precise steps with a cute little jaunt at the end that was perfect for the tune.
One judge declared the performance "elegant, charming" and mentioned Mario's great body. I can't remember if the judge mentioning the body was male or female. Heh.
For their second dance, Mario and his partner danced a Mambo to the tune "Loop De Loop". Love his old-fashioned saddle oxford shoes.
What I enjoy about Mario's performances is that his whole body dances. It's the mark of an excellent dancer but what do I know?
A judge declared Mario and his partner a "crowd pleaser".
Mario and his partner scored 84 out of a possible 90 points.
Joey Lawrence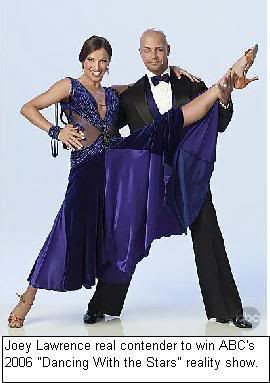 Let me state right now that I think Joey's going to win this thing although Mario could take it away.
For their first dance, Joey and his partner danced a Foxtrot to "Singing In the Rain". The choice of song alone lent itself well to such as props. Which, of course, included an umbrella.
Why I thought this duo looked like a dancing couple straight off of Broadway. They moved with their feet close together and ended with a sweeping circle on the dance floor. Some great choreography going on there.
A judge pronounced the performance as "flawless".
For their next dance, Joey and his partner performed a Mambo. Joey has a great muscular body and the gold, short-sleeve shirt with a pair of dashing pin-striped pants added to his handsome physique.
I noted that Joey slipped a bit as he got up from some floor action.
One judge stated that Joey had some "trouble with turns" although the other judges vehemently disagreed.
Joey and his partner scored 81 points out of a possible 90.
Both Emmitt Smith and Mario Lopez scored slightly higher than Joey and I note the oddity of Joey falling in the bottom two the night nobody was eliminated.
The American public, AND the judges it would seem, don't seem to consider Joey the fine dancer that I think he is.
More TV Reviews HERE
===============