No, the sexy lady didn't win Fox's "Celebrity Duets". Instead a dark horse came from behind and won the prize.

Also, the worst dancer finally eliminated in the third round of ABC's "Dancing With the Stars". We've got pics of the sexiest outfit of the evening and tongue-in-cheek reviews of the dance performances.
Pic of the Day
---
| | |
| --- | --- |
| | Quote of the Day |
Web Site Worth the Visit
A Concert In Water

In this award winning animation, a water drop takes on a fantastical life of its own.

Water and Music HERE

TIDBITS

+---------------- Bizarre Board Game Facts -----------------+


The Egyptian game of Senet was a best-seller some 4,000 years ago. Even King Tut had one. He liked it so mcuh he was buried with it.


The first American board game, "The Mansion of Happiness," was produced in 1843. Its theme was Victorian: players tried to avoid Passion, Idleness, Cruelty, Immodesty, and Ingratitude. Drunkenness was punished by a trip to the stocks.


In 1860, Milton Bradley bought a lithographic press and began printing board games. His first game was called "The Checkered Game of Life." Object: Get to "happy old age" while avoiding "disgrace" and "ruin."


Mark Twain invented a game he called "Mark Twain's Memory Builder: A Game for Acquiring and Retaining All Sorts of Facts and Dates." In the introduction to the rules he wrote: "Many public school children seem to know only two dates - 1492 and 4th of July; but as a rule they don't know what happened on either occasion. It is because they have not had a chance to play this game.


The earliest board game on record is the royal game of Ur, which was invented more than 4,000 years ago in Mesopotamia, the site of present-day Iraq. It was a "race" game; the first player to complete the course was the winner. Moves were governed by throwing dice-like objects. Archaeologists believe it is the forerunner of backgammon.


Parcheesi, the original male chauvinist game, was created in the 1500s in India by Akbar the Great. It was played in the palace courtyard with young women as game pawns. "Home" was originally the emperor's throne.


In 1988, the 23rd foreign language version of Monopoly was manufactured - in the USSR. Among the changes: a Russian bear token, real estate names corresponding to Moscow locations (Broadway became the Arbat Mall) and rubles instead of dollars.
Fox's "Celebrity Duets 2006" Has a Winnah!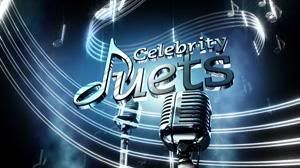 We seriously doubt that Fox will feature this reality series next year because as I've said over and over again in my prior posts
HERE
and
HERE
and
HERE,
there is no progress to cheer for in terms of the competitors. Our voice is our voice and while vocal effects and such can be taught, the voice we were born with is the voice we've got. Right from the start in this series one can easily ascertain the likely winner. Although the winner of this first "Celebrity Duet" series was a surprise to me. I thought for sure the very sexy Lucy Lawless would run off with the title.
On the evening of 9/28/06, Lucy Lawless turned in a wonderful performance and perhaps it's because she and Bonnie Tyler sang one of my favorite songs: "Total Eclipse of the Heart". The judges declared Lawless "sounded better than before" and one judge asserted to "love the growl in" her voice.
Alfonso Ribeiro, the winner of this year's "Celebrity Duets", performed with Jon Secada of the New Edition. He belted out a great ending to a song I was totally unfamiliar with.
Hal Sparks sang an awful rock song with Sebastian Bach. Lots of screaming going on. Hey, anybody can scream. One judge said it was the "most screaming I heard in 30 years".
Lucy performed again with Smokey Robinson, Alfonso gave a great performance with legendary Gladys Knight. One judge thought Alfonso was a "Pip". Heh.
Hal performed the lovely song "Lady" with Dennis DeYoung.
But Alfonso Ribeiro won via America's vote. Now we'll see if Fox offers this reality show in 2007.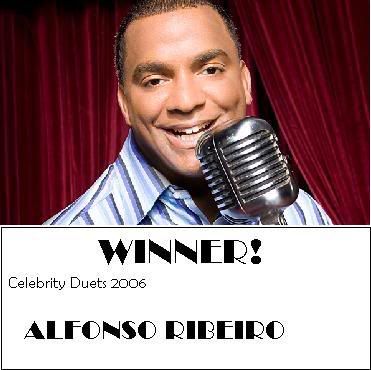 Alfonso Ribeiro, a native of the Bronx, New York, was raised by his immigrant parents from the Dominican Republic. Ribeiro recently starred in the Broadway Production of "Golden Boy," playing the role of "Joe" originated by Sammy Davis Jr. In addition to his busy acting schedule, Ribeiro has directed episodes of "Fresh Prince of Bel Air," "In the House," and The Brothers Garcia." He began his professional acting career at the age of 8. One of his first appearances was in the television series "Oye Willie," a children's program depicting Hispanic kids growing up in the barrios of New York City.

A natural singer and dancer, Ribeiro and his aunt choreographed an audition piece that earned him ranks on the "Great White Way" in the Tony Award-winning musical "The Tap Dance Kid." After landing the starring role, he was dubbed "The Kid" and signed with Island Records, releasing several dance/pop singles for the label.

Shortly thereafter, Brandon Tartikoff spotted Ribeiro and flew him to Los Angeles, where he was cast opposite Ricky Schroder in the long-running television sitcom "Silver Spoons," making him an instant teen idol.

After studying theater arts at Cal State University, Los Angeles, Ribeiro was given the opportunity to star opposite Will Smith in "The Fresh Prince of Bel-Air." Following six years on the popular series, he was approached by Quincy Jones to appear with L.L.Cool J in the series "In the House." Ribeiro directed several episodes of "In the House," and during hiatus from the show, he attended the New York Film Academy to further strengthen his directing talents.

Ribeiro recently appeared on such shows as "For Your Love" and "One On One." He was most recently seen hosting the popular syndicated show "Your Big Break," where contestants compete for prizes by imitating their favorite musical performers. In addition, as a voiceover artist, Ribeiro has created memorable characters on such shows as "Spider-Man" and "Extreme Ghostbusters."

When not focusing on acting and directing, Ribeiro spends time on the racetrack as a professional car racer. He has received trophies and medals in numerous worldwide competitions.

Ribeiro lives in Southern California
ABC's "Dancing With the Stars" 2006-Third Round
See previous Blog posts
HERE
and
HERE
for commentary on the first two rounds of this series.
It was Tango and Jive night in this third round of this dancing reality show that has, inexplicably and against all odds, captured America's imagination. At least the females of America as I suspect not many fellows watch this show.
As one such American woman, I find the dance, costumes and music mostly mesmerizing. So shoot me.
Emmitt began the evening's dance with a Tango. I figure Emmitt to be a front runner in this series just as another football player, Jerry Rice, was before him. Emmitt is not a little man but he moves fluidly and in sync with the music. Who'd have thought…football and dancing, were so similar?
I thought there was something missing in Emmitt's performance this night, even with the dance ending with Emmitt offering his partner a diamond ring on his knees. The judges declared Smith's performance "disappointed" and "lacked charisma". Emmitt and his partner got a total of 19 points out of a possible 30.
Monique Coleman up next, doing the Jive to the song "The Heat Is On". I thought Monique was out of step a time or two and her legs were a bit stiff. The judges declared the "heat is on for the other couples" and Monique and her dance partner "raised the bar" for other performers.
Monique and her partner got 27 points out of a possible 30, to show you what I know.
Harry Hamlin was eliminated on the elimination round the evening following this date. By coincidence I have been watching Hamlin in an endless Lifetime movie this Fall Sunday afternoon. He really should stick to acting and forget dancing. His wife, Lisa Rinna, was a contestant in last year's series. She did much better than him.
Hamlin didn't move much during his dance routine and perhaps that is the plan. The judges declared Hamlin to be a "little awkward". Heh.
Willa Ford didn't perform exceptionally well during her dance routine but she did sport the absolute sexiest outfit of the night. I thought Willa didn't do a lot of fancy footwork on her Jive routine. One judge declared that Willa did "too much bonding, not enough dancing".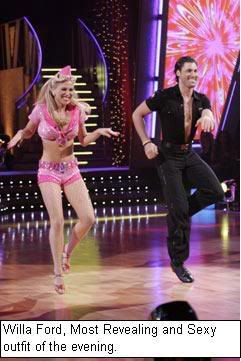 Ah. Jerry Springer, tabloid talk show extraordinaire. I expect Jerry to be eliminated soon as he's a fine dancer for his age, he's simply not in the same league as his younger competitors. However, it's a good thing Springer squeaked through on this round as he hopes to learn the Waltz so he can dance this with his daughter at her upcoming wedding. If he lasts until the Waltz round he'll have the benefit of learning this lovely dance's moves just in time for his daughter's wedding.
Jerry and his partner performed a Tango to the tune "Hernando's Hideaway". I thought Springer looked a little flat-footed and his pants, on a side note, were way too big.
The judges declared Jerry "had so much fun" during his dance and yes, it was comical. Springer got 21 points for his performance.
Sara Evans did a Jive to the song "These Boots Are Made for Walking" and yes, it was a great tune filled with possibilities for cowboy type choreographed dance movements. In fact Sara and her partner had a cowboy theme for their dance. Their performance had a great and original ending, with Sara's dance partner rolling over on the floor as she stood upright with her legs astride him and moved in tandem along. The judges loved it.
Sara got 25 points for this original routine.
Mario Lopez performed a Tango and evidently he committed some crime. The judges lambasted Mario and his partner and declared they were dropping points for him because of his breaking the rules.
As I ascertain, the Tango does not allow for partners to break apart and evidently Mario and his partner did.
Mario got 22 points for his performance but who knows what it could have been?
I thought Vivica A. Fox gave the best performance of this night's competition. Although I felt like slapping her during one of those pre-performance vignettes these reality shows love to present. She was always in tears, tears of joy mostly but still…
The judges declared that Vivica was the "drama queen of night", the "Tango is your dance" and that Vivica "made me happy".
Vivica and her partner got 27 points out of 30.
Joey Lawrence appears to be a real contender for winning this thing. The prior week Lawrence got the highest score so far in this year's competition. Joey performed the Jive to Elvis' "Blue Suede Shoes" and loved his bare chest. I thoroughly enjoyed this routine and no doubt about it, Joey has a natural dance talent.
The judges, however, took off points because Lawrence and his partner had no lifts and one judge flatly declared their performance was "not the jive".
Joey and his partner received 22 points out of a possible 30.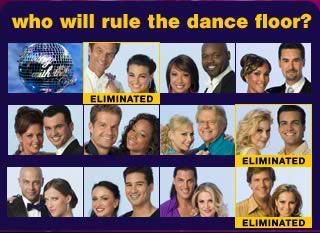 More TV Reviews HERE
===============