It's a True Crime post and we must explore that verdict on the so-called Boot camp case.

There's been an arrest in the murder of one of the two sisters, both dead in the same house and within a week of each other. The perp was arrested for killing his wife but did he kill her sister too.

Some info on the naked man in Times Square, a good Samaritan leaves a dangerous unknown substance at the scene and was the child molested on the airplane or is someone looking for a payoff?
Quote of the Day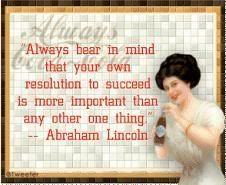 The Tragedy of the Boot Camp Case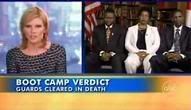 The liberals at ABC need a refresher course in the concept of guilt and/or innocence.
But before, take a minute and ponder the real tragedy here. Those "guards" at the teen boot camp where a teenager died suddenly and with no warning didn't kill the kid. Nor are they guilty of negligence. The kid had a form of sickle cell disease that had not been diagnosed.
Below is a link to an 8 minute video of the entire incident. Jurors saw this video and returned a verdict of not-guilty. View for yourself.
Video of Boot Camp Death
It anyone is guilty of being a bit lax on the job, it's the nurse called out to observe the sick kid, who the drill sergeants thought was faking. She watched it all for a while then turned around and walked away. You'd think a nurse would take a second to thoroughly check things out.
Note some of the transcript between "Good Morning America's" Kate Snow and the parents of the victim.
From Newsbusters.org:
SNOW: Do you think there was enough evidence to find that they were not guilty?

JONES: No.

While the Ivy-educated Snow apparently doesn't grasp the rudiments of our justice system, the boy's father did. His response clearly reflected his recognition that the burden of proof lay on the prosecution.

ROBERT ANDERSON: There was enough evidence [to convict]. It was right there in black and white. I mean, what else did you need, a rocket scientist to figure it out? All the evidence in the world, and they still came back with this not-guilty crap.
Since when is the accused required to provide evidence to prove him or her self not guilty? This babe is Ivy-league educated.
This death is a tragedy, perhaps tinged with a bit of neglect. Let the civil courts handle it.
As I understand it, these types of para-military camps have been banned in the state of Florida.
"You Sneeze, You're Dead Man"
From Breitbart.tv:
"And I walked out of the house and I went around and confronted those guys on the side of the house. So, I aimed at him and said, 'You sneeze, you're dead man.' And I called the other guy out of the garage. I watch a lot of movies it sounded like a good thing to say. It got his attention."
Heh. Watch the video at the link.
Maddie's Mom-Are Her Boobs Too Small?
It has to be tough, no matter how it happened, to lose a precious child. It has to be double tough to lose a precious child and have to deal with accusations that you had something to do with your own child's disappearance.
The McCanns are fighting back against the news stories, investigative leaks and snoopy journalists.
From Foxnews.com:
The mother of missing British 4-year-old Madeleine McCann believes she's being persecuted because of her looks, and thinks that if she "had a bigger bosom and looked more maternal, people would be more sympathetic," a London newspaper reported Tuesday.

The parents of Kate McCann, in a remarkable interview in the Liverpool Daily Post, said their daughter "feels persecuted, not by the general public who have been extremely supportive, but by some sections of the media."
Kat McCann happens to be an extremely attractive woman. No her breasts aren't especially large but I don't buy for a minute that it's why she's being accused in the disappearance of young Madeleine.
Further, when all the publicity behooved the McCanns, ie when they held that papal photo-op to show the world how much they prayed for the return of their daughter, the McCanns didn't complain about the attention then, much less the size of Kate McCann's breasts.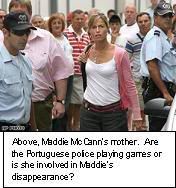 I have increasingly thought that the McCanns might be involved with the death of their daughter. This knee-jerk stereotype used by Kate McCann as her "defense" along with some other strange behavior, isn't helping their cause any.
Maybe the Strangest Story of the Week
It's likely not even a True Crime but for sure the investigators aren't answering anything.
From citynews.ca:
The woman, who identified herself only as a 'lifeguard', administered CPR to the victim, and then left the scene when paramedics arrived. No one thought to get her name or license plate. But her good deed may not have gone unpunished. Cops say she and the others involved may have inadvertently been exposed to what they'll only call a 'hazardous substance' at the scene - and after locating everyone else who'd been there, they were desperate to find her to get her tested.

The article linked above states that they found the woman but as of this writing, the identity of that "hazardous substance" is still unknown.
Nudity All the Fashion in Times Square
The "original" naked cowboy, Robert Burck , does hang around that famous NY landmark but he's not completely naked. Josh Drimmer did go be-bopping around Times Square in his all together.
He tried to get into a nearby Olive Garden restaurant but was denied. He did get into a nearby steak house and treated the customers to a fine table dance.
From the NYPost.com:

Stunned passers-by stopped, stared and snapped pics of Josh Drimmer, 26, during his several-minutes-long naked stroll at the Crossroads of the World.

After stripping to the altogether, he zigzagged back and forth along Seventh Avenue between West 47th and 48th streets in all his glory at around 11 a.m.
Drimmer was finally hauled in by the police and taken to Bellevue mental hospital.
NY tourists had a ball. Cell phone pics were busily buzzing all across the fruited plains.
You can't make this stuff up.
Young Girl Alleges Molestation During Airline Flight
My guess is this is probably a true story. Perverts are everywhere; some even fly the friendly skies.
From AJC.com:
An 11-year-old Alabama girl flying alone from San Diego to Atlanta says a man slipped into the empty seat beside her and sexually molested her on a crowded Delta jet.

The disturbing charges were made public in a lawsuit filed last week in Fulton County State Court could make parents think twice before placing any unescorted child on a bus, plane or train. The suit seeks unspecified damages.
The problem here, however, is that the airlines will likely have to pay some sort of penalty as the case has gone to a civil trial. Also, the airline does pay an extra fee for the additional responsibility for minding and delivering young children during airline flights.
I believe the 11 year old is probably telling the truth because it's just not likely the child would make up such a thing. Further, under the scrutiny of questioning, young children who are lying most time can't stand the pressure.
More reason to watch over your kids with your own eyeballs. No one cares more about your loved ones than …you!
He's Arrested for Killing His Child's Mother. Did He Also Kill Her Sister?
This story is so sad and intriguing on many levels.
First, the parents of Erin Stanley allowed this creep to stay at their house. McFarland, and Erin Kelly were the parents of a baby and were sleeping together the night that Erin died. Erin was 19 years old, the mother of an infant. She was not likely to die suddenly without a little help from her bedmate.
From Indystar.com:
CENTERVILLE, Ind. -- A 19-year-old Centerville woman likely was strangled by hand as she slept in a bedroom with her boyfriend and infant daughter, court documents revealed Wednesday.





James McFarland, 23, who was in bed with Erin Stanley at the time of her death, was formally charged with murder in Wayne Circuit Court on Wednesday. He is being held without bail in the Wayne County Jail.
What's really tragic, 6 days later Erin's sister, Kelly, was found dead, also in her parents home.
These poor parents lost two of their daughters to this creep, if suspicions based on common sense are worth anything. This is their payback for being kind and providing McFarland with a place to stay.
If I was the father of those two girls I'd have to meet McFarland in a dark alley for a face-to-shotgun rendezvous.
FOCUS ON MADDIE MCCANN
===================
Her family was on holiday at an exclusive Portuguese resort. Madeleine McCann's parents were both physicians and in addition, they have two twins younger than Madeleine.
While Maddie's parents dined out at a nearby resort restaurant, with children believed to be soundly asleep, Madeleine McCann somehow disappeared. She was discovered missing upon a routine check of the McCann suite by her parents.
It took a few months but eventually the suspicion that Madeleine's parents might have had something to do with her disappearance was leaked by both the Portuguese and British police.
First report on this Blog of the Maddie McCann case
More info on Maddie's disappearance with my fine analysis
Announcement that McCanns might be responsible for Maddie's death
McCanns refuse to answer questions about Madeleine's disappearance
With little info known, my analysis of the McCann case. Or did the maid do it?
================
Add POST to Technorati Favorites
=======