Continuing updates of "The Bachelor" Fall 2007 and "Dancing With the Stars" Fall 2007.

With pics and video you'll find nowhere else on the Internet.

Since when is our congress authorized to excoriate citizens for having an opinion?

The Democrats chose a formidable enemy this time but click in because while I love the guy I think Rush Limbaugh could end up silenced under Hillary's wrath.

TIDBITS

Do you recognize these well known adages? (Answers below).

1. All articles that coruscate with resplendence are not truly auriferous.

2. Sorting on the part of mendicants must be interdicted.

3. A revolving lithic conglomerate accumulates no congeries of small, green, biophytic plant.

4. Members of an avian species of identical plumage tend to congregate.





5. It is fruitless to become lachrymose of precipitately departed lacteal fluid.

6. It is fruitless to attempt to indoctrinate a superannuated canine with innovative maneuvers.

7. Surveillance should precede saltation.

8. Individuals who make their abodes in vitreous edifices would be advised to refrain from catapulting petrious projectiles.

9. Where there are visible vapors having their provenance in ignited carbonaceous materials, there is conflagration.

ANSWERS:

1. All that Glitters is not Gold.

2. Beggars cannot be choosers.

3. A Rolling Stone gathers no Moss.

4. Birds of a feather flock together.

5. Don't cry over Spilt Milk.

6. You cant teach an Old Dog new Tricks.

7. Look before you leap.

8. Those who live Glass Houses should cast no stones.

9. Where there is smoke, there will be fire.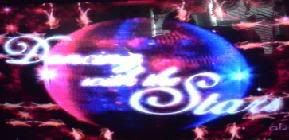 "Dancing With the Stars" 10/8/07-Wayne Newton Sent Home
I chanced to hear Wayne Newton "sing" here in Delaware a couple of years ago. The guy either had laryngitis or his voice is truly shot. We also were supposed to have "very good" seats but the reality was that we had so-so seats.
Wayne Newton is an entertainer who knows how to fool people, at least as my experience would have it.
If his voice is, indeed, shot, maybe he entered this Dancing With the Stars competition in hopes of starting a new career. If so, Newton must go back to the drawing board. This fellow cannot dance.
Click on the video below if you don't believe Wayne Newton can't dance.
I still was surprised when the viewing audience gave Newton the boot for the bigger stars of the dancing lineup tend to stay around way longer than they deserve. The males of the dancing stars definitely stay around longer than the pretty women, at least early in the competition.

The episode of "Dancing With the Stars" aired on 10/8/07 definitely showed the improvement in the dancing skills of the contenders, even Wayne Newton truth be told.
Jane Seymour is a big name female contender in this season's competition but Seymour's not in it for just the exposure. Jane returned to the contest having recently suffered the loss of her beloved mother. This lady wants to win. She and Sabrina Bryan of the Cheetah girls each got 27 points out of 30 by the judges.
Marie Osmond is another contender who works hard and plans to win the contest. She got a mid-20's score from the judges but I don't have the exact number either for her or Mel B, another contender. Jennie Garth, the other remaining female, got 26 points for her performance so she's hanging in there.
Out of the females I'm giving Sabrina Bryan the odds to win this season's contest.
Check out the short video below to view Sabrina's dancing talent.
Of the remaining guys, Helio Castroneves seems the most talented as well as the most handsome. Helio is NOT an athlete though he does drive a race car. An activity that doesn't require much physical endurance and yet Helio can dance.
I personally think boxer Floyd Mayweather is a fine dancer. Floyd received 21 points for his great jive dance featuring a jump rope and some fine dance moves. His footwork is beauty to behold. And yet the judges consistently do not give Mayweather high point scores and frankly it almost seems unfair. I think the judges hold a grudge against Mayweather for not sticking adamantly to their notions of how certain dances should be performed. Mayweather does get a bit original from time to time with his dance moves, and for sure there has to be some rules, but I like to watch this young man perform and a dancer who pleases a viewer's eyes can't be all bad.
ABC smartly uses this successful series to promote the ABC shows following. As such, Brad Womack, this years "Bachelor" and his twin brother were in attendance at the 10/8/07 airing. Other special guests have included Cavemen and Carpoolers.
Prior Links to Posts for "Dancing With the Stars" Fall 2007
======================
Episode 9/23/07
Episode 10/1/07-The Top Ten
Episode 10/8/07-Wayne Newton Goes Home
Top Nine Stars In "Dancing With the Stars" Fall 2007 as of this writing
=======
Mel B-Spice Girl
Mark Cuban-Internet Entrepreneur
Marie Osmond-Singer
Jane Seymour-Actress
Helio Castroneves-Race car driver
Jennie Garth-Actress
Cameron Mathison-Soap Star
Floyd Mayweather-Boxer
Sabrina Bryan-Cheetah Girls
"The Bachelor" and the Twin Nonsense
On the episode aired 10/8/07, our Bachelor, Brad Womack, went on a group date to the circus, a one-on-one date with Hillary, and another group date on a sailboat.
There was also that strange bit with his identical twin.
First, who was sent home? Sarah, Solisa, Lindsey. Sarah had been given a "first impression" rose in an earlier episode but her encounter with Brad's identical twin brother might have been her undoing.
Brad consulted with his twin brother, Chad, about the ladies. This seems a natural turn of events. Brothers do this sort of thing.
But that bit about having Chad pretend to be Brad while he talked to the contenders was, well it was cute and it certainly was the sort of thing the viewing audience would expect from an identical twin bachelor. I just don't know what it was supposed to prove.
Yes, the premise presented was that if the lady carried on the conversation with Chad and didn't realize he was not BRAD, well that lady can't possibly like Brad. I consider that a false premise.
Identical twins are genetically the same people. They are very close and they do look exactly alike. Identical twins pretending to be each other can fool most people if they do it well, yes even their own parents. So to have these two fellows play this childish game with those nervous ladies, most of whom have had only small time with Brad, was a bit mean. Sarah never caught on that she was speaking to Brad's twin and, indeed, Sarah was sent home that night.
And the others who allegedly knew right away that Brad was really Chad pretending to be him, well that whole scene looked fake to me. One lady immediately declared that the "Brad" walking into the room was really his identical twin. How on earth could she know that?
If I were the producer of this series I'd play that identical twin angle just like was done in this episode. Hey, it's different and it will intrigue the show's young female audience all to hell.
It's unrealistic and totally unfair is how I see it.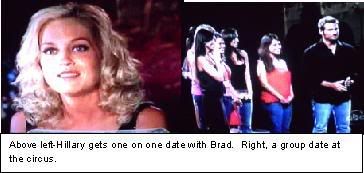 Two ladies revealed either a secret or a pending issue they have or will have with Brad Womack. Jenni, that toothy Phoenix Suns dancer that Brad does seem to like, said she would need another year in Arizona before she could join Brad in his home state of Texas. She asked Brad if this would be a problem. I thought his answer was evasive.
Bettina revealed that she had been married and divorced before. Evidently the show's producers allow lady contenders who have been wed as the last Bachelor series had a divorced woman who turned out to be one of the final two as life would have it. The show doesn't seem to accept woman with children, which makes sense I suppose. Brad didn't seem too shocked at Bettina's revelation about her divorce but I gotta smile at the show's hype that THIS bachelor is totally devoted to the concept of marriage and a divorced woman might be viewed as suspect and disloyal to the fine fellow.
Bull hockey. If she's pretty, sexy, intelligent and personable, no man with a brain is going to walk away solely because she's been married before. Now if children were an issue that's a whole nother ballgame.
Unfortunately Brad's identical twin brother is married. What this series needs is a set of identical twin brothers, BOTH of whom are up for grabs by the contenders.
Right now, Jenni and Hillary seem to have caught the Bachelor's eye more than the others.
Heh.
Prior Links for posts for "The Bachelor" Fall 2007
=============
The First 25..Down to 15
Episode 10/1/07-Down to a Dozen
Episode 10/8/07-Nine Ladies Left
Final Nine contenders-"The Bachelor" Fall 2007 as of this writing
========================
Deana
McCarten
Bettina
Estefania-(Stephy)
Kristy
Jenni
Sheena
Hillary
Jade
=============
Focus on TV Posts of Fame
Those Wacky TV Chefs.
Includes Rachel Ray and the sexiest chef of them all.
TV News Pundits
including Russert, spitting Matthews and the one I adore.
"Dancing with the Stars"
of 2007, reviews, pics and videos.
American Idol 2007 and The Bachelor.
One night's review with links to all the others.
===============
Add POST to Technorati Favorites
=======================