It's a True Crime post and there's a plethora of True Crimes in process and we have updates and backgrounds.

Another baby stolen from its mother's womb and we've got details on this and that former crime of this same heinous caliber.

Also, you'll never believe what these future grandparents tried to do to their unborn progeny.

Lots on Melinda Duckett, who killed herself even while her toddler is still missing.

And baby Abby is returned to her mother, whose throat was slashed and baby stolen by a deranged woman.

What's this about a fake penis and a drug test?

Those Katrina deaths, Anna Nicole and what's happening with those premie baby deaths?
Pic of the Day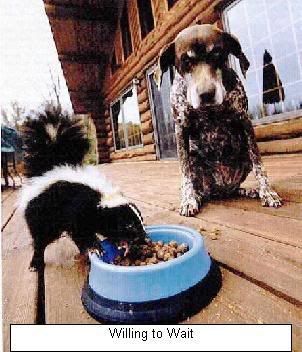 ---
Quote of the Day



On Dogs


The average dog is a nicer person than the average person.
-Andy Rooney

We give dogs time we can spare, space we can spare and love we can spare. And in return, dogs give us their all. It's the best deal man has ever made.
-M . Acklam

Dogs love their friends and bite their enemies, quite unlike people, who are incapable of pure love and always have to mix love and hate.
-Sigmund Freud

I wonder if other dogs think poodles are members of a weird religious cult.
-Rita Rudner

A dog teaches a boy fidelity, perseverance, and to turn around three times before lying down.
-Robert Benchley

Anybody who doesn't know what soap tastes like never washed a dog.
-Franklin P. Jones

If I have any beliefs about immortality, it is that certain dogs I have
known will go to heaven, and very, very few persons.
-James Thurber

If your dog is fat, you aren't getting enough exercise.
-Unknown

My dog is worried about the economy because Alpo is up to $3.00 a can. That's almost $21.00 in dog money.
-Joe Weinstein

Ever consider what our dogs must think of us? I mean, here we come back from a grocery store with the most amazing haul -- chicken, pork, half a cow. They must think we're the greatest hunters on earth!
-Anne Tyler

Women and cats will do as they please, and men and dogs should relax and get used to the idea.
-Robert A. Heinlein
Web Site Worth the Visit
Most Wanted Cyber Criminals

Here's a handy site you might want to bookmark. For it seems that there's a new breed of criminal across these fruited plains and they use the computer and Internet to do their evil deeds.

This site allows the user to report a cyber-crime and it's handy. If you come across a creepy predator or a serious phish email, here's the place to report it.
Cyber-Crimes


TIDBITS

Inner Strength
==============

If you can start the day without caffeine,

If you can get going without pep pills,

If you can always be cheerful, ignoring aches and pains,

If you can resist complaining and boring people with your troubles,

If you can eat the same food every day and be grateful for it,

If you can understand when your loved ones are too busy to give you any time,

If you can overlook it when those you love take it out on you when, through no fault of yours, something goes wrong.

If you can take criticism and blame without resentment,

If you can ignore a friend's limited education and never correct him,

If you can resist treating a rich friend better than a poor friend,

If you can face the world without lies and deceit,

If you can conquer tension without medical help,

If you can relax without liquor,

If you can sleep without the aid of drugs,

Then you are probably The Family Dog!
~Author Unknown~

Melinda Duckett and Precious Trenton
The crime chapter of Melinda Duckett and her 2 year old son, Trenton, will soon be closed. For Melinda did the world a favor and ended her own life. No one with two brain cells to rub together does NOT believe that this woman didn't kill her precious toddler son.

Trenton was last seen at his grandparents at 4:00 pm on 8/26/06. We assume that Melinda picked up the boy on that day but this is not clear. The investigative reports simply state that he was last seen alive by his grandparents.
From approximately 4:30 pm that day until 8:00 am the following morning, 8/27/06, Melinda's whereabouts are unknown and her testimony is meandering and garbled as to where and what she was doing during that time.
There are records of cell phone calls made by Melinda on 8/27/06 at 12:08 pm, 12:30 pm, 12:45 pm,3:42 pm, and 3:47 pm. All calls were made at various locations and there has been nothing published as to who she called. It is known that Melinda went to a retail store that day as well as to a bank. All of these errands were before 11:00 am that day, 8/27/06.
Melinda Duckett was seen entering her apartment at 4:00 pm that same day, 8/27/06. A friend of Melinda's, Chris Pierce, arrived at her apartment at 6:55 pm to watch movies. Melinda phoned 911 that evening (time of report is unclear) to report Trenton as missing. She said she'd put the child to bed around 7:00 pm and indicated a slit in the screen near the child's crib. She claimed that Trenton had to be abducted through that screen.
On 9/7/06 Melinda was interviewed on the "Nancy Grace" show. On 9/8/06 Melinda committed suicide. She'd refused to take a polygraph and continually gave confusing accounts of her whereabouts on those two days, 8/26/06 and 8/27/06.
In addition to this timeline, there's been much more scuttlebutt about Melinda, including the fact that she'd once gotten a restraining order against Trenton's father and she'd hacked into his MYSPACE.com and posted an incriminating email that pointed the finger at her ex-husband.
It's also been reported that Melinda painted the baby's room soon after his disappearance and made arrangements to sell many of Trenton's toys and baby equipment, including his car seat.
Link with Video of Duckett
From The Daily Sun:
Anyone with information regarding Trenton's disappearance, current
whereabouts, or Melinda Duckett's whereabouts on Aug. 26 or 27 is urged
to contact authorities at (800) CALL-FBI (225-5324).
It would seem that Melinda conducted a very orchestrated campaign to rid her life of Trenton forever. She went to great pains to implicate Trenton's father in his disappearance, arranged for a friend to watch movies at her apartment shortly before she reported Trenton missing and reported the child as missing while the friend was there or shortly after he left, this is unclear.
While on the subject, this "friend" of Melinda's has been curiously absent from all the PR hype on this crime although no doubt he's been interviewed by investigators. I have a link with this fellow's name but since investigators have refused to release his name due to some sort of security law.
It defies the laws of physics that any abductor could possibly pull this toddler through a ten inch ripped screen almost three feet from the child's crib. In addition, her behavior once she reported Trenton missing has been confusing, to say the least. Hysterical mothers of missing toddlers do not generally re-paint their rooms and sell their toys.
It also appears that Melinda planned Trenton's disappearance carefully. She not only went to lengths to cast aspersions on Trenton's father, who knows what that deal is with that "friend" and the movie watching? It's even been reported that on her 911 call to report Trenton missing that she told the dispatcher that the movie lasted two hours. An odd factoid to be reporting during what would ordinarily be a distraught call to authorities about her missing child.
What's unknown is if Melinda's friend actually saw the child when he came to watch movies or if he was there when she reported Trenton as missing. For now, it all appears to have been a setup. Melinda might have invited her friend in for their pre-planned visit, indicated that she had to go in the nursery and tend to Trenton, then watched the movie, that friend all the while assuming Trenton was in his room and safely tucked in for the night. At the conclusion of this "2 hour movie" I assume Melinda took time, as mothers are wont to do, to check on Trenton and conveniently found him missing. The friend was there, as was possibly Melinda's plan, to report to authorities that so far as he knew the child was in his bedroom and...why Melinda tucked him before we watched the film!
The above is only my own personal speculation, I must stipulate.
What likely happened is that Melinda picked up the child from his grandparents and sometime between the hours of 4:30 pm on 8/26/06 and 8:00 am the following day, 8/27/06, she managed to make Trenton disappear. Searches for the child have concentrated on heavily forested areas, I'm not at all sure why but common sense says that there was a logic on the locale of the searches. For sure a time span of 16 hours would allow Melinda to kill Trenton and dispose of his body before she was seen out and about after 8:00 am on 8/27/06. As reported, Melinda cannot account for where she was during those hours, or she outright lied about it. The following day, 8/27/06, Melinda ran her errands, perhaps picking up supplies for her home-movie date that evening. As per her plan, her friend was the "witness" to Trenton's disappearance right out of his own crib.
On 9/8/06 Melinda Duckett did the world a favor and committed suicide. Ladies and gems, this woman did not kill herself from grief over her missing child. How much grief was in her when she re-painted his room and sold his car seat?
She killed herself because she killed Trenton and again I speculate, but I'd bet she knew investigators were closing in on her but were stringing it out in hopes of finding Trenton's body. Nancy Grace did grill Melinda on her show but hey, that's Nancy Grace's job and if Melinda couldn't take the heat she should have stayed the hell out of the kitchen.
Recently the suicide note of Melinda Duckett was released by investigators. This selfish woman who is probably now burning in hell didn't even leave information about where her son could be found. Dear Lord, it's the least she could have done given that she was dead and everything. Had she indicated where Trenton's body could be found she might have only had to serve some time in Purgatory but as it is, well the devil welcomes her with open arms.
From Kansas City.com:
The letter, Duckett wrote, was "a last minute idea but, I have felt myself sinking after 1 week mark of Trent being gone. I love him dearly and he is all I was breathing for. He was and always will be my essence and as he grows, I want him to know that."

"I only wish you do not push anyone else," Duckett wrote. "I do not bleed my emotions to the public and throughout this situation you did not understand that. There were many more errors you made in understanding me, but time is short and I have more important people to speak to."
First Blog Post for this crime.
Unwanted Grandchild
The father of this very unwanted grandchild was in jail. Which caused this very lovely couple to kidnap their 19-year-old pregnant daughter in a quest to drive her to New York to get a forced abortion.
How this plan could have succeeded is confusing in that the pregnant daughter was very much against the idea and indeed did escape from her lunatic parents and managed to get help. Surely no physician would have performed an abortion against the young woman's will.
From a Google newsgroup, attributed to AP:

SALEM, N.H. (AP) - A Maine couple upset that their 19-year-old daughter was pregnant tied her up, loaded her in their car and began driving to New York to force her to get an abortion, police said.

The daughter, Katelyn Kampf, escaped Friday at a shopping center and called police, who arrested her parents, Nicholas Kampf, 54, and Lola, 53, of North Yarmouth, Maine. They were jailed on a kidnapping charge and were being held on $100,000 bail each.
Petition to Free Duane Chapman-the Bounty Hunter
We still believe this phony baloney arrest of famed bounty hunter Duane Chapman by Mexico was spurred on by rich rapist Andrew Luster. Luster was brought to justice by Chapman and now Mexico has Chapman. This case has gone all the way to Condoleeza Rice in the scope of the delicate diplomacy involved.
Bounty hunting is illegal in Mexico. So Mexico arrests the bounty hunter. Heh. So why can't Mexico arrest all those illegal aliens they send our way every day? With a little money from Max Factor Mexico will go to great lengths to enforce their laws.
I hope you will sign the petition to free Dwayne "Dog the Bounty Hunter" Chapman. Details available below and via a Search at Yahoo.

Hawaii Reporter
Freedom to Report Real News

Sign the Petition to Free Duane 'Dog' Chapman and Family
By John Buffam, 9/15/2006 3:39:07 PM

Duane Dog Chapman captured a rapist who terrorized women and was about to do the same thing in Mexico.

He never received the bounty for his capture of Max Factor heir Andrew Luster, but he is proud of his accomplishments.

Luster's victims said Chapman gave them their lives back – and there would have been many more future victims had Duane not put an end to it all. Again, many thanks for your support!

Please pass this on and let's send a message out there that doing the right thing should not be punished, but rewarded! Please email Alberto Gonzales at AskDOJ@usdoj.gov and ask them to drop all warrants against Duane, Leland his son, and Tim Chapman.

Please sign the petition for the Chapmans at HERE.
LA Nursing Home Operators Indicted
The owners of St. Rita's Nursing Home, the lovely Salvador and Mabel Mangano, were warned to evacuate their patients to higher ground. They made a bad call, deciding to keep the patients of the home in place rather than undergo the expense of re-locating them. 35 patients in that nursing home died as the flood waters rose from the broken levees caused by Hurricane Katrina.
Three more medical people from this nursing home are also being tried for deliberate murder as the discovery that patients were deliberately put to death, ostensibly to relieve their suffering as the isolated patients waited for assistance.
Hurricane Katrina was a blight on this nation and I'm not for one minute blaming the federal government. It's not the federal government's job to tend to local disasters. Frankly, it's not even the state's job to protect individuals in the event of an emergency. It IS the job of individuals to protect themselves and their families, at least first. There was plenty of warning about the incoming major hurricane and yet many chose to do nothing than whined when the government couldn't get to them quick enough.
In the case of these poor nursing home patients, they were helpless. They couldn't very well just up and walk out the door, those aged and infirmed patients that paid someone else to take care of them. Only in this case, the owners of St. Rita took the money and didn't do the job. Now they are indicted for their crime.
Good.
From Chron.com:
The owners of a nursing home where 35 patients died in the aftermath of Hurricane Katrina were indicted today on charges of negligent homicide and cruelty to the infirm.

Salvador and Mabel Mangano initially were arrested about two weeks after the Aug. 29, 2005, storm. The Louisiana attorney general booked them on negligent homicide charges, but a grand jury was unable to convene for months because the court system was hobbled by damage to government buildings and the displacement of residents.
Premies' Strange Deaths
There may be a recent update to this story. I came across some allusion to possible errors by nurses as regards overdoses of blood thinners given to three premature babies at the same hospital.
How on earth could such a monumental error as this go on in a medical institution, with that same error leading to unexplained deaths?
From Clickondetroit.com:
INDIANAPOLIS -- A premature baby girl has died at Methodist Hospital in Indianapolis, the third to pass away after being given an overdose of a blood thinner there.

A spokesman for the hospital said the baby had been transferred to Riley Hospital For Children and had been in critical condition since receiving the overdose on Saturday.

The baby -- identified as Thursday Dawn Jeffries -- died late Tuesday night.

Two other premature newborns, D'myia Nelson and Emmery Miller, died on Saturday and three others remain hospitalized. Methodist Hospital officials said the three are no longer showing effects from the overdose.
Ripped from Womb
A pregnant woman, 23-year-old Jimella Tunstall, was found dead in a weeded lot, her stomach butchered, cut open by scissors and her unborn baby ripped from her womb. Tunstall's cousin, Tiffany Hall, 24, showed up at a local hospital with a dead baby that she says was stillborn. At the baby's funeral, Hall confessed that the dead baby belonged to Tunstall.
From Comcast.net:
EAST ST. LOUIS, Ill. - A woman was charged Saturday in the deaths of a pregnant friend and the fetus authorities believe she cut out from the slain woman's womb after knocking the victim unconscious.

Tiffany Hall, 24, was charged as authorities implored the public for help in their search for the victim's two sons, ages 7 and 2, and 1-year-old daughter. Authorities say they were last seen with Hall on Monday, three days before she was taken into custody.
From KMOV.com:
ST. LOUIS, Ill. — Officials charged an East St. Louis woman in the deaths of a pregnant woman and the fetus authorities believe she cut out from the womb.

Authorities returned Saturday to a thickly weeded lot where a woman's body was found two days earlier - her fetus missing, cut from her womb perhaps with scissors - in hopes of finding her three children they say were last seen with a woman now in custody.
Even more horrific, Tunstall's three children were missing. An extensive search for the missing children was launched. The three babies were found dead and stuffed into Tunstall's washer and dryer.
From Yahoo.com:
Authorities on Sunday were trying to pinpoint the cause of death for three children an investigator says were found decomposing inside the washer and dryer of their apartment, hours after a woman was accused of killing their pregnant mother and her fetus.

Saturday night's discovery inside apartment 28J at the John DeShields public housing complex came two days after the mother of the children - ages 7, 2 and 1 - was found in a weedy lot, her abdomen torn open and the fetus missing.
It's anybody's guess what this nut Hall was up to. Later reports indicate that Hall said the children had been drowned and stuffed into the appliances after death. It's not yet clear just who drowned the children but Hall seems like a good guess.
An incredibly tragic story.
John Karr-We Told You So
I launched into a rant
re Boulder Colorado's prosecutors and that majorly idiotic act of using taxpayer money to import a child predator back into this country from Thailand, all to obtain a DNA sample from the man to test for involvement in the Jonbenet Ramsey murder. Go to hell, Patsy Ramsey killed Jonbenet by accident and yet these naïve Colorado fools dance to the Ramsey tune as if paid puppets.
Read the link for my scenario on the Jonbenet crime because I'm not going to repeat my good common sense here. For now I refer yon reader to my prediction that once this nut job Karr was found unconnected to Jonbenet's murder (how could he when Patsy did it?), that he would be released to prey upon innocent American children. For which we can thank the idiots in Boulder.
Now my prediction appears to be coming true. John Karr was released to the state of California for an outstanding charge of storing child porn on his computer. Even if he were to be found guilty in California for this crime, it is only a misdemeanor in California. There would not be much jail time for a misdemeanor but now it's even worse. John Karr will be released soon.
From MSNBC.com:
Child porn case against Karr hits a snag

Prosecutors can't find computer that allegedly contained illegal images

SANTA ROSA, Calif. - Efforts to prosecute one-time JonBenet Ramsey murder suspect John Mark Karr on child pornography charges should not be jeopardized even though his computer that allegedly contained the images was lost, Sonoma County authorities said Wednesday.
John Karr has an excellent lawyer, as I predicted for what aspiring legal beagle wouldn't want the notoriety of this case? Said lawyer is advising his client NOT to accept any plea deal as regards this case. Which Karr should not because go on, the California authorities LOST the evidence?
Again, as I predicted, John Karr will be released upon us, to molest and/or prey upon our children. We can thank the idiots in Boulder Colorado, who I am going to sell a bridge in Brooklyn first chance I get. As for John Karr, smile. The man got a free trip back to the states, now has a great big country full of children on which to prey, and please don't forget the man's movie and book deal.
All to protect the Ramseys.
Another Baby Stolen-This One Already Born but Mother's Throat Slashed
Thank God that baby Abigale Woods has been found, alive and well. Fortunately, Abby's mother is expected to survive the throat slashing she received by Abby's abductor.
Baby Abby was taken by Shannon Beck, a woman who lived near Abby's mother, Stephanie Ochsenbine. Baby Abby was known to have a huge birthmark on her forehead and Beck's sister-in-law, Dorothy Torrez, noticed that Beck's new baby, which Beck alleged was her own, had makeup on its face. Torrez removed a smudge of makeup and discovered Abby's famous birthmark. She then urged Beck to take the baby to an emergency room and alerted authorities as to the location of baby Abby.
From CNN.com:
UNION, Missouri (CNN) -- An 11-day-old baby missing since a knife attack on her mother Friday was found alive Tuesday, said Gina Petzold, a spokeswoman for the girl's family.

Investigators had been searching for Abigale "Abby" Lynn Woods since her mother, 21-year-old Stephanie Ochsenbine, turned up at a neighbor's home with a cut throat and several stab wounds, claiming someone had stolen the baby.
This should be an interesting case when it goes to trial. It's unclear whether Beck had ever been pregnant but scuttlebutt abounds that she'd recently suffered a miscarriage. Could be a perfect case for temporary insanity.
Illegal Alien Arrested in Gruesome Dragging Death
I could smirk and state that this is yet another example of the woes wrought upon us by illegal aliens. But this is just one crime and to blanket the illegal population with such murderous and heinous behavior would be unfair. What's not unfair is to point out that this creep should now be sitting in a Mexican jail yet our taxpayer money must be used to deal with him.
From Google newsgroup, attributed to AP:
A man was arrested in the gruesome dragging death of a woman after a stained and tattered photograph of him was found at the crime scene, police said Wednesday.

Jose Luis Rubi-Nava, 36, was arrested Tuesday night on suspicion of murder and jailed without bail. Investigators said they were still trying to identify the victim, who was dragged behind a vehicle with a rope, leaving a trail of blood more than a mile long.
Dear Lord, this nice fellow tied an orange tow rope around the victim, said to be his roommate even though Rubi-Navi has a wife and children still in Mexico, and dragged her through the streets from a nearby Interstate. Residents of a small community found her body, which was not recognizable from the extent of her injuries. It doesn't come more heinous than this, folks.
Anna Nicole Smith Starts Cashing In On Son's Death
Whatever the cause of Anna Nicole Smith's son's death, it's not clear just who is selling those last images of her and her son before his sudden death from reasons now unknown. Getty Images was hawking the pics and in the link below there HAD been the same pics eventually sold to a big tabloid for a rumored almost $400,000.
Now how did Getty Images get those pics? Did Getty happen to have a photographer in Smith's hospital room that morning? Alas, I'd linked to the site with intention to download the pics later. But someone else got to Gawker.com and the pictures have been removed. The picture below I found through a Google search.
Whether marrying a man with one foot in the grave or selling pics of her dead son, Smith knows how to eek a dime when there's a dime to be eeked.
From Gawker.com:
As first reported on Friday afternoon, Getty Images sent an email out to celebrity weekly editors hawking photos of Anna Nicole Smith, her newborn daughter, and her son, Daniel. The pictures were taken in the Bahamian hospital where, the next day, Daniel was found mysteriously dead. For an initial asking price of $200K, Getty would provide a handful of the tender! heartbreaking! tragic! images, the only caveat being that the buyer had to refrain from running the photos with any sort of negative press -- which may be easier said than done if and when toxicology reports are released.
Fake Penis Arrest
So Vincent Bostic, 31, gives Leslye Creighton, 41, a fake penis. Said fake penis being evidently hollow or something because Bostic filled it with his urine. They then wrapped the thing in a towel and asked a convenience store clerk to warm it up in a microwave. The clerk thought the thing was a real severed penis and phone up the police to report it.
It's not clear where the case went from there but we must assume the authorities discovered it was a fake penis. We must also imagine the store clerk's horror at his discovery of a severed penis wrapped in a towel. The clerk evidently did microwave the thing; perhaps he discovered what was in the towel when he removed it. Because this couple had to pay a fine of $425 to replace the store's microwave as, go with me here, a urine filled fake penis warmed within might be a health hazard.
Creighton was supposed to undergo a drug test that day so the mind reels with the possibilities. I suppose she was going to put that fake penis inside of her somewhere (use your imagination) and "pee" out of it, all with urine from her assumedly drug-free boyfriend if the plan had went as planned.
Heh.
From Boston.com:
MCKEESPORT, Pa. --A woman pleaded guilty to disorderly conduct in connection with a bizarre incident in February that resulted in a fake penis being microwaved at a convenience store.
More True Crime Updates HERE
================