Groene trial begins; Anna Nicole's strange story; Deb Lefave, Edington, the Gnome crime.
Pic of the Day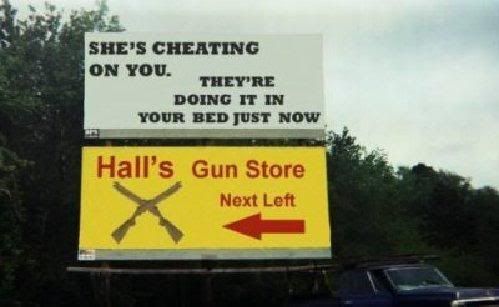 ---
Quote of the Day


WHATEVER IT TAKES

"Mexico's Consejo Nacional de Poblacion (National Public Council) estimates that Mexicans working in the United States contributed $17 billion to Mexico's economy in 2004, making them one of the top three sources of income in the country. Illegal immigration is...Mexico's only growth industry."

- Rep. J.D. Hayworth (R-Arizona) in "Whatever It Takes"



Web Site Worth the Visit
Test Your Senses

Seriously, this site gives an interesting little quiz that can test the level of your senses. It looks easy but it's not.
Test Your Senses


TIDBITS

Tech glossary


486: The average IQ needed to understand a PC.

State-of-the-art: Any computer you can't afford.

Obsolete: Any computer you own.

Microsecond: The time it takes for your state-of-the-art computer to become obsolete.

G3: Apple's new Macs that make you say 'Gee, three times faster than the computer I bought for the same price a Microsecond ago.'

Syntax Error: Walking into a computer store and saying, "Hi, I want to buy a computer and money is no object."

Hard Drive: The sales technique employed by computer salesmen, esp. after a Syntax Error.

GUI: What your computer becomes after spilling your coffee on it. (pronounced 'gooey')

Keyboard: The standard way to generate computer errors.

Mouse: An advanced input device to make computer errors easier to generate.

Floppy: The state of your wallet after purchasing a computer.

Portable Computer: A device invented to force businessmen to work at home, on vacation, and on business trips.

Disk Crash: A typical computer response to any critical deadline.

Power User: Anyone who can format a disk from DOS.

System Update: A quick method of trashing ALL of your software.

A printer is made up of three parts
1. the tray
2. the other tray
3. the blinking light

Anna Nicole Smith's Son Dies Under Strange Circumstances
Anna Nicole Smith always loved the spotlight. The new light shining upon her? Not so much.
For the mystery of what happened to Anna's son, Daniel, is shrouded with confusion and is now currently being spun by hired coroners and eagle beagles.
The first mystery of this true crime, one with all the makings of a major crime event what with the celebrity involved and the many unanswered questions, is who knew Anna Nicole was having a baby? Further, just who is the father of this baby? All accounts have Smith keeping the identity of the baby's paternal parent mum. Which is certainly her right but it still remains mystery number one.
The baby had already been born and Anna's 20-year old son was in the room with her. Also in Smith's hospital room was her personal attorney, Howard K. Stern. Odder than all get out. Why would the woman's son and her attorney be in the room with her right after she gave birth? A fact certainly not illegal or nefarious in any way but intriguing. Also, why give birth in the Bahamas? The woman is an American citizen and it would seem that American medical care would be superior to that of a small island but that could be just my erroneous perception.
At 6:20 am in the morning of his death, Daniel Smith was seen alive by hospital personnel. At 9:38 am he was "discovered" (not clear at all by just who) unresponsive and sitting in a chair in the corner of his mother's hospital room. Anna Nicole had had a caesarian birth and scuttlebutt is that Daniel was seen assisting his mother to the bathroom.
From Bahama News:
Anna Nicole Smith's son, 20 year-old Daniel Wayne Smith, had been dead "for some time" before hospital officials were called in to perform advanced life saving procedures, The Tribune was told.

According to a statement from officials at Doctor's Hospital, Daniel was last seen alive on Sunday. September 10 at 6:20am. He was attending to his mother. An alarm was raised at 9:38am when he was found to be "unresponsive", sitting upright in a chair in the corner of the room. Resuscitative efforts were made but Daniel was pronounced dead at 10:05am. His body has since been transferred to the Princess Margaret Hospital where an autopsy and toxicology test is underway.
===================
At 10:05 am, Daniel Smith was pronounced dead. At 10:29 am, the local police were notified. Police investigators found Daniel laying on the bed, already dead. Note in the times in the quote below. So at around 9:30ish am, "somebody" noticed Daniel was sitting in a chair and evidently he wasn't in good health. More scuttlebutt has it that Daniel vomited a lot as part of his death process, and that the hospital room was a mess. "Somebody" at that time tried to revive the kid. It's not at all clear whether these "somebodies" were that attorney in the room, Anna Nicole herself, or hospital personnel.
From TMZ.com:

Assistant Commissioner With Responsibility For Crime, Reginald Ferguson, said police received a call from the hospital informing them of Daniel's death on Sunday morning at around 10:29AM.

Officers were sent to the hospital where they discovered Daniel's "lifeless body" lying on his back on a bed. Crime scene investigators concluded there was "nothing unusual noticed about the condition of the room."
==========================
In the quote below, the mystery deepens. The quote asserts that Smith and her attorney "continued" their efforts to revive Daniel. Which sounds like they had been trying to revive him right along so why weren't hospital personnel called in to aid? All parties involved were right there in a hospital and everything. Perhaps the facts aren't all sorted out right, perhaps the hospital personnel were immediately summoned when this attorney and Smith realized that something was terribly wrong with Daniel. For now I've seen no factual details that have hospital personnel involved with the death of Daniel beyond pronouncing him dead at 10:05 am. Police were summoned a full half an hour later but this may not be all that strange. Hospital personnel likely had to feel and conclude that Daniel's death was odd enough to require police intervention.
From SFGATE.com:
Anna Nicole Smith was so distraught by the death of her son Daniel that she had to be sedated and she later suffered memory loss of the event, said her Bahamian attorney, Michael Scott.

Anna Nicole Smith and another one of her attorneys, Howard K. Stern, continued efforts to revive 20-year-old Daniel Wayne Smith even after he had been proclaimed dead by staff at Doctors Hospital in Nassau, Scott said.

"Anna Nicole was so distraught at the loss of Daniel that she refused to leave his side and it was necessary to sedate her in order to check her out of the hospital," Stern read from a prepared statement. "The devastation and grief over Daniel's sudden death coupled with the sedation has been so extreme that Anna Nicole experienced memory loss of the event."
=====================
This past weekend Smith hired Cyril Wecht, a famed coroner widely renown for such personal autopsies. Wecht is under a cloud of suspicion for allegations that he had his staff perform autopsies for which he took credit. This in a taxpayer paid position as coroner. Wecht resigned from this position and some say, not I please note, that Wecht is considered the coroner to call when specific autopsy results are desired.
Also, note in the quote above that it seems that Anna has suddenly lost her memory. The combination of the sedation required to calm her after her son's death and the shock of the event have caused Anna to forget every thing that happened that morning.
I can't help but note how convenient this is. I note Smith has her attorneys out and about and handing out the spin. Defense attorneys do this sort of thing.
Will the Bahamas' investigators be like the Keystone Kops in Aruba? Can they be bought off with a few bucks and a bottle of booze? Why will it take another month or so before the Bahamas' authorities conduct an inquest?
Already this case has the makings of more than an accidental overdose of either illegal or legal drugs. Sure, this might have been the case as a healthy 20-year-old doesn't just up and die so suddenly. But had that kid ingested something unhealthy in his recent past that caused his death that morning in his mother's birthing room, why isn't the whole incident just a routine matter?
My child's vomiting and in distress across the room from my sick bed. First thing I'm pushing the hospital buttons and getting help. Hospital personnel would respond, in my scenario, try to save my child, then have to pronounce him dead. An autopsy is performed, it is determined that there was large amounts of something bad inside of him, I cry and grieve and life goes on.
I'm not over by that chair, me and my lawyer buddy, trying to resuscitate my child all by myself. I'm not hiring manipulative coroners and I'm not suddenly losing all memory of the event with such impeccable timing. My attorney is not giving press conferences announcing my loss of memory for all the world to take note.
Anna Nicole recently won her case at the Supreme Court regarding her inheritance from her marriage to a reclusive millionaire. The woman has lots of money.
Let's see where all this leads to in the days to come.
The Dentist Whose Female Lovers Keep Committing Suicide
Even though it was Dr. Barton Corbin's wife who "committed suicide" in December of 2004, he was arrested for the murder of his former girlfriend in late December 2004. For Dolly Hearns, a roommate of Dr. Corbin, too committed suicide in 1990 and right about the time the couple were about to break up.
All details in this Blog post:
It's required much reading, studying and watching Greta, but I have a tentative timeline on the nefarious activities of Georgia dentist, Dr. Barton Corbin. Who, sadly, seems to have a real problem with women in his life committing suicide just as Corbin is about to break up with them.

Not to mention another "friend" of Corbin's found at the bottom of a lake, her hands duct-taped, not your normal manner of driving.
In a surprise move, Corbin recently plead guilty to the murder of both his ex-girlfriend and his wife, Jennifer.
HERE:
Ga. Dentist Pleads Guilty to 2 Murders

LAWRENCEVILLE, Ga. (AP) - A Georgia dentist pleaded guilty Friday to killing his wife in 2004 and to shooting to death a girlfriend 14 years earlier while he was in dental school.

In both cases, the women's deaths initially had been declared suicides.

Barton Corbin, 42, entered guilty pleas to two counts of malice murder four days into jury selection for his trial in the death of his wife, Jennifer Corbin. He had been scheduled to stand trial later for the death of his former girlfriend, Dorothy "Dolly" Hearn, in Augusta.
Scuttlebutt has it that the prosecutors really had the goods on Corbin, including the possibility that the suicide gun can be traced directly to Corbin.
This guilty plea is interesting in that Corbin will not only NOT get the death penalty, he will serve two consecutive terms and IS eligible for parole.
The state, I must suppose, is saved a lot of money by avoiding a trial. But someday, face it, this man is going to be walking the street. Dolly Hearns and Jennifer Corbin will remain dead.
Below an interesting comment made on my original Blog post on this murder.
I was in dental school with Dolly, Bart was a year ahead of us he was unbalanced then as many of us knew. Dolly once told me when I asked why she was upset "I'm dating a psycho"

well she was right but who could have envisioned the extent of his madness
--
Posted by rickytic68 to The Kaitlyn Mae Book Blog at 9/17/2006 11:41:02 PM

Nancy Grace, Melinda Duckett, Suicide and a Missing Toddler
2 year old Trenton Duckett went missing in late August of this year, 2006. His mother, Melinda Duckett, asserted that the youngster was abducted by being pulled through a slit in a screen by his crib.
From the Ledger.com:
LEESBURG -- A woman whose 2-year-old son has been missing for nearly two weeks has committed suicide, police said.

Melinda Duckett, 21, was found Friday in her grandparents' home in The Villages, dead from a gunshot wound that appeared to be self inflicted, Leesburg Police Capt. Steve Rockefeller said.
The missing toddler has, as of this writing, not been found. The boy's father, Joshua Duckett, has been engaged in a custody fight for Trenton. Joshua Duckett immediately took a lie detector test. Melinda Duckett refused the test and her attorney, in a defense attempt to spin the possible jury pool, declared that Melinda agreed to take the test but was advised against it by her attorneys. Well they always blame the attorneys, don't they?
Questions abound about the circumstances of missing Trenton. Like that "slit" in the screen from which his abductor is supposed to have removed the toddler. Only the cut in the screen is only about ten inches long and it would have required a human arm able to reach fully three feet to manage to get into the child's crib and then that same arm would have to pull a 2 year old back through this tiny cut in the screen.
Melinda also was selling her baby's car seat BEFORE he went missing. And her explanation as to her whereabouts the day the boy was allegedly abducted makes no sense at all. Supposedly she was out roaming the countryside a full eight hours the day her little boy disappeared.
In an interesting side note to this case, it was after Melinda's interview on the Nancy Grace show when Melinda took her own life. The flap that resulted lays the blame on Melinda's suicide on Nancy Grace.
Come on folks. Nancy Grace, a sometimes rather unpleasant person I'll concur, didn't take a gun and shoot anyone. Melinda Duckett didn't have to appear on the Grace show. Nancy did, as she is wont to do, grill Melinda mercilessly. Some could argue that Nancy's grilling was but a preamble to the questioning she would be getting (or already received) from the investigators.
From the Orlando Sentinel
Melinda Duckett's family says the publicity about her missing son's case added to her stress.

Stephen Hudak | Sentinel Staff Writer

LEESBURG -- The plight of missing 2-year-old Trenton Duckett is the latest cause taken up by ex-prosecutor and national talk-show host Nancy Grace, who frequently uses her cable forum to draw attention to abduction cases.

But the Headline News host found herself answering Monday whether she had become part of the story -- only days after grilling the boy's mother in a televised interview. The day after that probing series of questions, Melinda Duckett killed herself.

"I do not feel our show is to blame for what happened to Melinda Duckett," Grace said on the air Monday.
I'm not even going to pursue any notion that Trenton Duckett disappeared by any other method than by his mother's own hand. Her story of his abduction makes no sense and hey, Melinda killed herself and sadly, perhaps this was for the best.
Too bad she didn't tell anyone what the hell she did with her little boy's body.
The Trial of Joseph Duncan Goes Tortuously Forward
Joseph Duncan broke into the home of the Groene family and systematically murdered the mother, a male friend, and an older teenage boy before taking off with two youngsters, Shasta and Dylan Groene. This case has been covered extensively on this Blog
HERE,
HERE,
HERE
and HERE.
Joseph Duncan is a pervert who is not worth a pile of dirt. After abducting Shasta and Dylan, he raped little Dylan and killed him. He also molested Shasta but kept her alive. A waitress at Denny's spotted the pair and boom, Duncan's now behind bars.
Duncan's attorneys, what a crap job that has to be, are all busy spending many tax dollars defending this man, who also has been definitively tied to another child murder and is suspected in a few others. The trial has already been delayed due to some concerns about Idaho law and the insanity plea.
Now there's another dilemma and these lovely attorneys are now challenging another court ruling.
From About.com:



COEUR D'ALENE, Idaho — A judge Thursday granted a delay in the triple murder trial of Joseph Edward Duncan III, saying he didn't want to try the case twice in case Idaho's ban on the insanity defense is overturned.

First District Judge Fred Gibler heard nearly two hours of testimony in his chambers before vacating a scheduled April 4 trial date and setting an Oct. 16 start. Gibler said that would give Duncan's lawyers time to prepare for the capital trial, as well as clarify whether Idaho's ban on the insanity defense is constitutional.

"No one wants to try this twice, including me," Gibler said.
Prosecutors want little Shasta Groene, who watched her entire family brutally murdered and God knows what torment she endured while with Duncan, to have a beloved teddy bear with her when she testifies against Duncan. They also want her to testify with an appointed police official by her side to make her feel safe as she confronts her tormenter in a court of law.
The lovely defense attorneys are protesting this. Well we can't have a teddy bear in a court room, now, can we? And why can't Shasta have a protector by her side?
It's not that this objection by the defense will hold any water. It's the fact that they even protested such a thing to defend a cretin who is a waste of air, water and food to keep him alive.
Canada's Columbine
This past week another nut got a gun (by the way, guns are illegal in Canada) and proceeded to Dawson College in Quebec. He shot at random, killed one young woman, injured nineteen students, six of them critically.
From the Toronto Star:
The optimism and expectations of a new school year were cruelly replaced by shock and horror Wednesday when a trench coat-clad gunman opened fire at Dawson College in downtown Montreal. Just as the busy lunch hour was in full swing, 25-year-old Kimveer Gill parked his car on a nearby street, approached the school and started shooting randomly. He continued his rampage inside the school cafeteria, calmly taking aim at terrified students who ran for their lives.

By the time Gill died in a confrontation with police, he had already inflicted a terrible toll. One 18-year-old woman, Anastasia DeSousa, was killed. Nineteen other people were injured, six of them critically.
Kimveer Gill had a web site and yes he was a weirdo.
Gill's web site HERE.
The Goth wannabe creep is dead now. So is a young woman shot down at the beginning of her life.
Bipolar LaFave Begins Celebrity Career
I watched this goofball with my own lying eyes as she was interviewed by Today's Matt Lauer. The lady is beautiful make no mistake. She said that she gave her 14-year-old victim oral sex because "he asked for it".
What a piece of crap this woman is. I am convinced she has plans to serve her home-confinement term than go on to a career as either a Playboy centerfold, perhaps to an acting career.
So the kid asked for it and go with me here, I imagine that oral sex given by a beautiful teacher has to be every adolescent's wet dreams. I can't name a decent parent in America who wants such a wet dream to actually come true, all snickering aside.
The woman was teaching kids for God's sake! LaFave then confessed to having intercourse with the boy AT THE SCHOOL!
Dear Lord, suppose that young boy made her pregnant? As it is the kid is probably embarrassed enough because while his horny friends might snicker and slap him on the back, the notoriety of it all has to be a bit overwhelming. I heard his mother interviewed on the Greta show. She talked anonymously and expressed outrage at LaFave's allusion that it was the young boy that initiated the sexual contact with her son.
This woman is a big embarrassment to everybody concerned. She certainly has a beauty but that beauty is ugly as hell with this story she chooses to hawk. Sure she admits it was all a big mistake and naturally it was the devil who made her do it.
Let's see what fame Deb LaFave moves on to.

TAMPA, Florida (AP) -- A former middle-school teacher serving house arrest for having sex with a 14-year-old pupil said in a television interview that she was deeply troubled at the time and "crossed the line that never should've been crossed."

Debra Lafave, 25, who became a tabloid sensation after her arrest in 2004, also acknowledges that her victim might "have a hard time trusting women one day. I'm sure he has to be living with the guilt of -- quote, unquote -- ratting me out," according to transcripts of the interview with Matt Lauer released by NBC Tuesday. The interview was to air Wednesday on the "Today" show and "Dateline NBC."
More Details on Man Who Killed Neighbor Who Molested His Toddler
The story of Jonathon Edington and his toddler daughter continues to unfold. And it's not pretty, folks. Initially covered in
this Blog post,
I had a lot of questions when the story was first reported.
One thing that confused me was just why the baby didn't tell the story to her mother until they were out of town. When the toddler told her mother that she was afraid to return home because of "Barry", it begins to make sense.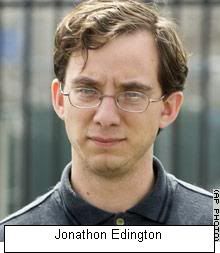 There's still a lot of mystery in this case but a police affidavit was released and the child told her mother what Barry James did to her. Folks, I have a 2-year-old granddaughter and the way this two-year-old described what this neighbor did to her sounds EXACTLY how a child this age would describe the incident.
Another question I had in my original post on this crime was just how this Barry got access to the child. It was reported that the Edingtons had reported this man to the police before for exposing himself from his bedroom window. Now we learn that investigators got a search warrant for an old car on the James' property to look for "burglary tools". Could this creep actually have managed to pry open that baby's screen in her room and molested her in her own bed?
When the youngster told her mother the story and her fear of returning home, the mother did what most mothers would do in this case: she phoned her husband and told him the story. At which time Jonathan Edington immediately went over to the James' house, climbed into HIS window, and stabbed the man to death in his own bed.
I have a rancher and even as I type the windows are open and someone with a knife could easily cut through the thin screen. My granddaughter spends some time with me and it's entirely possible, absent two very noisy dogs, that a neighbor of mine could cut through the screen, molest the baby, and leave with me none the wiser. We don't think things like this would happen but if they did, if they did yon ladies and gems, who amongst us wouldn't do the same thing Edington did? I'd blow that neighbor's head right off his shoulders. Jonathan Edington used a kitchen knife and reacted in rage.
OUR CHILDREN ARE NOT THE PLAY TOYS OF SEXUAL PREDATORS!! If the judges don't want to put these creeps away than perhaps if a few parents just offed these perverts they'd stop this stuff. Sure we don't want vigilante justice in this country and there's many details about this crime still unrevealed. Give the defense attorneys enough time, and Edington is an attorney, and the details will come out.
I'm fascinated by this case as I want to see a jury convict this man.** If this crime unfolds as it currently appears it will unfold, this will be an extremely interesting case. Hey, O.J. got two free murders. Why not a man whose child was molested in her own home in a most heinous manner, should that be how it unfolds?
==========================
**A reader sent me an email suggesting that my phrasing here is unclear. My statement that I want to see a jury convict this man is not meant to be read literally. I meant that statement as a verbal challenge that, unfortunately, might not translate as well in text as it would if expressed verbally. I do NOT want a jury to convict this man although he's as guilty as hell. If a jury does put Edington away for the rest of his life, well I want to see that jury. I bet none of them are parents, should this be the case.
No, as I continued on, the lovely O.J. got two free murders. I think Jonathon Edington did the world a favor. That neighbor molested a BABY for God's sake. Let enough parents take matters into their own hands and screw the judges who won't lock up these creeps. Although I fear a nation that descends into vigilante justice, in this case, any parent can understand Edington's reaction. And I DON't think a jury will convict for anything but the least offense they can find.
Whatever the case, this will be a court case to watch.
From CNN:
BRIDGEPORT — The 2-year-old daughter of Jonathon Edington — a lawyer accused of killing his next-door neighbor in Fairfield two weeks ago — told her mother that the neighbor, Barry James, "comes to me in the starry nights," according to a Fairfield police affidavit released Tuesday.

On vacation in Rhode Island, the child told her mother, Christina Edington, that she didn't want to go back home to Fairfield, the affidavit said, because of "Barry."

When the mother questioned she child further "She described to her mother by pointing to her groin area with two fingers and stating that 'Barry is this,"' the affidavit said.

When her mother asked her to explain, the girl said "Barry puts it on her belly and her nose," the report said. The mother said the child told her that when "Barry" did this, he made her make noises that sound like "hee-haw" and then "it feels like rain on her."
Bounty Hunter Duane Chapman Arrested in Mexico
He's the star of "Dog the Bounty Hunter" and meets most folk's concept of what a bounty hunter would look like. Recently Duane Chapman was arrested by U.S. Marshalls by request of the Mexican government for what they call an illegal arrest of cosmetic heir Andrew Luster. Luster, by the way, is a real creep who likes to rape woman by first giving them a rape drug.
Mexican authorities had demanded that Chapman turn over Luster to Mexican authorities but he did not and brought Luster back to the U.S. Bounty hunting, it turns out, is illegal in Mexico.
I am surprised that U.S. marshals even bothered to arrest this guy. For a creep like Andrew Luster? Anytime you have a defendant with money strange things happen. How much you want to bet that the defense team for Luster unearthed this Mexican law and are either trying to get the lovely rich creep Luster freed or are trying to get the facts of his arrest as a basis for a mistrial.
All for a disgusting rapist.
From NBC 10:
Condoleezza Rice may decide the case of bounty hunter Duane Chapman, who is wanted in Mexico after he illegally caught a wanted rapist there three years ago.

Larry Butrick, chief of the criminal division of the U.S. attorney's office in Hawaii, told CNN while a magistrate in Hawaii will determine if Chapman can be extradited to Mexico, the final decision will be made by the U.S. secretary of state.
Throw This Guy in Jail and Throw Away the Key
A garden gnome is so offensive that Gordon MacKillop was warned in the middle of the night that he faces prosecution if he continues to leave the gnome up.
You can't make it up, folks, can't make it up.
From the Dailymail:
A man vowed to keep a glowing garden gnome on display today in defiance of a police notice. Gordon MacKillop even faces possible prosecution over the offending ornament.

He was woken in the night by two police officers who warned him that the solar-powered gnome, dressed in full police uniform, was offensive to his neighbours.

They served him with a notice under the Protection From Harassment Act 1997 for "placing a garden gnome with intent to cause harassment to Mr John McLean".

More True Crime Updates HERE
================