Five have been eliminated in ABC's "Dancing With the Stars" and there's some intrigue with the status of contestant Sara Evans.

Is she really going to quit?

And in memory of a special dachshund, Cleetus. He is no more but we loved him while we had him.
Pic of the Day
---
Quote of the Day


FAMOUS LAST WORDS

"I don't believe in a government that protects us from ourselves. . . . (T)hat's one of our sacred rights - to be stupid."
- Ronald Reagan
Web Site Worth the Visit
AOL Pet Pic Contest-Hurry-Enter by 11/1/06

Dress your pet in an outrageous Halloween costume and enter it into this America Online Pet Contest. Your pet can be on the cover of Life magazine!

AOL Pet Contest


TIDBITS

CHOOSING FRESH APPLES:

Whenever you're shopping for apples, look for hard, fresh-smelling fruit with a full aroma and a smooth, tight skin.Good-tasting apples aren't necessarily pretty--some of the best varieties aren't--but they should be free of bruises and blemishes. Remember that when an apple ripens, flesh softens, sweetness intensifies, acidity drops, and color and aroma increase.

Once you get them home, refrigerate apples and keep them away from strong-smelling foods, as apples easily absorb odors. Discard any rotting apples; they emit gases that are damaging to other apples, fruits, and vegetables.

Five Eliminated-Will Sara Evans Quit?
Below-Prior Reviews on This Reality Show:
First
Second
Third
Fourth
It was Samba and Rumba night on 10/10/06 when a fifth contender would be eliminated.
Right now let us state that Jerry Springer hung in there and while this fellow is no professional dancer by anyone's estimation, he and his partner did perform a most delightful routine, more on this later.
First up, Joey Lawrence and his partner performed a Samba. I loved that totally black outfits worn by the partners and those sexy arm movements did emphasize Joey's physique.
This duo danced some perfectly in sync steps and it was a performance quite enjoyable in the watching.
The judges liked the performance but there was some carping criticism. The team got 25 points out of a possible 30.
Willa Ford and her partner performed a Rumba to the tune of "I'll Be Watching You".
A couple of outstanding moves in this performance; one had Willa held by her partner until touching floor and some amazing leg splits that would rip me open.
I thought the steps of this team's performance to be slow, sometimes obviously deliberate. The judges declared "You guys have some chemistry going on." This dance team scored 27 out of a possible 30.
Recently country singer Sara Evans has been out and about and touting her appearance on this reality show. I saw her with my own eyeballs on "Hannity and Colmes".
Sara and her partner performed a Samba and there was some great shoulder action going on but alas, it was her professional dance partner intriguing with these moves, not Sara.
This performance didn't excite me and seemed to push no barriers or have much originality. I'd deem the routine was adequate.
The judges, however, declared that this team "did it right, tonight" The team received 24 points.
Seems that Sara is having some marital problems of late and rumor is that she will be quitting this competition.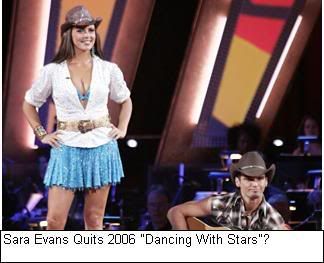 Sara Evans' Nasty Divorce
NASHVILLE, Tenn. (Oct. 13) - Country singer Sara Evans alleges in divorce papers that her husband committed adultery, was verbally and emotionally abusive, drank excessively and frequently watched pornography in their home.
Sara's Resume below.
PROFESSION:
Singer

PARTNER:
Tony Dovolani

BACKGROUND:
Academy of Country Music Top Female Vocalist and top-selling singing sensation. Sara will dance with Tony Dovolani, who partnered with Stacy Keibler in the second season.
I'm not sure this isn't all hype for the show but scuttlebutt has it that Sara will be making a grand announcement tomorrow night, 10/17/06.
Next up was Mario Lopez who did a Rumba to the dreamy tune of "The Way You Look Tonight".
Wow, what a sexy routine, but it was slow with not a whole lot of movement from Mario. He gave just the nicest smile at the end. The judges declared that Mario gives "performances always right on the nail".
I've read some complaining across the Blogosphere about Jerry Springer and his role in this competition. Grousing, really. The scuttlebutt is that this guy can't dance so why isn't he voted off?
I suspect he'll be voted off soon enough but his performance on this fifth elimination of the contest was just cuter than all get out.
Jerry was dressed in all black and came out shaking a pair of mariachis to a Samba. Frankly I thought Springer moved along pretty good. At some point he pretended to play the drums on his partner's body. Heh. At one point his partner had a problem keeping her, eh, womanly parts in their costume.
The judges pronounced that Springer and his partner "made me laugh, adorable."
Jerry and his partner got 24 points out of a possible 30.
Monique Coleman and her partner performed a Rumba to a song I didn't recognize but it was very, very slow. I thought Monique did some very nice steps. The judges declared Monique was "captivating and sexy".
Finally, one of my favorites, Emmitt Smith, performed a Samba. The song was a Cha-Cha and reference to that dance was even in the lyrics. Smith wore an exquisite silk shirt and his shoulder movements was to die for. Smith and his partner's gave a very enjoyable performance with some excellent side-by-side spins. Smith and his partner received 27 points out of 30.
The following night, Willa Ford was voted off the show. Jerry Springer was in the bottom two and I suspect soon enough he will be gone.
In Memory of Cleetus
He was a nasty little dog. He didn't love anyone else on the planet but me, indeed he even wanted to marry me.
For the past six months the little guy hadn't been right. He's a dachshund and he developed a limp in his hind leg. He also was drinking voraciously and constantly had to pee. He was only nine years old but he should have easily lived to a ripe old age of 12 years. I've known all along that his time was coming and I most dreaded that he would be paralyzed, a fate so many dachshunds suffer on occasion.
This past weekend he refused to eat and was throwing up constantly. He couldn't even keep water down. He whimpered constantly and I knew he was in pain. Monday I made arrangement for my little guy to be euthanized.
I will meet Cleetus at the famous Rainbow Bridge, where he will be whole and healthy and I'll greet with all the love I had for him when he was alive.
I miss you Cleetus.
More TV Reviews HERE
===============