Time for some True Crime and this week a couple gets brought up on terrorism charges for, ahem, making whoopie in an airplane.

Also, update on missing Trenton Duckett and that murdered NY Actress brings illegal immigration problem to public spotlight.

We've got a really, really stupid criminal and a shocker, just a shocker that will boggle your mind.

For a woman really did, yes she did, she microwaved her baby.
Pic of the Day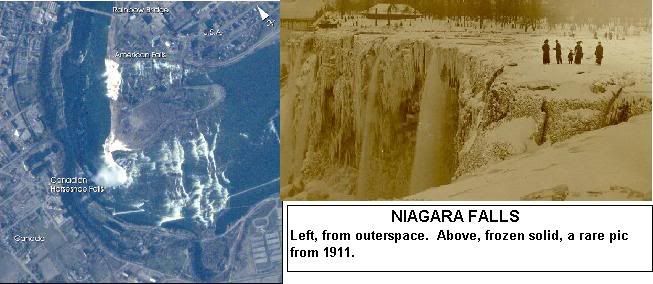 ---
| | |
| --- | --- |
| | Quote of the Day |
Web Site Worth the Visit
The Neatest Little Desktop Calendar

This is just the handiest little calendar and I've tried plenty. Consider this my personal recommendation. For no matter how many paper calendars I have hanging around I really need one right on my computer.

This little program loads quickly and I could easily export my calendar data to the very same program that I went and put on my many computers around this place. Making it only necessary that I record my calendar data once then export it to my other computers.

It stays right on your desktop and is amazing for its simplicity.

CLICK HERE


TIDBITS
A Christmas Story You Might Not Know About

Not long ago and far away, Santa was getting ready for his annual trip...but there were problems everywhere.

Four of his elves were sick, and the trainee elves did not produce the toys as fast as the regular ones so Santa was beginning to feel the pressure of being behind schedule.

Then Mrs. Claus told Santa that her mom was coming to visit. This stressed Santa even more. When he went to harness the reindeer, he found that three of them were about to give birth and two had jumped the fence and were out, heaven knows where. More stress. Then when he began to load the sleigh, one of the boards cracked and the toy bag fell to the ground and scattered the toys. So, frustrated, Santa went into the house for a cup of coffee and a shot of whiskey. When he went to the cupboard, he found the elves had hidden the liquor and there was nothing to drink. In his frustration, he dropped the coffee pot and it broke into hundreds of little pieces all over the he kitchen floor.

He went to get the broom and found that mice had eaten the straw it was made from.

Just then the doorbell rang and Santa cussed on his way to the door. He opened the door and there was a little angel with a great big Christmas tree. The angel said: "Where would you like to put this tree Santa?"

And that my friends, is how the little angel came to be on top of the Christmas tree.





"In Cold Blood" House for Sale
For a mere $275,000, this fine home can be yours.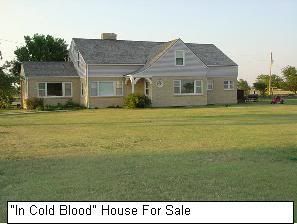 From Faulkner Real Estate.com:
The Clutter home was built in 1948 on a tract of land known as the "River Valley Farm" west of Holcomb, Kansas. The home was designed with many custom features popular at the time. Original hardwood floors are throughout the main and second floor of this brick two-story home. The living room features a wood-burning fireplace and the formal dining room has a built-in china hutch. The sunny breakfast nook with dining bench boasts the original fabric. Block glass and ceramic tiles create a unique main floor bathroom. This beautiful home designed by Herb Clutter with family in mind offers 5 bedrooms, three baths, a large utility room, spacious kitchen and unfinished basement with a second fireplace.
I must suppose if one was going to sell a home with a horrific past, the best way to go about it is to, hey, just list it and skip the part about the murders.
The above home is the infamous Cutler home, scene of a horrific crime detailed in Truman Capote's book-"In Cold Blood". I couldn't sleep for a week after reading that book.
But it seems that history will show that this house has a real problem being sold, that lovely sales pitch above notwithstanding.
From CJOnline:
Published Friday, October 20, 2006

'In Cold Blood' home fails to bring high enough bid
The Associated Press

HOLCOMB -- An auction of the home where the Clutter family murders occurred has been called off after the owners didn't receive a high enough bid.

The private auction closed Tuesday after nearly two months of bidding, said Sue Weiland, sales associate for Faulkner Real Estate.

The highest bid on the home and seven-acre property made infamous by Truman Capote's book, "In Cold Blood," was $100,000, Weiland said, and the home's owners didn't accept that bid.
Women Microwaves Her Baby
Just when you thought it couldn't get any worse.
It took a year for the prosecutors to bring this case to trial. The reason? Little was known about the effects of microwaving humans, that's why.
The baby was taken to the hospital and even then it took a while to figure out what happened to the child. The baby was one month old when SOMEONE put her in a microwave.
The problem here is that there were no evident external marks on the baby in terms of burning or beating. Yet the baby was quite dead when taken to the hospital and we must assume that it was an autopsy which revealed that the baby's internal organs were severely burned.
Defense attorneys for the accused seem to be trying to cast the blame on a babysitter Arnold hired to watch her baby the night before finding her dead in her crib. I tend to believe Arnold wouldn't have been arrested unless they felt they had a strong case against HER, not the babysitter.
Whatever the case, microwaving an infant?
I'm just overwhelmed.
From Yahoo.com:
DAYTON, Ohio - A mother was arrested on suspicion of murdering her newborn daughter by microwaving the baby in an oven. China Arnold, 26, was jailed Monday on a charge of aggravated murder, more than a year after she brought her dead month-old baby to a hospital. Bail was set Tuesday at $1 million.
Sex Play in the Sky Could Label You a Terrorist
Well it does seem to me that there are more appropriate places to bury one's head in one's girlfriend's "vaginal area" than on a damn airplane.
Like those bogus Imams just praying real loud out in public, we do understand out here in la-la land that certain places are just plain better for certain activities.
This loving couple had been warned by the flight attendants to stop this behavior but the couple chose to continue. When the plane landed they were charged with obstructing a flight attendant. I mean what with the passengers all busy watching the action and flight attendants trying to break it up, this would be one hell of a way to stage a hijacking or terrorist attack.
Which means, duh, when flying on an airplane then it's time to sit down and fly. Or go get your own private airplane if you want some "mile high action".
Heh, the couple's defense attorneys claim the fellow ended up with his head buried in his girlfriend's nether regions because he was "feeling sick".
Can't make this stuff up, folks.
From Iafrica.com:
A couple's ill-concealed sexual play aboard a Southwest Airlines flight from Los Angeles got them charged with violating the Patriot Act, intended for terrorist acts, and could land them in jail for 20 years.
...
"Persing was observed nuzzling or kissing Sewell on the neck, and with his face pressed against Sewell's vaginal area. During these actions, Sewell was observed smiling," reads the indictment filed by the Federal Bureau of Investigation.
"Person of Interest" in Trenton Duckett Case
Melinda Duckett is the young woman whose two year old son Trenton allegedly disappeared from his crib. Melinda was immediately put under suspicion by the investigating authorities. In a botched attempt to clear her name, Melinda appeared on the Nancy Grace show. A few days later Melinda took her own life.

There was a resultant flap over Melinda's suicide and the supposed fault of Nancy Grace. Which was much ado over nothing in that Melinda's story about Trenton's disappearance made no sense and besides, the woman agreed to appear on the show. If Nancy Grace, who I don't personally like all that much, but if Nancy Grace grilled Melinda over her missing son, well seems to me like Grace was just doing her job.
This story was covered on this Blog
HERE
,HERE
and HERE.
Out of the blue, authorities, STILL searching for missing Trenton Duckett, reported that the child might be alive!
Now there's even more information released by investigators into the whereabouts of Trenton Duckett.
As reported on my Blog post, the notion that Melinda might not have killed Trenton but might well have, instead, passed him on to someone else that night he went missing, was born from reports from an employee at Wendy's restaurant that she'd seen Melinda Duckett come through the food chain's drive-through twice within a short period of time. Leading investigators to speculate that Melinda might not have murdered her son Trenton but might have given him to someone with whom she thought Trenton would be safe.
From Tampa Bays10:
Authorities have identified 25-year-old Chai-Wen Chen as the person of interest. They say Chen and Melinda Duckett were friends and spent time with each other before the boy vanished in August. Cell phone records show Melinda tried to call Chen on the day her son disappeared. Chen also works at a Rent-ACenter across the street from a Wendy's restaurant in Belleview.
At first glance this hope of finding Trenton alive fits our most cherished belief that a mother would not wantonly kill her own child. Without further reading into the mystery of Melinda Duckett, one might think it entirely possible that she chose to place toddler Trenton with someone safe before she took her own troubled life.
Knowing as much as I do about Melinda and her history, I still doubt that Trenton is alive and living with her friend Chai-Wen as authorities must hope is the case.
Melinda Duckett had a violent and very troubled history, including several investigations into abuse of her son Trenton. It isn't as if she'd been a model mother throughout Trenton's short lifetime is what I'm saying here. One accusation had her threatening to shoot baby Trenton if her husband didn't do something Melinda wanted.
There's also proof out and about that Melinda was into some sort of Internet porn and in one picture in the Blogosphere there's baby stuff in the picture span.
Of course investigators have to look at the possibility that Trenton is alive but I can't think of a single soul who would be hiding that toddler knowing his history. Since Melinda left no trace or indication of what happened to the boy I can't imagine anyone not currently a criminal of sorts just keeping that child quietly on the side without reporting it to authorities.
Beyond this excess of common sense, Melinda sure didn't give whoever she
might
have given Trenton to any of his baby stuff. All of that sort of paraphernalia was found in Melinda's garbage dump the day after he went missing. A loving mother passing off a child for his secure future would surely have included clothes and the child's cherished toys.
In short, it simply doesn't add up. Although I'll be the first to cheer if I'm wrong. If beautiful little Trenton is alive somewhere then my being right or wrong is of little import.
But I do write about True Crime ...
So How Is Catching a Serial Killer GOOD News for New
Orleans?
Came across this tidbit and was surprised.
For after those levees broke from Katrina's wrath, New Orleans was a town bereft of normal civilized law enforcement. If the looters weren't looting than the COPS were looting. That's if the cops were even on the job at all.
The killer was called "the shoeless killer" although it's not clear why. Since 1997, there were 22 killings of men between the ages of 18 and 20, all suffocated and all in various stages of undress. The victims were also described as having a "dangerous" lifestyle.
In fact, they were homeless. In fact, the perp himself was homeless and was arrested in a homeless shelter.
From NOLA.com:
A statewide investigation into nearly two dozen slayings of men, most around the southeastern Louisiana town of Houma and in neighboring parishes, led police to arrest a suspect Friday who they believe is a serial killer, charging him in the killings of two men from New Orleans.

Houma police arrested Ronald J. Dominique, 42, at a homeless shelter run by the police department on Friday, and accused him of leaving two dead bodies in Jefferson Parish in the late 1990s.
What's particularly good news in this case, not that finding a serial killer isn't ALWAYS good news, is that even with this city's law enforcement in shambles, a killer was brought to justice.
Murdered Actress Spurs Illegal Immigration Protest
The crime was covered on this Blog
HERE.
Shelly was murdered by an illegal immigrant who killed her in a fit of pique when she complained about the noise he was making while working on a construction job. Her murderer then tried to cover the murder by hanging the actress on her shower rod to make it look like a suicide. Reports are that Shelly was still alive when illegal immigrant, Diego Pillco, hung her on that shower rod.
Seems a bunch of NY liberals think this country's immigration laws should be, eh, enforced.
From NY POST:
ADRIENNE Shelly always wanted to be famous.

But not for this.

On a street in Greenwich Village where the indie-film actress and budding filmmaker once worked in obscurity, more than a dozen people came out last night wearing her picture around their necks.

Carrying candles and literature, speaking softly and intensely, they gathered on the street. In the evening's warmth, their numbers swelled.

In their 30s and 60s, they came from uptown and even New Jersey. All shared one thing in common - and it's a viewpoint I doubt they shared with Adrienne.

They were adamant that Adrienne would be making films today if the federal government would enforce the law - and kick out illegal immigrants.
Here's something these protestors can do. That is if they really want to do something. They can ask NY Mayor Bloomberg why he has instructed his police department not be allowed to ask about a person's immigration status. Perhaps if these folks would gather their resources and maybe ask their mayor why such an important thing as a person's legality in this country is not the stuff that NY police SHOULD be asking, perhaps even the FIRST thing they ask.
Shelly's husband is labeled a "liberal" and he even ran a Blog alleged to attack the "right wing spin machine".
There's an old-saying. The definition of a former liberal is a liberal who suddenly became a victim of a crime.
Seems Shelly's death may have created a lot of former liberals.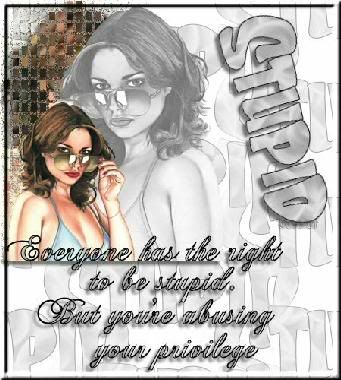 She Shows Up Drunk to Pick Up Her DUI Accident Report
Seriously folks, the police should not take credit for criminals who practically arrest themselves.
For Mary McGill made a quick stop at the California Highway Patrol to pick up an accident report for a crash involving her driving while under the influence.
Only McGill was drunk yet again when she stopped to obtain the report. Her drunkenness was evidently so obvious what with the smell and slurring and everything. So the CHP arrested the woman AGAIN because hey, she drove over there in that condition!
From Marinij.com:
Mary McGill stopped by the California Highway Patrol office in Corte Madera on Wednesday to pick up an accident report about a crash in which she had been arrested on suspicion of drunken driving.
More True Crime Updates HERE
================