It had fashion and music so I couldn't resist. I tuned into that "Fashion Rocks" show this past week and we've got some video, pics and excellent acerbic commentary.

Plus, a catch up on Big Brother 8 and how about that wacky teen on Miss Teen America?

Finally, a book review as Ann Rule does it again with "No, Regrets".

He piloted mighty boats and lived past 80 years but his own wife ended it all for him.
Pic of the Day
As a public service of this Blog…a nationwide weather review.
---

Was That Miss Teen America Contender Smoking Something?
The question asked requested a reason why so many Americans couldn't recognize North America on a map. Lord that child was all over the place with her answer.
The video that will haunt her the rest of
her life
has been shown across the fruited plains.
Maybe the word "map" set her off because next thing you know she's talking about South Africa and Iraq. It was, well the whole demonstration is proof solid that these beauty contests are about beauty and not brains.
Not that there's anything wrong with that.
But let's not fool ourselves 'kay?
"Fashion Rocks" 2007
My favorite music goes back to the 60's when most of the youth listening to the music featured on the special "Fashion Rocks" this past week were not even conceived, much less born and singing protest music.
But all in the interest of the reading public in the form of the two or three people a day who read this Blog, I tuned in to this program and first thing, I wondered just what the hell it was all about.
I am amazed that Tyra Banks, she of the temper that exceeds even my own, managed to snatch a host job on television. I bet half of that studio got tore up and most of the assistants in the surround got slapped a time or two. And I've never heard of that Cool Jay fellow who was co-host of this show. All I can say is that Cool Jay is probably at the bottom of my list of one who would host a fashion show.
There was music, indeed there was, and there was fashion. Tommy Hilfinger was in attendance as well as Calvin Klein. There were a few female fashion designers but mostly we had males of questionable sexuality designing and presenting clothes that women should wear. I've never understood a male who lives his life obsessed with dressing women. You rarely see the opposite: females who spend their lives dressing men.
As for the music, a lot of it was foreign to my ears. Music today tends to have a hip-hoppy, wordy, be-boppy way about it but after time I grew to appreciate the genre. Not love it, mind you, but Fergie's tune featured lyrics and a happening beat that made me smile. Fergie warned fellows that if "you don't got no money get your broke self home". Well what female would argue with this?
Here's a fact of life men don't like. Women don't much like men who are broke and why on earth would they? It's not like there's a shortage of sperm and delivery vessels that require females to support a fellow who is, well, broke.
Avril Lavigne wants to be someone's girlfriend and this female looks awful old to be singing essentially a teeny-bopper song. But it was cute.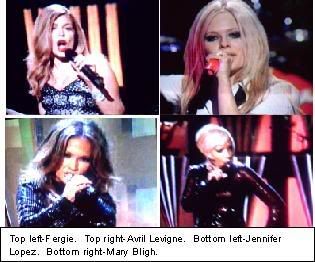 Martina McBride, one of my fave singers, sang just the nicest tune. Video of the song "This is for the Girls" below.
The songs were filled with dazzling lighting effects, flashy attire and take it to the bank yon readers, that Chevrolet sponsoring the show was ON STAGE the entire show. That's something new in advertising, huh…having the product on stage during the show?
Finally we had, but of course, Jennifer Lopez, a short video clip below. J-Lo had quite the routine as is her want. The song, something about a fine fellow who loved the woman to surprising heights, was so-so.
"Big Brother 8" Down to Final Four
I have never before watched this series and here we are in the eighth year!
How it works, a bunch of people come to live in a big, very strange house. They are allowed no contact with the outside world. Via various games and contests, the house guests can win a power of veto or become Head of Household (HOH).
The Head of Household gets to nominate two guests for eviction. The rest of the guests still in residence then compete for a power of veto. If one of the residents nominated by the HOH wins the veto it is assumed they would use it on themselves. If a resident not nominated wins the power of veto they can use it to remove one of the nominees by the HOH and replace with a nominee of his/her own. Or the winner of the veto can just keep the reward to use at a later date.
The show is now down to the top four. Two of the top four are a father and daughter team. The father goes by the name of "Evel Dick" and he looks like no father I've ever seen before what with arms full of tattoos and body piercings everywhere.
I predict that resident Zach is going to win this thing. I've enjoyed watching this series although it gets a bit boring from time to time. I also do not understand the so-called "strategy" of the players although now that it's down to four it starts to make sense.
Below a 30 second video of a Head of Household competition in process.
=============
Focus on TV Posts of Fame
Those Wacky TV Chefs.
Includes Rachel Ray and the sexiest chef of them all.
TV News Pundits
including Russert, spitting Matthews and the one I adore.
"Dancing with the Stars"
of 2007, reviews, pics and videos.
American Idol 2007 and The Bachelor.
One night's review with links to all the others.
===============

Ann Rule's "No Regrets"
Rolf Neslund loved the sea and for most of his 80 years he was captain of a boat. While Neslund was a fine man of the sea, he was a man who knew very little about women.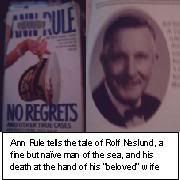 Neslund let his wife, Ruth, handle all the money the couple earned. I handle all the money in my house as well. But unlike Rolf, my husband checks up on the checking account and follows the bills as they arrive in the snail mail. One day Rolf Neslund realized that for all of his years of working the sea and allowiing his wife to invest that he did not have enough money to cash a check for less than a hundred dollars.
Suddenly 80 year old Rolf Neslund disappeared. Ruth and Rolf lived on a remote part of Washington state and the police department had little resources and manpower to investigate what had been reported by Ruth Neslund as the disappearance of her husband.
Rule does her bang up job as usual, introducing us to the victim, the alleged perp, the backgrounds of the family and the turmoils of the investigators.
This Rule book has, like many of her other books, several shorter parts featuring tales of true crimes that intrigue. "No Regrets" includes a funny little story of a young man, Sam Jesse, who dreamed of growing up to be a bank robber. It was his boasting about that dream that led to his capture.
The story of Kari Lindholm's capture and hostage ordeal is told in Rule's riveting fashion as it ends happily.
==================
Focus on Book Reviews
Review Ann Rule's "Every Breath You Take"
Ann Rule's "Evidence of Love"
Ann Rule's "Heart Full of Lies" and "Bitter Harvest"
Amber Frey's story.
"Tainted Roses"
Thomas Capano Book Reviews
=======================
Add POST to Technorati Favorites
=======================