In this second True Crime post of the week we learn the lovely Drew Peterson is having trouble getting a date. Also, he needs money for his defense. We'll give you the link to send him some.

Also, the Colorado church shooter…do these nuts ever consider what they do to the families they leave behind?
Web Site Worth the Visit
An Old-Fashioned Game of Space Invaders

Before computers got so sophisticated I used to play this game for hours.





SPACE INVADERS HERE


Drew Peterson Needs Money and Can't Get a Date
Although in most cases those two realities are related, in the case of Drew Peterson, husband of missing Stacey Peterson and a man who lost a prior wife under strange circumstances, not necessarily.
From the Suntimes:
Drew Peterson says the the disappearance of his fourth wife, Stacy, and the mysterious death of his third wife, Kathleen Savio, might hamper his love life.

"I'm not going to get another date," he said in an interview this week in his Bolingbrook home.
First, the fine Mr. Peterson is wrong about that date thing. Since killing two people in cold blood then released by a jury without a brain to talk about, OJ Simpson always seems to have some dumb broad around him. In fact, I heard and saw one such bimbo right on my TV recently. She was trying to drive away from the hounding reporters in view of the events in Nevado regarding OJ, guns and sports memorabilia. Trying to keep her mouth shut, she couldn't resist uttering some nonsense about OJ being such a good man, something like that.
I rolled my eyes to heaven and thought that there's a dumb woman for every man no matter how terrible the man might be.
So Drew, hey, call up OJ. He'll get you a date.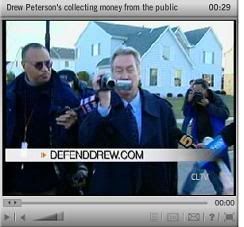 Moving on, should yon reader wish to help the lovely Mr. Peterson with his defense costs, breathe easy. For a web site has been set up for contributions to Peterson's defense fund. Drew's attorney, who has a vested interest in this endeavor you understand, assures us eager fools who wish to help Drew go free that he may get that date he needs, marry the bimbo who accepts, perhaps have children as Drew's ability to reproduce is well-documented, and eventually get rid of the next Mrs. Peterson should she vex him…that any money collected at DEFENDDREW.com will not be available to Drew personally.
The attorney will, of course, have access to the funds. Heh.
From Stltoday:
Drew Peterson is asking the public for financial help with his legal defense.

The former Bolingbrook police sergeant who authorities have deemed a suspect in his wife's disappearance has set up a Web site to collect money from people who believe he deserves a defense without going broke.
Finally in the newest information on this case, we have a pastor revealing to Greta Van Susteren that Stacey Peterson told him that Drew Peterson killed his wife prior to Stacey.
From ChicagoTribune:
A minister from Plainfield said on national TV on Monday night that as he counseled Stacy Peterson in the months before she disappeared, she told him her husband admitted killing his ex-wife Kathleen Savio.

Rev. Neil Schori, formerly of Westbrook Christian Church in Bolingbrook, said Stacy Peterson, 23, blurted out in a Bolingbrook coffee shop that "he did it," referring to her husband, Drew Peterson, 53, whose ex-wife was found dead in her bathtub in 2004.
The attorney defending Drew was on that show and well first, he's an attorney, he's got a web site to help collect funds for Drew which will go to him, he's defending Drew and he's the picture of every lawyer that we love to hate.
But this attorney responded to that pastor's allegations by sputtering and spitting out an accusation back at the pastor.
"He should have turned Drew in when Stacey told him that," the maggot, er, attorney told Greta.
The maggot's, er attorney's, premise was that the pastor must be lying or else the pastor broke a law himself by not reporting Drew Peterson to the police based on this confession by his wife.
The maggot, er attorney, felt that the pastor must not be a nice man in that he allowed Stacey to return home to a man who she'd admitted killed a prior wife.
Well the maggot, er, attorney, has to say something in defense of his fine client. The logic being, I surmise as best I can not having a maggot mentality, that any pastor who didn't try to prevent Stacey from returning to Drew Peterson after that admission was either lying or should be in jail himself.
I thought it was lame and I daresay the average viewer would think the same. That pastor could no more stop Stacey from returning to Drew and besides, who's to say he didn't try to warn her off?
This guy had been interviewed a while ago by the investigators and Greta got the scoop only by nagging him for weeks, at least as Greta explained. It's not as if he came out of the woodwork for his fifteen minutes like that maggot, er, attorney of Drew's.
Mailman Steals Holiday Cards to Get at the Cash
Came across this news item and decided, in honor of the upcoming holidays, to throw it out there. Michael Olivio is the Scrooge found stealing cards that he believed to contain cash. Olivio was found via a post office sting.
From Google.com:
NEW YORK (AP) — Call it a special delivery. A postal carrier pocketed dozens of greeting cards he was supposed to deliver to get at the cash inside, postal inspectors said.

He was found with more than 130 pieces of other people's mail in his car, according to a court complaint.
Two-Year-Old Beaten to Death Over a Period of Three Days
The fine Alexander Garcia began hitting little Emanuel Gonzalez in the face on Wednesday. He then dropped the child in the bathtub on Thursday and on Friday he "spanked" the toddler.
Hazleton police arrested 20-year-old Alexander Garcia, charging him with aggravated assault and endangering the welfare of children.

He was arraigned by Magisterial District Judge Joseph Zola and committed to Luzerne County Correctional Facility on $2 million cash bail.

According to an affidavit of probable cause, Hazleton Cpl. Gerald Tray and Patrolman Shawn Conti were dispatched to Hazleton General Hospital on Sunday at 12:29 a.m. for a death investigation.

Hospital staff took them to the emergency room, where 2-year-old Emanuel Gonzalez was lying motionless on a hospital bed. The boy was bruised on all over his body, the affidavit states.

Gonzalez was pronounced dead on arrival.
Emanuel Gonzalez should be running around like all toddlers, excited by the upcoming visit by Santa and unable to sleep on Christmas eve. Instead he is dead, beaten to death over three horrible days.
May Jesus take this baby into His arms and hold him far from the pain for eternity.
Missing Michigan Attorney Faked Disappearance.
She was the daughter of an esteemed Toledo judge and the wife of a prominent cleric. She is six months pregnant. Last Wednesday she failed to pick up her 3 year old son from daycare. Her husband reported her disappearance to the police immediately. At some point she called her husband and said she'd been abducted.
This case captured national attention in that it had all the signs of an ominous disappearance.
From the ToledoBlade:
Toledo Police Chief Mike Navarre confirmed this morning a pregnant Toledo lawyer fabricated a story that she was kidnapped last week by three people, forced into a vehicle, and dumped off three days later just outside of Atlanta.
The story was fabricated.
Who knows why a woman would be pushed to do such a thing. Police, however, do not plan to file any charges against Mrs. McConnel-Hancock.
True Crime in the U.K.
Heh. Received this in an email from a British friend. We especially like the one about the guy getting charged for the gas that blew up his house.
1) Commenting on a complaint from a Mr. Arthur Purdey about a large gas bill, a spokesman for North West Gas said, "We agree it was rather high for the time of year. It's possible Mr. Purdey has been charged for the gas used up during the explosion that destroyed his house." (The Daily Telegraph)
2) Police reveal that a woman arrested for shoplifting had a whole salami in her underwear. When asked why, she said it was because she was missing her Italian boyfriend. (The Manchester Evening News)
3) Irish police are being handicapped in a search for a stolen van, because they cannot issue a description. It's a Special Branch vehicle and they don't want the public to know what it looks like. (The Guardian)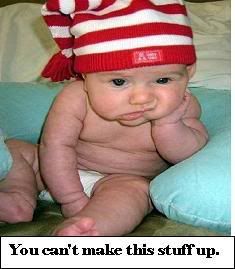 4) A young girl who was blown out to sea on a set of inflatable teeth was rescued by a man on an inflatable lobster. A coastguard spokesman commented, "This sort of thing is all too common". (The Times)
5) At the height of the gale, the harbourmaster radioed the coastguard and asked them to estimate the wind speed. They replied they were sorry, but they didn't have a gauge. However, if it was any help, the wind had just blown his Land Rover off the cliff. (Aberdeen Evening Express)
6) Mrs. Irene Graham of Thorpe Avenue, Boscombe, delighted the audience with her reminiscence of the German prisoner of war who was sent each week to do her garden. He was repatriated at the end of 1945, she recalled. "He'd always
seemed a nice friendly chap, but when the crocuses came up in the middle of our lawn in February 1946, they spelt out 'Heil Hitler.'" (Bournemouth Evening Echo)
Those Brave Killers Who Shoot the Innocent
I wonder if those Moonbats who get a gun and go on a rampage killing innocent people ever consider the poor people they leave behind?
I mean has anybody heard from the relatives of Dylan Clebold and his Columbine buddy lately?
How horrible it must be to live your life with the cloud of being related to a mass murderer like that fine Cho fellow at Virginia Tech and now the family of Matthew Murray have got to really be proud of their son.
From SPCM.org:
Matthew Murray, the man who police say shot and killed four people at two separate locations in Colorado on Sunday, died from a self-inflicted gunshot wound, the coroner's office said Tuesday.





"The death of Matthew Murray has been ruled a suicide," CNN reported the El Paso County Coroner's Office said in a statement. "It should be noted that he was struck multiple times by the security officer, which put him down. He then fired a single round killing himself."
There are about 300 million people in the United States of America. At some point there will be nuts and at some point the nuts will find a weapon. The nuts who are so miserable they are willing to die are the most dangerous because what do they have to lose by taking a few others along with them?
It's the whole premise of suicide bombers after all. It's virtually impossible to fight back against a human being who does not possess the most basic instinct any species can have…the will to go on living.
I don't have any answers except I think a drama, perhaps a movie, depicting the lives of those unfortunate enough to survive a mass killer like the fine Murray here or any other of those who took others to the grave with them.
Because if I was related to one of those monsters I'd never show my face in public again.
And you know what? You rarely see these relatives talking to Greta. Mothers, fathers, siblings, grandparents…all have to retreat to obscurity for the shame they must carry because of the actions of their brave, dead family member.
================
FOCUS ON MADDIE MCCANN
===================
Her family was on holiday at an exclusive Portuguese resort. Madeleine McCann's parents were both physicians and in addition, they have two twins younger than Madeleine.
While Maddie's parents dined out at a nearby resort restaurant, with children believed to be soundly asleep, Madeleine McCann somehow disappeared. She was discovered missing upon a routine check of the McCann suite by her parents.
It took a few months but eventually the suspicion that Madeleine's parents might have had something to do with her disappearance was leaked by both the Portuguese and British police.
First report on this Blog of the Maddie McCann case
More info on Maddie's disappearance with my fine analysis
Announcement that McCanns might be responsible for Maddie's death
McCanns refuse to answer questions about Madeleine's disappearance
With little info known, my analysis of the McCann case. Or did the maid do it?
Maddie's Mother Claims Her Small Boobs Are to Blame.
What are the McCanns doing with the money collected to find Madeleine?