This True Crime has filled our air waves recently, as well it should.

For here's a sergeant in the police dept whose third wife died in a bathtub, allegedly. Found dead in a dry bathtub with her head covered in blood and her body covered in bruises. And the elected coroner ruled it an accident!

Now his fourth wife is missing. Somebody's responsible for this wife-murdering loose cannon and soon the truth will be out.

Which reminds us...will the husband of Lisa Stebic get away with murder as well? We've got updates on this.

Remember Jill Metzgar, the missing American soldier? Some tidbits on her.

Also, McCann updates, voter fraud, a new antirape device, the Connecticut crime update and crime in the California Qualcomm arena the media didn't mention.

TIDBITS
The Paradoxical Commandments
by Dr. Kent M. Keith

People are illogical, unreasonable, and self-centered.
Love them anyway.

If you do good, people will accuse you of selfish ulterior motives.
Do good anyway.

If you are successful, you will win false friends and true enemies.
Succeed anyway.





The good you do today will be forgotten tomorrow.
Do good anyway.

Honesty and frankness make you vulnerable.
Be honest and frank anyway.

The biggest men and women with the biggest ideas can be shot down
by the smallest men and women with the smallest minds.
Think big anyway.

People favor underdogs but follow only top dogs.
Fight for a few underdogs anyway.

What you spend years building may be destroyed overnight.
Build anyway.

People really need help but may attack you if you do help them.
Help people anyway.

Give the world the best you have and you'll get kicked in the teeth.
Give the world the best you have anyway.


Hillary Uncensored
It took many months for some independent and dedicated players to compile this video. The producers are using the new media to get out the message because Hillary can take money from mysterious Chinese felons and from many questionable sources. Nary a whisper of crime falls on her sainted campaign while our own RINO John McCain joins with fruit case Russ Feingold to stop this humble Blogger from saying bad things about the candidates who would govern us.
Her crimes are many. But if no effort to stop the crimes is forthcoming than the crimes will continue. This is the video storming the Internet. Check it out.
Is It Okay for the McCanns to Use Madeleine's Funds to Pay Their Mortgage?
I had no idea that a fund was created to help the McCanns, I don't know, find their missing daughter, Madeleine? This is not unusual. Kind people do the only thing they can do to help a grieving parent whose child has disappeared, which would be to send money.
From Foxnews.com:
A spokesman for the McCann family has refused to comment on allegations they used some of the Madeleine fund to pay their mortgage.

The statement comes after the Daily Mail reported that the family's spokesman, Clarence Mitchell, confirmed: "part of the donations ... had been used to help with mortgage payments".
I'm not sure what the deal is with the Madeleine McCann fund or even if the recipients of such cash are under any obligation in terms of how the money is spent. The general notion is, however, that the money will be spent to help find the missing child. It's a tossup as to whether paying the family's personal expenses could be considered as part of helping to find Madeleine.
In the link above it is revealed that neither of Maddie's parents have been working since she went missing. This is kind of odd. If Maddie were alive and safe with her family for sure they'd have to pay their own mortgage. And a case could be made that the family's presence would be required in the foreign country where Maddie disappeared, in this case Portugal. Still, it's been six months!
The article suggests that Maddie's father would soon be returning to work but her mother would likely be devoted full time to finding Madeleine. This fund has collected about two millions dollars from kind contributors wishing to help find Madeleine. That's a lot of money. What an insult it would be if these people had something to do with Maddie's disappearance and now are using the funds of kind people for an extended vacation. No, I'm not saying this is the case but people closer to this case than me have been leaking such a possibility for over a month now.
I'm just sayin' ...
"Don't Taze Me, Bro" Apology
If ever actions were taken to take advantage of the public attention, it would be these actions taken on behalf of the University of Florida over the "Don't Taze Me" flap.
Andrew Meyer was the ersatz journalistic major who interrupted a speech by the esteemed blowhard Massachusetts senator John Kerry and ended up the subject of video-taped tazering by campus police. Of course Kerry, who served in Vietnam, could have acted like the leader he'd like to be and handled the situation without all the fuss.
From Alligator.org:
Andrew Meyer has addressed an apology letter to UF students, UF President Bernie Machen and Student Government for his "failure to act calmly" during a Sept. 17 forum with Sen. John Kerry.





In a letter released to the Alligator on Monday afternoon, Meyer wrote that he "stepped out of line" and felt he had tarnished UF's image.

"For that again, I am truly sorry," Meyer wrote.
Now we've got Meyer publishing an apology on the university's web site, no doubt put up to it by university elders and for his own attempt to stretch out his fifteen minutes. The President of the University of Florida Machen has started up some kind of panel that will examine the university's policies on free speech, open forums and yada, yada. Nothing will come of this PR stunt. In addition, of course, there is some lawyer or another looking to piggyback on the publicity this bad behavior garnered.
The fifteen minutes is now officially up. May Mr. Meyer get a reporter job as a schlub at some local Florida newspaper. May President Machen attract the attention of some future students to the University of Florida. May Meyer's attorney attract future clients with his new reputation as the lawyer to the badly behaved at Florida U. Oh, and may John Kerry continue to demonstrate to this country the total airhead he is and that this country damn near elected.
New Details on the Infamous Connecticut Petit Murders
A horrible crime that didn't have to happen and not because the many people involved in the weird scenario of events didn't do their job. Who really didn't do their job were the Petits themselves.
From the Courant.com:
Interviews with law enforcement sources and friends of the suspects, along with a review of recently released court records, provide new insight into the mindset of the alleged killers and new details of the slayings that shocked a nation and started a major examination of Connecticut's criminal justice system.
Of course it's cruel to point out that at times we must defend ourselves but I will never stop believing that if either the father or the mother in this crime had dared to show some courage, that little girl who suffered so horribly that night before these fine fellows burned her alive would still be with us today. The father had been beaten with a baseball bat, had a garbage bag tied around his upper torso and was then tied to a post in the basement. The mother and the two daughters had been tied to their beds. At some point the mother was released and taken to her bank by these stupid perps and though she had the chance the woman withdrew the funds from her account then went BACK to the house.
Remember please that these were two bumbling crooks that didn't even have a weapon. This article reveals that young Michaela had been forced to take a shower as the young Russian fellow liked them young and he liked to take pictures of them. Pictures of Michaela in that shower were found on one of the perp's cell phone.
The mother, for all her trust of these two lying thieves, ended up strangled to death after she handed the perp $15,000 that she'd withdrawn from her bank, no doubt hoping for the two crooks to go away.
Dr. Petit did manage to get untangled from that basement pole although he'd been down there all day and only got out right when the two crooks were getting ready to burn the house down. I will always be suspicious of this sequence of events.
My heart will forever ache for 11 year old Michaela Petit who should be alive and laughing today. Instead her end was long and horrific as she endured hours of torture from this two-bit perverted crook. She watched her killer as he poured gasoline around the bed where she was tied up and helpless. The cops outside the house heard her screaming for help before a giant whoosh of flames burned her alive.
We shall see if these two fine figures of manhood get the death penalty. This is Connecticut, where, it would seem, that the Laurel and Hardy of criminals can break into a private home without a weapon one and have their way with all the gullible members of the privileged within. I'm not sure there's anyone in that state with the courage to enact the death penalty. Liberal states like Connecticut have this cool thing they do to fool us: they put the death penalty on the books but they never carry it through. Delaware, my own state, does the same thing. Thomas Capano, a former prosecutor no less, is still alive on death row and I am told he will never be put to death.
It's all to fool us ladies and gems. Except Laurel and Hardy above deserve to die and I wonder if they'll end up like Thomas Capano, fat and healthy living on the taxpayer dime on death row.
The Mystery of Drew Peterson
It began on October 20, 2007 when the wife of a police sergeant, Stacy Peterson,
was reported missing.
State Police are searching for the wife of a southwest suburban Bolingbrook police sergeant.

"Because he's one of our officers, we thought it would be better to have an independent agency investigating," Bolingbrook Mayor Roger Claar said of the state's involvement in the disappearance of Stacy Peterson.
It wasn't Stacy's husband who reported her missing. In fact, Drew Peterson is turning out to be quite the mystery.
As these thing usually go, suspicious eyes were cast upon Stacy's husband, who said that the last he heard from Stacy was via cell phone when she informed him that she was leaving him. Anything's possible, but for a woman to leave her husband and leave her children behind is rare, almost unheard of. Stacy Peterson left her children behind, has not used her cell phone since her disappearance and has not taken money from her bank account.
On November 1,
investigators started searching the Peterson home,
with the aid of a search warrant.
At around 3 p.m., investigators arrived at the home of Drew Peterson, 53, on Pheasant Chase Court, armed with a search warrant that was obtained on Wednesday, said Charles Pelkie, spokesman for the Will County state's attorney's office. Peterson's wife, Stacy, 23, has not been seen since Sunday morning.
Moving on to November 5, the search for Stacy Peterson now involve divers and a local pond, hardly where one would look for a woman who allegedly left her husband.
From the Chicago Tribune.com:
A two-day search of a retention pond for a missing Bolingbrook woman ended fruitlessly Friday, but authorities said they were receiving numerous tips from the public.

For much of Thursday and all day Friday, divers from the Naperville Police Department painstakingly searched for any sign of Stacy Peterson, 23, in the 5-acre pond at Bolingbrook's Clow International Airport, just blocks from her home.
Most intriguing of all, the tidbit that brings the crime sleuths from across the planet, is the fact that Drew Peterson had another wife who died in a bathtub.
As of this writing, this case percolates strongly under the radar but like the famous Peterson before Drew, Scott Peterson, this is going to be a major crime.
For why...WHY...was the death of a healthy 40 year old woman found dead in her bathtub with blood in her hair and bruises over her body pronounced an ACCIDENT?
Drew Peterson has even more skeletons in his closet. It would seem that this man has cast a nasty shadow over the Bolingbrook police department from as far back as 20 years ago. Indeed Drew had been fired from this police department based on charges of taking bribes. The charges were dropped and Peterson was reinstated to the Bolingbrook police department.
Then, in March of 2004, Drew's third wife, Kathleen Savio, was found dead under the most questionable of circumstances. And her death was pronounced by an elected coroner's jury that was either asleep during presentation of the facts or never existed. Illinois state police investigated the case of Kathleen Savio and found no wrong doing. Say what?
What does Drew Peterson have on the Bolingbrook police department that has this man going free for so many crimes, including obvious involvement in the death of his third wife and need we mention now his fourth wife is also missing under strange circumstances?
Heads are going to roll on this one, folks. The story of Drew Peterson, the rogue cop and husband of missing/dead wives dates back 20 years. It seems that somebody, somewhere has given this man a pass for crimes and how many women have to die at his hand before someone screams foul?
We're on top of this case, folks. Something is rotten in Bolingbrook Illinois and it's time it's rooted out.
Speaking of Illinois Men With Oddly Missing Wives...
Far be I to whisper softly that perhaps the police departments in Illinois, or perhaps it's the DA offices, or hey, maybe it's something in the water. But if you're a husband looking to get rid of your wife, lately it seems that Illinois is the place to do it.
From the Chicago Tribune:
Lisa Stebic's estranged husband, described by police as a person of interest in her disappearance six months ago, has cut off all communication between his children and his wife's sisters, family members said Monday.

The family has long feared Craig Stebic would sever those relationships, said Melanie Greenberg, Lisa Stebic's cousin. He had barred her parents from the couple's Plainfield home and had not allowed his wife or their children, ages 11 and 12, to speak to them for the last two years, she said.
So what's the deal with this Plainfield police department? Lisa Stebic's been missing for six months now. She too left young children behind, she too has had no cell phone usage, she too has taken no money from her bank.
SIX MONTHS and these people have yet to interview Lisa Stebic's children?
Plainfield Police Chief Donald Bennett said his department is working with the state's attorney's office, pressing to set up an interview with the children by calling them in front of a grand jury. Craig Stebic has not allowed authorities to speak with the children since early in the investigation.
Okay, how long does it take to be "working with the state's attorney's office" I must ask? Let's see, six months have gone by...what's it take...a year? Maybe five years? Maybe never that Illinois will forever known as the happening place to make your wife disappear forever and get away with it?
Yes, I'm a United States citizen here and I'm wondering why wives are disappearing in the state of Illinois while cops work with state's attorneys' offices as children's memories grow dim.
Something ain't right in Illinois, folks.
I'm just sayin' ...
Second Robbery Same Place and Robber Ends Up Dead
This fine robber already scored some ill-gotten cash from this convenience store. But he came back and this time his armed robbery was met with some gunshots directed at him.
From WYFF4.com:
GREER, S.C. -- An attempted armed robbery ended in the death of the robber Wednesday evening.

Deputies said an armed man went into the Kwik Mart on Highway 14 near Mutt's BBQ in Greer at about 8:30 p.m.

The store owner, Hirabmai Desai, said that the robber was the same man who had robbed him a few days ago
The robber ran out the door when the store's owner shot him but his body was found, quite dead, a few hours later. If the fine fellow would have hung around who knows, he could have been saved.
The store's owner says the robber began shooting at him first. They've got this guy on tape and it's not like he hung around to charge this store owner who shot him for no reason with a crime.
See, when criminals don't know who's got a gun that will end their criminal ways forever, they tend to stop the crime. But the libs, hey they want to take away our guns that these fine criminals can rob the same store repeatedly. Well hell, it worked the other times, right?
I'm just sayin' ...
The Strange Tale of the Kidnapped Soldier
It happens. From time to time I save a link for a story that I want to cover on the Blog. Recently I saved a link from a source concerning the very odd Jill Metzger story. At the time of this writing I tried to access this link but, alas, the story was pulled.
This story was covered on this Blog
HERE:
On September 5, 2005, Major Jill Metzger vanished from a store in Kyrgyzstan. She turned up at a farm house three days later some twenty miles away. She had bloodied feet and her hair was dyed. Metzger alleged she had been kidnapped.
It was a strange crime and just last week I found a link in which it was alleged that it was possible that Jill Metzger had an abortion during those few days when she disappeared. Well obviously this was a rumor and somebody made whatever had been my source pull the link.
So I did a search hoping to find some more information and the latest I find is from June of this year.
From the Military Times:
HENDERSON, N.C. - The Air Force officer who disappeared in Kyrgyzstan in September and reappeared three days later will take a leave of absence from the military to spend time with her husband, her mother said Tuesday.

Maj. Jill Metzger's 18-month leave will start next month, said her mother, Jeannette Metzger.
This is surely one strange story and count on it, the original tale as told by alleged kidnap victim Jill Metzger is likely a lie.
Further, it's unheard of for members of the military to, boom, just take 18 months leave to "be with their husbands".
From Libertypost.org:
Some others call it the case of the "Runaway Military Bride." Air Force Major Jill Metzger is an attractive blonde, 34-year-old newlywed and two-time Air Force Marathon winner who was reportedly abducted by thugs in Kyrgyzstan last September. She surfaced three days later and returned home. She said she overpowered her abductors and escaped. But local media in Kyrgyzstan claimed that she had been procuring an abortion. Her case has been under seemingly endless investigation by the FBI and U.S. military authorities. In a major development, Militarycorruption.com reported on Tuesday in a copyrighted, exclusive investigative report that Metzger was being quietly retired July 2 on a "disability" pension. Retired U.S. Army Major Glenn MacDonald, editor-in-chief of the website, said this favorable treatment is an outrage that reflects political correctness and fear of feminism in the highest reaches of the Pentagon.
All I can say is click on the link above. The army is covering up big time on this.
I'm thinking the military doesn't have much experience with soldiers going AWOL to get an abortion.
Illegals Stealing Qualcomm Supplies in California
But hey, what do us great unwashed out here in la-la land busy carrying this country on our backs whilst raising the soldiers and citizens of tomorrow know? We tell the congress critters that the illegal alien problem is wrecking the country. Now they've been caught stealing supplies meant for evacuees from California's recent wildfires.
From KPBS.org:
San Diego Police officials say they detained eight undocumented immigrants today after the suspects allegedly stole emergency supplies for evacuees at Qualcomm Stadium. KPBS reporter Amita Sharma has more.

Authorities say evacuees at Qualcomm Stadium told police they noticed a group of people loading supplies onto a truck and driving away. San Diego Police Spokeswoman Monica Munoz says witnesses saw the group return three times to pick up supplies.
According to the link above, all eight of these fine folks were released!
Anti-Rape Device Puts Razor-Sharp Hooks in Perp's Penis
It's sad but South Africa has such a high rape crime rape that women are forced to this.
From The First Post.com:
The words of a rape victim - "If only I had teeth down there" - have inspired the design of a new anti-rape device.

Rapex - dubbed the 'rape trap' - is a product worn internally by women. The hollow inside is lined with rows of razor-sharp hooks, which are designed to latch on to a rapist's penis during penetration. They can only be removed by a doctor.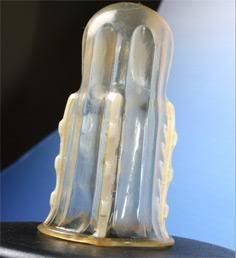 Critics of the device say that the pain inflicted might propel the rapist to even more rage. So okay, the guy's got a penis full of razor-sharp hooks. I'll take a chance that he's got better things on his mind than getting even with his would-be victim.
Further, the latest and greatest rage in rapes is for the perp to boom, simply burn the rape victim, alive or dead. For she has within her the damning DNA of the perp and the easiest way to avoid such evidence getting into the hands of investigators is to just burn up the bodies.
Thus this anti-rape device could also, arguendo, be a preventer of death.
FOCUS ON MADDIE MCCANN
===================
Her family was on holiday at an exclusive Portuguese resort. Madeleine McCann's parents were both physicians and in addition, they have two twins younger than Madeleine.
While Maddie's parents dined out at a nearby resort restaurant, with children believed to be soundly asleep, Madeleine McCann somehow disappeared. She was discovered missing upon a routine check of the McCann suite by her parents.
It took a few months but eventually the suspicion that Madeleine's parents might have had something to do with her disappearance was leaked by both the Portuguese and British police.
First report on this Blog of the Maddie McCann case
More info on Maddie's disappearance with my fine analysis
Announcement that McCanns might be responsible for Maddie's death
McCanns refuse to answer questions about Madeleine's disappearance
With little info known, my analysis of the McCann case. Or did the maid do it?
Maddie's Mother Claims Her Small Boobs Are to Blame.